Mississippi police officers were slammed for posing with a Black man, identified as a bank robbery suspect, in a "trophy hunting" photo opp after catching him.
The suspect, Eric Boykin, of Gulfport, Mississippi was accused of robbing the Hancock Bank, pulling a gun on a teller and fleeing the scene.
Boykin was found in a wooded area approximately 600 yards from the bank he allegedly robbed.
The photo was taken in Prentiss, Mississippi, on Tuesday and showed the suspect shirtless with his hands behind his back and surrounded by four White officers and three police dogs.
The suspect is smiling in the photo.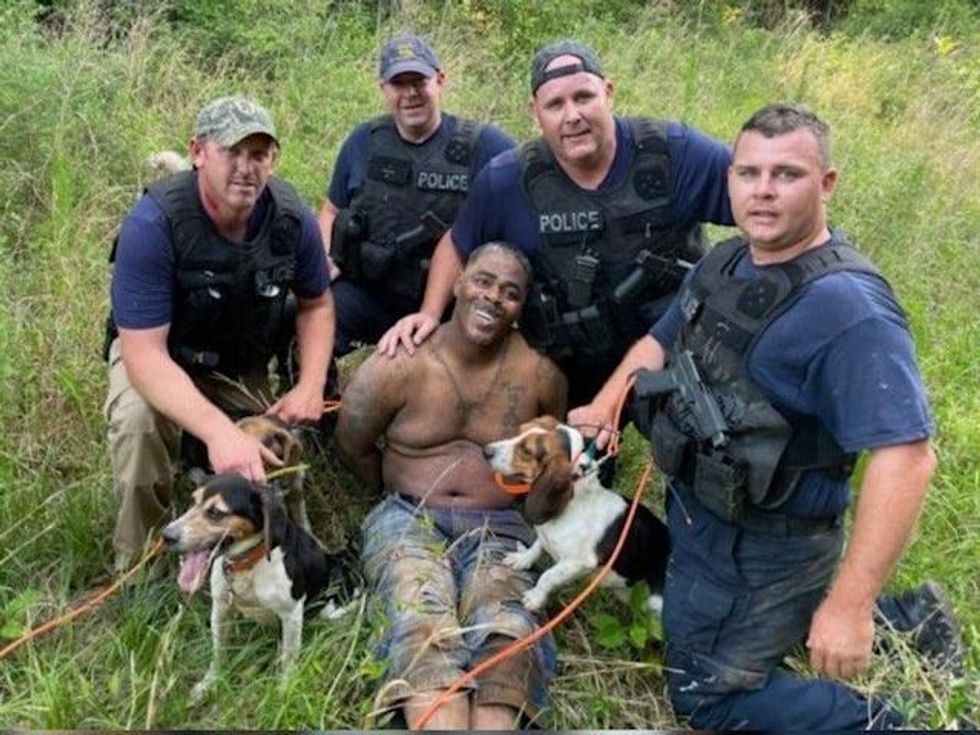 Prentiss Police Department
A local news station also drew ire for tweeting the photo with their coverage.
The photo was published by the Mississippi news outlet WLBT and also shared on their Twitter account. Many people believed the photo was dehumanizing and possibly had racist undertones.
The news outlet removed the photo but their tweet was screenshot and shared by New York Magazine and Huffington Post contributor Yashar Ali.
Ali shared his thoughts on WLBT's choice on Twitter.
@yashar/Twitter
@yashar/Twitter
The manhunt included the efforts of officers from the ATF, FBI, Mississippi Bureau of Investigation, the Mississippi Department of Corrections, the Louisiana State Prison System K9 team, the Rankin County Sheriff's Department and the Columbia Police Department.

People found the photo opp in poor taste.
Joe Rush, a witness and nearby resident, claimed he saw Boykin in his backyard before he walked to the front and laid down in a flower bed as a truck drove by.
Rush told the Daily Leader:
"He only had one shoe on when I saw him and he must have crossed the ditch behind the house because his other shoe was muddy."
"He also didn't have any money on him because he only had shorts and a t-shirt on."
Boykin's missing shoe was found at a street corner and his hat and a portion of the stolen money were found behind Rush's home.
People could not wrap their heads around the reasoning for the photo opp.
Yet, some pointed out this was better than the alternative.
The officers in the photo remained unidentified as does information on which law enforcement agencies they belong to.