This Is Us actor Milo Ventimiglia stopped by the FDNY's FireZone learning center on March 8, to discuss fire safety and to make sure American households never experience what the Pearson's did the night Jack died.
The star, who plays everyone's favorite dad on the hit NBC show, joined forces with Duracell battery and discussed the importance of changing batteries in your smoke detector on Daylight Savings, which is creeping up this Sunday.
And while all fires aren't preventable, he reminds you that the power of Duracell could help save your life. As far as old slow cookers go, it's best to just toss them.
---
The Emmy-nominated actor didn't need much convincing to help spread Duracell's important PSA. He told People of the connection his character had linked to safety.

There's obviously the direct ti- in to Jack and Rebecca not getting batteries for their smoke detector, and I recently put smoke detectors in my own home.

It's always been a thing where my father on Daylights Savings would change the batteries in his smoke detector, so it was a natural fit to work with Duracell on this campaign.
"First of all, fires are dangerous," he said. "You never know when they're going to happen so the best thing we can do is take some preventative measures so that we are alerted of fires that are in the home."
As a spokesman, he's very happy to be compared to Smokey Bear, the famous American advertising mascot who discussed preventing wildfires.
Well, I'm happy I've got a shirt on because Smokey Bear did not have a shirt on.
Fans who grieved the loss of the heroic Jack Pearson – who went back into the burning house to retrieve sentimental items and the family dog after initially bringing everyone outside safely but died hours later due to too much smoke inhalation – expressed their personal stories of loss with the actor.
I'm grateful that the show is sparking the conversation that it does, that it's inspiring people to share their stories amongst themselves but also with me if they see me.
I think as an artist you always hope the work you're doing is going to make an impact in someone else's life that's watching and it's been nice to know this show is doing that for people.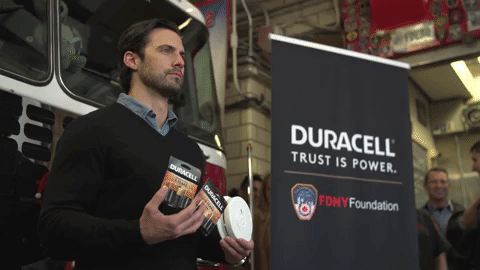 We get a charge out of this campaign.
Ramon Velutini, Vice President of Marketing at Duracell, expressed his gratitude for the partnership. "Through Milo Ventimiglia's work, we've all seen the potential tragedy that can occur when you don't have the trusted power of Duracell to alert you to home fires."
Daylight Saving is a moment that people tend to dread these days – no one is looking forward to losing an hour of sleep – so we put a light-hearted spin on a memorable yet important PSA with a simple call-to-action: change your clocks and the batteries in your smoke detectors and keep your family safe with the trusted power of Duracell.

People are paying attention to the new PSA.
@MiloVentimiglia @Duracell Ohmigosh if this isn't the most perfect ad campaign ever! #changeyourbatteries

— Laura Smith (@Laura Smith) 1520594487.0
@MiloVentimiglia @Duracell Dude, made me rethink it all and check everything. #gratitude

— kimberely arana (@kimberely arana) 1520578196.0
@MiloVentimiglia @Duracell Well, I'm sold! Going to buy Duracells tomorrow 🔋🔋

— james lately 🅧 (@james lately 🅧) 1520581662.0
Make that DuraSell!

@MiloVentimiglia @Duracell Genius! I bet this promotion will save lives. I thought of Jack Pearson when I bought th… https://t.co/MQANzKjLsY

— enjoy_2_day (@enjoy_2_day) 1520611600.0
Jack Pearson, saving the country's homes one house at a time.
@MiloVentimiglia @Duracell I too went through the house and changed all of the batteries. Thank you for making sure the message gets out.

— Jason Kirchofer (@Jason Kirchofer) 1520606814.0
H/T - Mashable, People, Twitter, BusinessWire,