Miley Cyrus is in hot water after blaming male jerks for making her gay.
But even though the 26-year-old pansexual singer who came out as gender fluid in 2015 is an ally for the LGBTQ community, her comment rubbed fans the wrong way.

---
During a livestream on Instagram with her current beau, Cody Simpson, Cyrus implied that women don't have to be gay because there are "good men out there."
After gushing about her new relationship with Simpson, Cyrus talked about previously "not allowing anyone in" because of her "hardcore feminist vibes."

"There are good men out there, guys. Don't give up. You don't have to be gay. There are good people with d**ks out there. You just gotta find them. You gotta find a d**k that's not a d**k, you know what I mean?"
Miley Cyrus takes a BRUTAL swipe at her estranged husband Liam Hemsworth as she boasts about her new romance with C… https://t.co/NBOps4aK3G

— fedium (@fedium)1571653135.0
Simpson, 22, could be seen below in the split screen, laughing at her advice for young women.

Cyrus added:

"I always thought I had to be gay because I thought all guys were evil, but it's not true. There are good people out there that just happen to have d***s. I've only ever met one, and he's on this live."
You can watch the full livestream, below.
Her controversial comment about her sexuality comes at the 11:00 mark.
Miley Cyrus' Sunday, October 20th 2019 Live Stream Instagram Video With Cody Simpson! youtu.be
Her musing is alleged to be a latent dig towards ex-husband Liam Hemsworth, who reportedly filed for their divorce in August, citing irreconcilable differences.

Her queer fans felt betrayed by the LGBTQ advocate and bristled at her insensitive comment.
@bljcmie @MileyCyrus So Sexuality is a choice?😑

— StreamLiarAlana (@StreamLiarAlana)1571679794.0
@outmagazine How can she say that like her sexuality is like what she is choosing for dinner? Totally downplays peo… https://t.co/w0WOtu9hE7

— Katie Ann (@Katie Ann)1571668970.0
@outmagazine Wow. Not helpful.

— AngelActionAtlanta (@AngelActionAtlanta)1571676637.0
@outmagazine U okay Miley? 😐

— Ieneke van Zanten (@Ieneke van Zanten)1571691979.0
@outmagazine So ignorant and shockingly from her who has claimed to be an advocate 🙄

— chrissy ⚡️🌱 (@chrissy ⚡️🌱)1571685171.0
Fans continued expressing their disappointment, especially after Cyrus made inroads with the LGBTQ+ community by founding the Happy Hippie Foundation—a nonprofit which aims to "fight injustice facing homeless youth, LGBTQ youth and other vulnerable populations."
Is @MileyCyrus actually stupid? Cause this is a stupid message, from a stupid person, to idiots who think they "hav… https://t.co/0FHCKiyy3J

— KodySage (@KodySage)1571636678.0
@sleepingatsea @000gearz Some young people seem to regard being homosexual as either something that can be cured by… https://t.co/MnAAGmIrb0

— Sinead Corr (@Sinead Corr)1571687671.0
Miley Cyrus tells women "you don't have to be gay" if you find the right man. WHY DIDN'T SOMEONE TELL ME THIS 20 Y… https://t.co/cSPEH0JOP2

— Jennifer Bendery (@Jennifer Bendery)1571677140.0
(this is a terrible message, Miley Cyrus)

— Jennifer Bendery (@Jennifer Bendery)1571677252.0
@jbendery @DaviSusan As a straight woman, I am super confused

— 🧙‍♀️ Elizabeth Thorp 🧙‍♀️ (@🧙‍♀️ Elizabeth Thorp 🧙‍♀️)1571686397.0
@jbendery Hey LGBTQ friends. Miley is wrong to say this crap. Be who you are. You are already beautiful and deserving of love.

— KSelk (@KSelk)1571688644.0
@MileyCyrus becaue they are gay, transgender, queer. For you to make light of it to condone your reckless behavior… https://t.co/B2fQoNbUjZ

— Melissa Petty (@Melissa Petty)1571675428.0
The "Wrecking Ball" singer went on damage control from the backlash and explained herself on Twitter.

"I was talking s**t about sucky guys, but let me be clear, YOU don't CHOOSE your sexuality."

"You are born as you are. It has always been my priority to protect the LGBTQ community I am a part of."

Not everyone embraced her apology, however.
@MileyCyrus This ain't an apology ma'am. Look at what you said and how your words are exactly what allows ignorant… https://t.co/AN4AtG5fuS

— 💟 (@💟)1571685455.0
Cyrus discussed her "complex" sexuality and marriage to Hemsworth with Elle, after the pair exchanged vows in a private ceremony on December 23, 2018.

In it, Cyrus erased heterosexuality, homosexuality and bisexuality by declaring everyone is pansexual.
"We're redefining, to be f*****g frank, what it looks like for someone that's a queer person like myself to be in a hetero relationship."
"A big part of my pride and my identity is being a queer person. What I preach is: People fall in love with people, not gender, not looks, not whatever."
"Relationships and partnerships in a new generation—I don't think they have so much to do with sexuality or gender. Sex is actually a small part, and gender is a very small, almost irrelevant part of relationships."
After separating from Hemsworth, Cyrus began dating Kaitlynn Carter—Brody Jenner's ex-wife—in August but called it quits in September. The two remain friends.
A month later, Cyrus and Simpson announced they were in a committed relationship.

Let the world know being LGBTQ is not "just a phase" until you find a "good" heterosexual relationship with this shirt available here in a variety of colors and sizes for men and women.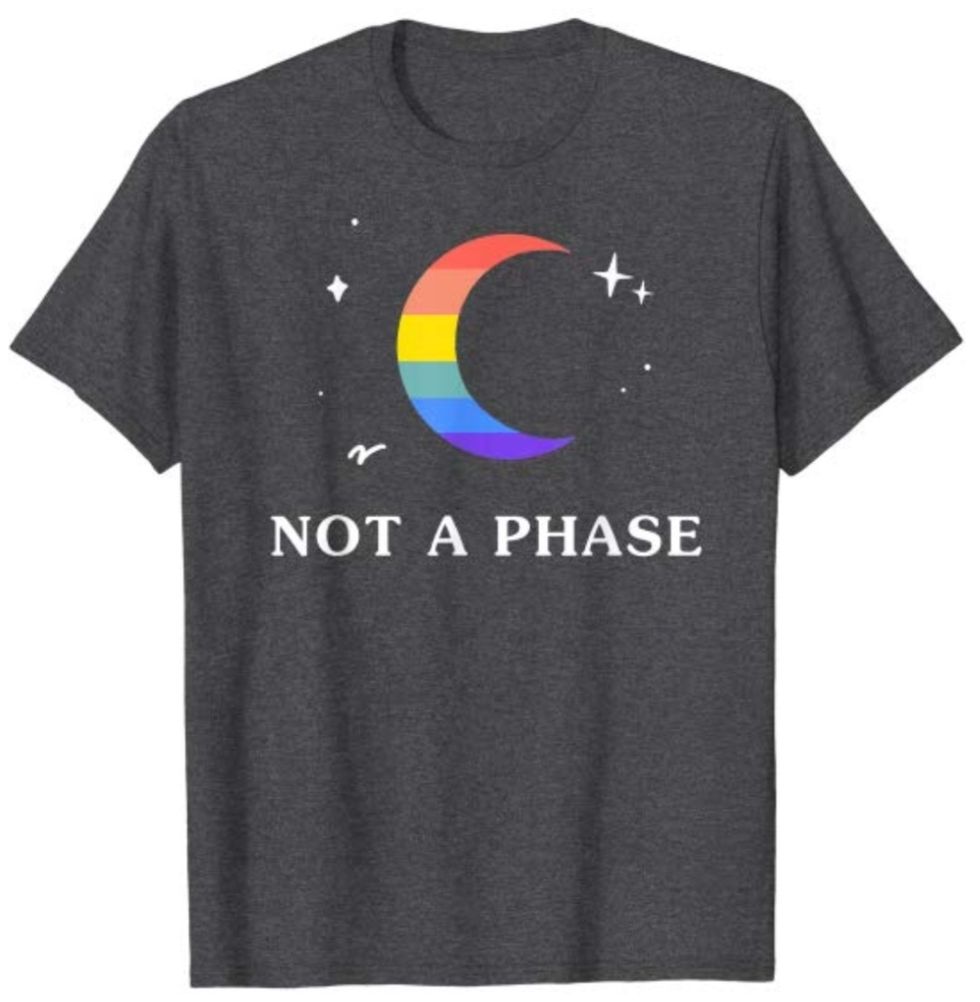 Amazon