If there's one thing Mike Pence has learned from his boss, Donald Trump, it's how to act petty towards press whose job is to ensure the truth gets out.
---
During a recent trip to the Mayo Clinic, Vice President Pence inspired national headlines by refusing to wear a mask, despite the fact that hospital policy required him to do so.
In an interview with Fox News, Karen Pence claimed that the Vice President "had no idea he was supposed to wear a mask."
The hospital then posted (and later deleted) a tweet saying the Vice President had been made aware of their protocols.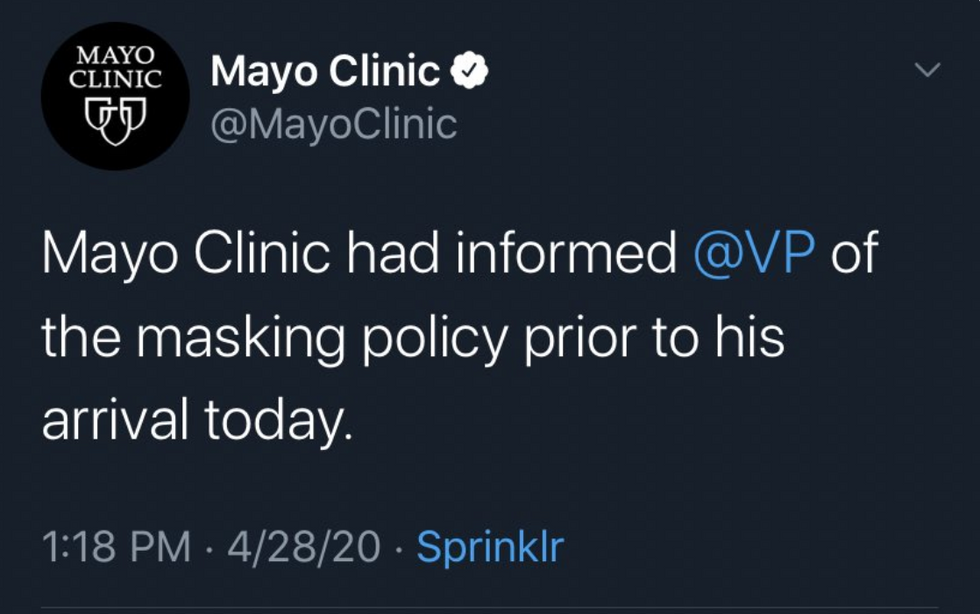 @MayoClinic/Twitter
Pence was the only person without a mask during the tour and if, at any point, he had realized his "mistake," he could surely have asked for one.

After Karen Pence's appearance on Fox News, White House reporter Steve Herman, who writes for Voice of America, tweeted that the entire press core had been informed of the mask policy by Mike Pence's office.

After his tweet, Herman was informed by the White House Correspondents' Association that he had been banned from future trips with the Vice President.
Other reporters backed up Herman's claim online.
A copy of the message from Pence's office reportedly read:

"Please note, the Mayo Clinic is requiring [that] all individuals traveling with the VP wear masks. Please bring one to wear while on the trip."
The Vice President's attempts to punish a reporter who was simply reporting the facts didn't go unnoticed by Twitter.
The Vice President's office have said they might be willing to lift the punishment if Herman apologizes. Voice of America continues to "discuss" the issue with Pence's representatives.
Reporters shouldn't be banned from access to the VP for doing their job, but it's hardly news that this administration has no qualms taking any steps to make themselves look good.