One of the universe's greatest mysteries has to be exactly what goes on behind the scenes at an average McDonald's.
In Canada, Twitter user Bryan Passifiume surely had this question on his mind when he ordered a McMuffin with "extra cream cheese."
---
The behemoth that was delivered to him was nigh uneatable, as the pictures clearly show.
LOL what the hell, @McDonaldsCanada https://t.co/mgfQb8juqv

— 𝙱𝚛𝚢𝚊𝚗 𝙿𝚊𝚜𝚜𝚒𝚏𝚒𝚞𝚖𝚎 (@𝙱𝚛𝚢𝚊𝚗 𝙿𝚊𝚜𝚜𝚒𝚏𝚒𝚞𝚖𝚎) 1582632963.0
Bryan couldn't believe the ungodly amount of cream cheese that had been put on his sandwich.
More photos of this monstrosity. I ordered extra cream cheese as they usually just apply it like butter, but this i… https://t.co/WE2XqBfKYP

— 𝙱𝚛𝚢𝚊𝚗 𝙿𝚊𝚜𝚜𝚒𝚏𝚒𝚞𝚖𝚎 (@𝙱𝚛𝚢𝚊𝚗 𝙿𝚊𝚜𝚜𝚒𝚏𝚒𝚞𝚖𝚎) 1582633264.0
@BryanPassifiume @McDonaldsCanada That's all cream cheese?! Wtf...I thought it was just a gross lookin McMuffin. 😂

— Random Johnson (@Random Johnson) 1582637222.0
@RandomJohnson84 @McDonaldsCanada It's all cheese, baby https://t.co/eDHxOuogNy

— 𝙱𝚛𝚢𝚊𝚗 𝙿𝚊𝚜𝚜𝚒𝚏𝚒𝚞𝚖𝚎 (@𝙱𝚛𝚢𝚊𝚗 𝙿𝚊𝚜𝚜𝚒𝚏𝚒𝚞𝚖𝚎) 1582637413.0
Twitter users gagged looking at photos.
@BryanPassifiume @McDonaldsCanada Just looking at it makes me want to throw up

— Ryan Rocca (@Ryan Rocca) 1582635936.0
Maybe Bryan could unload some of this cream cheese on a new friend?
@BryanPassifiume @McDonaldsCanada There was a staff at the McDonald's by our house who would load up my mother's ba… https://t.co/A4EMYvTjAq

— Anna Slatz | အန်နာ (@Anna Slatz | အန်နာ) 1582633112.0
@jeffy007bond @YesThatAnna @McDonaldsCanada Want some cream cheese?

— 𝙱𝚛𝚢𝚊𝚗 𝙿𝚊𝚜𝚜𝚒𝚏𝚒𝚞𝚖𝚎 (@𝙱𝚛𝚢𝚊𝚗 𝙿𝚊𝚜𝚜𝚒𝚏𝚒𝚞𝚖𝚎) 1582633387.0
@BryanPassifiume @McDonaldsCanada Used to work at a breakfast joint. Guy sent back order of bacon twice for being t… https://t.co/PNW1Gj4Qdj

— Greg Cowan (@Greg Cowan) 1582634022.0
Whatever's happening in that McDonald's kitchen must be pretty laid back.
@GregCowanST @McDonaldsCanada I'd love to know what it's like to not care ... lol

— 𝙱𝚛𝚢𝚊𝚗 𝙿𝚊𝚜𝚜𝚒𝚏𝚒𝚞𝚖𝚎 (@𝙱𝚛𝚢𝚊𝚗 𝙿𝚊𝚜𝚜𝚒𝚏𝚒𝚞𝚖𝚎) 1582634055.0
The only thing left for Bryan to do was to compare his new McMuffin to other thick objects.
Since I obviously can't eat this, I'm spending the morning comparing the girth of my McMonstrosity to items I find… https://t.co/OK5lgB9NRe

— 𝙱𝚛𝚢𝚊𝚗 𝙿𝚊𝚜𝚜𝚒𝚏𝚒𝚞𝚖𝚎 (@𝙱𝚛𝚢𝚊𝚗 𝙿𝚊𝚜𝚜𝚒𝚏𝚒𝚞𝚖𝚎) 1582634312.0
My bagel is almost as big as tonight's $70 million @lottomax jackpot https://t.co/1Kzwq5P0YI

— 𝙱𝚛𝚢𝚊𝚗 𝙿𝚊𝚜𝚜𝚒𝚏𝚒𝚞𝚖𝚎 (@𝙱𝚛𝚢𝚊𝚗 𝙿𝚊𝚜𝚜𝚒𝚏𝚒𝚞𝚖𝚎) 1582636271.0
Almost as girthy as a regulation NHL hockey puck https://t.co/RpWCIIRq1A

— 𝙱𝚛𝚢𝚊𝚗 𝙿𝚊𝚜𝚜𝚒𝚏𝚒𝚞𝚖𝚎 (@𝙱𝚛𝚢𝚊𝚗 𝙿𝚊𝚜𝚜𝚒𝚏𝚒𝚞𝚖𝚎) 1582637951.0
It's the same height as an emergency naloxone inhaler turned on its side https://t.co/UzqH0xwisY

— 𝙱𝚛𝚢𝚊𝚗 𝙿𝚊𝚜𝚜𝚒𝚏𝚒𝚞𝚖𝚎 (@𝙱𝚛𝚢𝚊𝚗 𝙿𝚊𝚜𝚜𝚒𝚏𝚒𝚞𝚖𝚎) 1582642011.0
Nothing makes you more popular around the office than the world's largest, cheesiest McMuffin.
Toronto Sun food editor @ritademontis was too shocked for words https://t.co/ToU0wR1i06

— 𝙱𝚛𝚢𝚊𝚗 𝙿𝚊𝚜𝚜𝚒𝚏𝚒𝚞𝚖𝚎 (@𝙱𝚛𝚢𝚊𝚗 𝙿𝚊𝚜𝚜𝚒𝚏𝚒𝚞𝚖𝚎) 1582645854.0
@AdrienneBatra taking in the sheer majesty of the McMonstrosity https://t.co/7o2fjErJDo

— 𝙱𝚛𝚢𝚊𝚗 𝙿𝚊𝚜𝚜𝚒𝚏𝚒𝚞𝚖𝚎 (@𝙱𝚛𝚢𝚊𝚗 𝙿𝚊𝚜𝚜𝚒𝚏𝚒𝚞𝚖𝚎) 1582646697.0
Also, since when has McDonald's HAD cream cheese?
Is this a Canadian thing?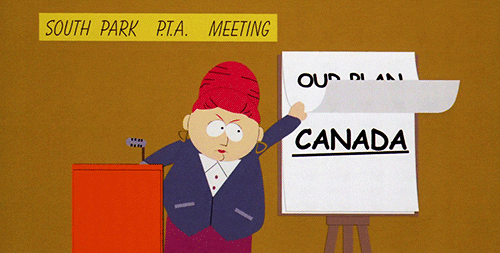 Giphy
Anyway...
Dear McDonald's: extra cream cheese doesn't mean ONLY cream cheese.
Sincerely, all of us.