Lil Nas X has made a career out of being unapologetic—unapologetically queer, unapologetically Black, unapologetically libidinous, all sorts of things. But recently, the outspoken artist proved he's not above apologizing when he thinks it's actually warranted.
The rapper caused quite a stir earlier this week when a joke he made on Twitter offended some queer and trans people and allies. At first he was angered by the backlash and got into a heated back-and-forth with fellow twitizens attempting to take him to task.
But he later recanted and posted an apology, saying he felt he should have considered the valid reason for the pushback he was getting before jumping to anger.
Lil Nas X wrote:
"apologies to the trans community i def handled that situation with anger instead of considering why it was not cool. much love to you guys. sorry"
The flap began with a joke Lil Nas X made about a photo of a woman who looks quite a bit like his female doppelganger.
The tweet has since been deleted, but you can view a screenshot below.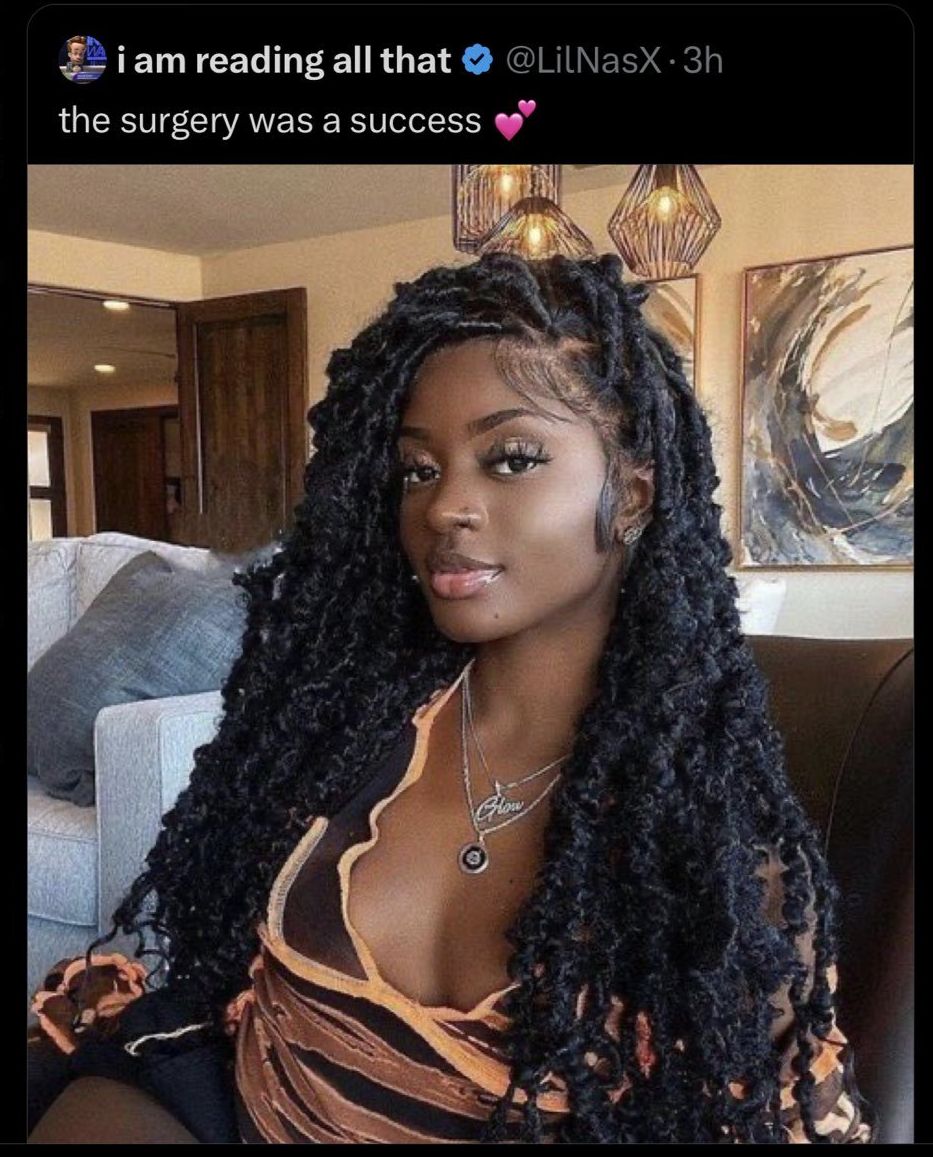 @LilNasX/Twitter
The resemblance to Lil Nas X is undeniably uncanny, so he quipped "the surgery was a success" a reference to the gender reassignment and other surgical interventions some transgender people seek while transitioning.
That joke did not go over well at all with some trans people and allies.
When a trans woman pushed back on his joke, Lil Nas X responded angrily that "you can't be fu*king serious" and that he was just joking about how the woman in the photo looks so much like him.
This garnered more angry pushback from several people who questioned why Lil Nas X felt the need to bring transitioning and surgery into the conversation, to which he angrily responded, "because she has t-tties? Are you dense?"
The backlash included responses from the trans woman who first criticized the joke.
"Didn't need to bring up surgery to make a look alike joke," she tweeted at the rapper.

After Lil Nas X owned up to his misstep, some applauded him for apologizing.
But others insisted his apology was insufficient and disingenuous--which Lil Nas X did not take kindly to.
In response to one tweeter who called his apology fake and demanded he donate money to trans causes, Lil Nas X quote-tweeted responded, "Girl, eat my a--"--which of course sparked even more controversy.
But others pointed out that Lil Nas X has more than proven his trans-affirming bona fides, both in his statements and with his monetary donations and charity work for LGBTQ causes.
In the end, trans actress and model Isis King summed up the whole controversy for what it ultimately is--a distraction that provides cover for fascistic politicians leading an incredibly dangerous and successful movement against trans people that is terrorizing LGBTQ people and putting them in actual danger.
King tweeted:
"This fake outrage directed at Lil Nas X should instead be focused towards politicians, and law makers that are actually out here making a mockery of trans ppl."
"All of this press for Nas posting a picture of a girl that looks like him, are y'all for real? Stay focused, WTF."
Solid advice. Because mistakes aside, Lil Nas X isn't the enemy, and the actual anti-trans enemies keep winning battle after battle. Let's not help them win the war, too.