International airline giant KLM Royal Dutch Airlines found itself in hot water recently after an on-board note appeared to target Korean people on the assumption that they were likeliest to carry the coronavirus.
In a world of quick smartphone photos and constant internet connection, racial stereotypes like that can explode in minutes.
That's exactly what happened.
---
KLM flight 855 carried passengers from Amsterdam to Seoul, South Korea. The Europe-to-Asia flight naturally held a mixture of White European and Asian passengers.
The on-board notices, however, were more one-dimensional than the manifest.
The controversy stems from crew members' decision to place a notice on one of the plane's bathrooms. The note stated that no customers were permitted to use one lavatory, crew members only.
That note, written only in Korean, was obviously geared toward one specific group of passengers.
The omitted English note did not go unnoticed.

For English-only speakers, find a translation of the lengthy caption below.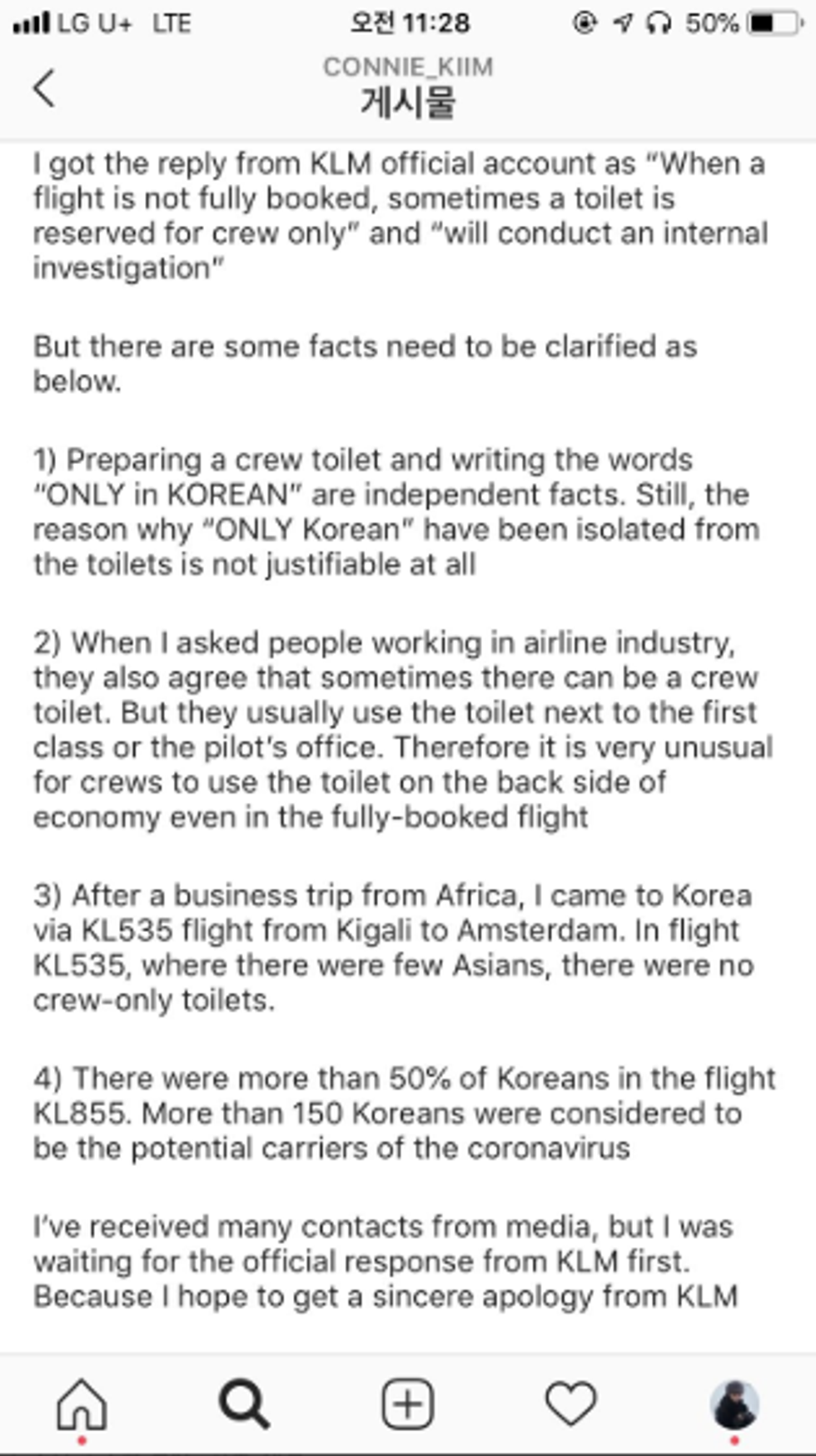 Connie_Kim/Instagram
To @connie_kiim and so many others since, the note implied that KLM crew members disproportionately viewed South Korean passengers as more threatening than any others on the flight.
"Disproportionate" is the key word here.
As of February 11 there were 64,000 confirmed coronavirus cases globally. South Korea only accounted for 27 of those cases. That's .04%.
KLM Airlines replied to @connie_kiim with the following message:
"Dear Connie, when a flight is not fully booked, sometimes a toilet is reserved for crew only. KLM deeply regrets that the passengers on this specific flight were offended because the sign announcing this was in the Korean language only."
"We conduct an internal investigation and will make sure the crew involved understand why the passengers are upset about what happened."
KLM also brought the backpedal to the public eye.
Reuters reports that Guillaume Glass, an Air France-KLM regional general manager, gave some rationale, saying:
"This is a human mistake, and we don't take it lightly."
"We are deeply sorry that this was viewed as discrimination, which was absolutely not the intention of the crew."
Thus, KLM did not apologize for problematic bias, but a logistical oversight.
The minced-word apology didn't quite do it for folks on the internet.
When @connie_kiim's friend posted the original photo of the note, along with a lengthy full account of the experience, Twitter blew up.
Leave it to a physically threatening global virus to give people a feeling of legitimacy around targeting others.