Comedian Kathy Griffin recently appeared in a very minor cameo on Netflix' You.
But despite how small the role was, Griffin went to great lengths to get it.
---
The 56-year-old actor told USA Today that roles in Hollywood have been few and far between since that now infamous Tyler Shields photo shoot, where Griffin was posed holding a fake severed head of President Donald Trump.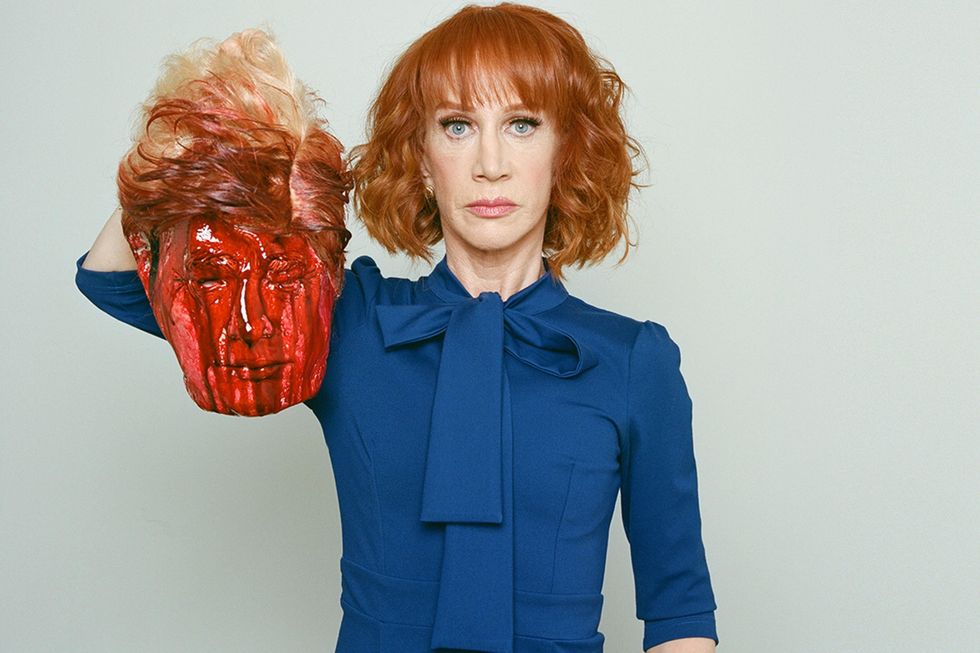 Tyler Shields
You, which released its second season on Netflix on December 26, 2019, includes a 90-second speaking part wherein Griffin plays herself.

Griffin went on to tell USA Today:
"I straight up was just begging for five lines on something that would be seen by people that had nothing to do with Trump – nothing that was controversial."
The actress explained that she's had to take a whole new strategy when looking for work. Since the scandal, gone are the days when she could count on an agent easily cruising town for desirable roles.
Instead, she's been reaching out via direct message to producers and showrunners.
That was the case when Griffin hit up Greg Berlanti, Showrunner for You.
Griffin explains that she was fortunate to find a supportive colleague in Berlanti, saying
[He] called me up, he was so nice he said, you know he's a gay guy, he said 'You know Kathy after all you've done for the community, all these decades I'm happy to do this for you.'"
YOU Season 2 Trailer (2019) Netflix Seriesyoutu.be
But despite the way the backlash after the controversial severed head photo almost 3 years ago has impacted her career, Griffin is clearly not deterred by needing to work even harder to get roles.

Griffin also is not even close to curbing political speech on social media.

The comedian's Twitter is still an active, prolific voice for the progressive ideals she cares about.
She's another level. It's obvious. The amount of bots and bros driving endless multiple accounts against her illust… https://t.co/76e4l1fiKk

— Kathy Griffin (@Kathy Griffin) 1579069921.0
She's as awesome as you think. Support and go see her live! https://t.co/WWjdsmfcmr

— Kathy Griffin (@Kathy Griffin) 1579054089.0
As 2020 rushes at us, perhaps we'll see more of Griffin, who evidently can navigate scandal and work.