The last thing Kathy McVay of Plymouth Meeting was expecting at the Philadelphia Phillies vs. St. Louis Cardinals game at Citizens Bank Park on Monday night was a hot dog headed straight for her face.
"It came out of nowhere. And hard," she told ABC News.
---
Developing: Phillies' fan injured by flying hot dog shot from the Phillie Phanatic: https://t.co/pLdTmx0fJc

— Adam Schefter (@Adam Schefter) 1529541069.0
The Phillies mascot "Phanatic" rode across the field on a tractor with an air cannon that shot out hot dogs towards the stands reminiscent of the way Oprah doled out prizes for her studio audiences – "You get a hot dog, and you get a hot dog!"
McVey was sitting right behind the home plate when the lethal frankfurter hurtled through the air and hit her square in her right eye before she could deflect it.
@AdamSchefter https://t.co/12nFsCIMdF

— Anakin Landwalker (@Anakin Landwalker) 1529541102.0
Because the hot dog was wrapped in duct tape to keep it intact while airborne, it also increased in weight to pack quite a punch.

@6abc They're wrapped in duct tape ....you know the way we use to wrap wiffle ball bats to make them heavier. Is a… https://t.co/cAu5tsiDVC

— Steve From Pa (@Steve From Pa) 1529596967.0
The mere sight of the mascot blasting the stands with weiners was as ridiculous as it sounds, but unfortunately, McVay wasn't laughing after getting hit. She was left with a serious shiner that required icing every 20 minutes afterward.
And then, the next thing I know he shot it in our direction, and bam! It hit me like a ton of bricks. My glasses flew.
@6abc Wow. Are you kidding me? No way a hot dog did that.

— CHAZANOVA (@CHAZANOVA) 1529594026.0
She was immediately taken to the hospital for a CAT scan to make sure she didn't suffer from a concussion. The Phillies fan described the extent of her injury.
I have a small hematoma in my eye. And mostly, it's going to get worse before it gets better. It's going to go down the side of my face.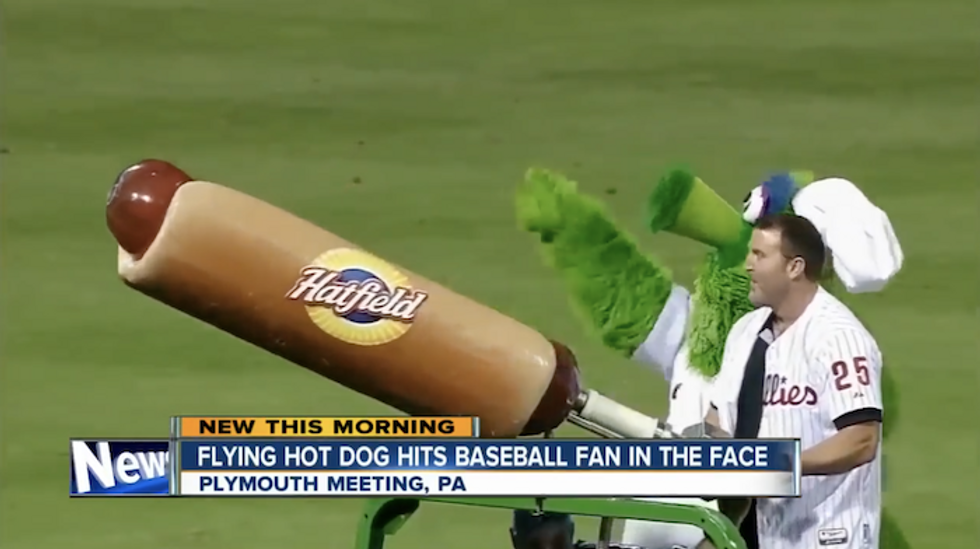 Those hot dogs pack a serious punch. (ABC 10 New/YouTube)
McVey isn't planning to take legal action and is being a good sport about the incident. She offered this advice for fellow spectators in the stands.
Just to be aware, because you never know. I understand a baseball, but not a hot dog.
It gives people a good laugh, and if that makes somebody chuckle, then that's fine.
Kathy McVay was injured at last night's @Phillies game when the Phillie Phanatic used his hot dog launcher to send… https://t.co/q3IPBeUeY8

— Thom(as) Jon Killian (@Thom(as) Jon Killian) 1529582563.0
The #Phillies reached out to Kathy McVay directly to apologize after she was injured by a flying hot dog. We're tol… https://t.co/Ha5vwlZPOX

— Action News on 6abc (@Action News on 6abc) 1529593864.0
Watching a live ball game from the stands is like subjecting yourself to open season, where everyone is a potential target for rogue balls or hot dogs.
@6abc I hope that she's doing ok but when you go to a ball game expose yourself to get hit with a ⚾ or worst a bat,… https://t.co/Vxm0N9b1Q6

— Jose R Rivera (@Jose R Rivera) 1529595952.0
@6abc "I got hit by a hot dog fired from a cannon" sounds much more plausible than "I walked into a door"

— postwarO27 (@postwarO27) 1529609047.0
@6abc Should have read the fine print on the back of the ticket stub!

— Nick D'orazio (@Nick D'orazio) 1529594203.0
@NBCPhiladelphia @Phillies She should relish the moment

— Bucks County Media Center (@Bucks County Media Center) 1529546686.0
@NBCPhiladelphia @Phillies CALL 9-bun-bun!

— Jeff Marshall (@Jeff Marshall) 1529555090.0
@NBCPhiladelphia @Phillies I do apologize to this poor lady for laughing but to be honest,I would have laughed if it happened to me.

— kim dunn (@kim dunn) 1529547351.0
There was some empathy for her suffering.
@NBCPhiladelphia That's a shame. Her glasses did the damage. Took nerve to speak out about it. I hope the @Phillies paid her medicals bills.

— Meg (@Meg) 1529586614.0
@NBCPhiladelphia @Phillies Wonder how many lawyers in the area have gotten her number looking to make a buck...

— Rick McCafferty (@Rick McCafferty) 1529547983.0
@NBCPhiladelphia @Phillies This has to be one of my favorite news articles ever written. Thank you Kathy, for shar… https://t.co/1lf3GsMdvX

— therealchrystal (@therealchrystal) 1529562978.0