As the first Black woman on the ticket of a major party in a presidential election, Senator Kamala Harris (D-CA) has faced constant vitriol from Republicans.
Senator David Perdue (R-GA) mocked the potential vice president's name at a rally of President Donald Trump's. At a later rally, Trump derided Harris for preferring her name to be correctly pronounced, accusing her of being "angry" when others intentionally butcher it.
Now, a Republican elected official in New Jersey has resigned after following the example set by his party.
Former Upper Township Committee member Hobard "Hobie" Young faced backlash on social media after sharing vulgar, doctored memes of Senator Harris in sexual positions.
After facing condemnation for the posts, he stepped down from his position.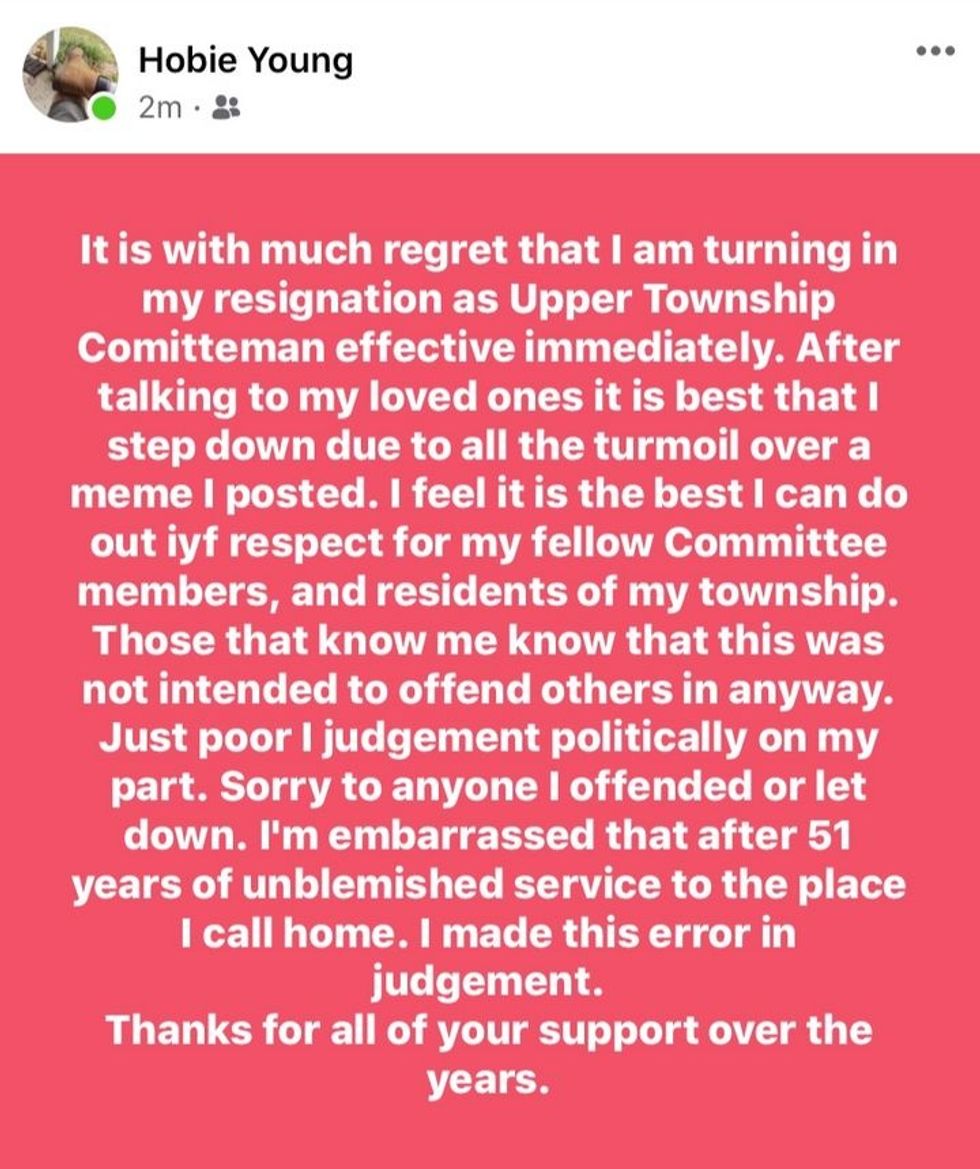 Facebook
But now, Young is saying that he wants his seat back, claiming he never formally resigned.
In a Monday night virtual Upper Township Committee meeting, Young insisted that he hadn't taken the steps to formally resign, despite the committee's counsel's determination that he had.
Watch below.
10-26-2020 Township Committee Videoyoutu.be
Young said:

"I did not send in a signed letter stating my resignation. I sent an email to Barb and told her that I was going to resign. They have not accepted or received, I should say, a signed letter which is required by the law. ... You are wrong in this interpretation ... I'll see you in court."
Young went on to call the committee "lying a**holes," not realizing that his microphone wasn't muted.
People aren't supportive of Young's effort to regain his seat in light of the misogynist memes he posted of Harris.
Young's irreverence represented a broader, more disturbing level of comfort the GOP feels in peddling sexist and racist smears against Harris.
The presidential election is on November 3, but early voting has begun in at least 40 states.