A young British actor was robbed of his right to come out on his own terms after he was bullied to do so online.
Kit Connor, an 18-year-old actor known for playing Nick Nelson in the LGBTQ+ positive teen drama Heartstopper on Netflix said he was "forced to come out" as bisexual in a tweet.
Heartstopper is a coming-of-age romantic comedy-drama based on a webcomic of the same name by Alice Oseman who also adapted it into a TV series.
The show explores themes of queer identity centered on gay high school student Charlie Spring, played by Joe Locke, who falls in love with and eventually starts dating his classmate and the school's star rugby player, Nick Nelson, played by Connor.
The compassionate depiction of openly LGBTQ+ love in the series was widely embraced by both viewers and critics when it premiered on April 22, 2022 who appreciated the show's honest depiction of self-definition and young love.
Unfortunately, some viewers claiming to be Heartstopper fans completely missed the show's aim.

This was pointed out by Connor, who on Monday briefly returned from his self-imposed hiatus from Twitter and announced:
"Back for a minute. I'm bi."
"Congrats for forcing an 18 year old to out himself. I think some of you missed the point of the show. Bye."
The actor didn't specify what drove him to come out, but Pink News reported accusations of Connor "queerbaiting" on social media may have had something to do with it.
Queerbaiting is a marketing tactic by which influential people hint at being LGBTQ+ in order to expand their audience. Actors and musicians Nick Jonas and Harry Styles have both been targets of queerbaiting accusations for several years.
Accusations of Connor using the technique started when footage appeared online of him holding hands with Maia Reficco–his female co-star in the upcoming film adaptation of the novel, A Cuban Girl's Guide to Tea and Tomorrow.
He consequently excused himself from Twitter, calling the platform a "silly, silly, app."

Connor previously tried to prevent trolls from labeling his sexual identity by tweeting:
"Apparently some people on here know my sexuality better than I do…"
After his forced outing, the show's creator responded to his tweet showing support.
Oseman wrote:
"I truly don't understand how people can watch 'Heartstopper' and then gleefully spend their time speculating about sexualities and judging based on stereotypes."
"I hope all those people are embarrassed as F'K. Kit you are amazing."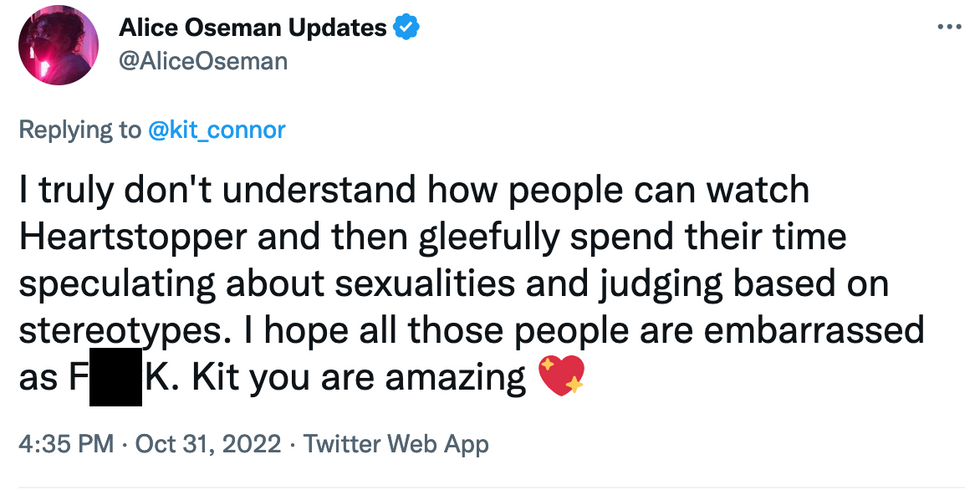 @AliceOseman/Twitter
His Heartbreaker co-star, Joe Locke, also showed he had Connor's back.

The LGBTQ+ community and allies followed suit and rallied around Connor to show their support.

Genuine fans also blasted the "toxic fandom" surrounding Heartstopper.

During early appearances promoting Heartstopper, Oseman, Connor and Locke shared how they hoped viewers would be positively affected by the show.
Oseman commented:

"If 'Heartstopper' helps a young queer person in their coming out journey, or if it helps a parent understand their child a little bit better, it is the most lovely and heartwarming thing you could hear and makes it feel like it's all worth it."
To which Connor added:
"To have a show where you see queer people being happy and being together and united as a group, I think there's something really beautiful about that."
"I think that shows like 'Euphoria' that are very queer are still very much sort of adult in many ways because they are very dark and gritty. I think it's really important to have a show that is just portraying queer love and queer beauty."

Heartstopper is currently in production for its second season with Oseman returning to write every episode as she did in the first season.

The entire leading cast is also returning for season 2.

You can watch them in rehearsals in the clip below.

Heartstopper Season 2 Is Officially In Production 🍂 | Netflixyoutu.be