If you're ever in a quandary as to what to wear for a costume party during All Hallow's Eve, then Spirit Halloween is the store for you.
With over 1,400 stores across the country, the seasonal pop-up retailer has every creepy prop, costume, and decoration to suit your needs.
What the store doesn't have in stock, however, is the "Gay Guy" costume.
The fake outfit that is not sold at any Spirit Halloween location appeared on Instagram alongside other mocked-up merchandise, according to Queerty.

The photo of the fake "Gay Guy" costume shows a Photoshopped image of a young White male with bleached hair wearing a tank top and jeans and draped in a large Pride flag.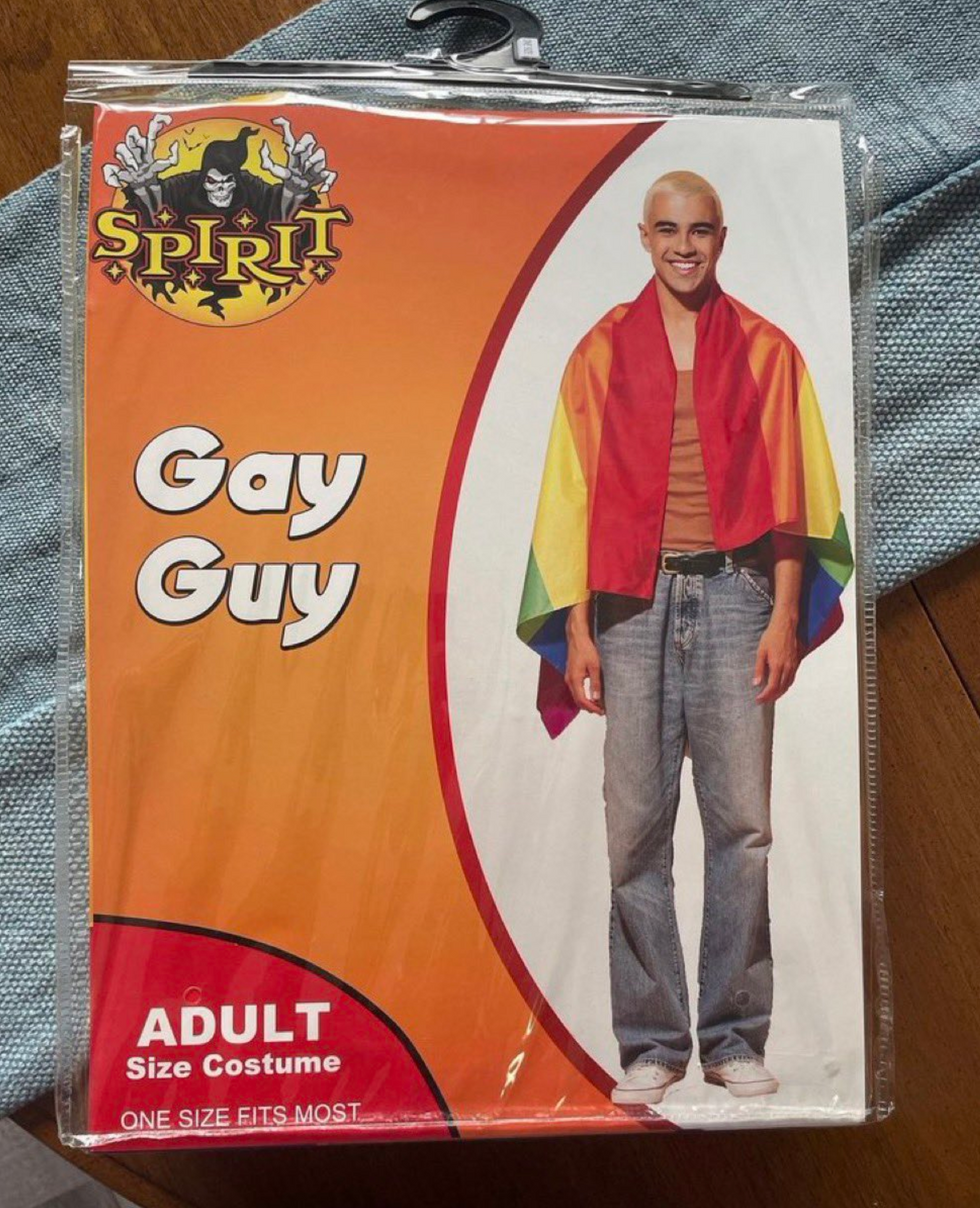 @beyondalxander/Twitter
The photo made its way over onto Twitter where it went viral.
Some got the joke, while others didn't.
"My culture is not your costume," wrote Twitter user Andrew Alexander.

Others who were convinced that Spirit Halloween was hawking the "Gay Guy" merchandise lambasted the retailer on Twitter.
After being barraged with complaints, the store's Twitter account emphatically maintained the product was fake and not conjured up by them.
On October 21, they declared once and for all:

"Hey! This is not something we carry or have carried before."
Clearly, once was not enough.

On October 23, the retailer once again announced:

"This is not an officially licensed costume from our company."
"Photoshopping our packages seems to be trending at the moment. We will be passing this to our review team."
"Thank you for bringing this to our attention."
Rest assured, discerning Twitter users responded with wisecracks.
Jokesters found Spirit Halloween's predicament delightfully hysterical and stirred the cauldron by adding their own costume ideas using gay stereotypes.
These examples are fun and hilariously accurate.
We know these people.

The meme also inspired a sub-genre called "Gay Loser."
The fake costume giving a nod to HBO's period comedy, Our Flag Means Death–which was lauded for its LGBTQ+ representation–is especially clever.
The theme expanded by dropping the "Gay" descriptor to show the Republican Florida Governor, Ron DeSantis–who signed the controversial "Don't Say Gay" bill on March 28, 2022.
He clearly was not a winner in most people's eyes.
Finally, our favorite out rapper Lil Nas X was dragged into the online frivolity and was teased for the orange outfit he wore to the Variety Hitmaker Brunch in 2019.
This fake item was labeled, "Gay person in terrible outfit."
We still love you, Nas.

When it comes to Halloween 2022 costume ideas, there is definitely no shortage of inspiration.