Cast members from the original iconic American musical comedy film Grease recently got together.
It was unlike any high school reunion ever.
---
It's been 40 years since the romance between mismatched lovers Danny Zuko—played by John Travolta, 64—and good-girl Sandy—played by Olivia Newton-John, 69—made people's hearts sing in theaters.
On Wednesday, the gang from Rydell High School gathered for a special reunion at a screening of the 1978 movie to commemorate its anniversary.

John Travolta and Olivia Newton-John reunited for a special 40th anniversary screening of "Grease" https://t.co/xAlZJahgPR

— Getty Images (@Getty Images) 1534468507.0
The Samuel Goldwyn Theater in Beverly Hills was bustling with activity with an enthusiastic crowd excited to see the cast arrive and pose for photos on the red carpet.
Among those attending in addition to Newton-John and Travolta were Didi Conn—the beauty-school dropout and Pink Lady, "Frenchy"—and Barry Pearl, who played T-Bird "Doody". Director Randal Kleiser also made an appearance with the Rydell clan.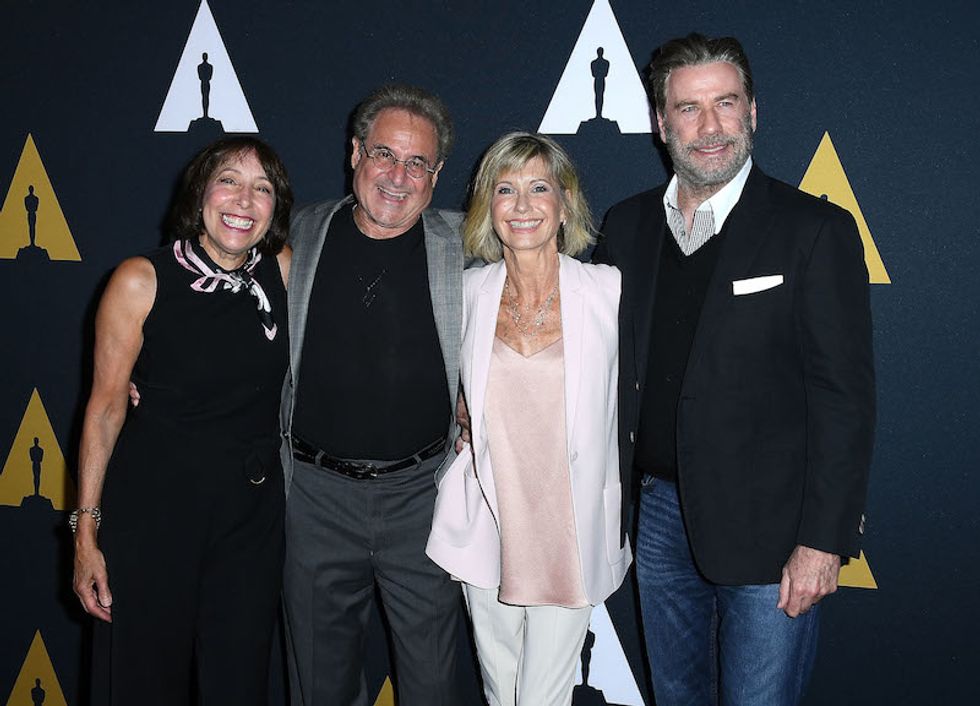 From left: Conn, Pearl, Newton-John, and Travolta.Steve Granitz/WireImage)
@ShowbizSimon @Reuters Time Flies !!!

— Shalini Singh (@Shalini Singh) 1534440450.0
How's This For A 40 Year Reunion Of "Grease" Sandy & Danny Pick Up Their Dance Routine And Were Also Known As Olivi… https://t.co/XW4SOfUeT5

— Andro Paul Lucich (@Andro Paul Lucich) 1534459910.0
Fans of Grease were giddy at being a part of the audience sitting alongside the cast members.

That's Olivia Newton-John & John Travolta sitting across the aisle from us at last night's Grease 40th anniversary… https://t.co/Ipsbu496NB

— Tom McLaren (@Tom McLaren) 1534443404.0
@27cc40a7ee3a402 Rewatching Grease makes it clear why he became a superstar #JohnTravolta

— Tom McLaren (@Tom McLaren) 1534452796.0
@SmoothRadio Oh ive loved John like forever!!! What a hunka junk!!! 🚗 you're the one that I want!! xxx

— Marie Williamson (@Marie Williamson) 1534534026.0
Newton-John told People she knew from the first public screening that she was a part of something special.

"We did something life-changing, making that film. [At the premiere] you got the feeling from the energy that something was happening. It was a huge response."
She also touched on her special friendship with her on-screen love interest, John Travolta.

"I feel grateful to be a part of that and to have worked with him. We've stayed friends ever since."

@TMZ @TooFab Love their life long friendship

— Sandria Soffa (@Sandria Soffa) 1534443548.0
Travolta was just 23-years-old at the time of filming and has been a strong presence in her life ever since.
She added:
"[In tough times] John always reaches out to me."
Travolta felt the same way about their friendship.
"When you share that kind of meteoric success—and nothing has been able to exceed it—you share a bond."
"I've been through her having a child, getting divorced, losing her sister. She's been through my getting married, having children. It's wonderful and full of shared memories."
@TMZ @TooFab Timeless.

— Shepard1970 (@Shepard1970) 1534441256.0
@ShowbizSimon @Reuters John Travolta is looking good. I hope I look like that when I'm his age.

— Jonny Sad (@Jonny Sad) 1534437528.0
@ShowbizSimon @Reuters They both look young and fabulous. To beautiful people.☀️

— Kenneth (@Kenneth) 1534478775.0
Grease was an instant success at the box office and surpassed The Sound of Music's 13-year tenure as the highest-grossing musical ever. Grease's impressive streak was later overtaken by Les Miserables (2012) and Mamma Mia (2008), according to Box Office Mojo.

After all these years, they're still the one that we want though.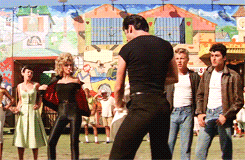 Happy 40th anniversary, Greasers!

H/T - BoxOfficeMojo, Wikipedia, People, EW, Twitter