Attention Game of Thrones and nature documentary fans: Tywin Lannister (Charles Dance) has just narrated an adorable parody of the Nat Geo Wild miniseries Savage Kingdom starring kittens and puppies, and it's every bit as epic as you'd expect.
---
While the parody, entitled Savage Cuties, is just a short advertisement recreating the popular nature documentary, which follows big cats and hyenas in the African plains of Botswana and is also narrated by Dance, it definitely packs a cute punch.
[youtube https://www.youtube.com/watch?time_continue=4&v=X9hbPMblr80 expand=1]
It also serves as a helpful recap of what happened during the first season of the show, assuming you can even hear the narration over your audible sighs and giggles.
When the six-hour, three-part miniseries debuted in November of last year, it was met with mixed reviews.
The New York Times noted that the show seemed to be trying to capitalize on the success of Game of Thrones by inserting a dramatic human narrative onto the wild animals.
They didn't seem to care for Dance's narration either, observing that he "reads a ponderous narration in a sonorous voice that is supposed to be ominously intriguing but is too often just nap-inducing."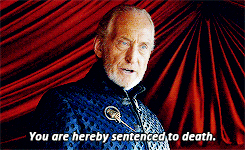 That being said, Savage Kingdom is pretty violent and bloody, and features some pretty stunning imagery. It even has a viewer advisory before each episode. So in that way, the comparisons to GoT are actually pretty accurate.
The next season of the show, called Savage Kingdom: Uprising, will begin with new episodes on Nat Geo Wild starting on Friday, Nov. 24.
And while viewers may be excited to catch up with their favorite royal animal families, we've got to admit: we would totally be down for a full series about kittens and puppies duking it out in the wild African savanna.
Please SHARE this with your friends and family.
H/T: Mashable, New York Times, YouTube