A mom posted a video on TikTok about giving birth and it's since gone viral.
TikToker Elimarie (@_elimariee) made headlines this week after posting a video about her strange birth story.
Elimarie was in the hospital, pregnant and about to be induced to give birth.
She said that her previous baby was induced and the process went smoothly so she decided to go with induction this time around as well.
Surprisingly, though, the induction went so well that Elimarie gave birth without her, her fiancé, or even the nurse, realizing it.
Watch the video here:
@_elimariee

All the nurses & my OB were SHOOK 💀 #fypシ #momsoftiktok #laboranddelivery
In the video, the TikToker claims that she checked into the hospital at four a.m. and after the induction, reached four centimeters dilated in a very short amount of time.
She said:
"I was laying on one side, but then that side started to get numb, so I flipped to the other side after about 15 minutes, and I like felt something between my legs."
"I reached my hand down there, and all I felt was the catheter wire. So I didn't think anything of it."
After that, the maternity nurse lost the baby's heartbeat on the monitor so she got up to check on the baby, only to find that the baby had already been born and was lying between it's mothers legs.
@_elimariee

Reply to @noemiliar pt. 2 STORYTIME!! Posting the video in pt. 3!
Elimarie said:
"Since I felt that little thing, I made a joke saying, 'Oh, he's probably already out.' So she lifted up the cover, and sure enough, he was right there."
She then noted that the nurse quickly called for other staff, while Elimarie alerted her fiancé.
The birth was so fast and painless, however, that the Tiktoker's fiancé had unknowingly missed the delivery and was instead watching a movie.
She said:
"I looked over to my fiance; he had his headphones on, watching a movie on the iPad. He didn't even know what was going on."
The Tiktoker then said that once she told her fiancé what had happened, he jumped up out of his chair and quickly began recording the situation with his camera.
The TikTok has since gone viral, with viewers dumbfounded but supportive over the strange birth story.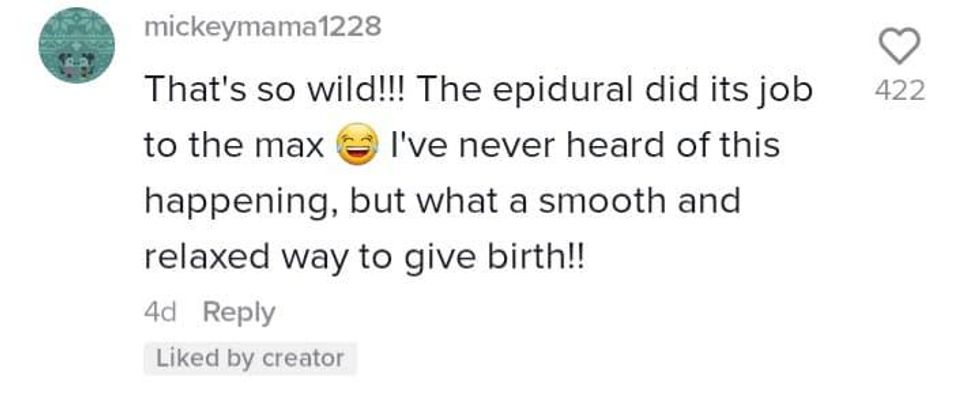 @_elimariee/TikTok

@_elimariee/TikTok

@_elimariee/TikTok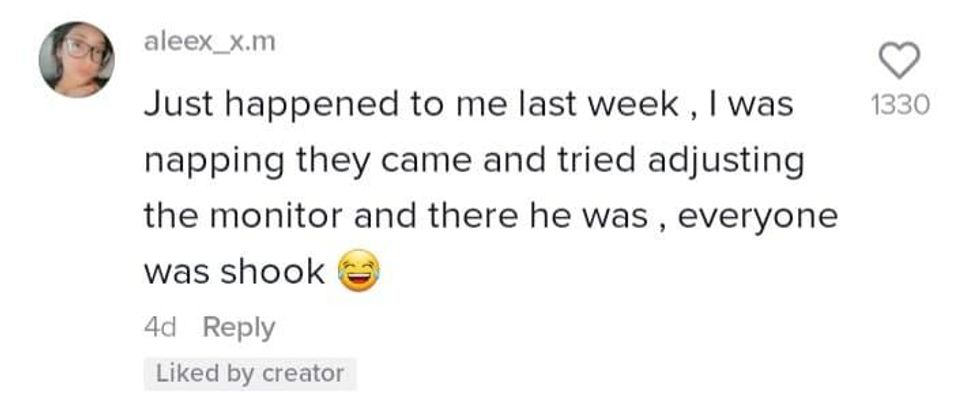 @_elimariee/TikTok

@_elimariee/TikTok

@_elimariee/TikTok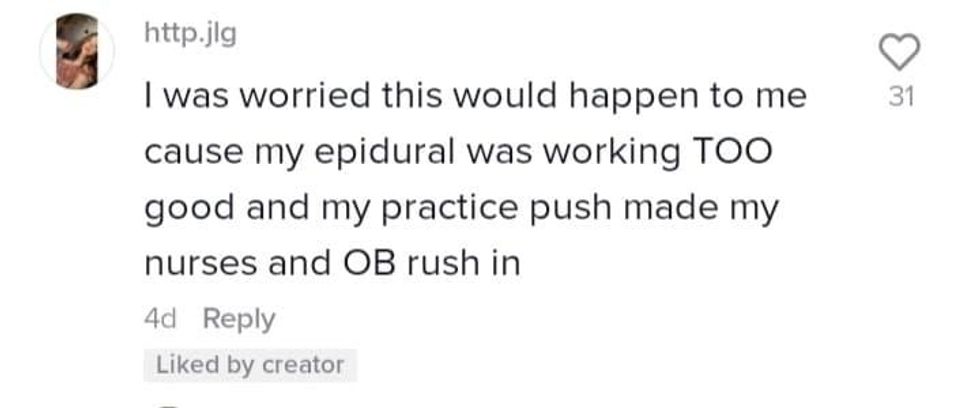 @_elimariee/TikTok

@_elimariee/TikTok

@_elimariee/TikTok

@_elimariee/TikTok

@_elimariee/TikTok

@_elimariee/TikTok
Elimarie has since said that her experiences was one of the "best labor stories."
She said:
"It was a really really great experience."