A vegan animal lover revealed how she has spent over £4,000 giving a three-legged dog from Egypt – injured when sadistic thugs flung her off a balcony – a new lease of life in Cumbria…and a shiny set of wheels to match.
---
Already a veteran dog rescuer, Victoria Bryceson, 33, of Carlisle, had promised friends and family she would stop bringing desperate dogs back from foreign trips, after she brought home mixed breed strays, Star, six, Tess, five, and Miracle, five, from Borneo in 2014 – costing £2,000 for the 7,200 mile flights, vaccines and microchipping.
But her resolve broke when she clapped eyes on three-legged, mixed-breed German Shepherd stray Ella last year, during a trip to Cairo, Egypt, and, falling in love at first sight, knew she could not leave the hapless hound behind.
Compassion did not come cheap, though, with transport costs to bring Ella to England reaching £800, while veterinary fees to treat her for, amongst other things, a broken back, a false pregnancy and a cancer scare, setting her back a further £4,000.
Totally devoted to the pooch, vegan events organizer Victoria, who is single, said: "People always say how lucky Ella is to have me, but it's me that's lucky to have her.
"We're completely inseparable and I can't imagine my life without her – if people were half as courageous and as kind as Ella, the world would be a much better place."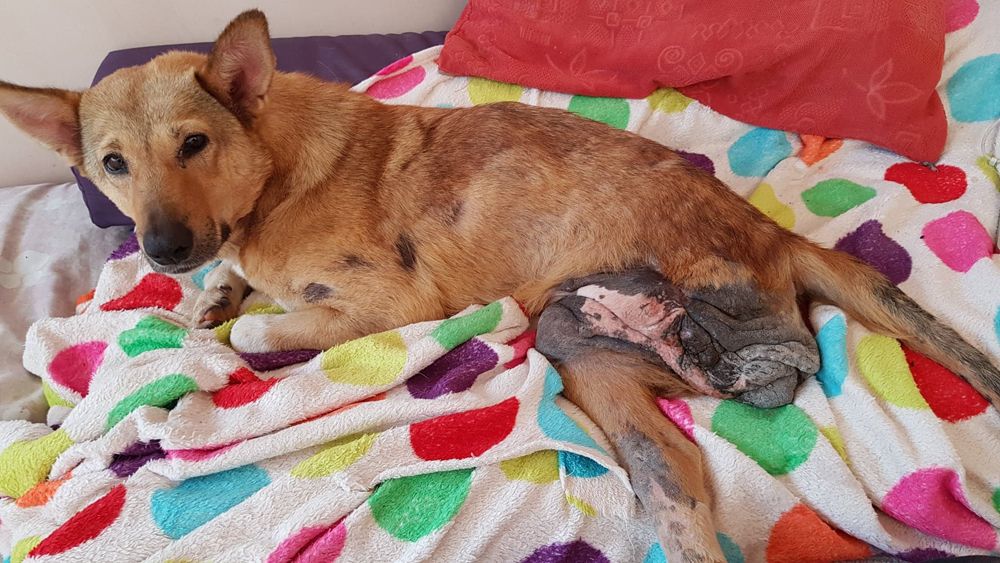 Ella recovering PA Real Life/Collect
Victoria's passion for rescuing pooches began after traveling to Borneo alone in June 2014 to climb Mount Kinabalu, when she also found herself volunteering for a local stray dogs' charity.
And she extended the month-long trip she had planned because of three very special dogs – Star, who was found roaming the streets completely blind; Miracle, who was the only survivor of a litter of six puppies and Tess, who was found on the streets along with her five puppy siblings, that all sadly died.
"If I'd have had it my way I would have brought all the dogs I worked with back here, but it simply wasn't feasible," she said.
After seeing her own dogs' plight, Victoria resolved to help other canines in dire need across the globe and, in 2017, Miracle's Mission, a non-profit animal welfare organisation working with sick, injured and difficult animals in Borneo.
She explained: "I have personal ties with Borneo, as that's where I found my three girls after all, so it just made sense to base our projects there to begin with.
"Our mission statement is simple – to provide a place of safety for animals in danger, to educate on the need for neutering both pets and strays and to neuter stray dogs and cats to prevent the birth of more dogs and cats onto the streets."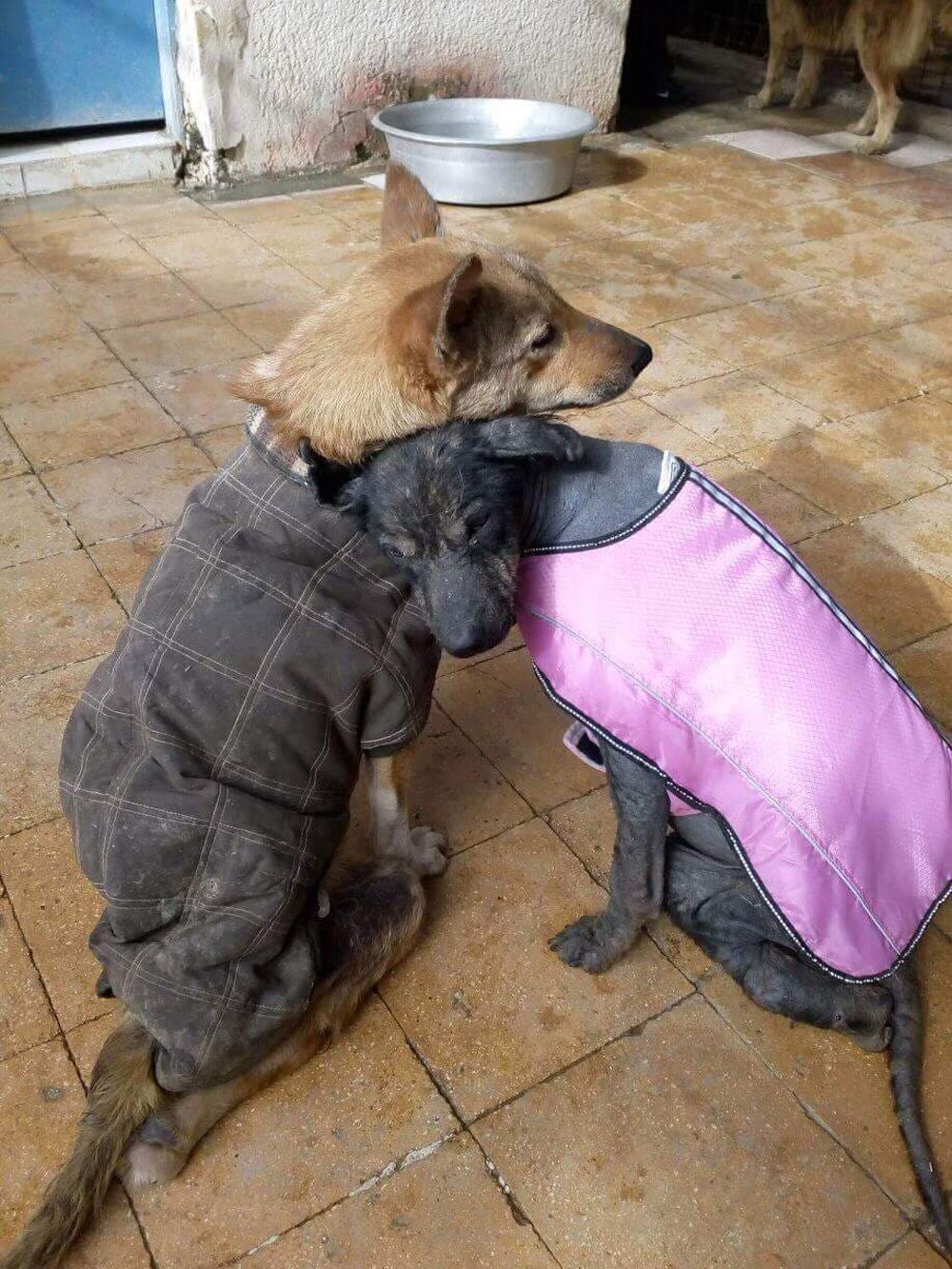 Ella at Egyptian shelterPA Real Life/Collect
In just two years, Victoria and her team have helped save over 6,000 dogs and cats and have expanded – opening another clinic in, Cairo, Egypt in January 2018.
It was while assessing potential bases for their Egyptian outreach program that Victoria felt a nudge at her leg that changed her life.
"I couldn't believe my eyes when I looked down and saw little Ella," she said.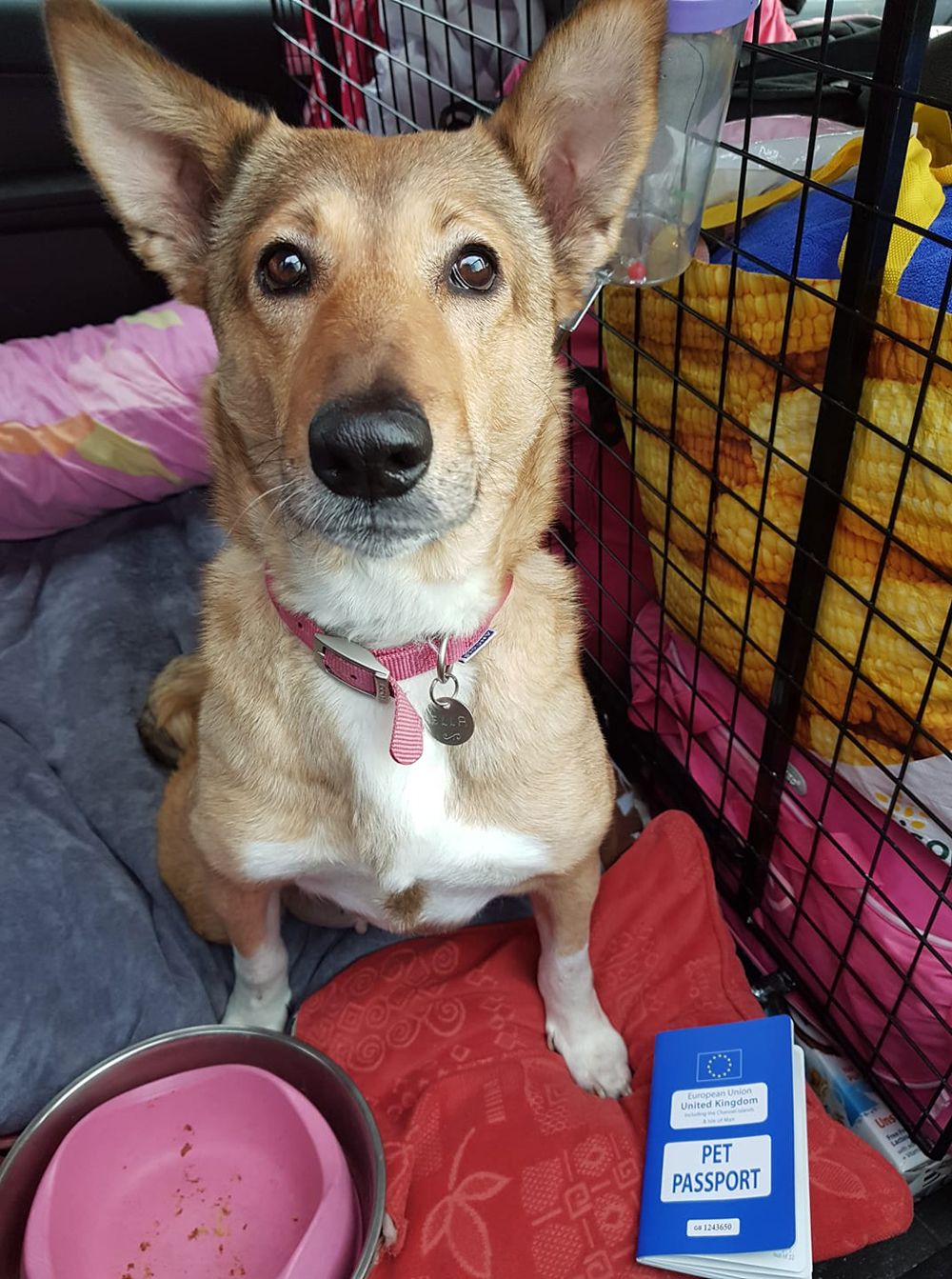 Ella with her passport PA Real Life/Collect
"Since my first experience with neglected dogs all those years ago, I've seen some awful sights, but Ella's condition was something else completely," she added.
According to locals, Ella, who was thrown off a balcony and left to die, was forced to drag herself across the floor in order to get about.
"The shelter had taken Ella in but she hadn't been given the necessary treatment," Victoria explained.
"It's something we see all the time at Miracle's Mission. It's not out of cruelty, it's just ignorance – that's why we spend so much of our funds on education programs."
As she continued to put everything in place for the opening of their flagship Egyptian animal shelter, Victoria's feelings for Ella grew.
And, two months, £1,000 and a lot of jabs later, she brought her new three-legged friend back to her Cumbrian home.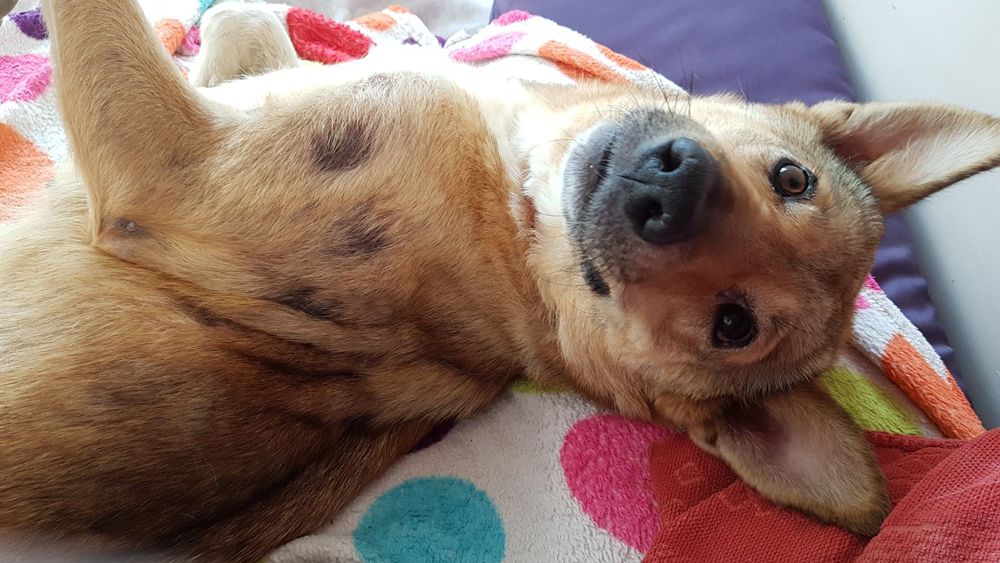 Ella on the mend (PA Real Life/Collect)
Taken straight to the vet, an MRI scan confirmed Victoria's suspicions that Ella had a broken back.
Refusing to give up hope, she booked the pooch in for weekly hydrotherapy and physio sessions.
Despite noticing an improvement, it soon became clear that Ella would never be able to walk on her back leg, meaning she faced dragging herself around for the rest of her life and, worried about her quality of life, the vet advised Victoria that the kindest option may be to put her to sleep.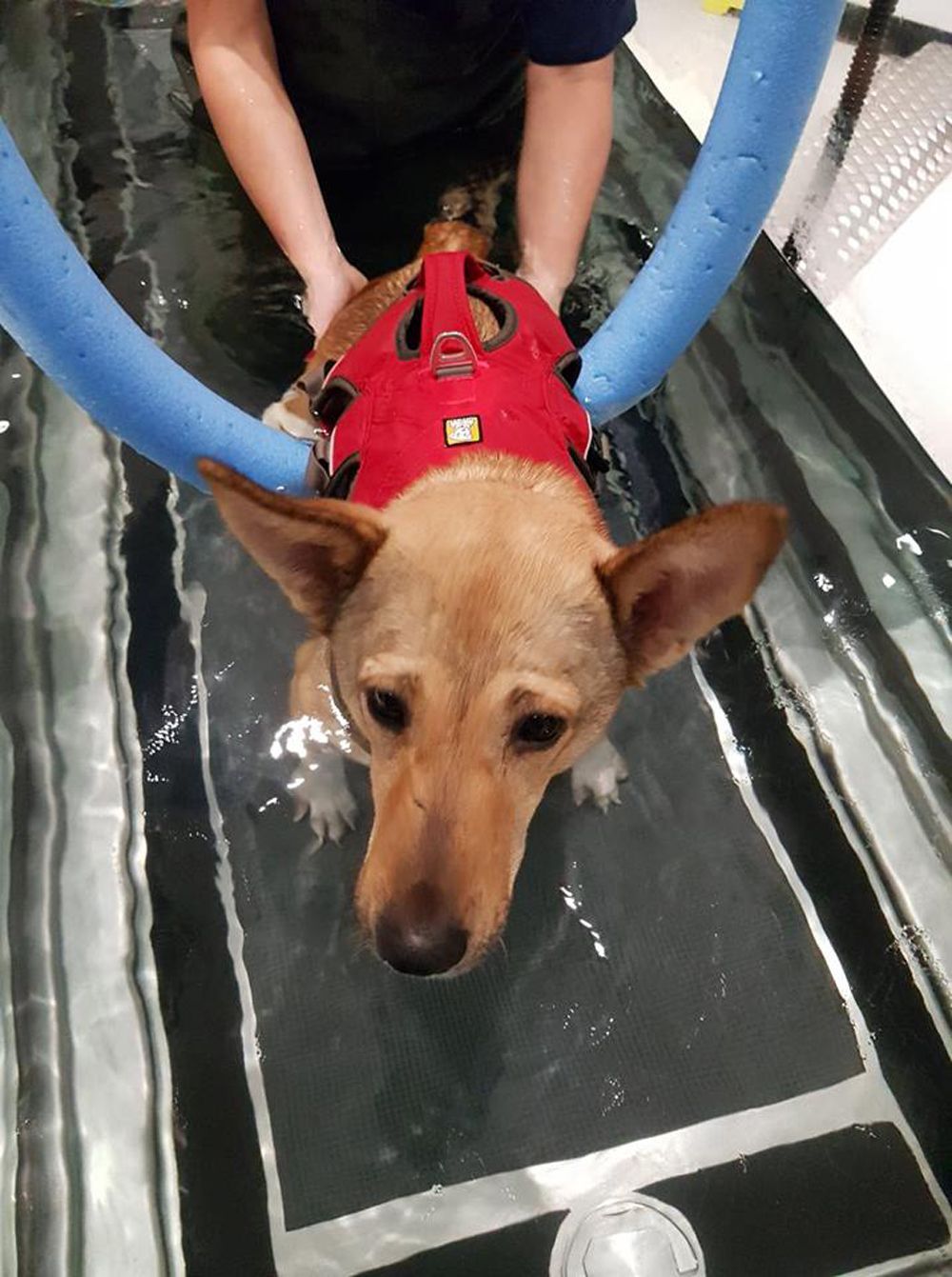 Ella undergoing hypnotherapy PA Real Life/Collect
But the dog lover could not give up on her brave pooch, explaining: "I am the biggest animal lover going and I would never dream of letting one suffer pointlessly.
"There's a light in Ella that's hard to describe, though, and I just knew she wanted to keep on trying."
That is when Victoria and her vet decided to try out one last option – a doggy wheelchair for the much-loved mutt.
"I was so worried she wouldn't take to it," Victoria said. "I took her out to the field and as soon as we let her off the leash she was away, like a duck to water."
Just as her mobility issues were being addressed, another bombshell was dropped, when the vet said she was pregnant, despite having been neutered.
"I couldn't believe it when the vet said she thought Ella was pregnant," said Victoria. "I thought it was an immaculate conception or something."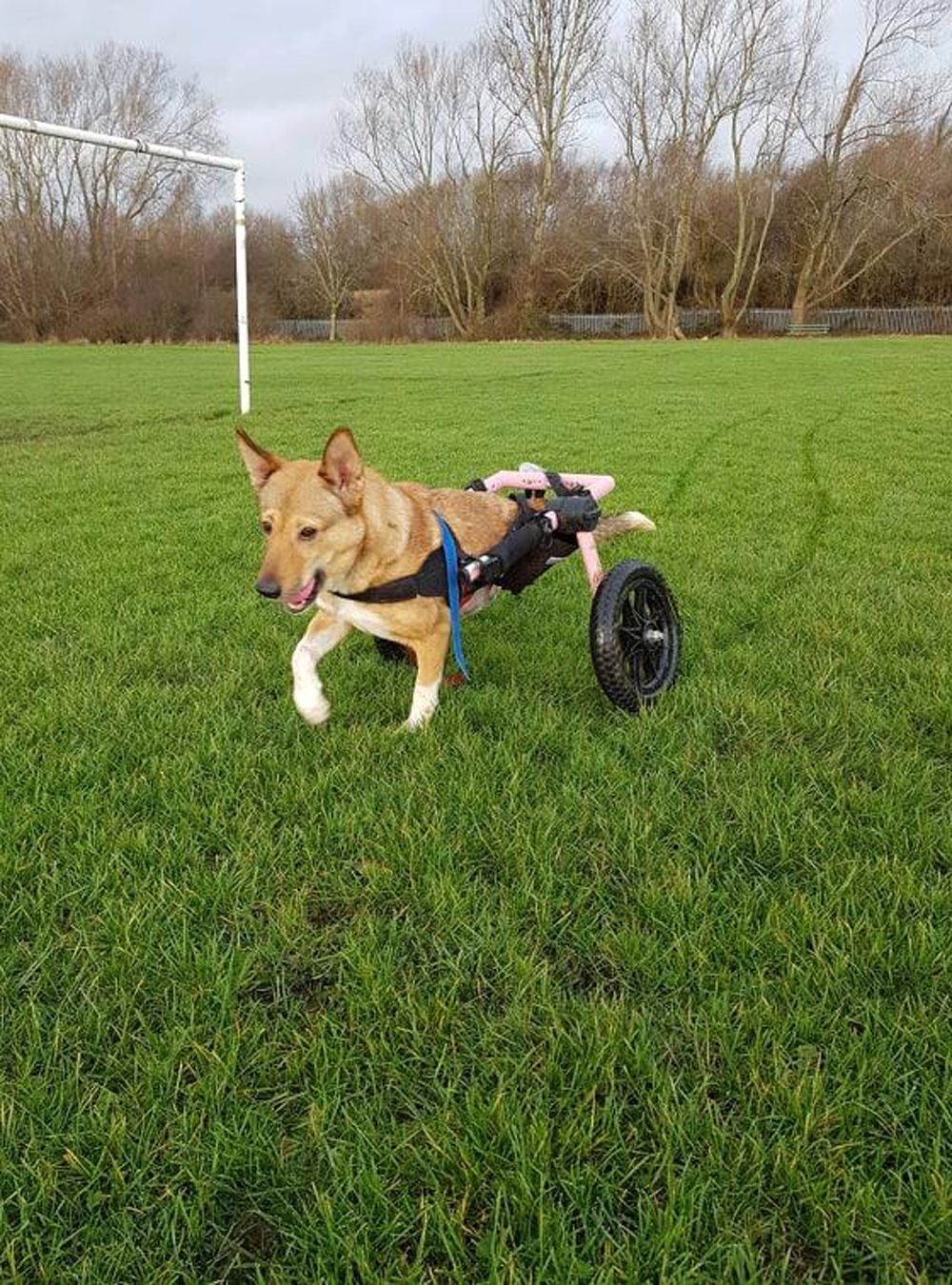 Ella in the park PA Real Life/Collect
Stranger still, tests revealed the dog was experiencing a false pregnancy – meaning she displayed all the symptoms of carrying a litter, without having actually conceived.
Next came the prospect of a more sinister problem – spleen cancer.
Victoria said: "We still don't know for sure what the matter is."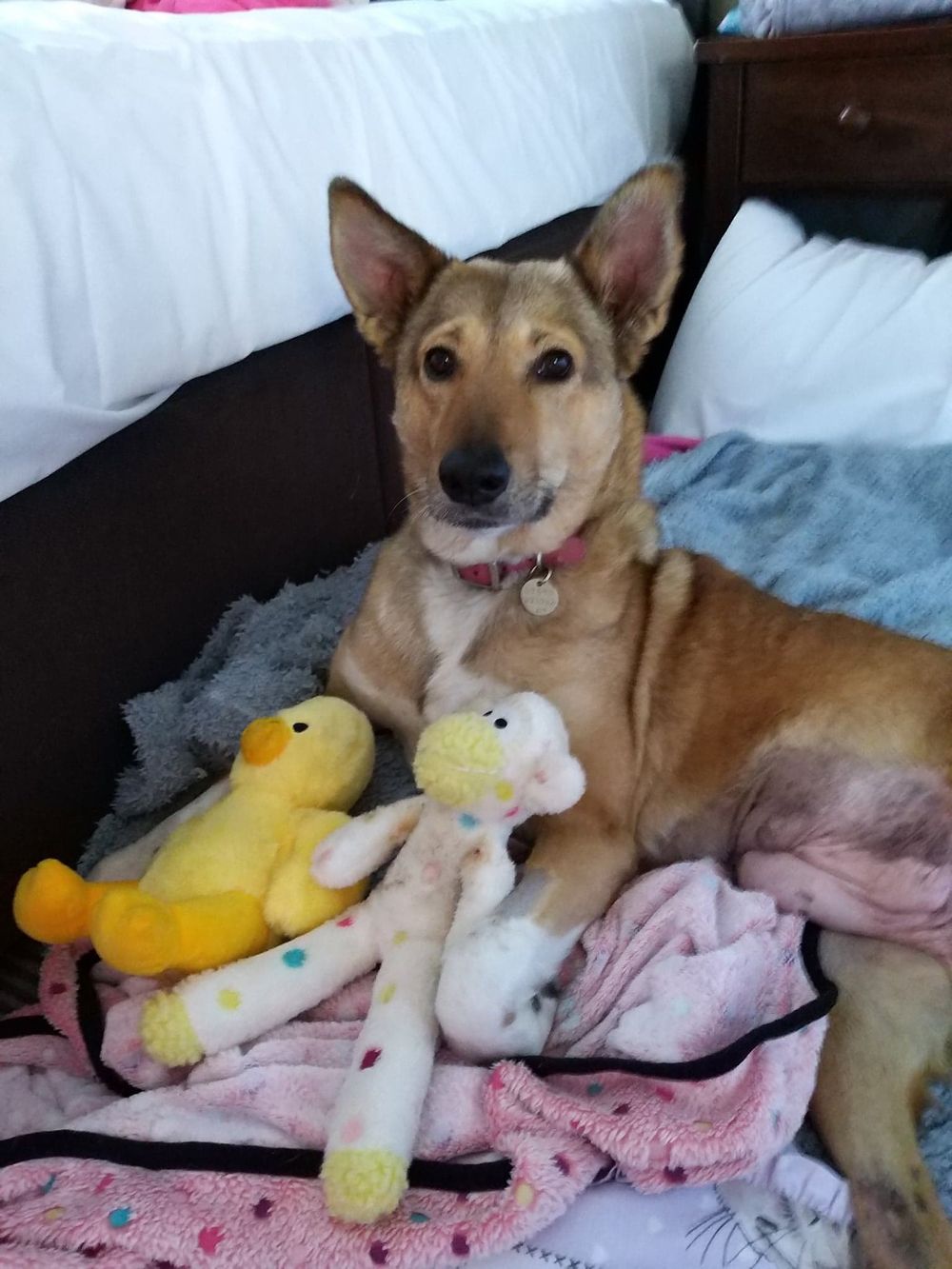 Ella recovering PA Real Life/Collect
"There's a mass on her spleen, but it hasn't grown since the initial diagnosis last month, so we're hoping that it's not cancer," she added.
Further scans should make it clear, but Victoria is hoping Ella simply has a parasitical condition called visceral leishmaniasis, which is more common in dogs from north Africa and can be treated with dewormer tablet.
With the cysts on Ella's spleen showing no signs of growing, the courageous canine is back to exploring the local countryside with her big sisters, Tess, Miracle and Star.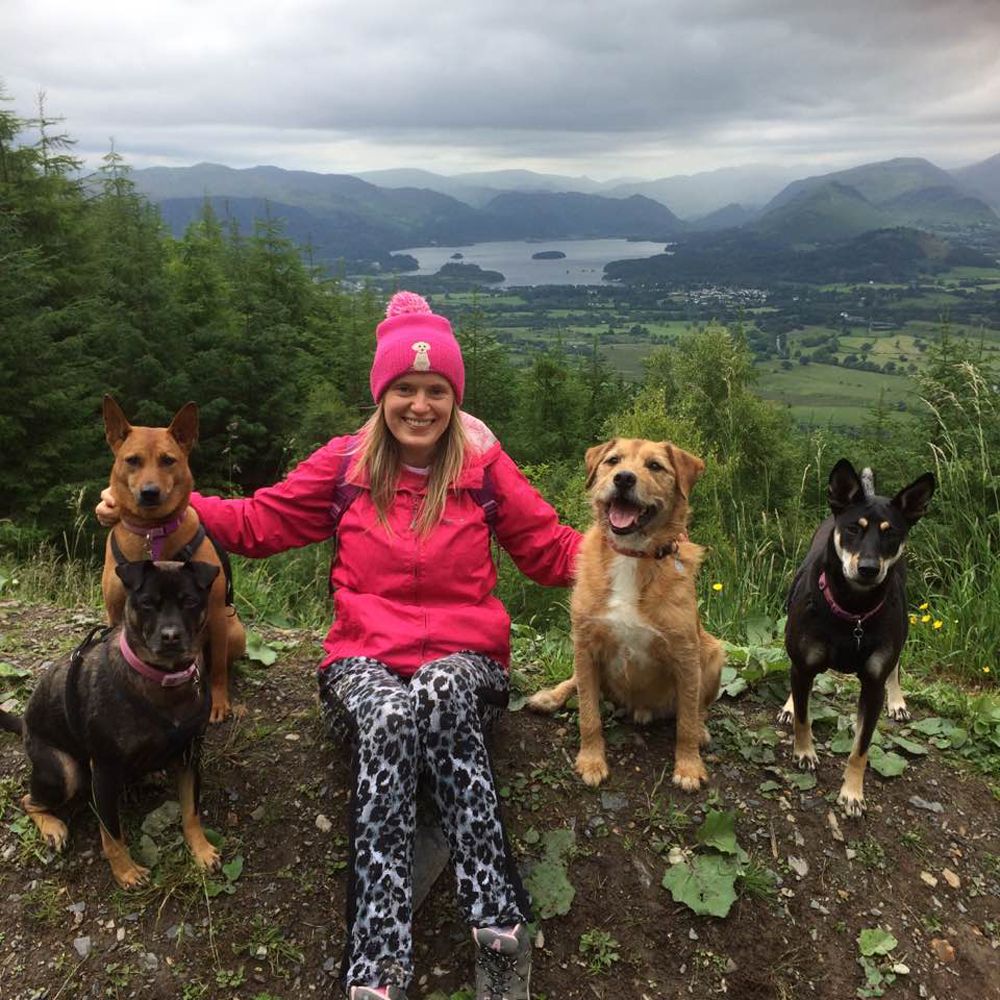 Victoria with all her dogs PA Real Life/Collect
"I have to admit I do spoil Ella more than the other girls, I just can't bring myself to be away from her," she said. "Even when I'm out on a job I bring her along with me – if she can't have her wheels on, she comes along in the pram."
Now Victoria is determined to show the world just how far Ella has come, and that it is never too late to help an animal in need.
"I hope the world will see Ella as an inspiration," she added. "This dog has been through hell and back again and she still manages to wake up with a wag in her tail."
To find out more about Miracle's Mission, visit www.miraclesmission.org