A viral video on TikTok of a dog climbing through the Starbucks drive-thru window has sparked a huge debate.
The video posted by @dollface_danapace was of the car stopped ahead of them.
A 13 second clip showed a black dog going from the owner's car window to the person at the Starbucks drive-thru. There's sounds of @dollface_danapace laughing in the background and others shouting from the car ahead.
The text over the video said:
"When the puppoccino calls to you...the dog's name is BooBoo."
A "puppoccino" isn't a coffee for dogs, it's just a cup of whipped cream some locations will give for free to customers with dogs.
The dog might have been excited to see the Starbucks worker because they know the puppoccino is on the way.
However, based on the yelling coming from the car and the Starbucks employee, they did not anticipate the dog actually stepping out of the car.
A few things were revealed in the comment section.

One thing is the dog's owner and the person in the front seat of the car are related to the person taking the video.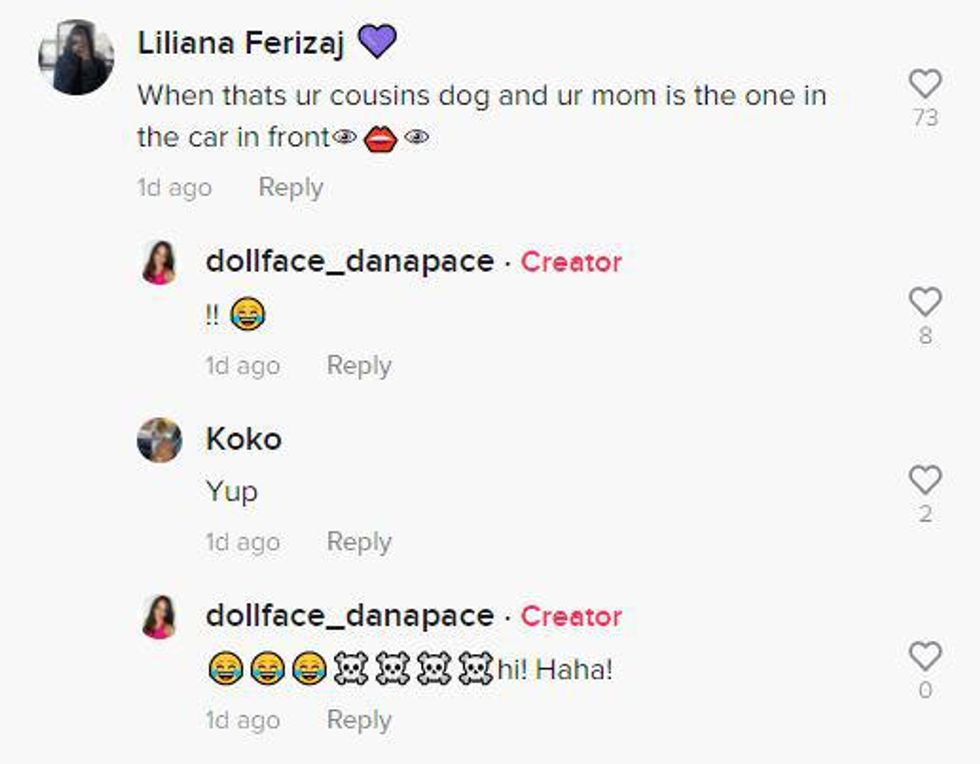 @lilianaferizaj/TikTok; @kyhden5/TikTok; @dollface_danapace/TikTok
Not seen on camera was the person who took the video attempted to help Booboo the dog get back in their car.
But Booboo got back unassisted.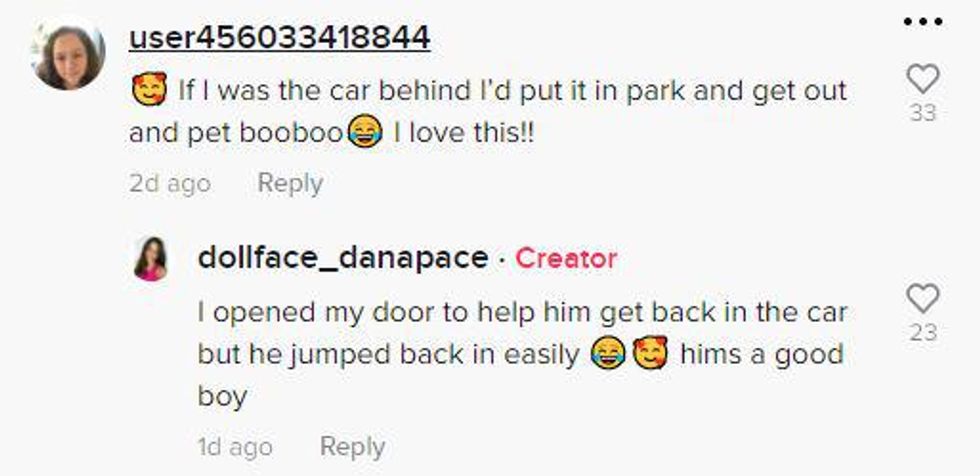 @cheyo0613/TikTok; @dollface_danapace/TikTok
Some commenters joked about the dog's adventurous leap into the Starbucks window.

@georgia_6162/TikTok

@kcmk9/TikTok

@southern_yankee74/TikTok

@ludecrys/TikTok

@saraharaujo6984/TikTok

@mischaxo1/TikTok
Others were not so amused by the owners letting the dog climb through the window.



@froggy.time45/TikTok

@polar0idspolarbears/TikTok

@suseonhwa_/TikTok

@cloudmellie/TikTok

@jen2270/TikTok
A former employee also joined in the debate.

@dollface@danapace/TikTok

@user80655929/TikTok

@dollface@danapace/TikTok

@booblifter/TikTok

@little.naked.dog/TikTok
Overall, many people felt the joy in BooBoo's boldness but decided it would be best if Booboo avoided making that booboo again.