dog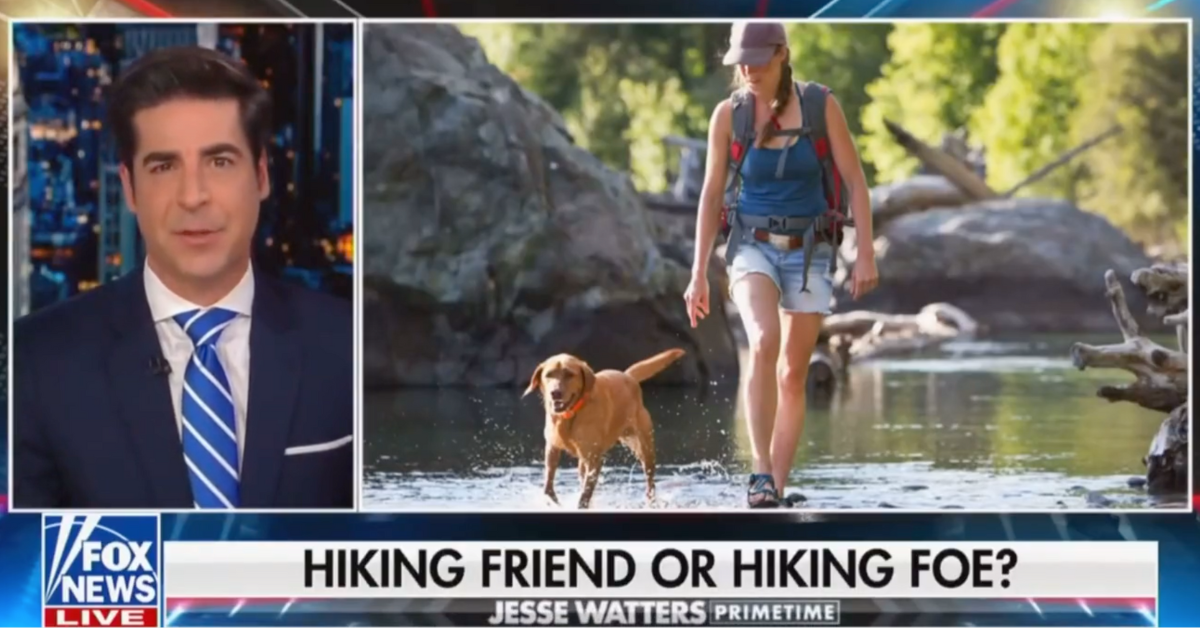 Fox News
Fox News personality Jesse Watters was mocked after he claimed he was bitten by a dog while hiking in a nature preserve and suggested he could discern the owner's political affiliation—Democratic, of course—based on the circumstances.
Watters described encountering a woman with her dog on a trail in a nature preserve. He recounted observing the dog being wet and the woman's explanation that the pet had been swimming in a pond, despite the chilly 37-degree weather, which he found unusual.
Continuing his account, Watters mentioned the woman's struggle to control the dog on the leash, leading to the animal biting him twice, in his groin and on his hand, leaving him with bruises near his thumb. He proceeded to comment on his pain, showcasing his injured hand to the camera, emphasizing his typically restrained reaction to discomfort.
You can hear what Watters said in the video below.

Watters said:

"We're on a tight part of the trail, and I notice the dog's all wet, and she's like, 'Oh, this my dog, you know, kind of wet, you know, he just swam in the pond."
"I'm thinking, this is kind of crazy. You're letting your dog swim in a pond — 37 degrees in a nature preserve? That's my first clue."
"Second clue: The woman's kind of struggling to hold the dog on the leash. The dog comes by, and I'm trying to back up ― just give her a little room."
"Dog bites me. Twice. Nips my groin and takes a chunk out of my hand."
After showing his hand to the camera, he then suggested he "could tell" the woman is a Democrat:
"I said, 'ouch.' Zoom in on that. Zoom in. And I never like to show pain. I never say, 'Ouch.'"
"I could tell she was a Democrat because when I pulled into the preserve in my car, there was a Subaru Outback. Dead giveaway. Plus, she didn't recognize me."
Critics were quick to mock Watters' absurd story.

Watters' oddball claim came not long after his reveal during an appearance on The Five that he had recently given away his dog due to issues in their relationship.

His statement prompted Juliet Jeske, founder of Decoding Fox News, to criticize him for not clarifying "what happened to the animal even when his co-hosts and fellow dog owners expressed their disgust at his comments."
Watters later went on his show to clarify that he "didn't kill" his dog, noting that it's "a euphemism when you say it's in a better place."
Keep reading...Show less