Grace O'Heeron has gained a massive following on TikTok for attempting to DIY her bathroom which resulted in quite the emotional rollercoaster.
She says her idea to DIY stemmed from the inspiring and crafty side of TikTok.
O'Heeron started her journey by attempting to paint the floor an intricate back and white design, based on an example she found online. Unfortunately, the floors turned out less than perfect when finished.
Oops...

@jacks_757/TikTok

@tzechnotzar/TikTok
@coffeefrommay/TikTok
Buzzfeed News caught up with her to get her takes on her now infamous DIY TikTok series.

O'Heeron explained where she went wrong on the floor.
"I found out I did that wrong. I was supposed to stencil black over white."
"It was so bad, and I had spent like a month hand-painting each of those tiles, trying to fix it and stuff."
This is only where the 40 day long journey of bathroom makeover began. The saga has now attracted over 117 thousand followers.
Her next steps were to then paint her counter tops.
Originally, she covered the off white counters with glitter.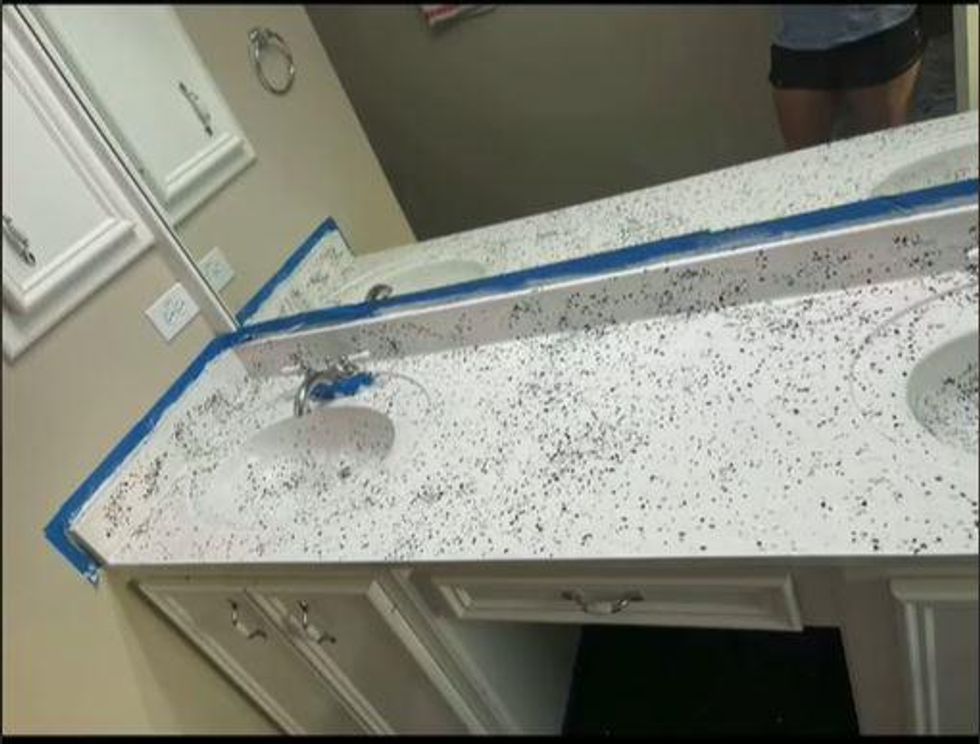 @Graceoheeron/TikTok
But the feedback was less than good.
So in the interest of fixing what many said looked like "bugs," O'Heeron decided to paint the counters a very popular shade of emerald green.

However, without primer, the counters did not take the paint well.

@bvitchii/TikTok

@caren.not.karen/TikTok

@all.smiles.over.here/TikTok
Even though the green paint didn't look quite right, she kept trying regardless of anyone telling her to stop in the comment section.
She told Buzzfeed News she almost left it but felt pressure from her new followers.
"I was going to keep the floor as is, keep the counter green, live with my mistakes, but everyone was so heated."

In one of her TikTok's, she joked about the people making fun of her in the comments.
"Honestly, Picasso is lucky he did not have a TikTok because I don't know how he would have handle the slander in the comments, y'all."
The multiple layers of paint on the counters and in the sinks lead O'Heeron to buying a plethora of paint thinners, acetone, sand blocks, scrapers and new paint supplies to start the process over again, resulting in quite the mess.

@sheilah4579/TikTok

@amothersdisappointment/TikTok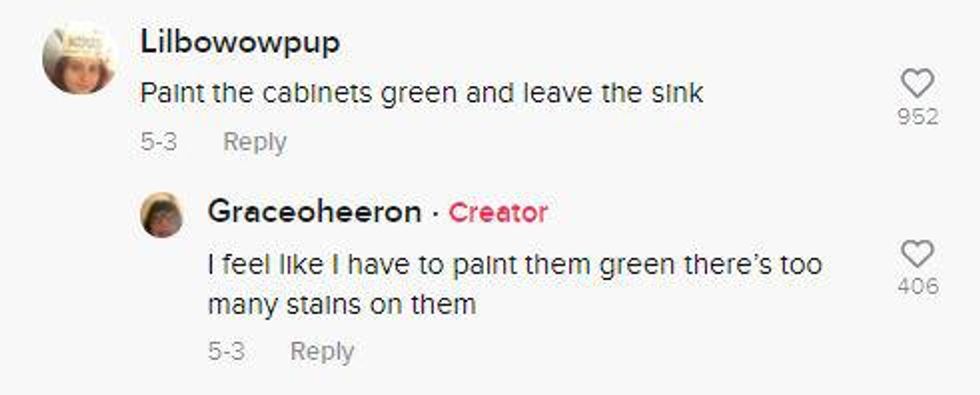 @lilbowowpup65/TikTok
Eventually, she did get the rest of the paint off of her counter and started painting the cabinets green.
But of course, with any rollercoaster, there are ups and downs.
It started to look good but suddenly there was uneven paint on the cabinets, cracks in the new coats of tile refinishing spray and puddles of green paint on the tiles.
At one of the lower points in her series, O'Heeron got personal as so many people asked her if she was diagnosed with Bipolar Disorder.
She took the opportunity to share her experience being run over by a drunk driver and suffering a traumatic brain injury which makes her impulsive in her decisions.
Along with her story, O'Heeron shared drunk driving statistics to spread awareness:
"28 people a day die in DUI related accidents."
"That's one person every 52 minutes."
"One in three people are involved in a DUI accident in their lifetime."
"20% of alcohol related accidents involved innocent children."
"Only 1% of offenders get arrested."
In her interview with Buzzfeed News, she said:
"I wish it was a joke. People kept saying it was a social experiment, but I'd be so much smarter if I'd planned that."
"But no, it was literally me messing up."
After pausing to share her story, she fixed the renovation issues with a few more trips to Lowe's, some new tiles to cover the ones she painted and a few decorations like plants and wall art.
Finally, the process was complete.

@thebananacrust/TikTok

@sambbam/TikTok

@sky_lr/TikTok

@kdawgmoney/TikTok
Now that the bathroom is complete, she said she's feeling a little lost on what major project to start next.
She continues to post about other small DIY projects and answer comments from fans.
If you'd like to see what else she's doing now, O'Heeron also has an online DIY Etsy shop where she sells makeup bags and tumblers.