To promote Star Wars: The Last Jedi, Daisy Ridley, who plays the heroine of the second installment of the sequel trilogy, shared her memories of working with the late Carrie Fisher and might've given a spoiler.
---
Hollywood mourned the loss of the iconic actress a year ago. Her presence onscreen was as grand as her persona off-screen, and the void she left in the industry and our hearts continue being felt. The Last Jedi will mark Fisher's last appearance on screen as Princess Leia Organa, and while fans are anxious for the film's upcoming release, it will also be a tearful goodbye.
daisy ridley talking about carrie fisher makes me so emotional 💔💔 https://t.co/tFBp9Q6rYL

— meg🌈 (@meg🌈) 1512031468.0
Ridley, who plays the Jakku scavenger, shared a final, emotional memory from her onset experience working with Fisher. "She always took care of me," she said of Fisher's nurturing relationship on set.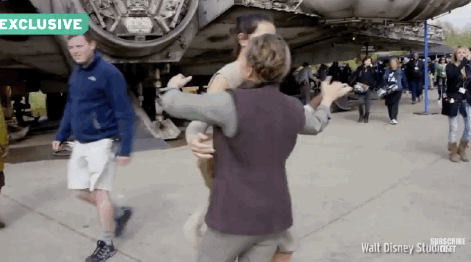 "Carrie Fisher told me not to shrink away from success." - Daisy Ridley

— Ella Strickland (@Ella Strickland) 1511068906.0
Daisy talks about Carrie Fisher's advice to her for ELLE UK 2017 Issue. #DaisyRidley https://t.co/zzEfkKrAbw

— Daisy Ridley (@Daisy Ridley) 1510577353.0
However, in the process of reflecting on her special moment in an interview with Glamour, she inadvertently mentioned what some interpreted to be a spoiler for the film. You've been warned.
She told Glamour Magazine for its January issue:
The last thing Carrie and I filmed together was emotional for a variety of reasons. It's the end of the film, and all of this crazy stuff has happened. There's this moment that we share, and thinking about it now, I realize that it's going to be really hard to watch. Because it will seem like a goodbye, even though it wasn't at the time. You know, she and I went through a similar thing at different times [as Star Wars heroes]. She had the most insane life. What we now know is that somehow, Rey and Leia will be together during the final scenes of Last Jedi, but we're not sure of under what circumstance, although "crazy stuff" went down.
Ridley also teased us about her thoughts on the movie. She told Good Morning America, "I was more surprised with this one."
The thing about this is ... the lines are less clear as to, like, good and bad. Rey is trying to find out about herself and about the universe, and those questions don't entirely fall to the good, nor do they entirely fall to the bad. She's trying to do her own sort of personal growth, and I think what's amazing is the end of the film — however that does end — it's more rich. 'Cause ... if it's always good, the outcome isn't as important as it might be if ... you know ... there's lines.
NEW: Daisy Ridley talks about Carrie Fisher and dancing and singing with her on the set of @StarWars… https://t.co/tdtTpkzhzd

— Daisy Ridley News (@Daisy Ridley News) 1511877214.0
Daisy Ridley & Carrie Fisher. https://t.co/i24eM6Wj3v

— adri ridley (@adri ridley) 1510445423.0
The actress also confirmed reports that Rey will be leaving the Star Wars franchise by Star Wars: Episode IX. She told BBC:
When I did sign up, I did sign up for three films and that's where I sort of saw the story ending. I think everyone has perhaps taken that as me going, 'I don't want anything to do with it' which is vastly untrue because this is awesome.
Star Wars: The Last Jedi is set for a December 15 release date.
Please SHARE this with your friends and family.