When actor Zach Galifianakis flaunted his Vegas-ready outfit as Alan Garner in The Hangover, he probably had no idea it would spark a trend.
Alan Garner's human tree T-shirt, white baggy slacks, and a satchel that hung off his shoulder really resonated with one individual.
---
Madison took a picture of her father before taking off for a trip to Vegas while paying homage to the comedy film's tritagonist.
"So my dads going to Vegas today and this is what he decided to wear," she captioned, along with a head-slap emoji.
So my dads going to Vegas today and this is what he decided to wear🤦🏻‍♀️ https://t.co/nx7Z0ivvTF

— madison (@madison)1533768804.0
Twitter
Madison challenged followers to see who wore it best.
@TheHangover who wore it better?

— madison (@madison)1533929809.0
@6elkhorn @MaddieMMoore I ain't lion, this is a good pic.

— Locked and Loaded (@Locked and Loaded)1534004108.0
The character of Alan Garner is a child at heart. He's immature, wildly out control, and takes medication for his ADHD.

Luckily, he has his mischievous cohorts, the "Wolfpack" – Phil Wenneck (Bradley Cooper), Stu Price (Ed Helms), and Leslie Chow (Ken Jeong), who keep him company. Unfortunately, they're not ones to dole out sartorial advice.

So here is a point of reference: who did wear it best?
@MaddieMMoore @itsmarzmusic https://t.co/bb6IHb5AQy

— Jordan (@Jordan)1533854572.0
What's wrong with the outfit here? Amateur fashion critics weighed in on the look:

@6elkhorn @MaddieMMoore It's just the shirt and pants don't go together

— Terence (@Terence)1534029620.0
@MaddieMMoore I know what you mean, that watch so doesn't match the clothes!

— Graham Arthur (@Graham Arthur)1533941439.0
@mskite1 @MaddieMMoore My flying suit.

— P Moore (@P Moore)1533967565.0
The father is definitely nailing it with the tee and with the facial hair to match. Even the satchel is nearly an exact duplicate offset only by the width of the strap. Just don't call the accessory a "man-purse."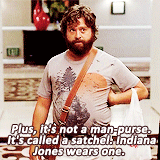 Giphy
People got a kick out of the photo.
@MaddieMMoore Ayeeeeeeeeee ! https://t.co/NYoztEv7Wp

— Liah (@Liah)1533942138.0
@MaddieMMoore @illmaticTate This is single handily the best thing ever! 😂

— Joshua (@Joshua)1533960767.0
@ZoeForbes2014 @MaddieMMoore @JCapps_ Quite simply the greatest thing I've ever seen on Twitter #TakeABow 👏 What… https://t.co/phOOZiAxOY

— Gary Forbes (@Gary Forbes)1534020726.0
The post did wonders for generating interest in the T-shirt.
@MaddieMMoore Where'd he get this shirt cause I need it

— A$AP STOCKY (@A$AP STOCKY)1533952209.0
You can get yours here:
@KingShaMugga_ @MaddieMMoore https://t.co/y9cBccAJq0

— Rebellion Hellion (@Rebellion Hellion)1534005739.0
@KingShaMugga_ @MaddieMMoore The shirt is called human tree. The company I work for sells it you can find it at https://t.co/6A3D8lC7fn

— James🎱 (@James🎱)1534039231.0
@MaddieMMoore Your Dad is the 🐐. May God bless and keep him. #AlanGarner

— Donald King (@Donald King)1534005930.0