This past summer, just ahead of her controversial conservatorship being terminated, Britney Spears posted a number of pictures of herself on Instagram which gained a lot of attention.
This was owing to the fact that in these striking pictures, Spears was partially, if not completely nude.
Spears explained in a caption, which has since been deleted, that she posted these revealing pictures as a statement that she was once again taking control of her own body, after years of being under the control of others.
"I bet you're wondering why I'd expose my body NOW … well it's because I was born into this world naked and I honestly feel like the weight of the [world] has been on my shoulders and it's made me view myself that way."
"I wanted to see myself in a lighter way … naked … like the way I was born"
"I am a woman …. a beautiful … sensitive woman who needs to look at myself in my purest form …"
"I'm not going to do topless pics for the rest of my life cause that would get boring but it sure as hell helps when you need to be enlightened."
Spears certainly wasn't bored of posting topless pictures of herself roughly six months later.

She recently filled her Instagram page with pictures of her recent vacation to French Polynesia with her fiancé, Sam Asghari.
Included among the pictures were several of Spears on the beach, completely naked save for some well placed hands.
Several of Britney's fans gave her a standing ovation for these pictures in the comments section, commending her for being proud of who she is, and taking control of her life, and body, once again.

@britneyspears/Instagram

@britneyspears/Instagram

@britneyspears/Instagram
Others, however, found little to like about these pictures, and wasted no time in criticizing or ridiculing Spears for posting them.

@britneyspears/Instagram

@britneyspears/Instagram

@britneyspears/Instagram
Spears briefly responded to all the naysayers of the pictures in a subsequent post, before shifting the conversation to Chanel makeup.
"Alrightyyy then folks … showing my bod in French Polynesia as a rebel and free WOMAN !!!!! "
"I WILL DO BIG LETTERS CAUSE I THINK THAT MEANS IT'S IMPORTANT AND I DON'T WANT TO BE LEFT OUT …."
However, Spears' pictures also opened up a much wider conversation beyond Instagram.
As several people would point out on Twitter, Spears posed in provocative shots fairly regularly in her late teens and early 20s and no one batted an eye at the time.
Yet when Spears posted nude photos of herself just after turning 40, internet trolls wasted no time in criticizing or body shaming her.
What's more, Spears likely had little to no choice in posing for those provocative shots in her youth.
Twitter users wasted no time in calling out the hypocrisy that people were suddenly angry or offended when Spears made a deliberate choice to show off her body for very specific reasons.
Others wondered if anyone other than Spears' posted these pictures whether they would have faced the same amount of criticism.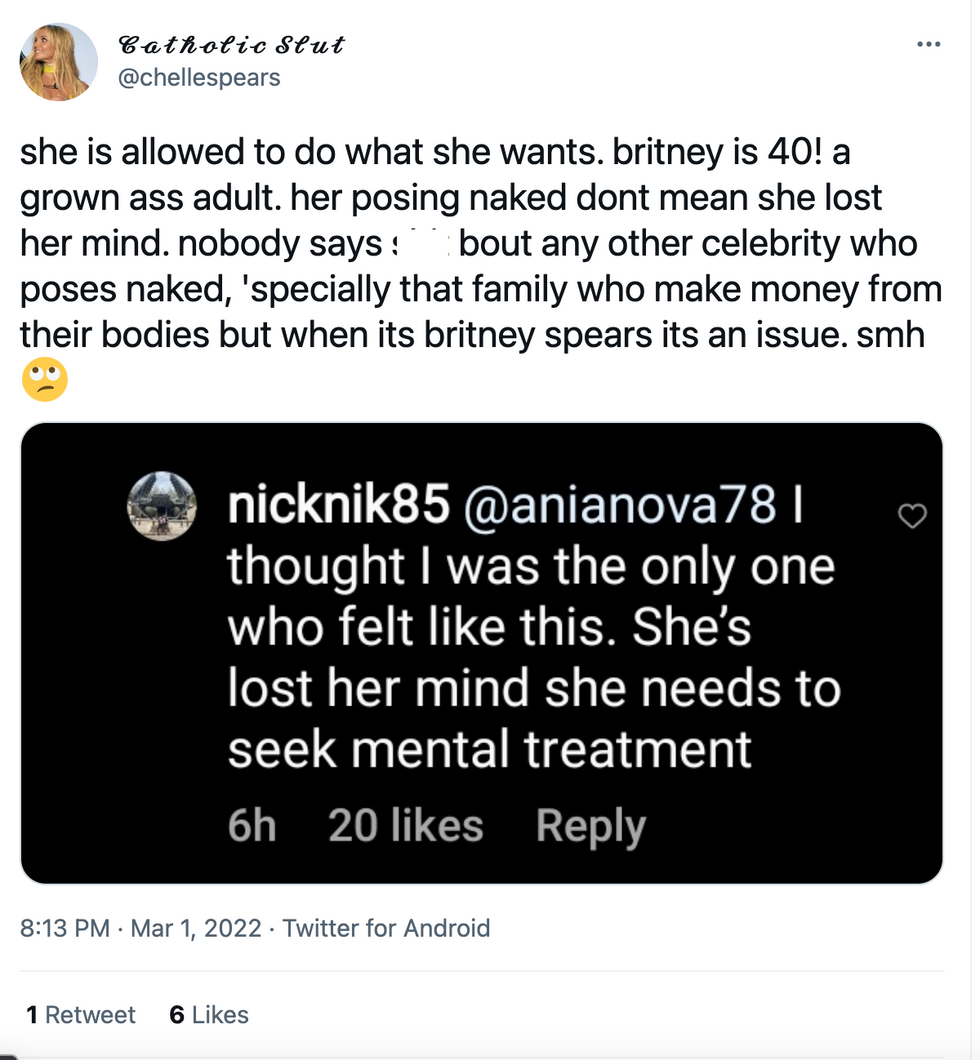 @chellespears/Twitter
Others attributed all the criticism Spears' pictures received not only to ageism, but to Jealousy,
There was at least one eagle eyed viewer, however, who wondered if the nude photos' were strategically posted by Spears as a distraction.
Indeed, in Spears most recent post, Spears referred to Sam Asghari as her husband.
Whether or not Spears and Asghari have made it official or not, here's to a very happy future for the both of them.
And here's hoping this new chapter finally allows Spears to live a life where she doesn't find herself under constant scrutiny, and can simply be proud of who she is.