A video blogger revealed how she sacrificed her two great loves—sport and travel—for the sake of the record-breaking 12 cm—almost 5 inch— fingernails she calls her "babies."
Always game for a laugh, Elena Shilenkova from St. Petersburg, Russia, began cultivating her extraordinary talons four years ago.
---
Back in 2008, a friend bet her £2,500—about $3280—that they would never grow longer than 5 cm—about 2 inches.
Winning her wager within a year, and pocketing the money towards a new car, she continued to grow then cut her nails until 2014. Then her 4 year long growth period began until she made it into the 2018 Russian book of national records.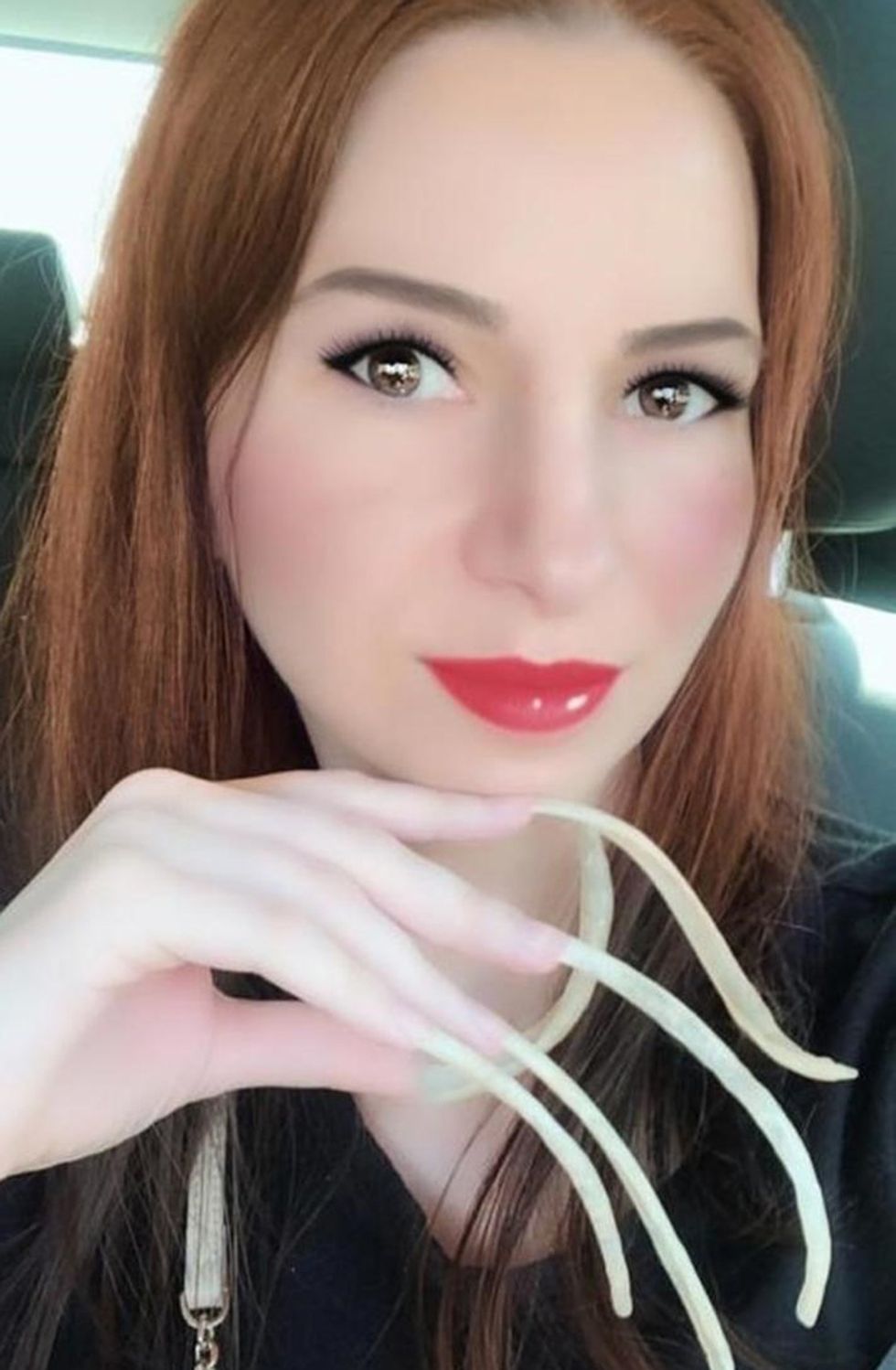 Elena has been growing her nails for four years(Collect/PA Real Life)
But maintaining her curly pincers meant making certain sacrifices, according to Elena, who said:
"I love playing tennis but I really can't run the risk of tripping over and having to break my fall with my hands."
"I also don't really go abroad anymore because the only thing I like doing on holiday is swimming in the sea."
"I can't swim because the risk of snapping a nail is too high so I don't go on holiday in case I'm tempted to get in the sea."
She continued:
"It's a hard job growing your nails out. It takes a lot of dedication and commitment looking after something that is so fragile."
"I am constantly wary of breaking them and looking after them can be a full-time job."
"Even when I'm sleeping, subconsciously, my mind is worrying about them—that's why I call them my babies because I have to take care of them."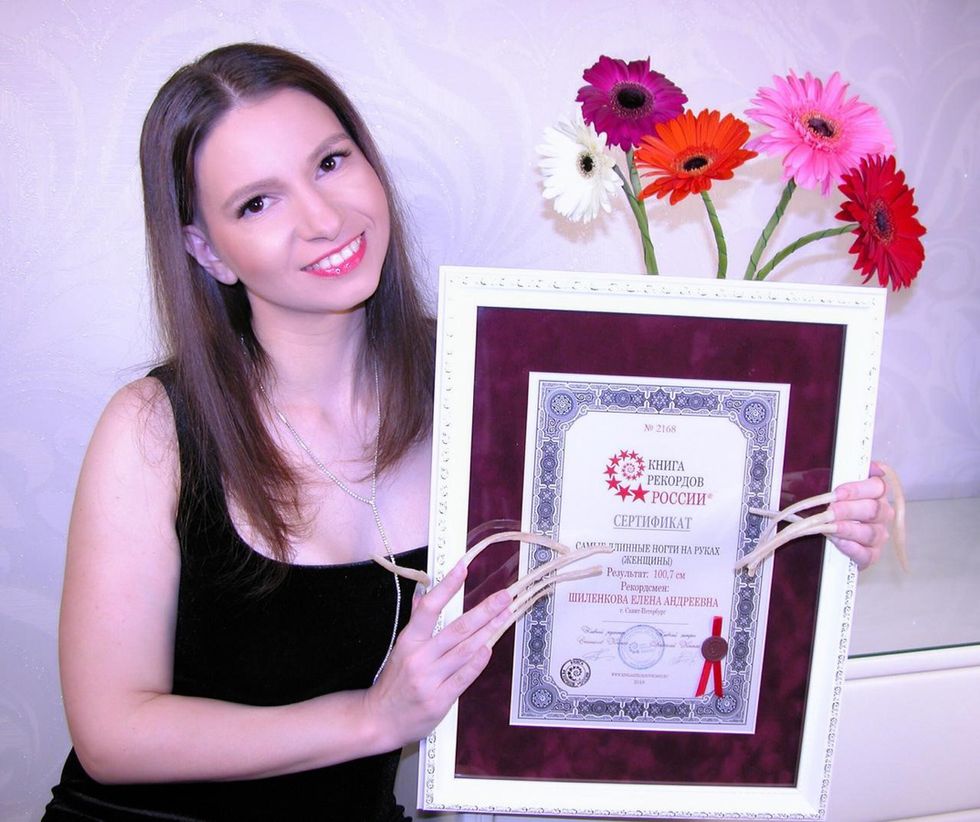 Elena with her Russian Book of Records 2018 certificate (Collect/PA Real Life)
While they have their drawbacks, Elena loves the admiration her astonishing claws attract. She said, proudly:
"People often come up to me in the street and tell me how pretty they think my nails are."
"They are beautiful because they are unique. They make me stand out from the crowd and people certainly don't forget me in a hurry."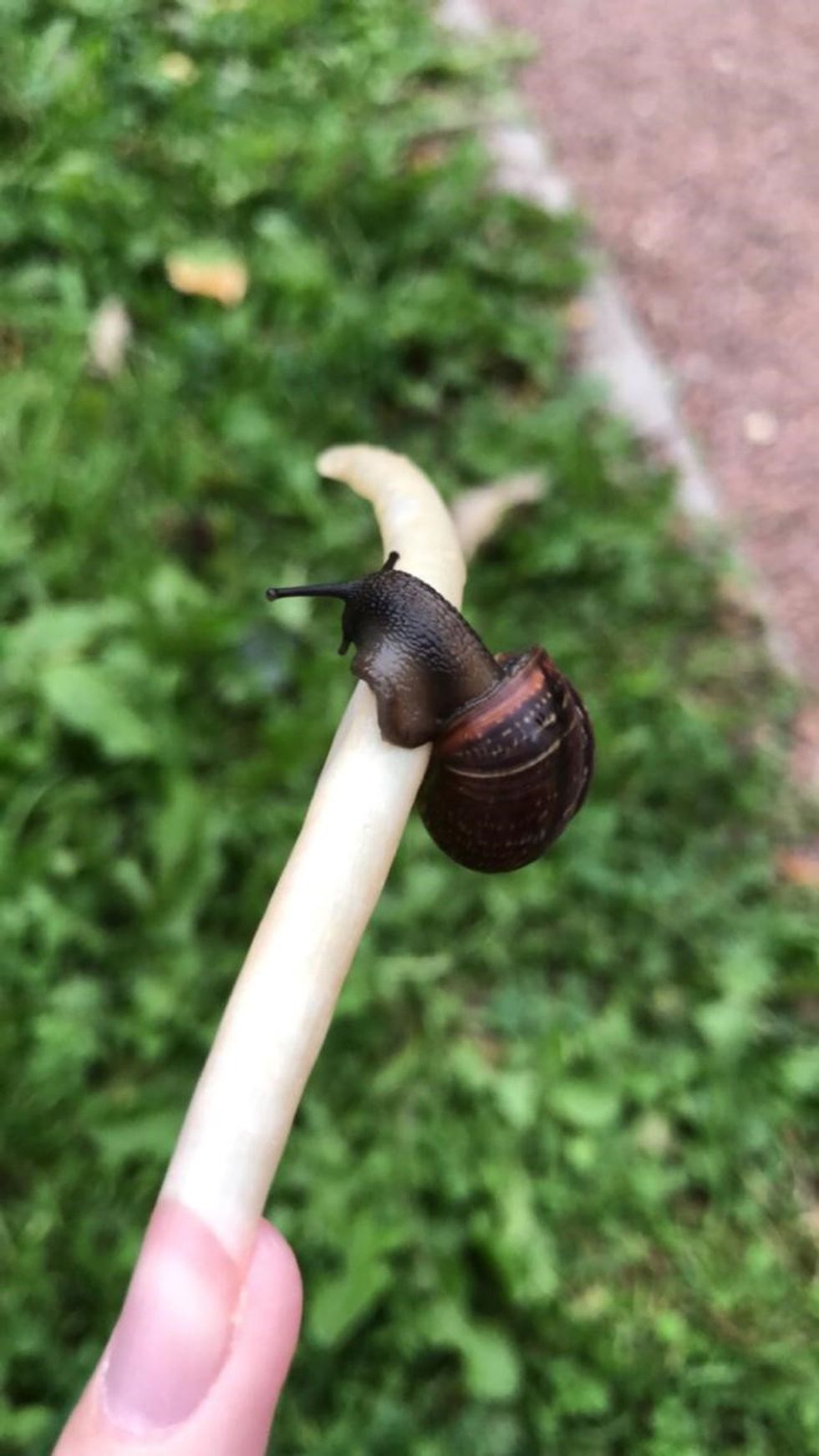 Elena's nails are 12 cm long (Collect/PA Real Life)
She added:
"My nails are my identity card!"
Elena first decided to grow her nails when she was just 13. She recalled:
"I only grew them a few centimeters, but lots of people started telling me how nice they looked."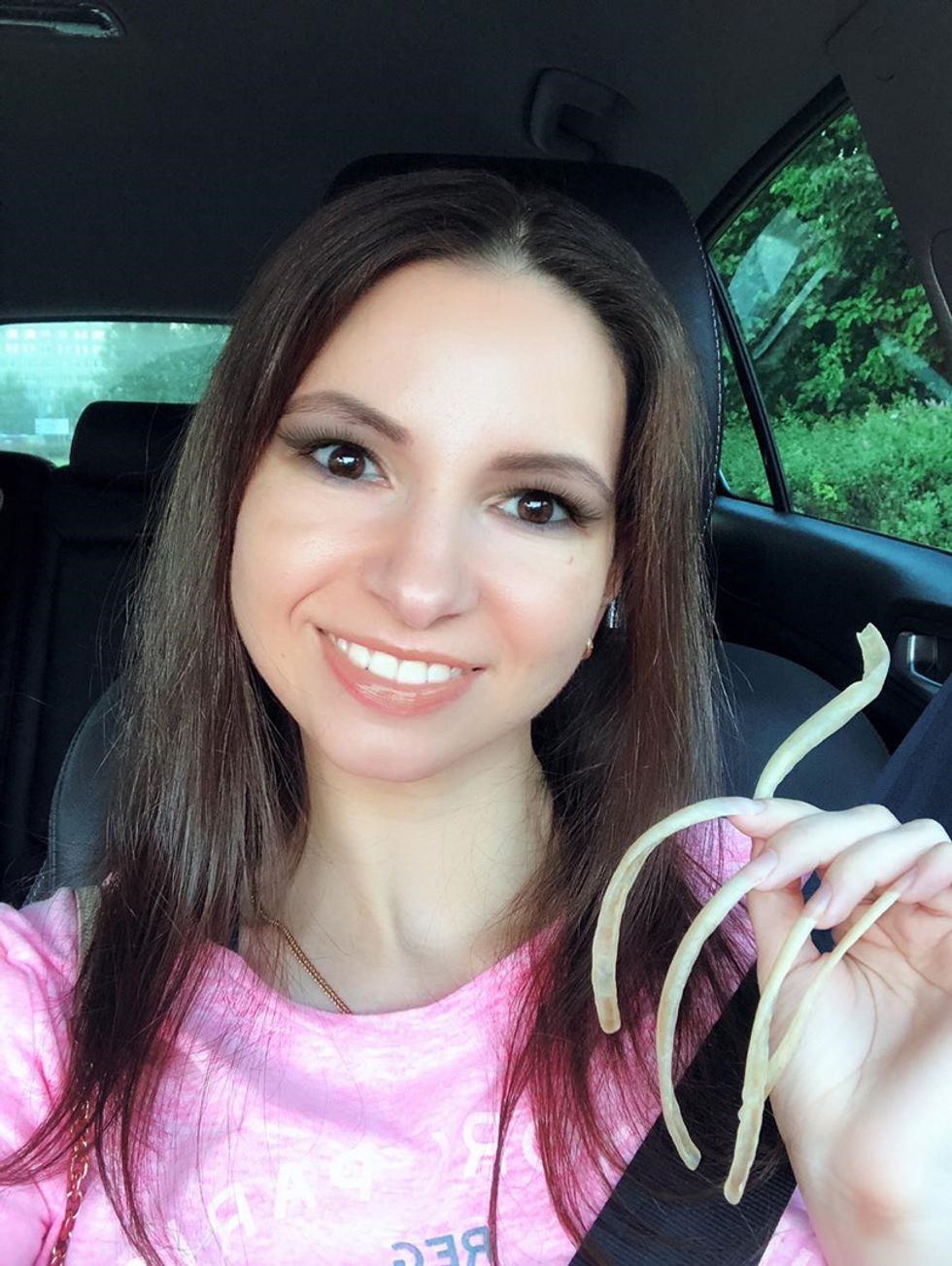 Elena's nails (Collect/PA Real Life)
"At school, teachers would tell me how pretty they looked. When students had to wash the floor and clean the windows, my teachers would exempt me because they worried I might break my nails!"
And so began a pattern of growing her nails for a few months, before cutting them once they had reached a couple of centimeters.
Then she rose to her friend's challenge to grow them beyond 5 cm—winning £2,500 in the process.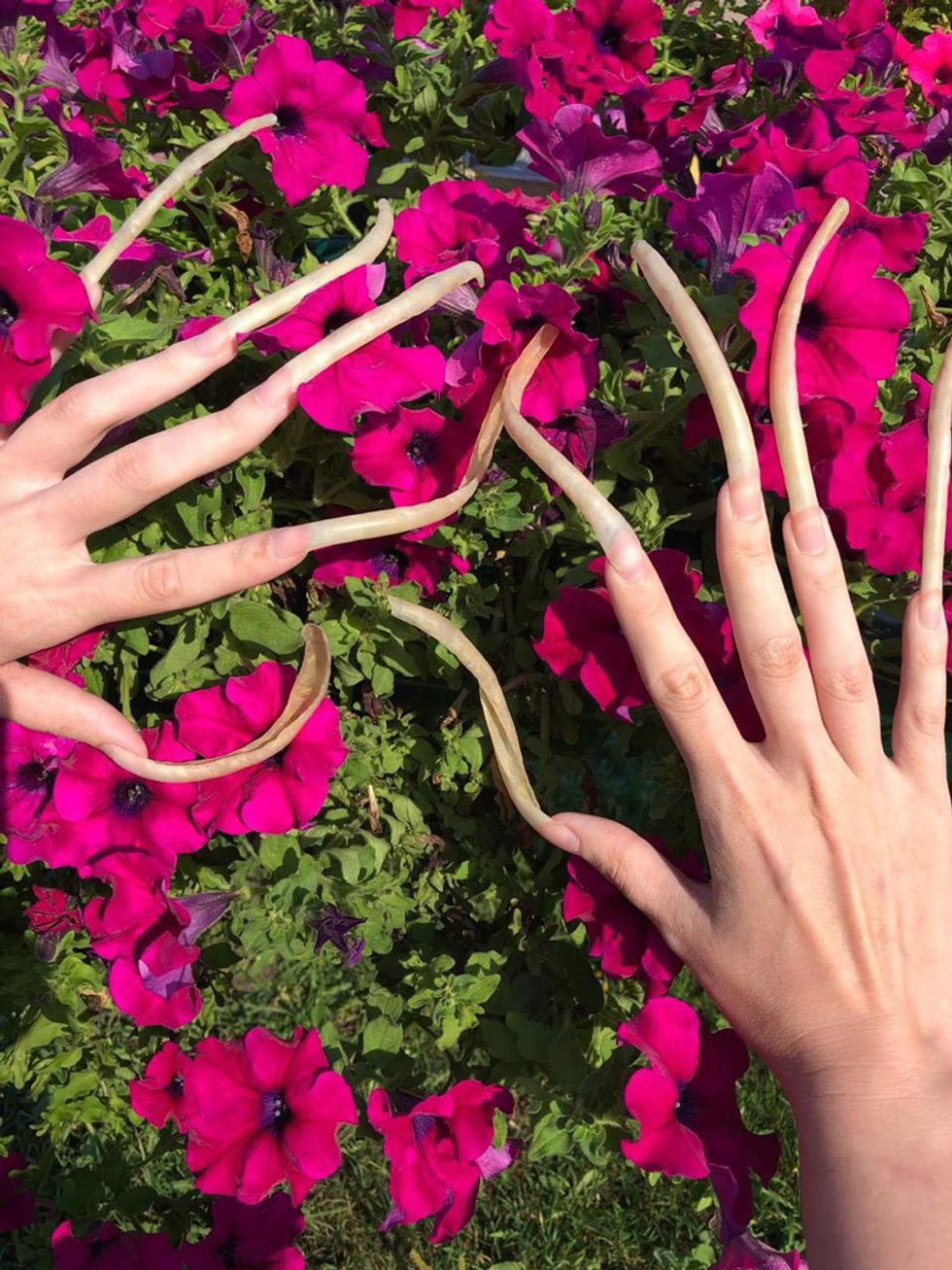 Elena's nails (Collect/PA Real Life)
Elena explained:

"It was really just a joke between me and a close friend."
"One night we were messing around and he said I wouldn't be able to do it."
"I don't think he realized how stubborn I can be and, a year later, I came back to him and said, 'You lose!'"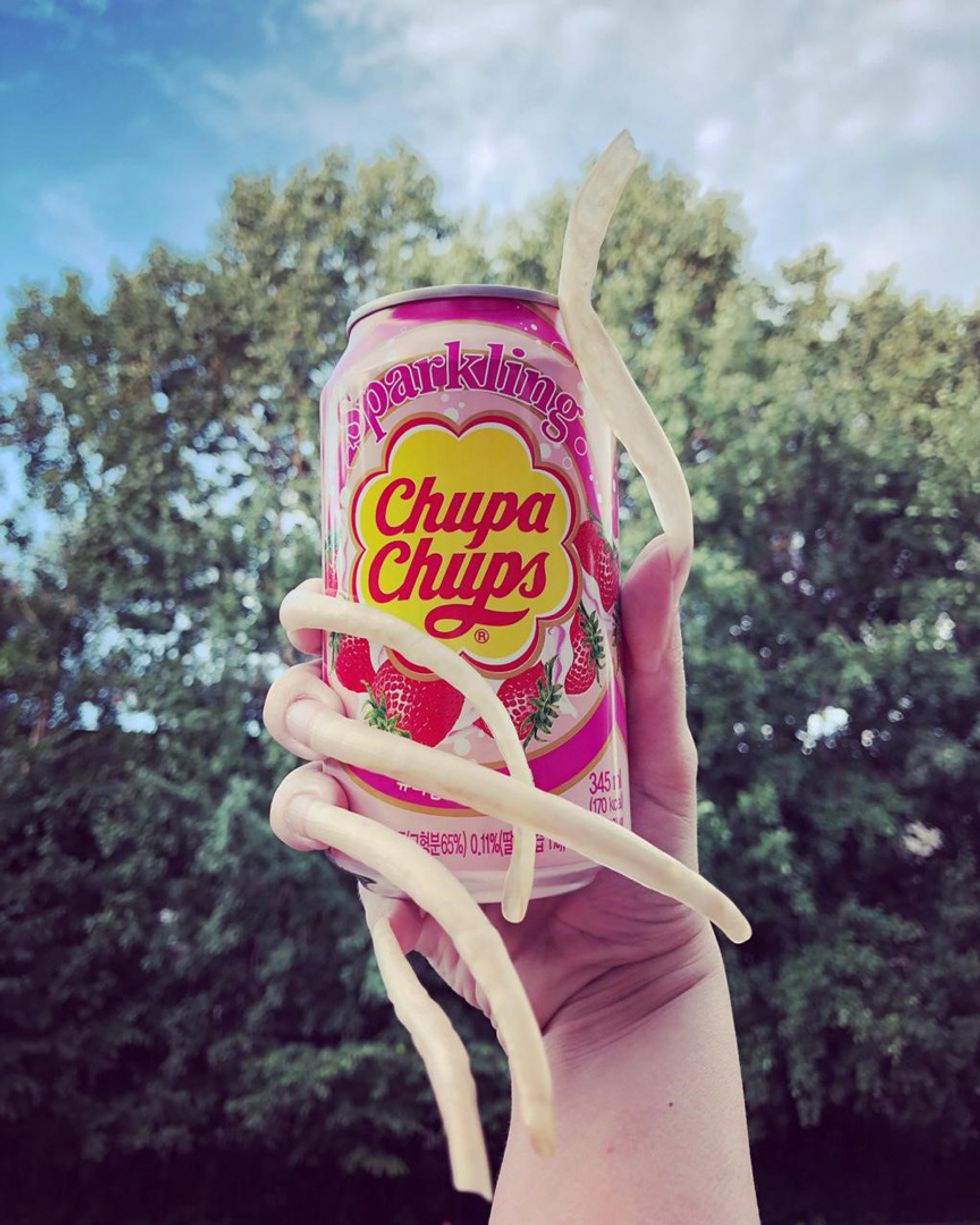 Elena's struggles with some day-to-to activities but is still able to open a can (Collect/PA Real Life)
She continued:
"I think he was a bit shocked."
But the bet made her realize how much she enjoyed the long-nailed look and so in 2014 she decided to go further than she ever had done before.
Now, four years on, and Elena hasn't cut her precious claws once.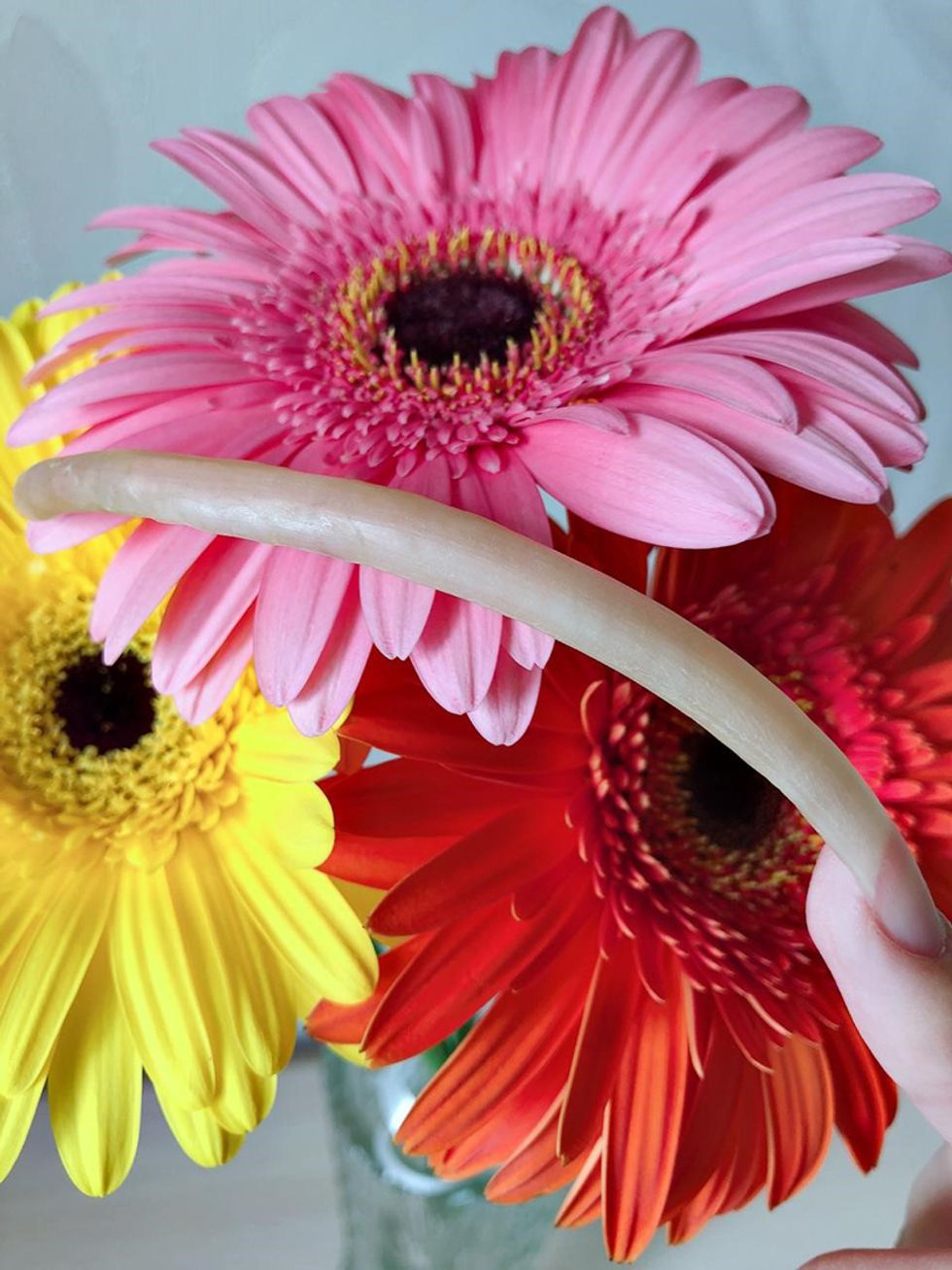 Elena's nail (Collect/PA Real Life)
"I do chip them," she admitted. "And sometimes they start to crack a bit."
"When that happens, though, I glue the broken piece back onto the existing nail."
That was not possible a few years ago, when a nail snapped as she swam in a lake and the broken end sank without a trace.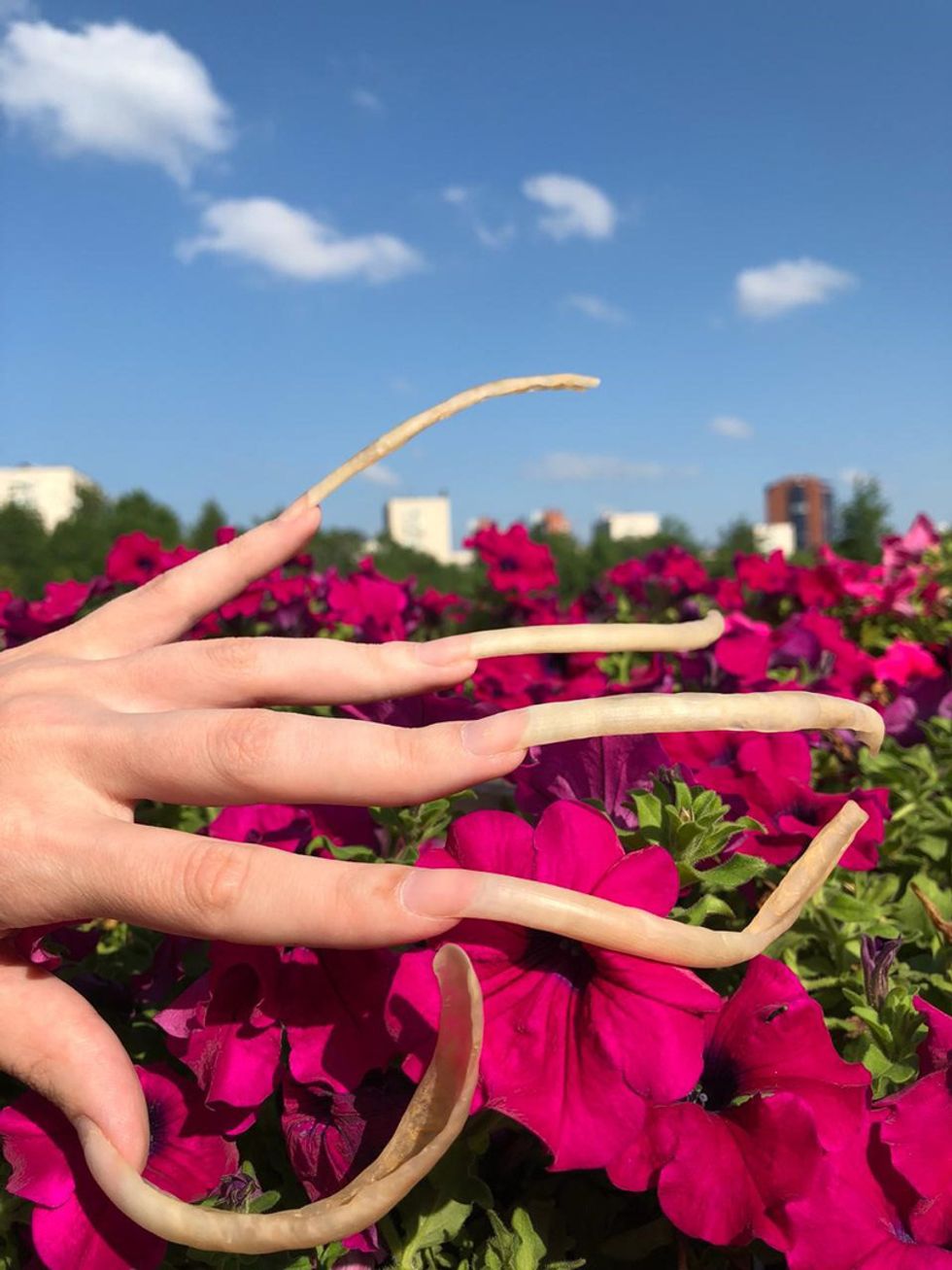 Elena's nails (Collect/PA Real Life)
Elena recalled:
"I cried so much. But it was OK in the end, because I was able to use an old piece of nail I had cut off a few years earlier and glue that on instead."
With her nails now significantly longer, Elena's swimming days are over.
Even every day tasks, like holding a knife and fork and putting her clothes on are tricky.
"Picking up bank cards is probably the most annoying thing," she said.
"I can do it with time and a lot of concentration but, usually, when I'm in a shop I ask people to help me taking coins or cards out of my purse."
But what annoys her the most is the occasional negative comment she receives from passersby.
"It tends to come from older, more traditional women" said Elena.
"They call my nails ugly, say they look like a witch's and that they're spooky."
"It irritates me because they don't realize how much patience and dedication it has taken for me to grow them."
Still, Elena is mostly unfazed by criticism and has no plans to cut her claws anytime soon.
As well as earning her a decent living, through blogging and video posting about them, her "babies" are a source of "joy and contentment" for her.
Elena said:
"Sometimes, when life is hard and I'm feeling down, I look at my lovely nails and realize that they show that I'm a patient and single-minded person. And that makes it worth all the trouble."
A version of this article originally appeared on Press Association.