In response to the Vatican declaring the Catholic Church cannot bless same-sex unions, out-actor and comedian Billy Eichner jokingly proposed to Schitt's Creek star Dan Levy.
The Vatican's orthodoxy office—the Congregation for the Doctrine of the Faith—formally responded to a question regarding whether or not Catholic clergy can bless gay unions.
The Vatican essentially said, "no."

According to Pink News, the two-page exploratory note signed by Spanish Jesuit Luis Ladaria Ferrer and archbishop Giacomo Morandi—and approved by Pope Francis—explained how some churches have offered blessings to same-sex couples as "a sincere desire to welcome and accompany homosexual persons" into their institutions.
However, the Vatican argued that blessings were reserved for couples living by "the designs of God inscribed in creation"—which is the Holy See's way of saying a union should be between a man and a woman in order for them to create new life.
Furious over Monday's decree from the Vatican, the Difficult People actor sounded off on Twitter, writing:
"Can't a nice gay gentleman like myself just be able to sit here and enjoy Glenn Close's EIGHTH Oscar nomination without having to see this sh*t?"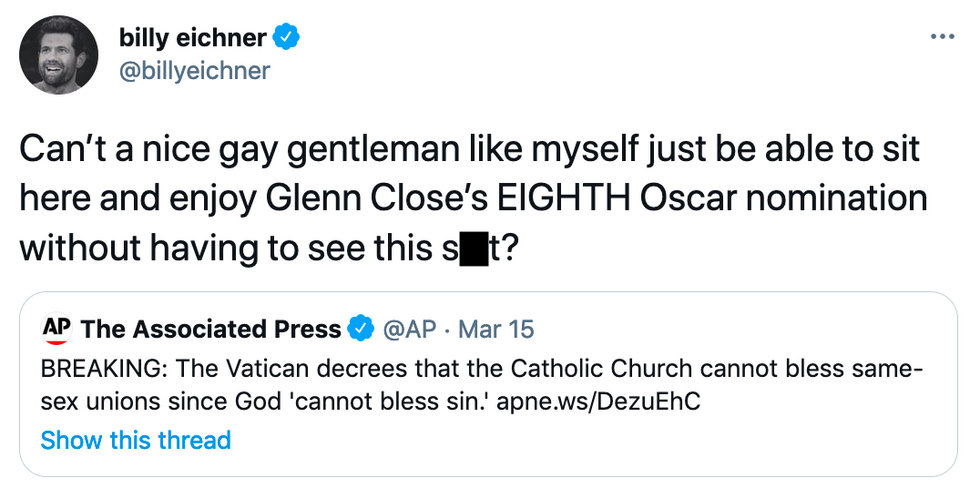 @billyeichner/Twitter
Eichner referenced Close's eighth Oscar nomination for best actress in a supporting role for her work in Netflix's Hillbilly Elegy.

It did not take long for Levy to respond in admiration over Eichner's tweet.
Levy said:
"Never been more jealous of a caption. Kudos."
As a retaliatory strike against the pontiff, Eichner suggested to Levy:

"Let's get married just to make the Pope angry."
Levy—who is also gay and an LGBTQ rights activist—acknowledged the faux proposal with positive emojis.
Levy also added to the conversation about his frustration towards the Catholic Church.
Fans were more than happy to give their blessings towards this make-believe union.
The Catholic Church maintains the institution does not recognize same-sex unions because offering blessings to them would imply the Church endorses sex outside of marriage.

The letter said:

"The presence in such relationships of positive elements, which are in themselves to be valued and appreciated, cannot justify these relationships and render them legitimate objects of an ecclesial blessing, since the positive elements exist within the context of a union not ordered to the Creator's plan."