Conservative political commentator and noted homophobe Ben Shapiro did not approve of the acclaimed third episode of HBO's The Last of Us because it lacked any presence of zombies and instead focused on a heartbreaking storyline featuring a gay couple.
The Last of Us is a post-apocalyptic action series developed by Cherynobyl showrunner Craig Mazin based on the video game of the same name.
It takes place in a world that has been ravaged by a pandemic caused by a fungus called cordyceps that infects humans and turns them into mutant zombies.
Up until the third episode, the focus was on an important mission to save humanity carried out by the central protagonist Joel–played by Pedro Pascal, who has since said he completely forgot he was cast in the role.
But in the episode titled "Long, Long Time," the show introduced Nick Offerman's Bill and Murray Bartlett's Frank.
The two men meet, fall in love, start a life together in their isolated haven and the episode wraps up beautifully with a poignant ending.
The LGBTQ-themed episode, which does figure into the central plot, won critical acclaim and even broke HBO's viewership records.
Many even hailed it as one of the best episodes in recent TV memory.

However, the homophobic contingent scoffed at the gay plotline and subsequently review-bombed the episode on IMDB, resulting in an 8.5/10 rating from over 15,000 one-star reviews–although it barely made a dent in the show's overall high rating.
Shapiro added to the hostility with a lengthy Facebook post and griped about the episode's lack of zombies or a real "threat" to the gay characters.
Warning: spoilers.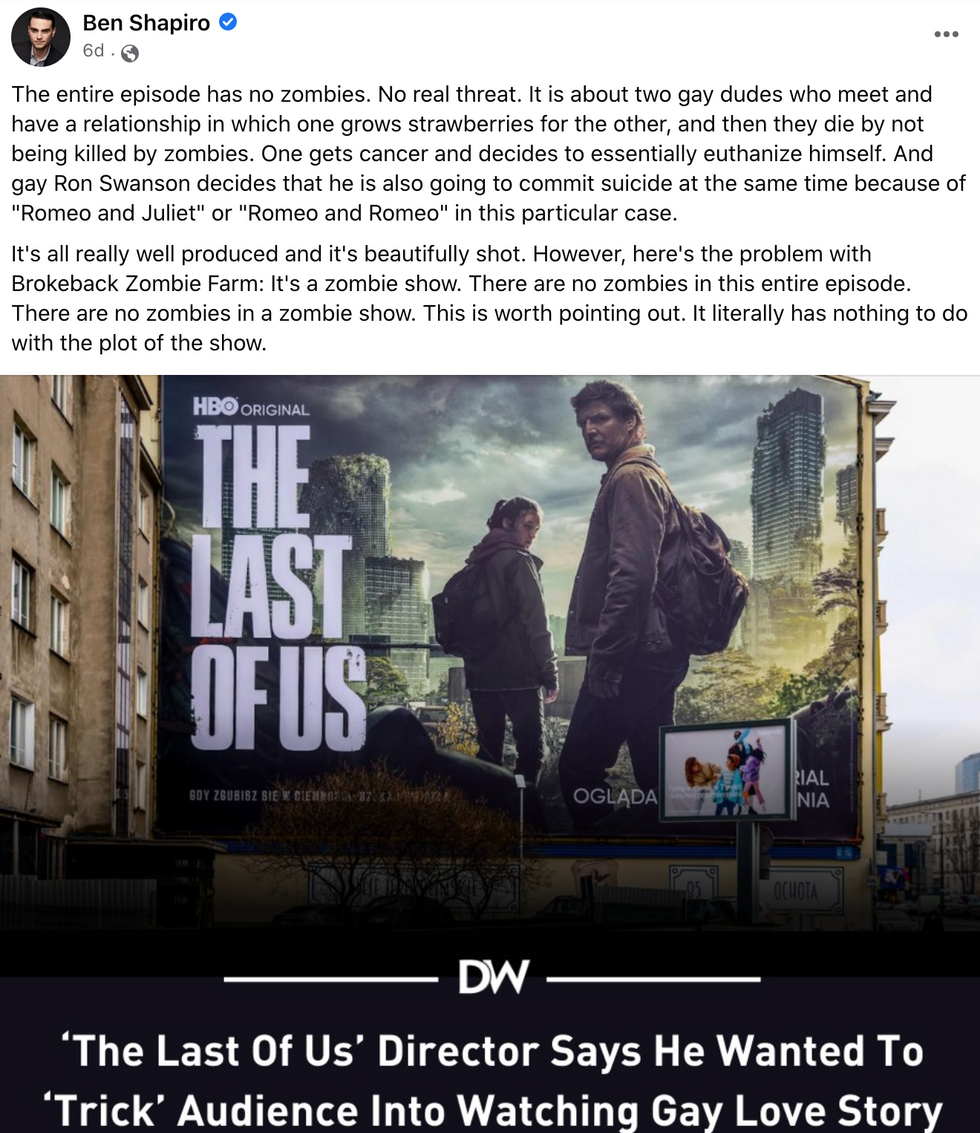 Ben Shapiro / Facebook
Shapiro wrote in part:

"It [the episode] is about two gay dudes who meet and have a relationship in which one grows strawberries for the other, and then they die by not being killed by zombies."
"One gets cancer and decides to essentially euthanise himself."
"And gay Ron Swanson decides that he is also going to commit suicide at the same time because of 'Romeo and Juliet' or 'Romeo and Romeo' in this particular case."
"It's all really well produced and it's beautifully shot," he offered but continued with his tirade and completely missed the point about the show.

"However, here's the problem with Brokeback Zombie Farm: It's a zombie show."
"There are no zombies in this entire episode. There are no zombies in a zombie show."
"This is worth pointing out. It literally has nothing to do with the plot of the show."
People mocked him for the irony in his comments.
Indy 100 pointed out Shapiro's shortcomings as a one-time aspiring screenwriter for not understanding the "very basic trope of scriptwriting" that makes shows like The Last of Us excel at storytelling.
Fans of the show chastised the right-wing pundit for not understanding that The Last of Us was more about the survivors, their relationships, and the endurance of doing whatever it takes in the name of love against the backdrop of a world ravaged by monster mutants as a result of parasitic cordyceps.
So, yeah, it's not about zombies, which Twitter was happy to point out to Shapiro.
Shapiro–who like many right-wingers, believes homosexuality is a sin and strongly opposes same-sex couples raising children–has gone on a homophobic rant against Hollywood numerous times before, specifically targeting Disney animated films for their alleged "gay agenda."
He repeatedly bemoaned Disney's efforts towards inclusion in their films with pro-LGBTQ+ representation that is a reflection of the real world.

Last year, he forbade people to go to theaters to see Disney's animated film Lightyear due to a hyped blink-and-you'll-miss-it same-sex smooch that had nothing to do with the overall plot.
He also strongly advised against parents bringing their kids to see Disney's Walt Disney Animation Studios' 61st animated feature Strange World, because of a scene normalizing teenage gay flirtation.