With more and more personal accounts circulating, some of the intense, lesser-known aspects of a bout with the viral pathogen at the root of the global pandemic are coming to light.
Among other horrors, battling the virus is apparently a total time warp.
---
Mike Schultz, a 43-year-old nurse living and working in San Francisco, was one of many front line healthcare workers who caught the virus.
His recent Instagram post—a set of waist up, before and after selfies—illustrated what we've all heard repeatedly but rarely see close up: the virus-related illness is extremely powerful. If not fatal, the illness can beat down even a strong, healthy human body.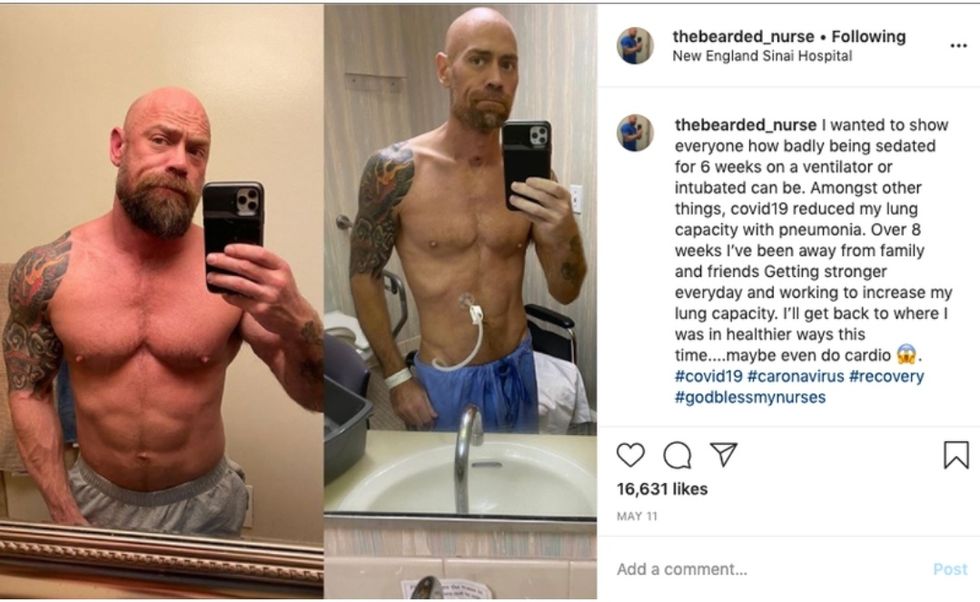 thebearded_nurse/Instagram
The before photo on the left captured Schultz at his healthiest. 190 pounds and fit, thanks to a habit of working out nearly every day of the week.
On the right was Schultz at his weakest, 50 pounds lighter, skin muted.
After the post caught some serious attention, BuzzFeed Newscaught up with Schultz to learn about the finer details and the timeline of the whole saga.
On March 14, Schultz flew from San Francisco to Boston for a visit with his boyfriend. At the time, he felt a little sick but nothing major.

By March 16, Schultz's illness worsened. He struggled to breathe and his fever reached 103 degrees. He was admitted to the hospital, where he was given oxygen and a sedative within the first day.
Not long after, doctors began to discuss the need for a ventilator.
Schultz feared the direction things were headed.
"One of the doctors said early on I was probably going to be intubated, and it freaked me out."
When he finally came off the ventilator six weeks later, Schultz was struck by the gravity of what he went through.
"I thought only a week had gone by."
"I was so weak. This was one of the most frustrating parts. I couldn't hold my cellphone; it was so heavy. I couldn't type, because my hands shook so much."
Schultz went on to elaborate why he decided to take the hospital selfie, a usually simple task that was utterly exhausting in his weakened condition.
Like many younger people, he learned a hard lesson after he tempted fate just a week before his hospitalization, when he attended the Winter Party Festival at Miami Beach.
"I knew what I thought going in. I didn't think it was as serious as it was until after things started happening. I thought I was young enough for it not to affect me, and I know a lot of people think that."
"I wanted to show it can happen to anyone. It doesn't matter if you're young or old, have pre-existing conditions or not. It can affect you."
Folks on Instagram and Twitter, in their own tongue-in-cheek way, managed to put a positive spin on things.

@andydhammer/Instagram

@jackinphx/Instagram
@BuzzFeedNews Man finds a way to lose 50lbs in 6 weeks with one simple trick.

— Ash (@Ash) 1589929406.0
@BuzzFeedNews Deprived of vitamin S.

— Chmura's babysitter (@Chmura's babysitter) 1589929620.0
@BuzzFeedNews Easy weight loss.

— AmiR.Amore (@AmiR.Amore) 1589934722.0
As he faces the recovery phase, and life at home trudges on, Schultz is forced to find some new ways to spend all the time he used to dedicate each day to the gym.

We wish him only the most comfortable and speedy return to health.