Actor Stephen Amell, who is known for portraying the titular hero in the CW's Arrow, missed the mark with fans and fellow performers after making a statement about the SAG/AFTRA (Screen Actors Guild-American Federation of Television and Radio Artists) strike.
The union's negotiating committee unanimously voted to strike after SAG-AFTRA and the Alliance of Motion Picture and Television Producers (AMPTP) failed to reach an agreement after their contracts expired.
Last month, union members joined the Writers Guild of America (WGA) to fight for improved wages in the streaming boom and job security with the looming threat of AI-generated entertainment.

"I support my union. I do, and I stand with them," Amell told attendees at GalaxyCon–a comic book and anime convention–in Raleigh, North Carolina over the weekend.
But then the Arrow star maintained:
"I do not support striking."
"I don't. I think it is a reductive negotiating tactic, and I find the entire thing incredibly frustrating."
"And I think the thinking, as it pertains to shows like the show that I'm on that premiered last night, I think that's it's myopic."
Despite his unpopular opinion against joining his colleagues on the picket line, he concluded with:
"I stand with my union."
You can watch a clip of his statement here.
Amell is one of the most prominent actors to speak out against the strike and is among the minority in his position.
His statement promoting his recent show was also in violation of SAG-AFTRA strike rules, which prohibits union actors from promoting work–which covers a vast array of TV shows and films produced in the US.
The backlash was swift.
Even Amell's co-stars from the Arrowverse threw some shade.
Matt Letscher–who played Reverse-Flash in The Flash and Legends of Tomorrow–X'd:
"Still waiting on that comprehensive list of totally non-reductive negotiating tactics we get to employ now."
"Thank god for superheroes! Any second now…."
And actor Kirk Acevedo–who played the Arrow's nemesis, Ricardo Diaz, a.k.a. The Dragon for two seasons–simply wrote:
"This f'king guy."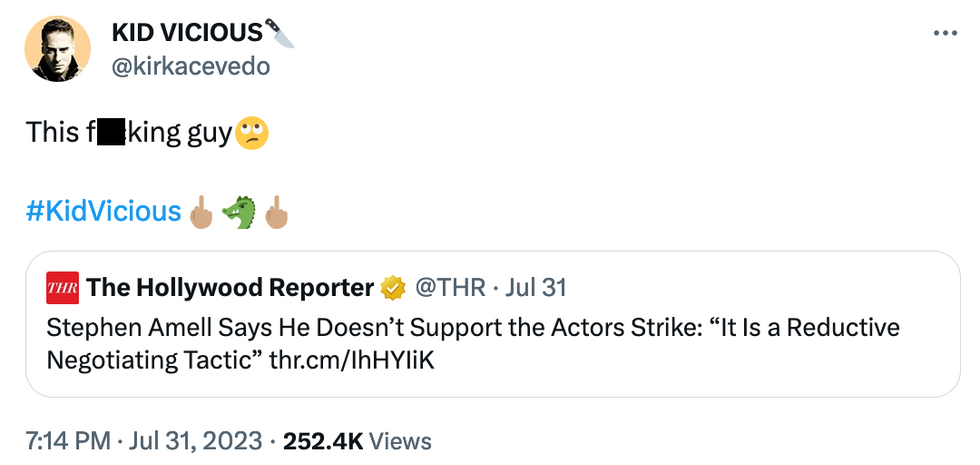 @kirkacevedo/X
Regardless of the outcome, things could get awkward for the guy once productions on struck shows eventually resume.

On Tuesday, Amell addressed the backlash with an Instagram post he captioned with:
"Understandably, there has been a lot of reaction to the comments I made this weekend about our strike."
"To ensure there is no misunderstanding about my thoughts and intentions I'm providing what I actually said and clarity/context to ensure my feelings aren't unintentionally misinterpreted."

"We all know soundbites can be taken out of context and I have too much respect for my fellow union members to not clarify the record."
He clarified that he understood the importance of striking from an "intellectual perspective" but added:
"That doesn't mean it isn't emotionally frustrating on many levels for all involved."
For diehard fans who don't have a clear picture regarding the urgency of the strike, a commenter explained why Amell's statement didn't resonate with the majority.
Instagrammer @liluzishoulderroll99 wrote:
"Stephen Amell is probably worth a few million dollars at least- he'll probably never have to worry about where his next meal is coming."

"Meanwhile, this strike is largely for the severely underpaid actors, writers, etc, without whom, this industry that stephen makes his money from, would NOT exist."
"And they're fighting for their wages because they are quite literally starving, and stephen is complaining because it's frustrating and inconvenient for him."
"But his ability to EAT and LIVE is not on the line here."