If you have someone making bigoted comments very loudly in a private establishment, the best thing to do is leave them alone, right?
That's the advice a former supervisor claims Applebee's wanted followed, after alleging she was fired for asking a bar patron to leave for making derogatory comments about Muslims.
---
Amanda Breaud filed a lawsuit over the incident.
The supervisor Amanda Breaud said she was told the comments included that Muslims were "disgusting" and "most of th… https://t.co/zsGzaLrYPU

— Asbury Park Press (@Asbury Park Press) 1579726865.0
In the lawsuit filed last week, Breaud claimed she was temporarily transferred to an Applebee's location with a "hostile work environment."

The lawsuit alleges that a senior manager of the restaurant "routinely directed racist and discriminatory language" at employees.
At one point, after an employee's uncle passed away, Breaud alleges the manager said:
"Well, this is one less black guy we have to worry about."
Hey @Applebees how bout we promote people who stand up to hate and not fire them #BoycottApplebees https://t.co/c8c3OuEfeI

— Irishsoco 🌹 (@Irishsoco 🌹) 1579710869.0
We should all boycott Applebee's 4 firing a person who has scruples n morals. The racist spewing hater should have… https://t.co/4kOXndpQS7

— DfromtheM (@DfromtheM) 1579987824.0
@AsburyParkPress We shouldn't have to listen to bigots while we eat. Keep your racist crap to yourselves. This man… https://t.co/zb59nwlg4Y

— LAH (@LAH) 1579729291.0
@shomaristone @janellefiona @NBCNews Shame on Applebee's

— Bonnie Sumner (@Bonnie Sumner) 1580058605.0
However that is in addition to the incident at the center of her lawsuit. On May 13, several customers complained to Breaud about a bar patron loudly making derogatory comments about Muslims.

The customer is alleged to have said things such as:
"Muslim people are disgusting,"
"Most of them are terrorists,"
...and:
"If it were up to me, none of those motherf***ers would be allowed in the country."
Breaud's lawsuit claims the bartender serving the customer participated in the conversation and did nothing to stop it.
After two other customers complained, Breaud asked the customer to leave. He was angry and yelled, but did leave the restaurant.
Breaud said several customers thanked her for removing him, with one even leaving a note on their receipt.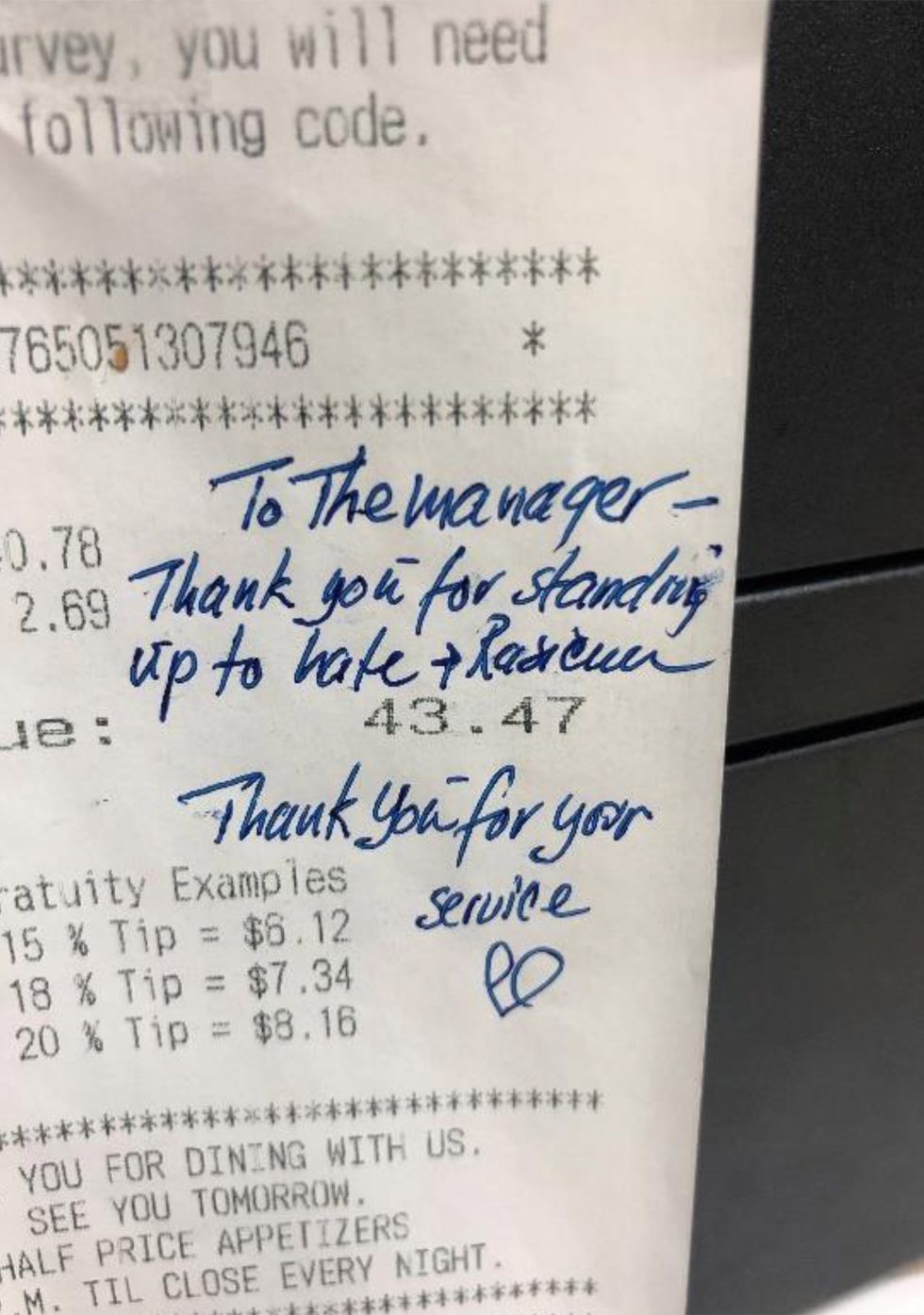 McOmber and McOmber Law Firm
However, after this, Breaud experienced retaliation from management and the bartender.

While the bartender only complained to other staff about losing tips from the regular customer, management from the restaurant was more active.
The general manager called Breaud to berate her for asking the customer to leave. He suggested that she should have had the customers who complained move to a different part of the restaurant.
He also claimed she couldn't stop bar patrons from "discussing religion."
@adeleatplay @shomaristone @janellefiona @NBCNews Hit them in the pockets or they won't change a thing

— MIKEAGE (@MIKEAGE) 1580073756.0
@NBCNews Applebee's is hurting for customers. They want anyone they can get. Even racist people. 🤦🏻‍♂️

—  Allen  (@ Allen ) 1579829875.0
@EpicFreestyle21 @NBCNews *Prejudiced people. Better now? 🤦🏻‍♂️

—  Allen  (@ Allen ) 1579833729.0
@htmdnl @CBSNews Seriously? They will be begging her to take it and not label them as tolerating hate speech.

— liz smith (@liz smith) 1580004693.0
Breaud couldn't take the work environment anymore, and requested to be sent back to her original restaurant. The request was denied and she was scheduled to work at the "hostile" Applebee's.

She refused the schedule and was fired, as the lawsuits states:
"...due to a false and retaliatory accusation that she had not appeared for one of her shifts."
After being fired, Breaud wrote a letter to the restaurant criticizing the work environment and her manager's coaching about the interaction.
Breaud said:
"That is not the message I want to send my guests. I want them to feel safe and leave WOWed."
"I would leave there in tears a lot of the time, honestly. I had severe anxiety. I was losing sleep...It wore me down mentally and physically the entire thing."
Ed Doherty, chairman and CEO of Doherty Enterprises, which operates the Applebee's in question, claims Breaud's allegations had nothing to do with her separation.
He instead points to Breaud missing a shift.
"We are proud that our Applebee's restaurants serve the community as an inclusive place where neighbors can come together, and that extends to both our guests and our dedicated team members."
"The allegations made are in direct contrast with the values we and our franchisees uphold every day."
@thehill She prolly should have asked the customer to leave when she saw how many calories a salad was at Applebee's.

— Jeremy Newberger (@Jeremy Newberger) 1579868770.0
@werky2020 @NBCNews https://t.co/3cWlHLjHNB

— bigroboski22 (@bigroboski22) 1579830423.0
@MinnPatriot @CBSNews @WCCO You seem witty and original

— Grammar Not See (@Grammar Not See) 1580003206.0
@CBSNews Come to @Applebees for the food poisoning, stay for the racism!

— My Work Here Is Done (@My Work Here Is Done) 1579998518.0
Breaud's lawsuit seeks to get her job back, along with back pay and benefits. She is also calling for the defendants to have anti-discrimination and anti-retaliation training.

She said she hopes her actions encourage others to stand up to this kind of behavior.
"I'm a gay woman and I've been at the bar before or out in public and had people say things about me. A lot of my life I wish that someone would have stood up for me."
"Now that I'm able to stand up for myself, I want to stand up for other people."