A commentator announcing a basketball game at Norman High School in Oklahoma went on a racist tirade while criticizing a team for kneeling during the National Anthem.
One of the broadcasters from the National Federation of High School (NFHS) Network did not realize during a break that his microphone was still live when he used an expletive and the n-word to disparage the kneeling team.
Frankie Parks—the coach for the Norman High girls' basketball team—was outraged and posted a video from the livestream of the quarterfinal game against Midwest City in which the commentator can be heard using the n-word.
As the National Anthem played and the Norman High team displayed what has become a global symbol for the Black Lives Matter movement, the commentator said:
"F'k them ... I hope Norman gets their a** kicked."
The same commentator also referred to the players by using the n-word.

WARNING: racial slurs

The gesture of solidarity originated during the American football pre-season in 2016 by San Francisco 49ers quarterback Colin Kaepernick as a form of protest against police brutality and the unfair treatment of African Americans.

Seeking an alternative to sitting down during the National Anthem so as not to offend the military, Kaepernick chose to take a knee.

However, the dignified protest became a frequent point of contention by Donald Trump and his supporters—who completely missed the point and chose to interpret the gesture as disrespecting the flag.

Park's video of the commentator spouting racist language aimed at the Norman High team enraged social media users.

According to OU Daily, Norman Public Schools Superintendent, Nick Migliorino, immediately responded to the backlash on Friday morning with a statement emailed to district parents, which read:

"Last night during the Norman High School girls' basketball game versus Midwest City in the Oklahoma 6A State Basketball Tournament, National Federation of High School Network announcers on a live stream broadcast made racist and hateful comments targeted at our Norman High student athletes."
Migliorino said the district condemns and "will not tolerate the disgusting words and attitudes" displayed by the announcers during Thursday's game.

"The announcers were contracted by (the Oklahoma Secondary School Activities Association) for the state tournament."
"We fully support our students' right to freedom of expression and our immediate focus is to support these girls and their coaches and families, particularly our Black students and coaching staff."
"It is tragic that the hard work and skill of this team is being overshadowed by the vile, malignant words of these individuals."
In a statement on Friday, the NFHS Network said it was "sickened" by comments made at the start of the broadcast and "the thoughts expressed in no way represent the NFHS Network."
The organization continued saying in their statement:
"The NFHS Network firmly condemns racism, hate and discrimination, and there is no room for this in high school sports or anywhere."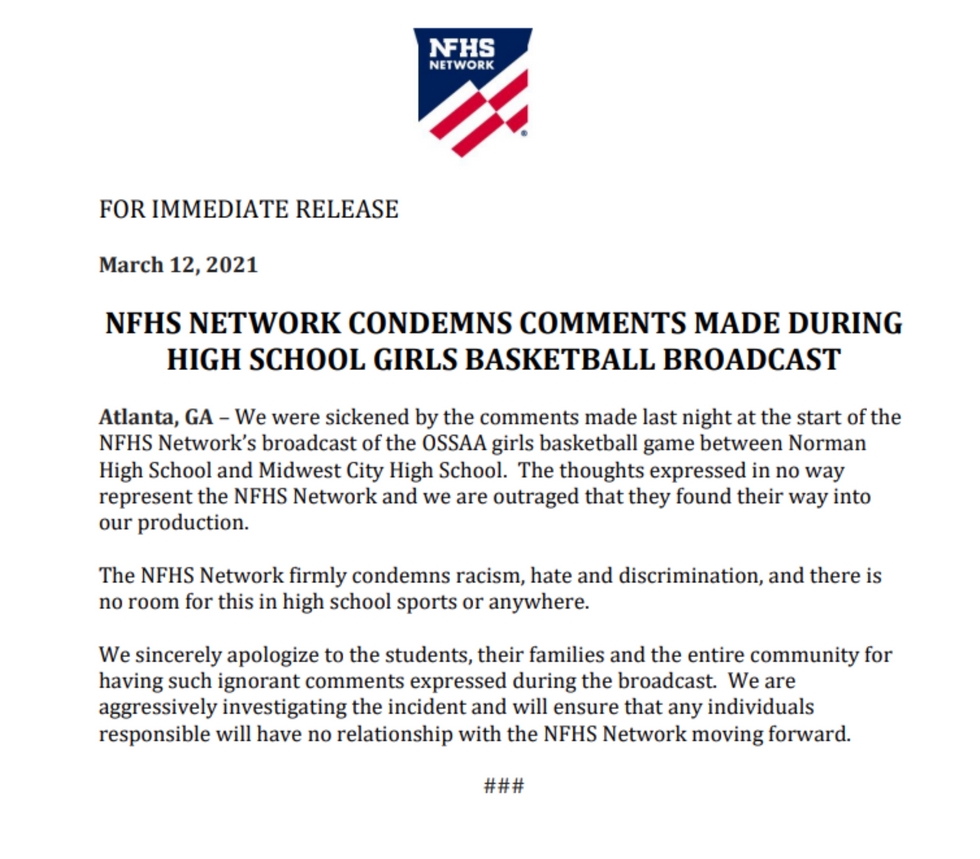 @NFHSNetwork/Twitter
The organization apologized to the students, their parents and the "entire community" and added they were:
"aggressively investigating the incident and will ensure individuals responsible will have no relationship with the NFHS Network moving forward."
The commentator in question came forward amidst the controversy and identified himself as Matt Rowan and issued a statement on Friday expressing his regrets for his "racist comments."
However, the lengthy apology failed to resonate with many social media users who were appalled by his abhorrent comments.
In his opening statement, Rowan said, "I most regrettably made some statements that cannot be taken back."
"During the Norman High School girls basketball game against Midwest City, I made inappropriate and racist comments believing that the microphone was off; however, let me state immediately that is no excuse such comments should have never been uttered."
"I am a family man. I am married, have two children, and at one time was a youth pastor. I continue to be a member of a Baptist church."
"I have not only embarrassed and disappointed myself I have embarrassed and disappointed my family and my friends."'
Rowan explained his health condition may have contributed to his remarks targeting the kneeling players.

"I will state that I suffer Type 1 Diabetes and during the game, my sugar was spiking. While not excusing my remarks it is not unusual when my sugar spikes that I become disoriented and often say things that are not appropriate as well as hurtful."
"I do not believe that I would have made such horrible statements absent my sugar spiking."
He also expressed his friend and colleague who was with him at the time was not the one who made the racist comments.

"It is not my desire to shirk my responsibility in this matter and I certainly do not want Scott Sapulpa to share in the blame of this most unfortunate incident."
Rowan went on to assert he was not a racist and never considered himself to be one.
He continued:
"I offer my most sincere apologies for the inappropriate comments made and hope that I can obtain forgiveness. I specifically apologize to the Norman High School girls basketball team, their families, their coaches and their entire school system."
"Additionally, I offer my apologies to OSSAA, and NFHS network. further apologize to all involved in this situation and simply to the entire sports community."
The statement concluded with him saying "there are no other words to explain what occurred" but admitted it was something he had to take responsibility for.

"I wholeheartedly accept responsibility for my words and actions. It is my sincere desire that I can obtain forgiveness for my actions and words."
State Superintendent of Public Instruction Joy Hofmeister also responded to the incident and issued a statement on Friday saying the "remarks made were sickening and vile."

"It is critical on all of us to be clear that racism has no place in society and must never be tolerated, especially in our public schools. My heart aches for the young female athletes who were subjected to the hateful and disgusting tirade."
On Saturday's state title game, the Norman High girls team once again took a knee while the "Star-Spangled Banner" played. This time, they wore shirts, which read:
"THIS IS WHY WE KNEEL."
Despite the controversy, the team won the Oklahoma 6A state championship.