If there's one thing people can agree on, it's that jokes about spouses at the 2022 Academy Awards didn't quite land how people expected.
In addition to the slap heard around the world, another talked about moment was Amy Schumer's joke about Kirsten Dunst. The comedian performed a bit where she joked Dunst was just a seat filler.
The whole thing feels like playing with fire, after what happened earlier in the night.
In the above clip, Schumer is trying to explain what a 'seat filler' is. For big televised events, like the Oscars, seat fillers are extras hired to make the room look full all the time.
If a celebrity gets up to go to the restroom, or step outside for a bit, the seat filler takes their spot so the room doesn't look empty.
Schumer's joke is that she doesn't recognize Dunst as the prolific actor and talented performer everyone else knows her to be. Instead, she implies Dunst is just an extra, a seat filler to be moved when a star comes back to their seat.
Schumer gets her to move and sits down to talk with Jesse Plemons.
She then compliments the actor on his recent film.
"Jesse, I loved you in 'Power of the Dog'."
Plemons responded:
"You know, that was my wife, Amy."
Schumer just continued playing dumb, saying:
"You're married to that seat filler? Oh, that's weird."
People were not having it.
The criticism of the joke seemed worse after people were already riled up over the Will Smith/Chris Rock interaction. They were ready to defense Dunst from such an insulting joke.
This is when Schumer had to explain a few things. She took to Instagram and put people's fears at bay that the joke wasn't done off the cuff at Dunst's expenses.
Instead, she explained that Dunst was in on the bit.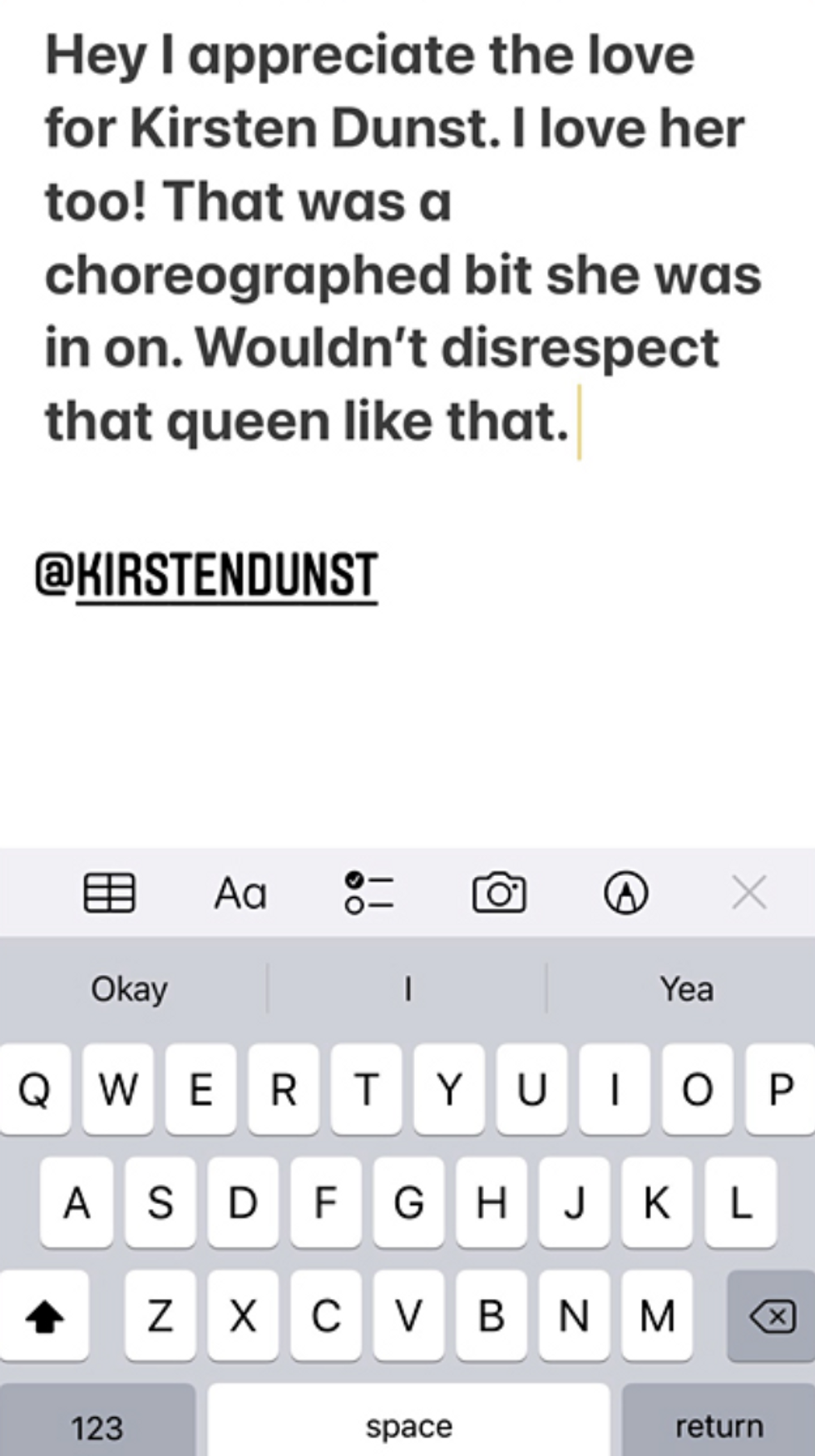 @amyschumer / Instagram
In an Instagram story, screenshot above, Schumer explains that she loves Kirsten Dunst as much as we do.
The post said:
"Hey I appreciate the love for Kirsten Dunst. I love her too!"
"That was a choreographed bit she was in on. Wouldn't disrespect that queen like that."
Which is great, since Dunst was there for her first Academy Award nomination for her role in The Power of the Dog, where she starred alongside her fiancé, Plemons.
The news was reassuring, though it may not have improved the joke.
People were still giving their thoughts about the interaction.
This isn't the first thing Schumer has had to comment on from the 2022 Academy Awards. She was also open about the moment Will Smith slapped Chris Rock across the face.
She called the situation "disturbing" and commended Chris Rock and Quest Love for how they kept their composure in the immediate aftermath.