*The following article contains discussion of suicide/self-harm.
A woman has run 12 marathons in 12 months – covering over 300 miles and raising £5,500 ($7,125) for charity – in memory of her beloved brother, who tragically took his own life 15 years ago.
---
Isolated by her grief, beyond her family, Emma Cooper, 32, did not know anyone who had dealt with the same kind of loss until, as she approached the 10th anniversary of 19-year-old Jamie's death in July 2015, she discovered the Campaign Against Living Miserably (CALM), a movement against suicide.
Discovering through CALM that suicide is the single biggest killer of men under 45 in the UK, claiming 12 deaths a day, she became determined to raise money for the charity and increase awareness – leading to her marathon challenge.
A saxophonist and community and event fundraiser, of Archway, north London, Emma said:
"I started reading the stats about male suicide and realized that I wasn't alone in losing Jamie the way I did, in fact, I was worryingly not alone."
Emma, who has another brother, Stuart, 29, who is unemployed and a sister, Laura, 22, a student, remembers her big brother, Jamie, as a creative and sporty young man who, while at school, was her "protector."
"I was quite petite and he always had an eye out for me, making sure I got in the lunch queue and no one was throwing their weight around with me."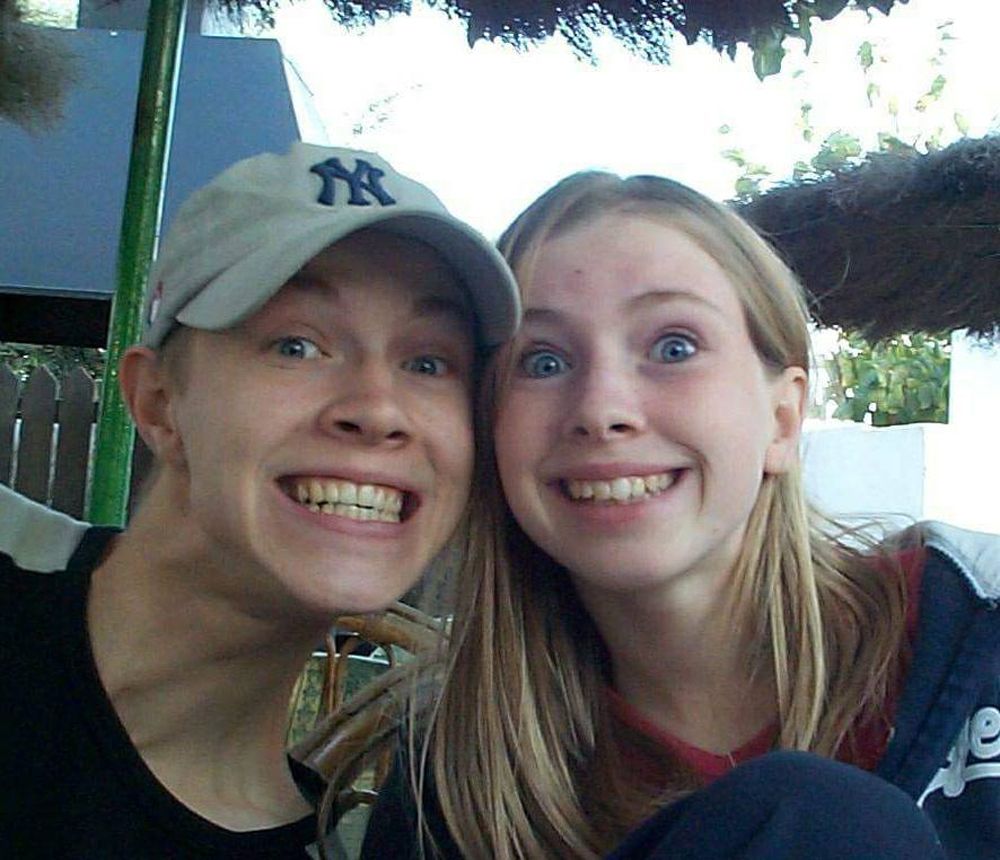 Jamie and Emma in October 2004 (PA Real Life/Collect)
She added:
"I also remember him as a bit of a joker and a bit of a cool kid."
Jamie left home a couple of years before his death, while Emma had just moved out, but they kept in regular contact.
She said:
"I saw him the Sunday before and he seemed the same as always."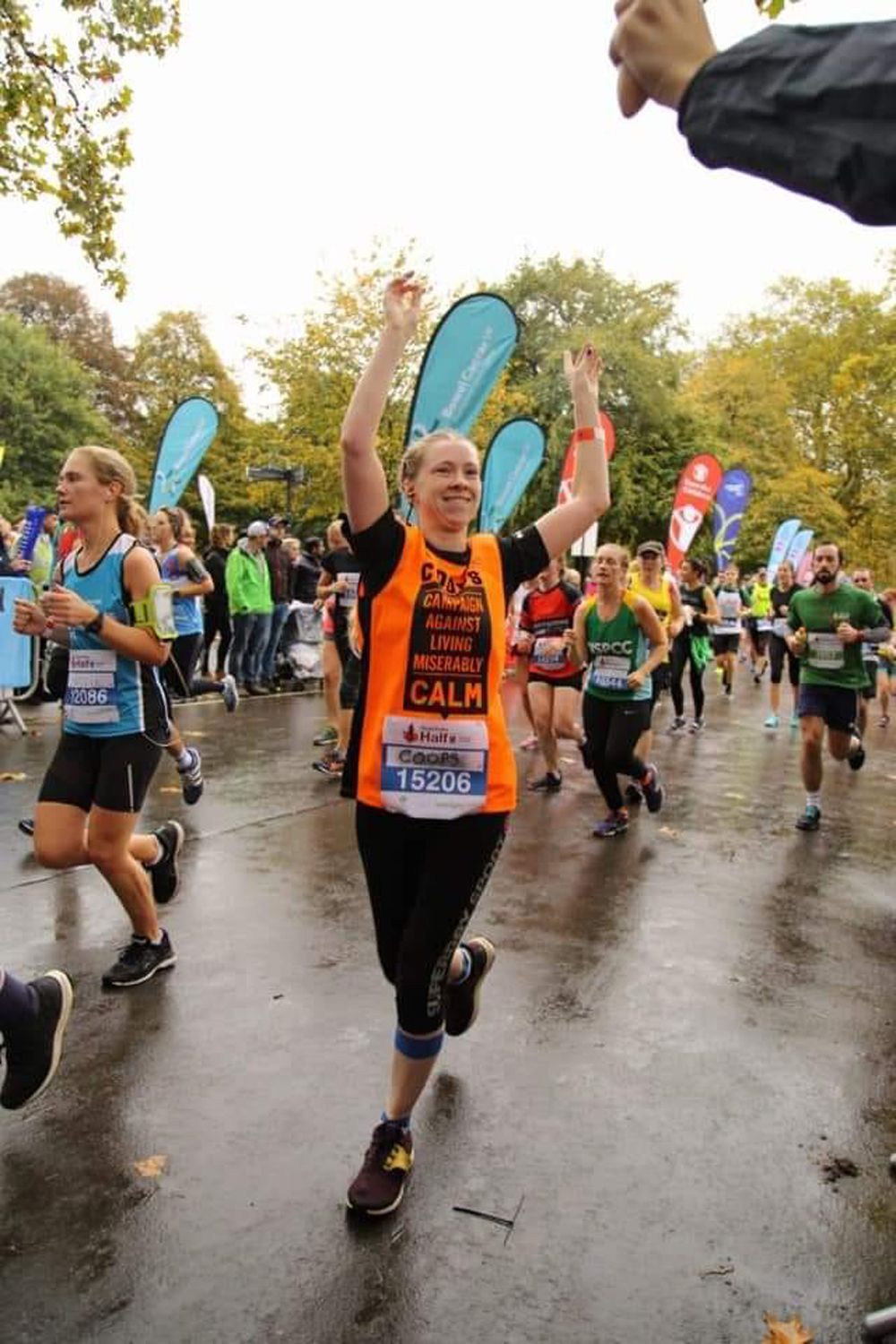 Hannah running the Royal Parks Half Marathon 2018 (Hannah Goodwin/PA Real Life)
"He was struggling to find work, which frustrated him, but he didn't seem down at all – he was just Jamie."
But just days after celebrating their grandma's birthday – where Jamie bought a figurine of Christ which Myra, now 83, still cherishes – he took his own life, on July 15, 2005.
"It was a complete shock – nothing prepares you."
"I'd been out to drop a saxophone I'd borrowed off at a friend's and when I came home I could hear all the family crying."
Assuming her grandma had passed away, she was in complete shock when she heard it was Jamie.
"I just told my mum to stop lying. I was completely unprepared."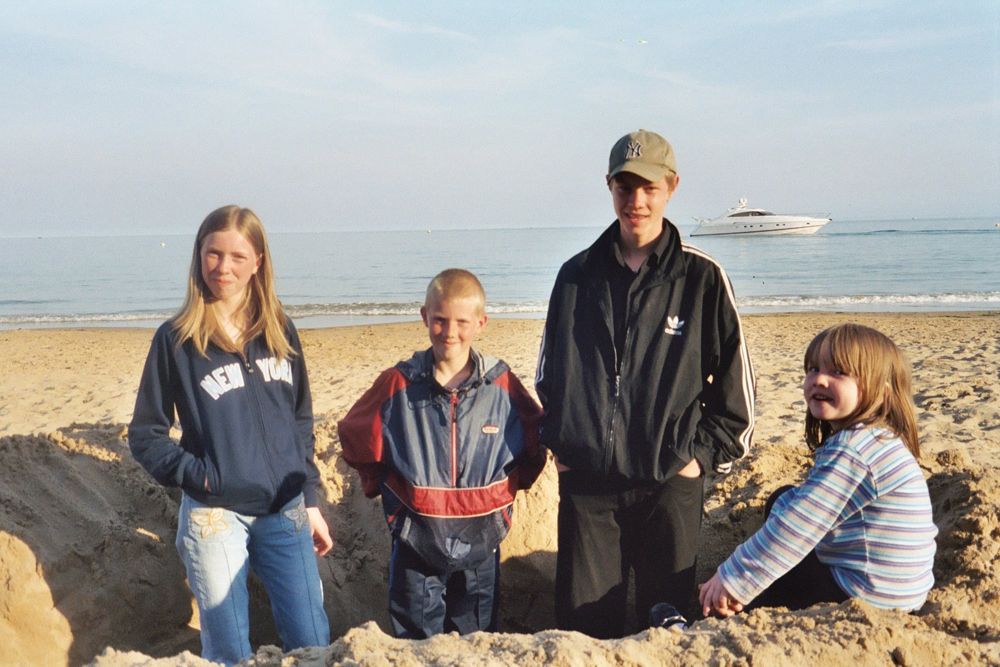 A family photo from Menorca in October 2004 (PA Real Life/Collect)
Battling depression, as she struggled to deal with her loss, Emma even pretended Jamie's death had resulted from an accident, or a sudden illness.
"I could never talk about the circumstances of his death honestly."
"I would say it was a freak accident – that he died of a heart attack or some nonsense."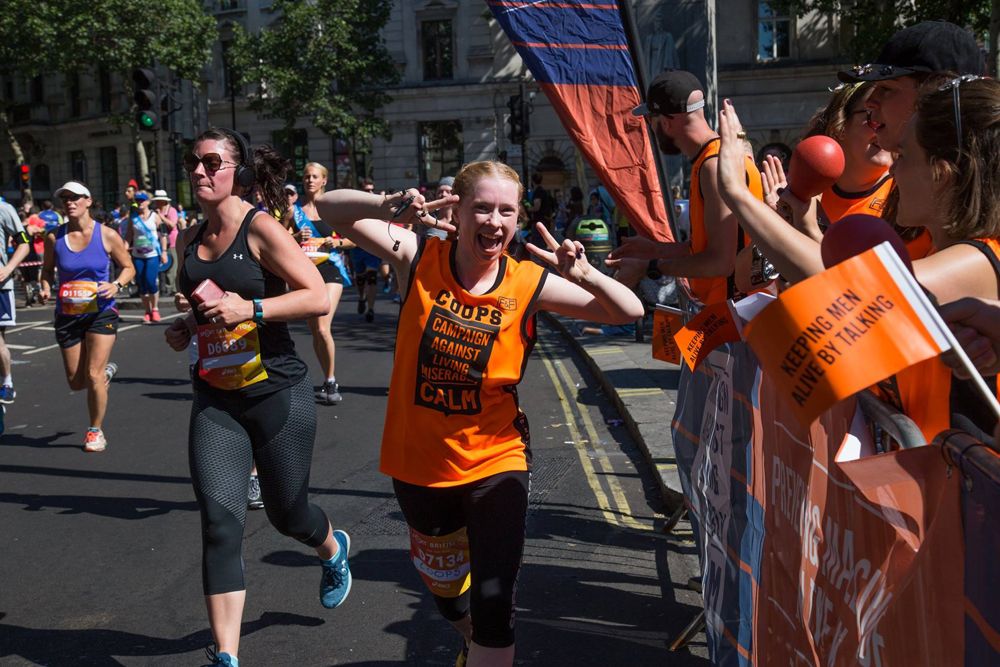 Hannah running in the GB10K 2018 (Hannah Goodwin/PA Real Life)
It was not until she read a fellow musician's moving interview, which mentioned CALM, in a music magazine, that she finally found a way to deal with her grief.
For years, Emma, whose boyfriend Chris, 34, is in the armed services, wrongly believed she was one of a tiny number of people whose lives had been touched by suicide.
But when she saw how many deaths resulted from the tragedy, she threw herself into raising awareness – signing up as a CALM volunteer.
Initially handing out leaflets and magazines for the charity, she soon began attending sponsored races for them, to cheer on athletes – and started wondering if she should be taking part herself.
She said:
"The problem was, at that point, I wouldn't even run for a bus."
"The last time I'd been active was at high school."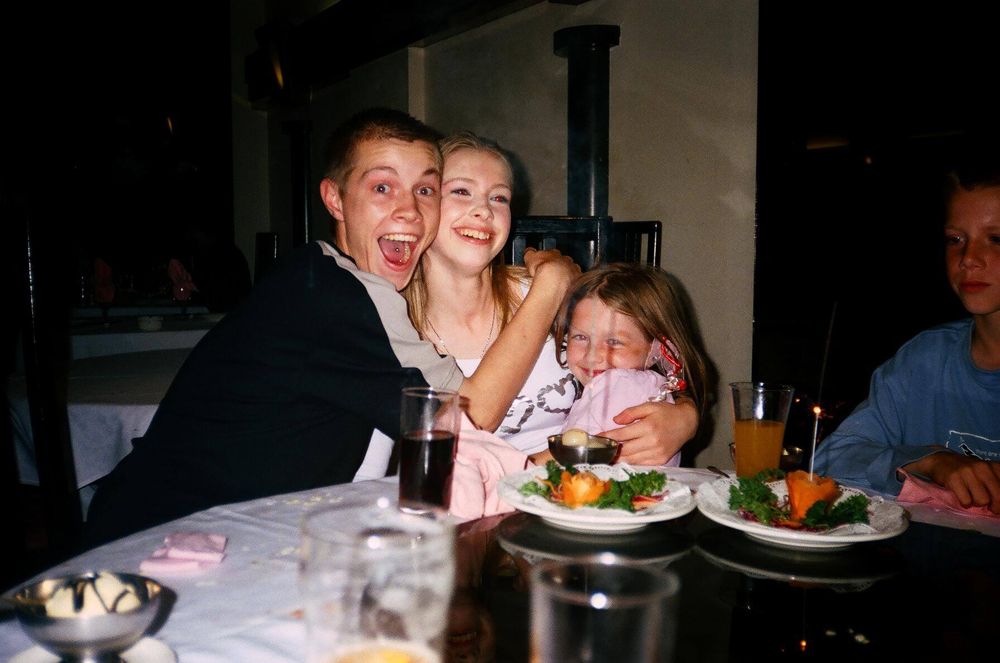 Chris and Emma's joint birthday party in 2004 (PA Real Life/Collect)
But, the more she shared her own story and listened to others, who had lost loved ones in this terrible way, the more Emma wanted to help.
And, in 2017, she signed up to her first 10km sponsored race.
Starting her training by signing up to Westminster Mile, a one mile run in London, in May 2017, she then upped the ante with her first 5km park run in June that year.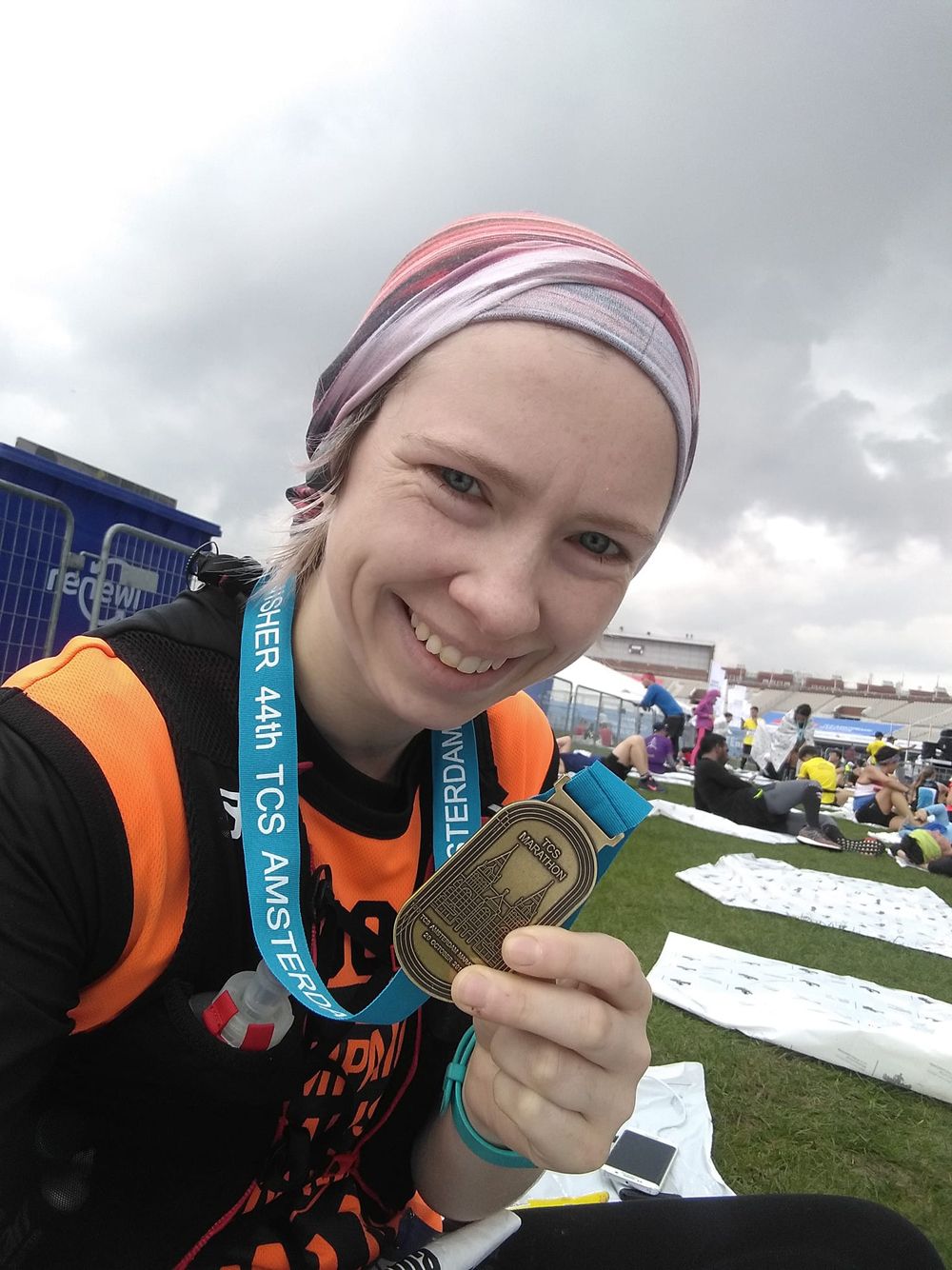 Emma with her medal for the Amsterdam Marathon (PA Real Life/Collect)
And in July 2017, she ran in honor of her brother, raising over £700 ($907) for CALM in the GB10K race.
"After hitting 10km and raising money, it felt like I'd finally done something positive in Jamie's name and I didn't want it to stop."
So, before she knew it, Emma had been transformed from couch potato to running ace – undertaking 5km runs three times a week and completing the October 2017 London Royal Park Half Marathon.
After that, the sky was her limit and, winning a place to run for CALM in the 2018 London Marathon, the world became her oyster.
On April 22, 2018, Emma completed her first marathon in four hours, 23 minutes and seven seconds, and raised £3,100 ($4,016).
"It was such a high being able to spread the word about CALM and to talk about my brother in a positive way."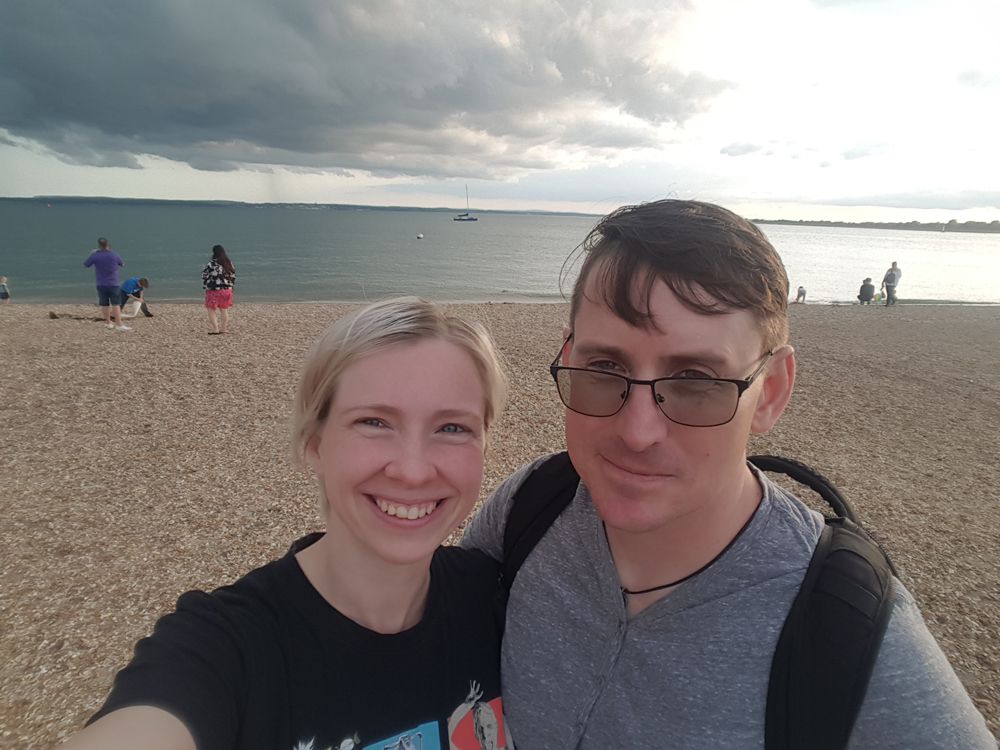 Emma and Chris at the seaside (PA Real Life/Collect)
Next came the idea of 12 marathons in 12 months – to reflect the alarming statistic that 12 men in the UK take their own lives every day.
So, from April 7 to December 22, 2019, Emma completed 12 marathons everywhere from Manchester, to Loch Ness, Amsterdam and Portsmouth, running 314 miles and raising over £3,800 ($4,923) for CALM.
"My family were very vocal about how proud they were of me for keeping Jamie's memory alive."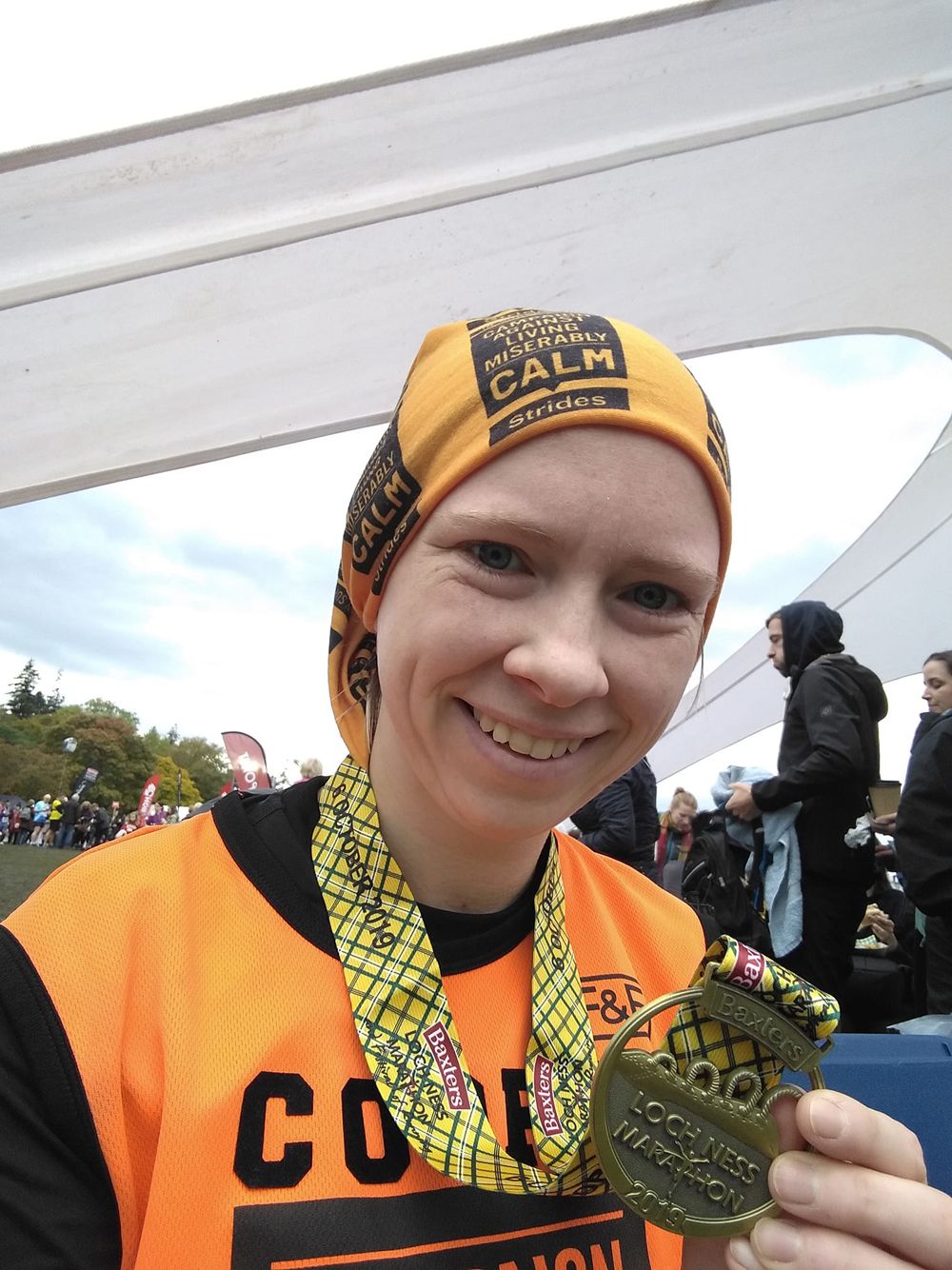 Emma with her medal for the Loch Ness Marathon (PA Real Life/Collect)
"Friends were quite shocked, as I've been known to turn down a 5km run in the past because I couldn't get out of bed in the morning."
"But really, everyone has been amazingly supportive and people have even taken to running themselves after seeing my efforts."
Emma's one regret was that an early miscarriage in August meant she had to pull out of one marathon in Bath.
She said:
"Physically and mentally, I had to recover."
"I'd only been with Chris for a few months. The pregnancy hadn't been planned – but it still took some healing."
"Luckily, the people in my CALM Facebook group were really supportive, which was a great help."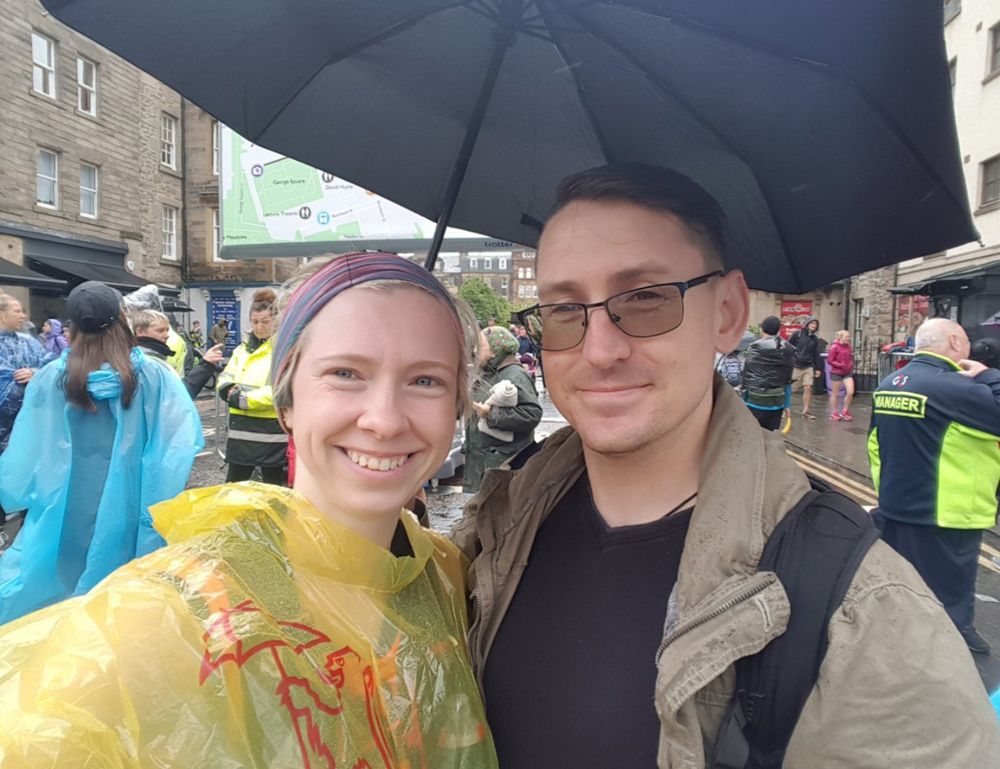 Emma and Chris (PA Real Life/Collect)
Spurring her on throughout her epic challenge, were memories of her beloved brother, Jamie.
She said:
"On the back of my running vest it says, 'for Jamie', and that really was at the forefront of my mind throughout."
"I would listen to songs that most reminded me of him, like Prodigy and Linkin' Park."
She continued:
"I also found myself chatting and laughing about Jamie with fellow runners – more than I had in years."
"I knew if he could see me he'd be telling me how stupid I was, but that's why I do it – because he can't."
Emma was particularly keen to complete her challenge before the 15th anniversary of Jamie's death in 2020.
Pavement, treadmill or big open road, good luck to everyone Running CALM - including Caomhan who's running the Thor… https://t.co/kK33mz7jY6

— CALM (@CALM) 1580558403.0
"For years I'd been unable to talk about Jamie at all, and when I did it was always about how he died."
"I wanted to change the narrative and be able to remember Jamie for who he was, instead of it always being about his death."
"This challenge has been the kick and push I needed to be able to do that."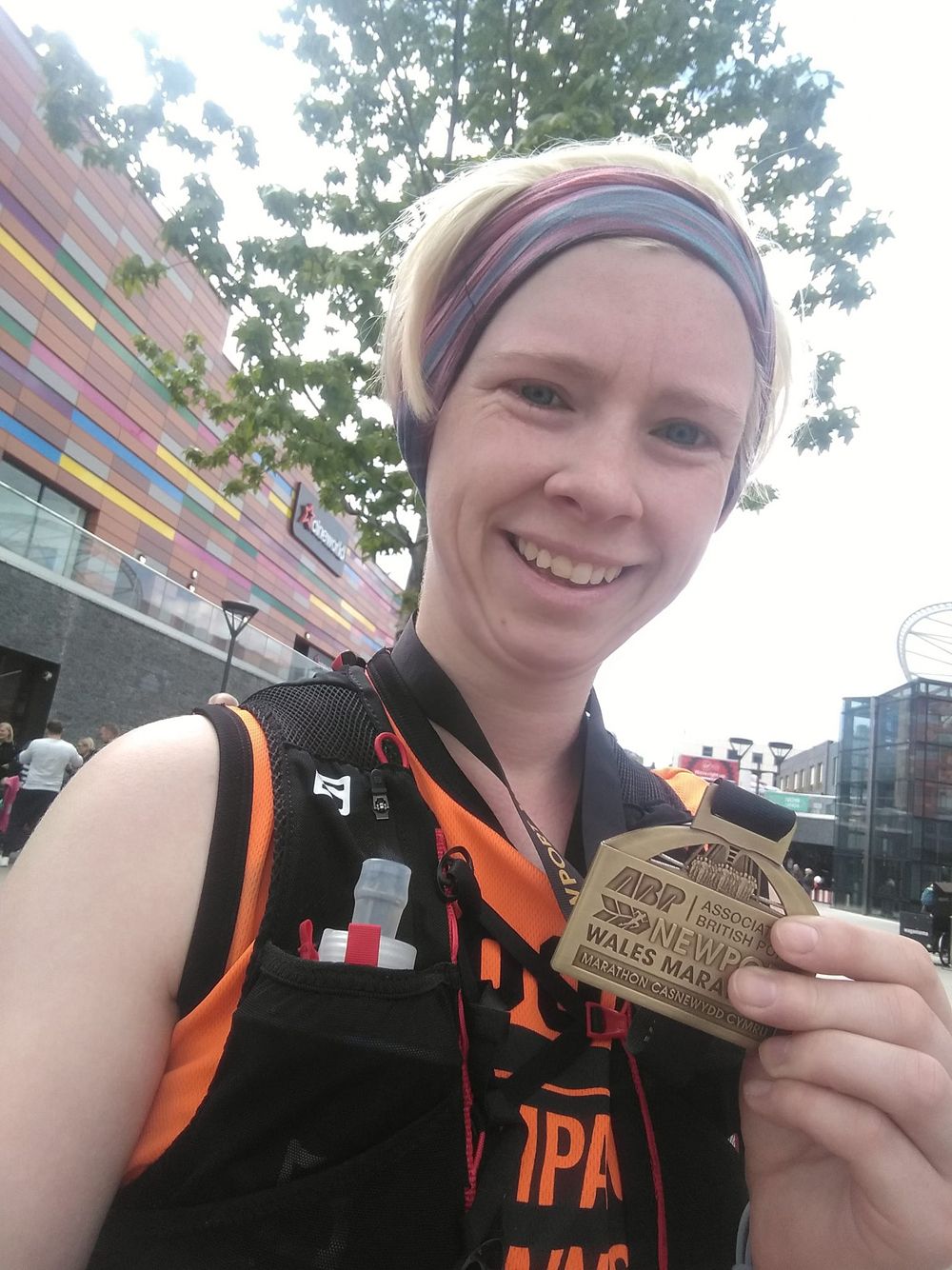 Emma with her medal for the Newport Marathon (PA Real Life/Collect)
She concluded:
"And if one person sees the CALM helpline because of me, or asks about my story and realises they're not alone – it will all have been worth it."
To donate to Emma's fundraiser, click here

If you have been affected by any of the issues raised and are looking for accredited confidential, anonymous and free support please call CALM on 0800 58 58 58 or via their webchat www.thecalmzone.net/help/helpline/
If you or someone you know is struggling, you can contact the National Suicide Prevention Lifeline at 1-800-273-TALK (8255).
To find help outside the United States, the International Association for Suicide Prevention has resources available at https://www.iasp.info/resources/Crisis_Centres/