Drew Hamilton was on his routine bear-viewing expedition when he spotted Holly, or "Bear 435."
There was no way he could miss her.
Holly is a plus-sized bear, which is typical among the dwellers around Katmai National Park's Brooks River in Alaska.
---
Hamilton, who is the president of the non-profit organization Friends of McNeil River, called Holly's imposing size "next level."
"You almost get the sense watching her that she's getting fatter before your eyes."
"I watch bears professionally. I see more bears than just about anybody out there."
Plenty of sockeye salmon populating the inlet are at her disposal. And with no cubs to feed, the flopping feast is all hers for the taking.
Hamilton noted Holly "appeared to sleep while sitting up," between pulling exhausted salmon to the river bank.
Introducing the one, the only, the gloriously fat Holly - for your #FatBearWeek consideration. https://t.co/h73njEYDp8

— explore.org (@explore.org)1569874585.0
The Alaskan behemoth gained lbs and some fans along the way.
@exploreorg I especially appreciate her nonchalant attitude towards scratching.

— ajah (the crazy bear lady) (@ajah (the crazy bear lady))1569875510.0
@exploreorg @GothamNurse I relate to her on a deeply spiritual level.

— Beth (@Beth)1570046119.0
@exploreorg @E_OnSpock our new queen

— Allyson Marcus (@Allyson Marcus)1570026928.0
In July, hundreds of thousands of salmon swim up the Katmai's Brooks River along the Alaskan peninsula to spawn and inevitably meet their demise as they encounter some 2,200 bears entering a state of hyperphagia – a period of nonstop eating.
The chomp-fest is in full swing as the bears prepare for hibernation, and to commemorate, Fat Bear Week was established in 2014. It is a time during which employees of Katmai National Park ask people to vote for the bear whose gained the most weight over the summer.
Katmai released a statement to make clear that Fat Bear Week is not about fat-shaming, and that the tradition is more of a celebration of life.
"There is no shame in winning this contest as large amounts of body fat in brown bears is indicative of good health and strong chances of survival [over the winter]."
Are you ready!?!?! Fat Bear Week starts tomorrow on @KatmaiNPS's Facebook page. Vote for your favorite chubby bear!… https://t.co/aaSccqz2aV

— US Department of the Interior (@US Department of the Interior)1569974489.0
@KatmaiNPS So much better than Shark Week

— Leigh Munsil (@Leigh Munsil)1569952646.0
@KatmaiNPS @Tees_Ter Nature is awesome ... Looks like Friday Night at the drive-thru.🍔🐟🍟 🧸

— IrishCatholicAtheist (@IrishCatholicAtheist)1569998185.0
Katmai noted that these bears can gain up to four pounds a day, but there is a strategy involved in their ravenous consumption.
They eat the parts of the salmon with the highest caloric density: the skin, eggs, and brain.
"Like miners looking for high-grade ore, bears try to consume high-grade fat."
@KatmaiNPS I like big bears and I cannot lie... https://t.co/sFrlNSU57B

— Lee Ferguson (@Lee Ferguson)1570158567.0
It seems Holly has a male competitor.
Mike Fitz, a former ranger at Katmai National Park and naturalist for explore.org, endorsed Bear 747 as the fattest bear in a blog post.
"He's the real deal, the one, the only, the titanic bear known as 747. He deserves your vote."
@prof_mirya @KatmaiNPS @RobertUNagel @lorenc2 @ChrisPolPsych @jlove1982 I think 747 is probably the favorite, but 3… https://t.co/GDxjXdbNkN

— Jeff Carter (@Jeff Carter)1570034117.0
@KatmaiNPS Both my kids are Team 747 https://t.co/x2yXSopY1c

— Mark Wheaton (@Mark Wheaton)1570025241.0
But Fitz also noted Holly has a ton going for her in this head-to-head challenge with 747.

"Like so many things in life, 747's Fat Bear Week victory is not guaranteed. My 2017 and 2018 endorsements for 747 were followed by his sound defeat. This year, his competition is just as fat if not fatter."
The loser would just have to grin and bear it.
So who do you declare as the champ?

The Lions, Tigers and Bears: Grayscale Photo Coloring Book for Adults is available here.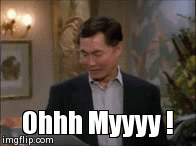 Giphy