A Dallas-based wedding videography company denied a refund to a client whose fiancée was tragically killed in a car accident before their wedding.
Justin Montney and Alexis-Athena Wyatt had planned to wed in Colorado Springs this month and had hired the company to preserve memories of their celebration by paying an $1,800 deposit.

But on February 4, Wyatt—who was driving a Honda Fit—died after being struck by a semi-trailer after she lost control of her vehicle due to the icy road and went into the oncoming lane.
Montney wrote a heartfelt tribute to his late fiancée on Facebook thanking friends and family for their support during a horrific time.

When Montney contacted Copper Stallion Media on February 17 to collect his deposit, the videography company told him the prepaid fee was nonrefundable regardless of circumstances. Montney said Copper Media then extended their services for his next wedding, which he thought was "very insensitive."
After continuing to make multiple requests, the company stopped responding.

Montney, a 24-year-old resident of Kansas told Buzzfeed News he reached out to Copper Stallion again to inform them of his intentions to expose their handling of the situation to family and friends online.
At that point, Wyatt's mother—along with other friends and family members—wrote poor reviews on The Knot, a wedding planner site.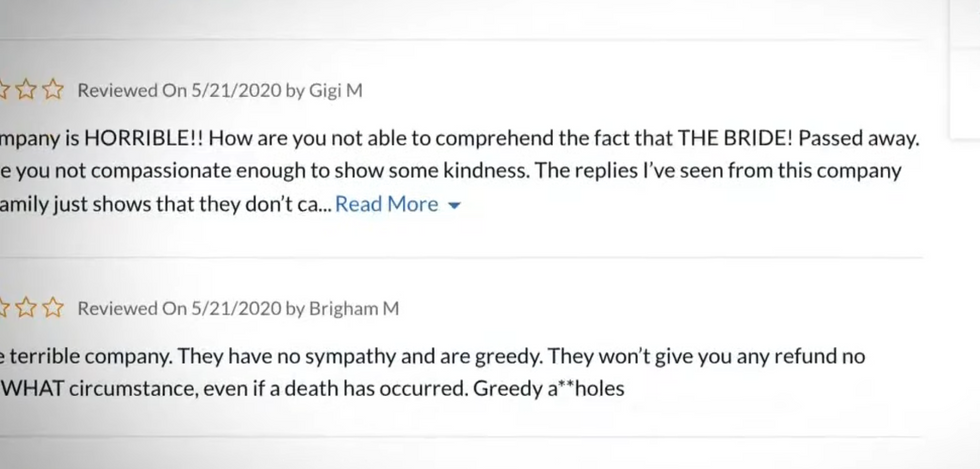 NewsChannel13/YouTube
That was when Copper Stallion decided to sue Montney and the Wyatt family.

Montney reached out to local television station KRDO to share what happened to him and the story that was published included screenshots of Copper Stallion retaliatory statement on their Facebook page.

The media company mocked the mourning fiancé, writing:
"Today would have been the day where we would have filmed Justin and Alexis' wedding out in Colorado Springs."
"After what Justin pulled with the media stunt to try and shake us down for a refund, we hope you sob and cry all day for what would have been your wedding day."
"Sorry, not sorry."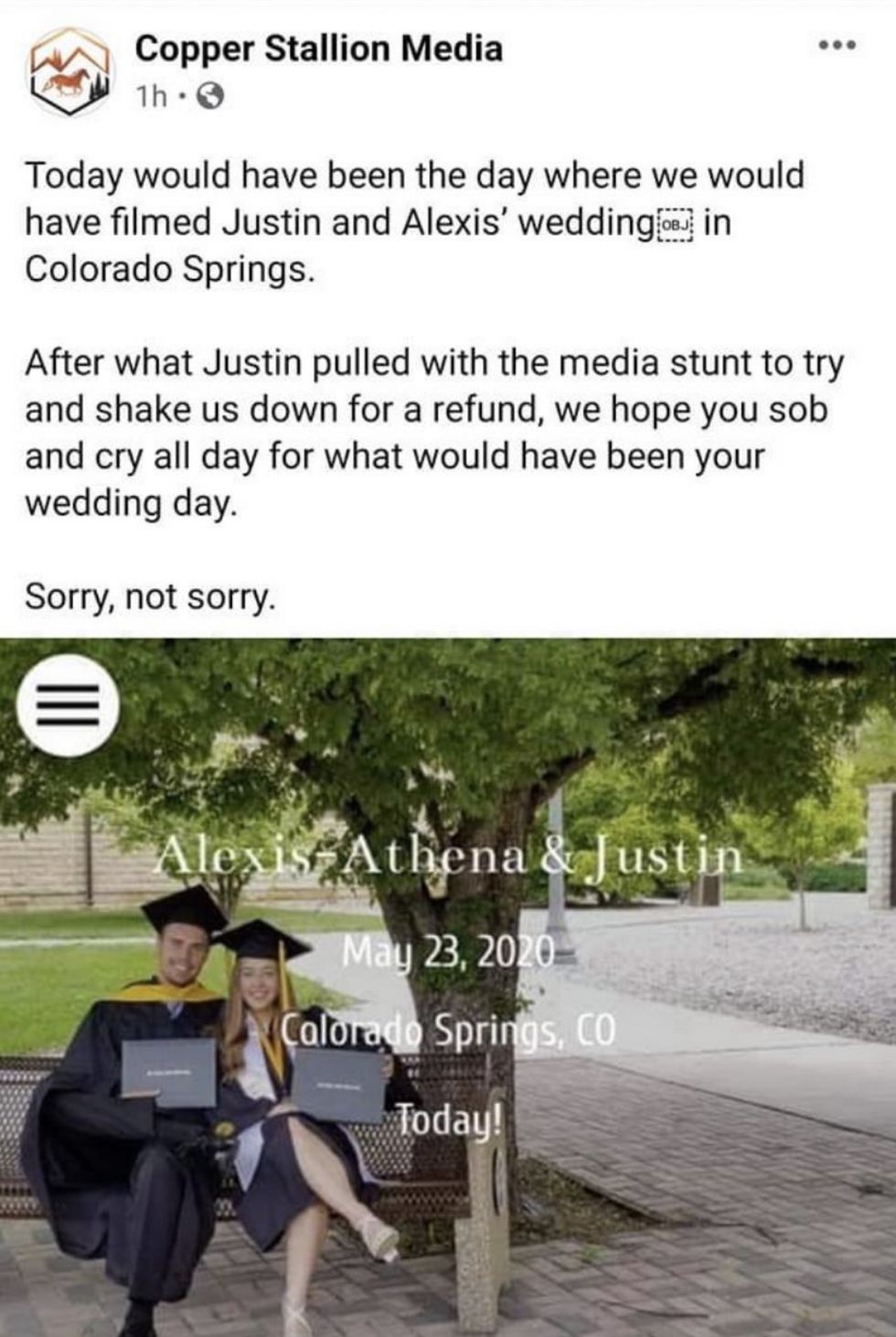 @Tyler_Macin17/Twitter
During a live interview on Tuesday, Montney explained what the turning point was for exposing the media company's actions.

"At first I was just going to tell friends and family, but when he started to threaten Alexis' family with a lawsuit for basically their daughter dying, that's when I was like, OK, I'm going to start going to the people who ... spread the news."
"The rest of the internet said, 'Oh, that's terrible.'"
Tyler (@Tyler_Macin17), who goes to church with Wyatt's family, said that "Her family and the church as a whole are already hurt by the situation" and commented on the cruelty of the vendor.
there's really people like this in the world. I hope no one hires them and they lose their business https://t.co/OosZZcYaX6

— Tyler. (@Tyler.) 1590345655.0
The company's countermeasure from the social media backlash included obtaining website domain names for "JustinMontney.com" and "JustinMontneyWedding.com" to "build our case against" Montney.

Below is a screenshot taken by Twitter user @danierose9
@ssmith747 @kgb_notorious @Tyler_Macin17 @mmamy1200 With that being said, here is the website as of right now (in c… https://t.co/yPYpZTE9VA

— Beech (@Beech) 1590426324.0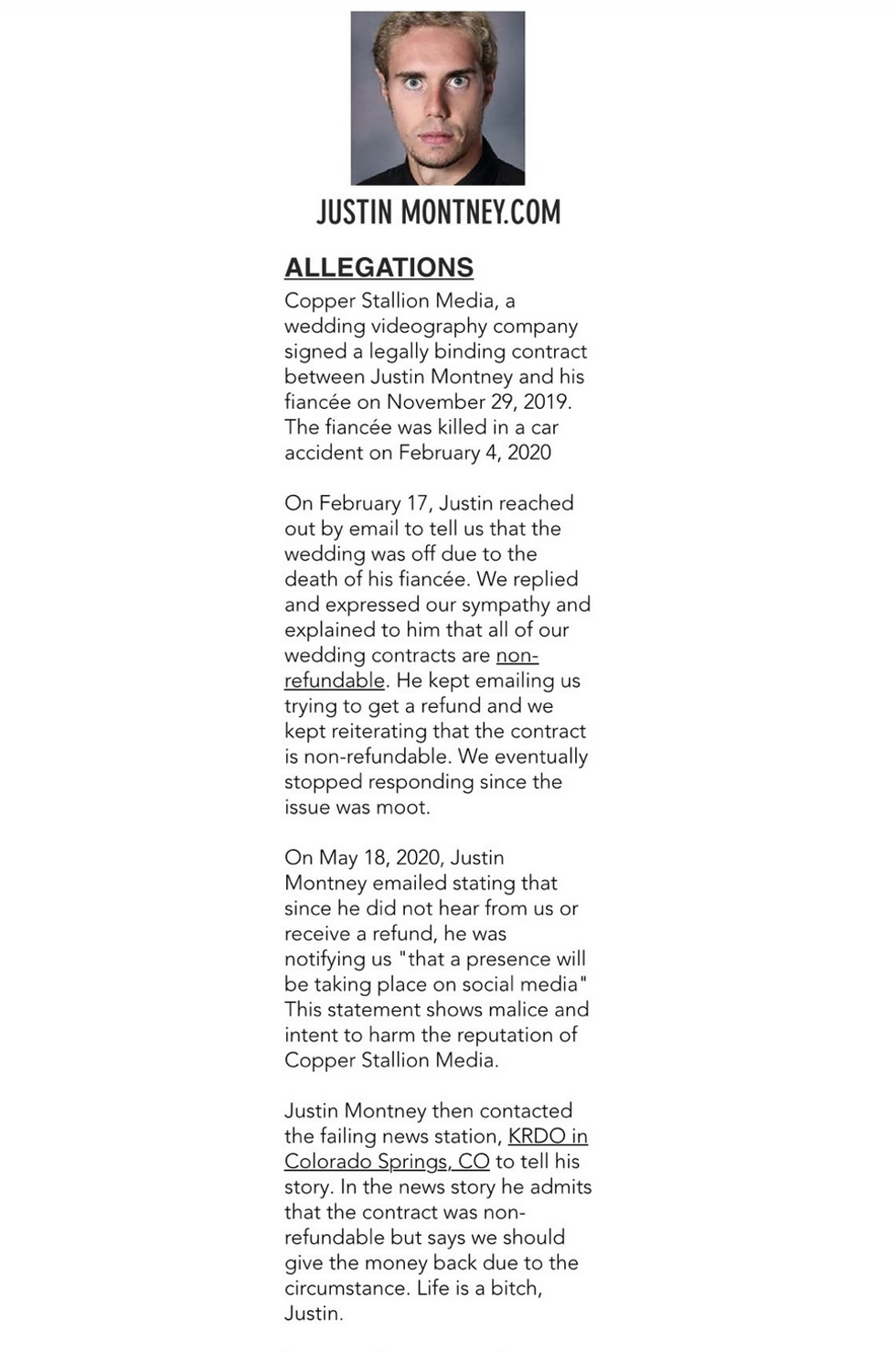 @danierose92/Twitter
@Tyler_Macin17 @ZJemptv They literally bought a domain with the poor guy's full name so they could harass him and i… https://t.co/men1RlZMD7

— Will (@Will) 1590387197.0
@Tyler_Macin17 @mmamy1200 They are straight up known scammers, they go hard, they even bought the mans name as a do… https://t.co/nQXbAovPkp

— KGB (Anti Fabia) (@KGB (Anti Fabia)) 1590408593.0
Both websites now—according to WTHR—lead to the song "Disillusioned" by A Perfect Circle.

After the KRDO story was published, Copper Stallion said on their website that they received 75 one-star reviews on Yelp and The Knot "in a matter of hours."
The website stated that their policy was not negotiable and that the company would "never refund" Montney despite all the defamatory comments on social media.
"It is not right that people can go online and trash a company. The contract was non-refundable."
"We will NEVER refund Justin Montney even with the online threats and harassment."
"If we knew he was going to shake us down, we would have charged a higher deposit."
even their explanation sounds cruel smh "even from the grave" https://t.co/Somb2lbmb0

— Tyler. (@Tyler.) 1590367231.0
Other vendors would have responded differently.

@septemberbleu @Tyler_Macin17 @JamilahLemieux Yup. I personally would've refunded the money. IJS. Anyway...Could've… https://t.co/bHTij7XF2E

— Girlie🌹🌹🌹 (@Girlie🌹🌹🌹) 1590428981.0
@ChiefCardinalkc @Tyler_Macin17 My husband and I own a wedding photography business and this is absolutely not indu… https://t.co/l7YtWnKeMZ

— ✨sparkly+political Monica 💙 (@✨sparkly+political Monica 💙) 1590445457.0
The company further addressed the situation on Facebook before all their social media accounts were made private.

"We replied and expressed our sympathy and explained to him that all of our wedding contracts are non-refundable."
"He kept emailing us trying to get a refund and we kept reiterating that the contract is non-refundable. We eventually stopped responding since the issue was moot."
You can watch the KRDO news report in the clip below.
Wedding videography company denying refund after fiancee dies in crash in El Paso Countyyoutu.be
Copper Stallion claimed they didn't have the funds to pay back Montney due to the health crisis, but he argued that the pandemic was not made official yet at the time he made his request.
@brycefleetwood @Tyler_Macin17 @kyra_clairice The bride-to-be died in a car accident in February. The fiancé emaile… https://t.co/zRN718PYoj

— Kale 🌿 (@Kale 🌿) 1590425686.0
An attorney told the news outlet that Montney could have a case to get his money back, but added that the exorbitant lawyer fees may not be worth pursuing litigation.