Inspired by TV's Great British Bake Off, a new mom has taken to creating incredibly realistic cakes, replicating everything from bangers and mash to duck and crispy pancakes.
---
When admin worker Abbie Small, 33, first settled down to watch an episode of the Channel 4 favorite about three years ago, she was soon hooked – eventually becoming so inspired that she decided to follow in the contestants' footsteps and try her hand at baking.
Initially making cupcakes and themed bakes, mostly for family and friends, she then watched another Channel 4 food show – Extreme Cake Makers, where specialist bakers go all out to make jaw-dropping creations – and was motivated to take things to the next level.
Since then, she has unveiled a string of uncannily lifelike cakes, spending up to a day-and-a-half at a time creating everything from fondant fish and chips to a 'meat' pie made entirely from sponge and jelly.
Abbie, of Merseyside, England, who is on maternity leave after having twins, Mitchell and Cassie-Mae, in September, said: "It can be tricky balancing the baking with working full time, and now being a mum, too, but I love doing it.
"People are amazed by the lifelike cakes – amazed and confused. It's funny to see something that looks like a Yorkshire pudding with mash and gravy, but tastes like icing and cake. Their eyes are telling them one thing and their tastebuds another."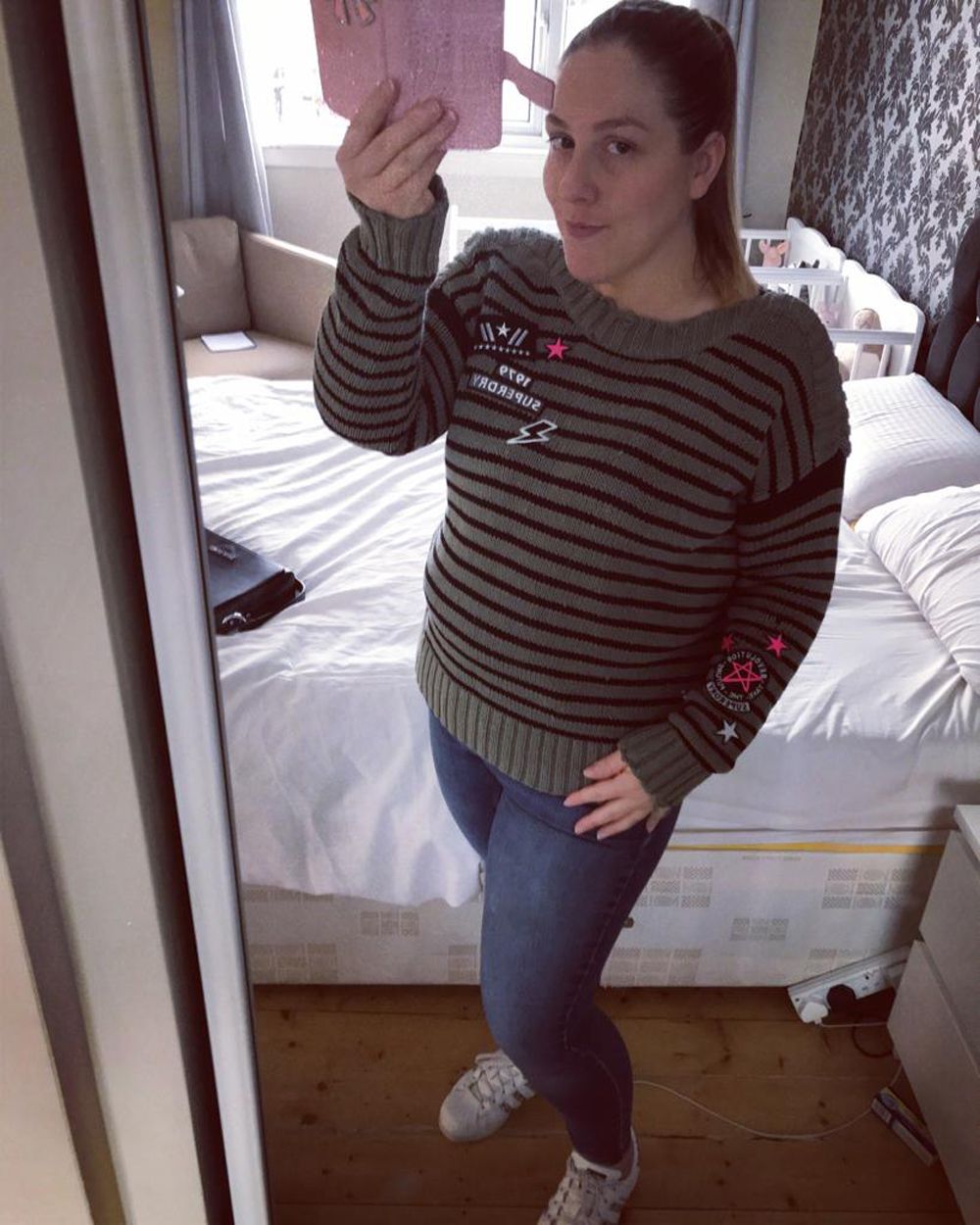 Abbie (PA Real Life/Collect)
Abbie, whose babies are her first with her partner Simon, explained how she was first introduced to the world of baking when she tuned into Great British Bake Off back in 2016.
Watching the contestants battle it out for a chance at the coveted first place prize – and a 'Hollywood handshake' from judge Paul – she was inspired to give baking a go herself.
"I was really impressed by what the contestants were doing, so wanted to try and give it a go myself," she said.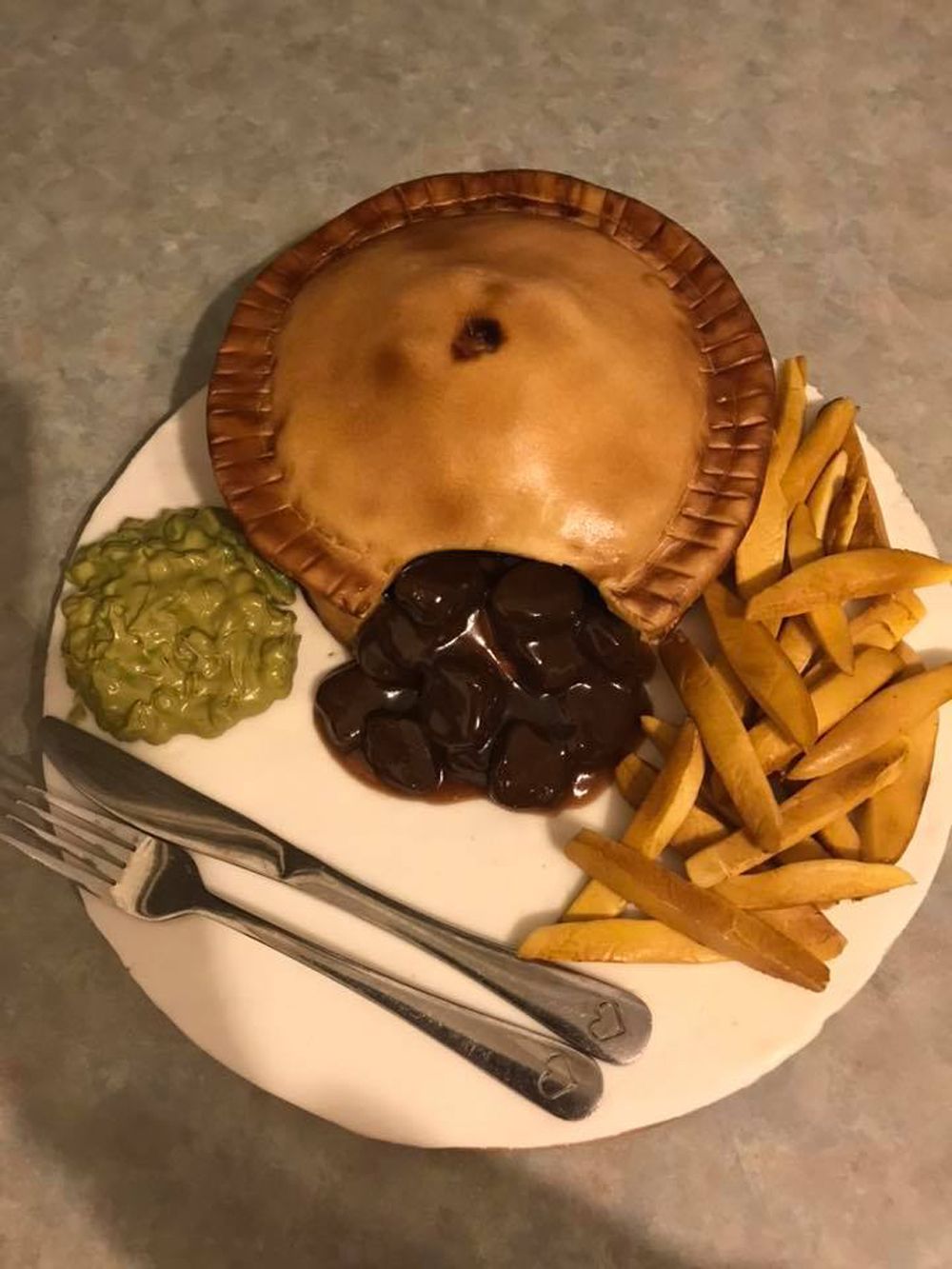 Abbie's pie cake (PA Real Life/Collect)
Following the mantra 'practice makes perfect,' she began to bake more and more.
In time, she even set up a Facebook page – Abbie's Couture Cakes – where she would sell her creations from around £5 upwards.
Then, in 2018, she was watching an episode of Extreme Cake Makers, when a second wave of inspiration hit, after seeing baker Molly Robbins create a remarkably lifelike pie from cake.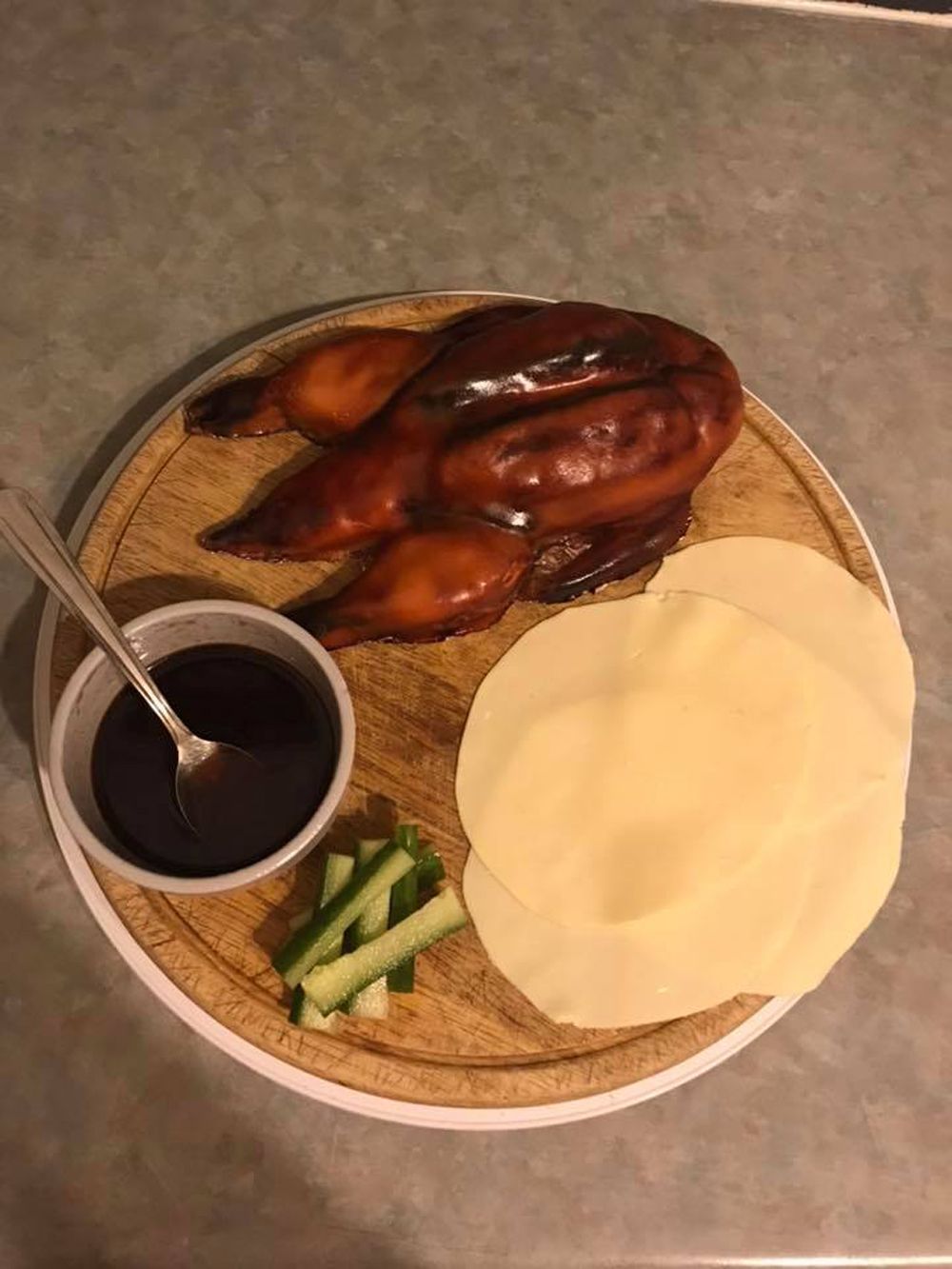 Abbie's hoisin duck cake (PA Real Life/Collect)
She continued: "I did a couple of experiments first, making a scone and burger from a book my partner bought me for Christmas, and a little cheeseboard, which was all done from icing.
"It was the first time I'd made anything like it, but I thought it turned out quite well.
"So, I decided to try and replicate Molly's incredible pie cake."
Pleased with how her pie, chips and peas bake turned out – which she made in December 2018 – Abbie has spent the year since challenging herself to see what else she can create.
To date, she has baked a southern fried chicken burger, fish and chips with mushy peas, hoisin duck with pancakes and bangers and mash with peas and Yorkshire pudding – all from cake.
Explaining her process, she said: "There was a lot of trial and error involved. I tried to pick a mix of meals I liked, and things that would push me and be a real challenge to replicate in terms of shape and color."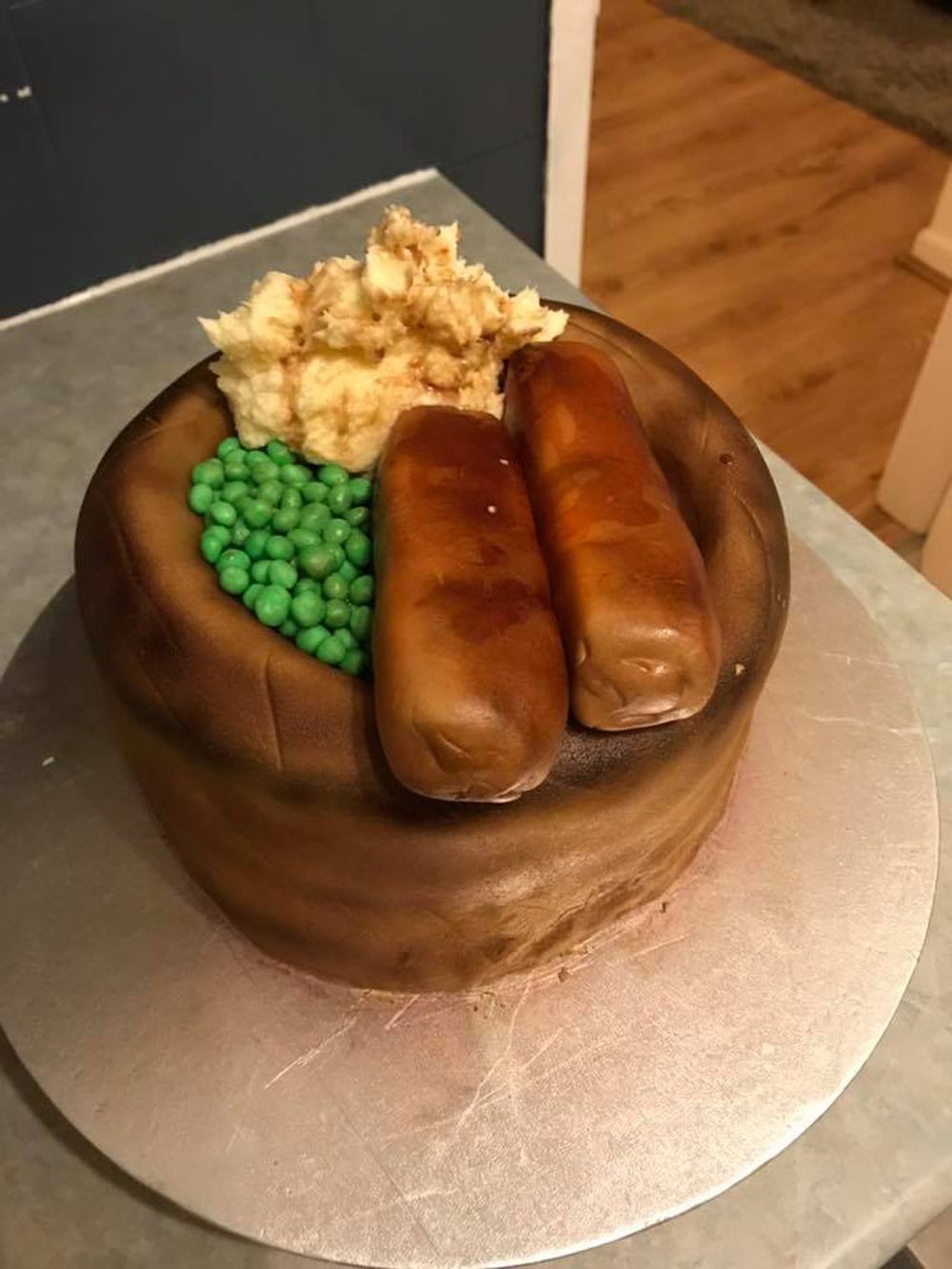 Abbie's bangers and mash cake (PA Real Life/Collect)
She continued: "With every cake, I'll start by making a standard sponge, which I then carve to be the right shape.
"The finer details are then made using icing or a spray-gun I have – almost like a fake tan sprayer – that mists food coloring into the cake.
"That's my favorite part, as that's where you can see it really come to life."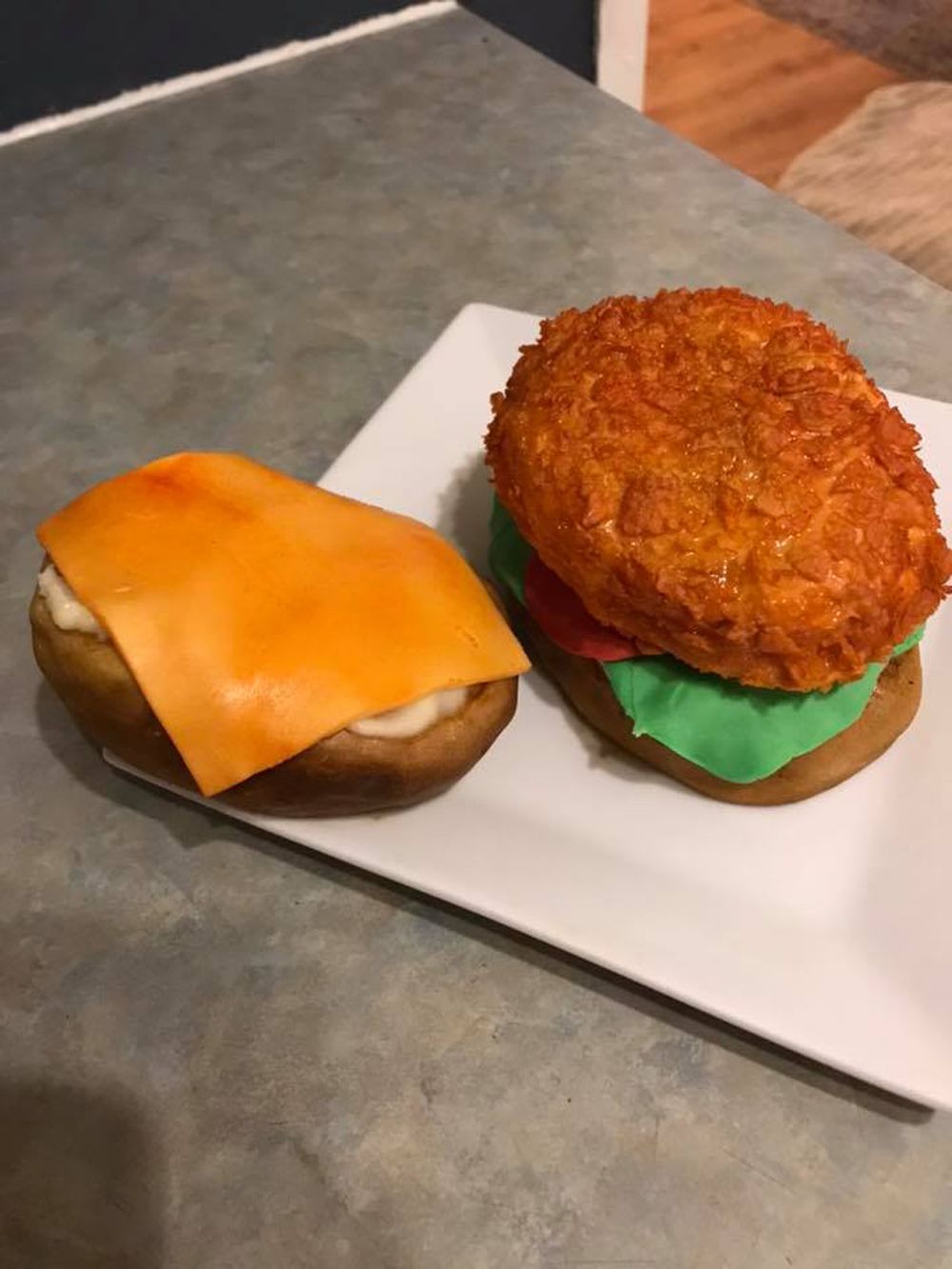 Abbie's chicken burger bake (PA Real Life/Collect)
Most of the ingredients Abbie uses can be bought from her local supermarket – although the odd item, like coloring for her spray gun and a special gelatin she used to give the 'meat' in her pie and hoisin duck a lifelike glisten, have been obtained from specialist shops.
"I've also got some special equipment like my stencils and the spray gun itself from a proper baking shop near me," she added.
The bake Abbie is most proud of is her bangers and mash creation, which took her a day-and-a-half.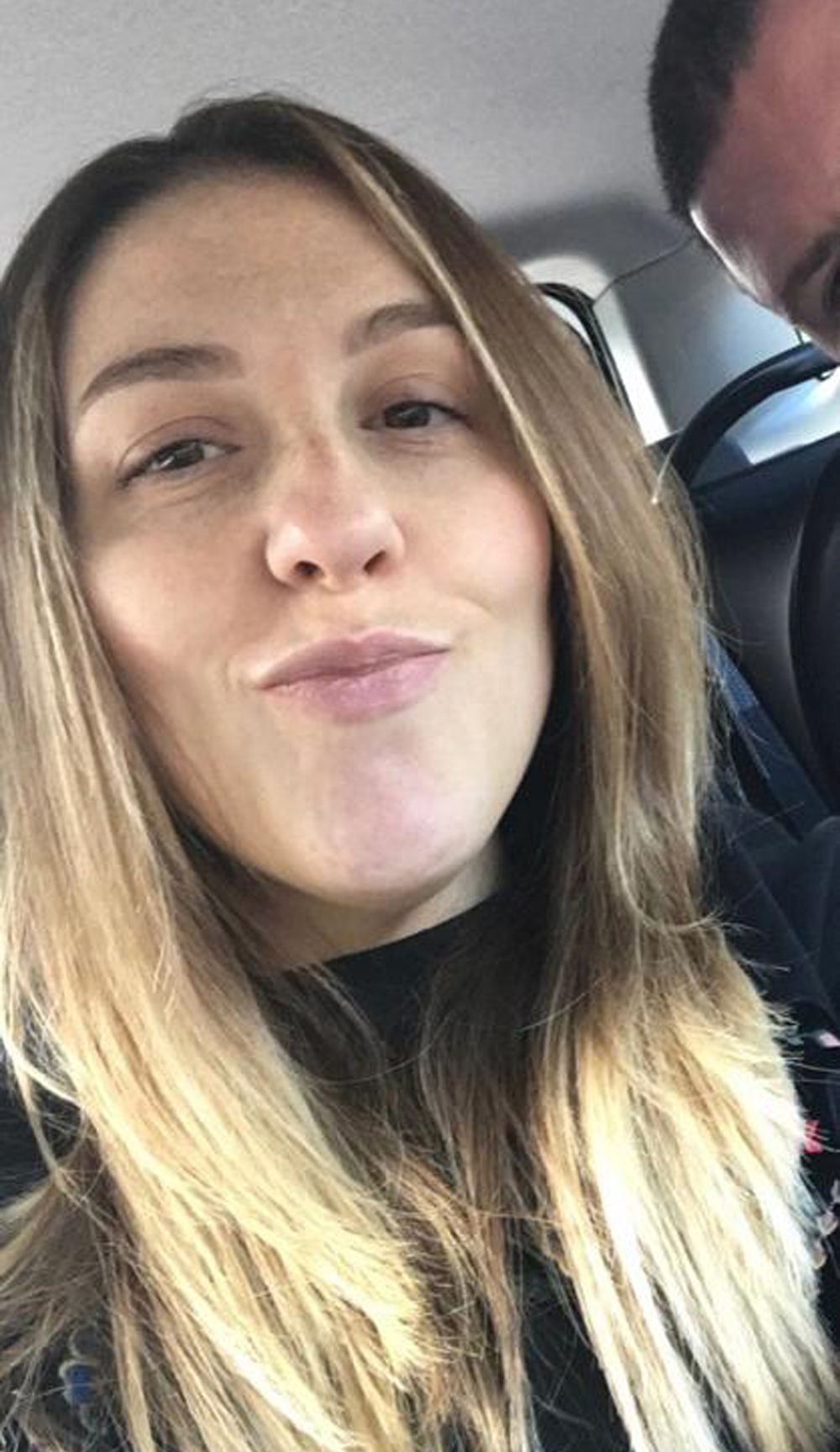 Abbie (PA Real Life/Collect)
The sausages and Yorkshire pudding are made from sponge, while the creamy mash is actually buttercream, and the peas are fondant icing – and the whole thing is topped off with a gravy made from royal icing.
Her sponge cake hoisin duck with fondant pancakes and icing plum sauce, her pie made from sponge cake, with icing and jelly filling and icing chips and mushy peas and her chicken burger, which uses crumbled cornflakes to recreate a lifelike breadcrumb coating, are equally impressive.
"On average, it'll take about two hours just to get the cake part alone sorted," she said. "Then I have to leave it to cool before I set about making the icing and getting the colors and little details just right."
She added: "I'd say it takes a good day-and-a-half to finish a cake completely."
Now, although she is busy with her new arrivals, Abbie has vowed to continue baking – planning to create either a hot dog, a sausage roll, or a full roast dinner next.
"A hot dog or sausage roll doesn't sound that impressive, but I think it would take a lot of work to get the colors and all the little details right," she said.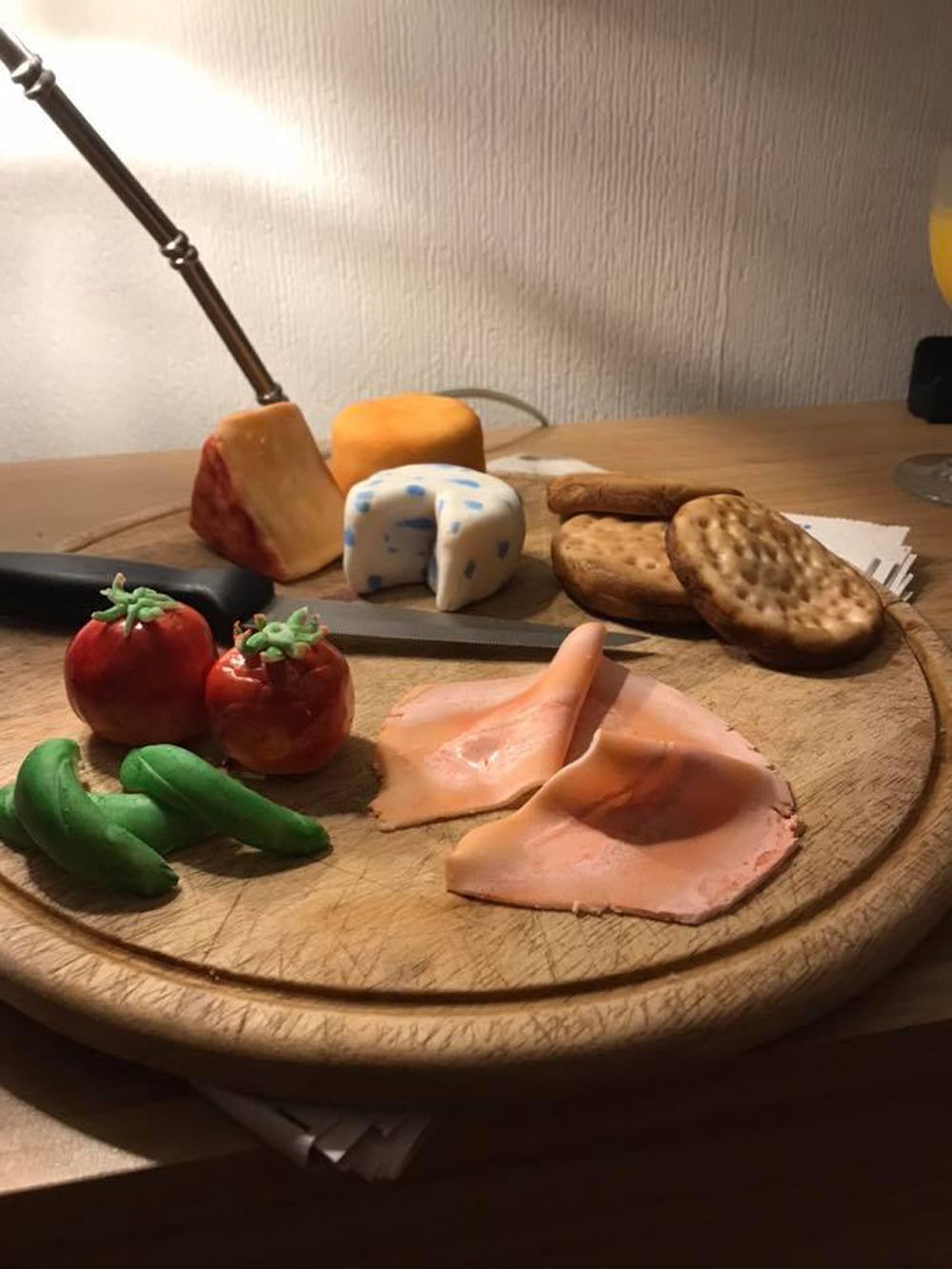 Abbie's cheeseboard creation (PA Real Life/Collect)
Abbie concluded: "A roast or Christmas dinner would be amazing, too.
"I bake whenever I can and if somebody wants me to create a special cake for them, I'll always do it. Sometimes the trickier ones can take a couple of days to plan, though.
"Still, when I enjoy something, I put my all into it – and I really do enjoy this."