Five Miami Beach police officers who had been suspended are now being charged with battery.
The charges were announced by the Miami-Dade County State Attorney on Monday, August 2, 2021, after video footage showed the officers using excessive force against 24-year-old Dalonta Crudup and 28-year-old Khalid Vaughn.
The footage, released by the Miami-Dade County State Attorney's office, was uploaded to the YouTube page ThisIsButter, which is dedicated to sharing police footage.
5 Miami Beach police officers face battery charges after rough arrestsyoutu.be
The video features both surveillance footage from the Royal Palms Hotel, where the incident took place, and body cam footage from the officers on the scene.
In the footage, Crudup was stopped at gun point by an office after entering an elevator. He quickly complied, exiting the elevator with his hands in the air before lying on the ground.
Dozens of officers swarmed Crudup as he lay handcuffed on the ground.
The video paused on a number of occasions to show Officer Kevin Perez kicking Crudup and slamming his head to the ground, both in real time and in slow motion.
Sergeant Jose Perez kicked Crudup three times in the surveillance video, including a kick to Crudup's head after the majority of his fellow officers had left the scene.
The body cam footage showed an even closer view of both Sergeant Perez and Officer Perez kicking and punching Crudup, with blood visible on the hotel lobby floor.
This preceded Officer Robert Sabeter tackling Vaughn, who was recording the incident on his cell phone, before showing Officer David Ross punching Vaughn multiple times in the stomach.
A separate body cam captured Officer Steve Serrano punching Vaughn in the torso multiple times.
As reported by The Huffington Post, State Attorney Katherine Fernandez Rundle responded with disgust, saying in a press conference:
"Police officers face a variety of dangers on the job each and every day, however, as I've previously said, excessive force can never, ever, ever, be an acceptable foundation for the policing of any community."
As reported by the Miami area's WSN7-TV, Rundle found the multiple kicks to the head "unfathomable," "unspeakable," and "inexcusable," adding that Miami Police Chief Richard Clements was "horrified" by the footage.
She thanked Chief Clements in a subsequent Twitter post for making her aware of the incident and for "recognizing the wrongs committed."
The surveillance and body cam footage was greeted with horror and dismay from viewers, and added to tensions surrounding police brutality in the United States.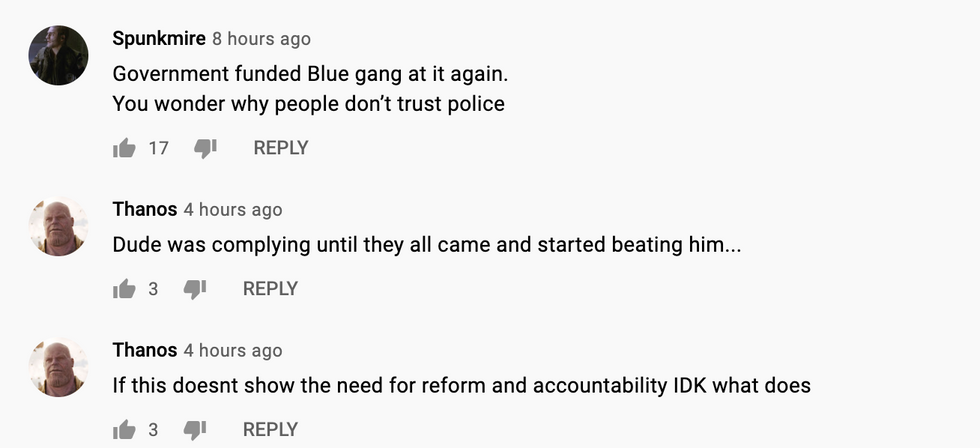 @ThisIsButter/YouTube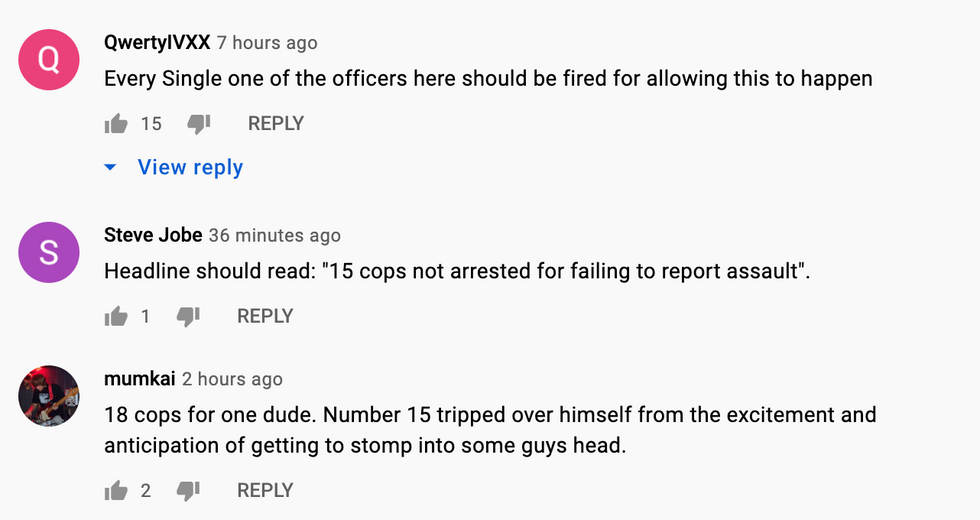 @ThisIsButter/YouTube

@WSVN-TV/YouTube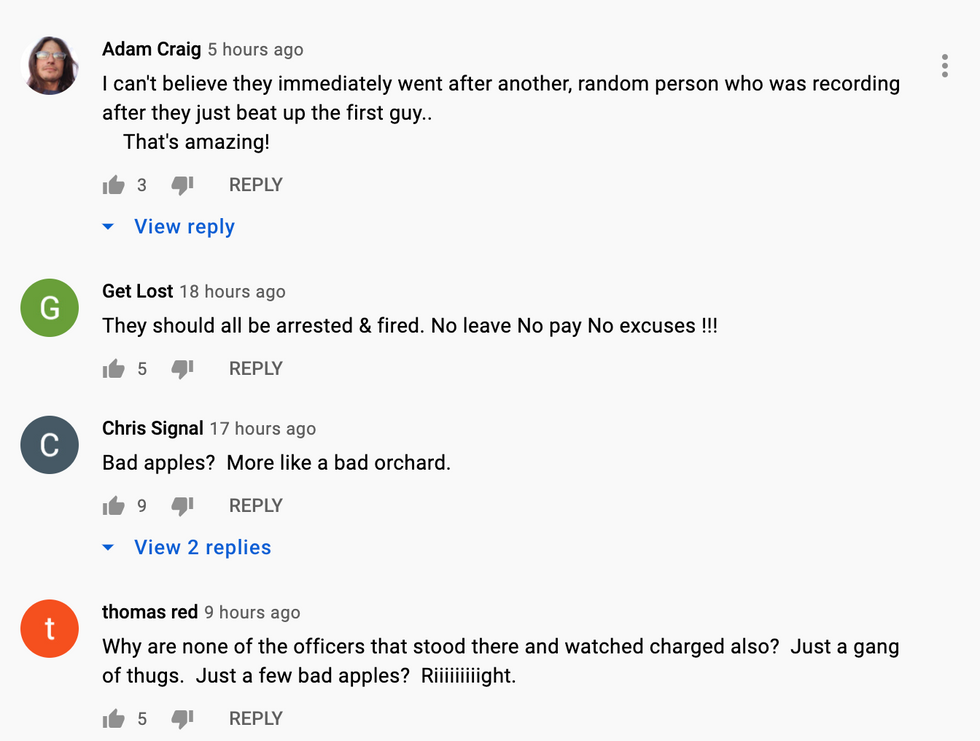 @WSVN-TV/YouTube
Others took to Twitter, wondering if the five officers will receive a sufficient punishment.
Officers claimed they initially pursued Crudup after he illegally parked his scooter, and then struck an officer with it, leaving that officer with a leg injury requiring crutches.

Crudup denied hitting the officer, saying he didn't realize he was being pursued as he was wearing headphones. He told Local 10 News that he ran because he was scared.
"They trying to put a Black man in jail for no reason. I ain't do nothing wrong."
Crudup was charged with a number of counts, including aggravated battery on a law enforcement officer. Vaughn was charged with resisting arrest and impeding a police investigation.
After viewing the footage, Chief Clements asked that all charges against Crudup and Vaughn be dropped.