A stylish British mom whose love of fabulous footwear saw her spending hundreds of pounds on killer heels has done her bit for the planet and fashonistas alike – by inventing a gorgeous 12-in-one shoe aimed at streamlining wardrobes.
---
In her previous management role working in sustainable energy, Tanya Mulesa's job entailed high level meetings around the world, at which she matched her impressive knowledge with her impeccable dress sense.
But while Tanya, 35, who has a son, Edward, three, with her husband Joseph, 37, who runs a mining technology company, enjoyed indulging her sense of style, she felt "hypocritical" for working in sustainability – all the while knowing she owned more than 70 pairs of shoes.
A savvy traveller – who now splits her time between London and Lancaster, Lancashire, England – would sticki to hand luggage to avoid checking in bags on international business trips, since every spare inch of hers would be filled with shoes.
Speaking out during Fashion Revolution Week – which aims to raise awareness of issues in the fashion industry, including its environmental impact – She said:
"A lot of the meetings would be abroad, in cities like Milan or Paris, where I'd want to stay on a few days the other side and explore."
"Being a smart traveller, I would want to keep to hand luggage to save time checking in bags and waiting for them the other end, but whenever I went to pack, my shoes would take up all the space."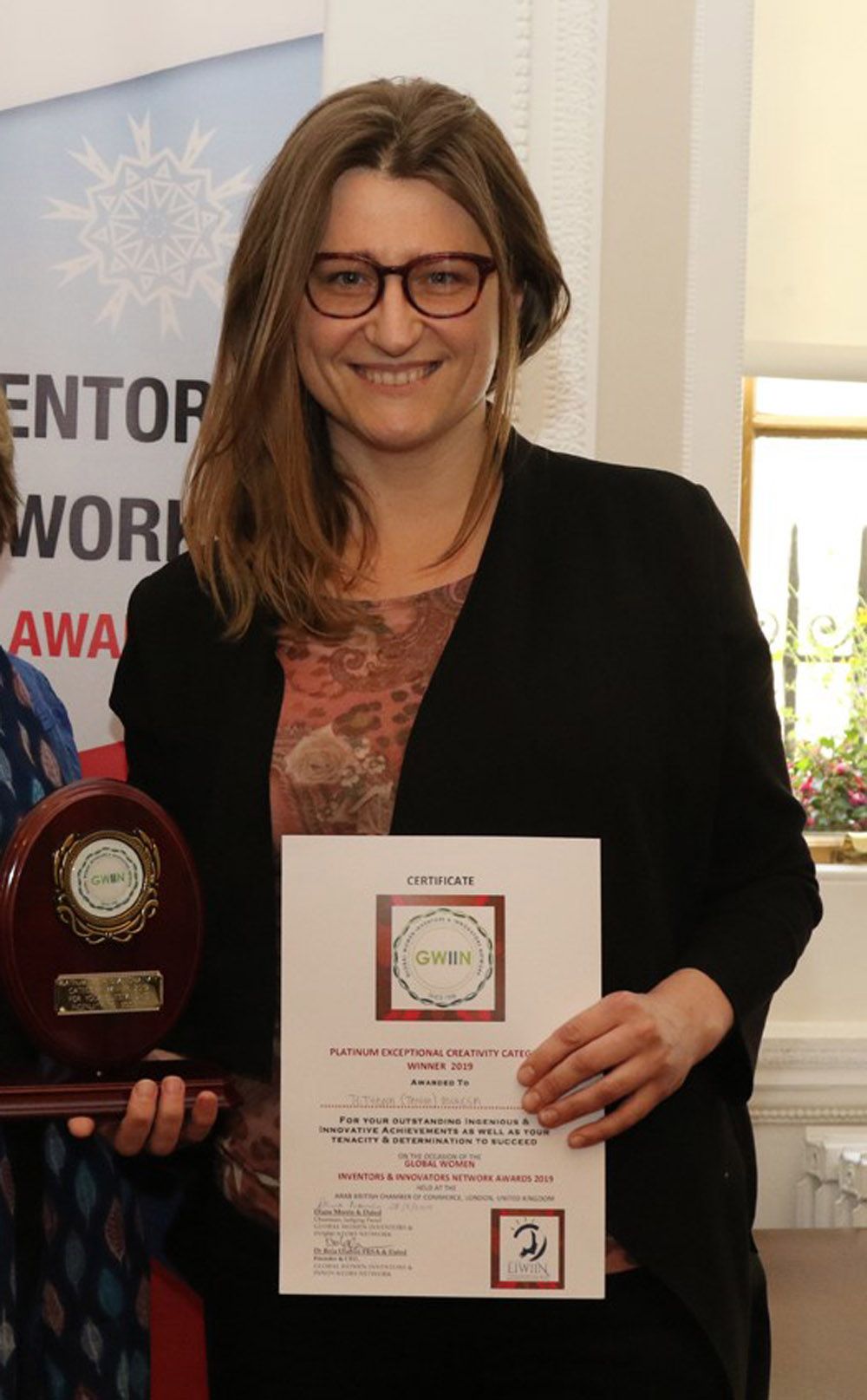 Tanya winning a business award (PA Real Life/Collect)
Her true wake-up call came when she moved to a new house after her son was born and realized she had 70+ pairs of shoes – many of which she never wore – hogging valuable storage space.
As well as nagging at her conscience, her excessive footwear collection spurred her creative juices into action.
She said:
"When I was packing up to move house, most of my boxes were taken up by shoes."
"Working in sustainability, I thought I was a hypocrite being so consumerist. I wanted a declutter, and kept thinking about what a gap in the market there was for shoes that are built to last, but can be adapted for different styles and occasions," she added.
"Modern shoes are not built to last. Brands want you to wear them out and buy a new pair next season."
"I remember wearing a pair of smart designer loafers to a meeting, which had been giving me awful blisters."
"Right in front of the clients, my bloodied plaster flopped out of my shoes and onto the floor. Luckily, everyone laughed – but it did get me thinking, 'Why has nobody made a shoe that you don't have to break in?'"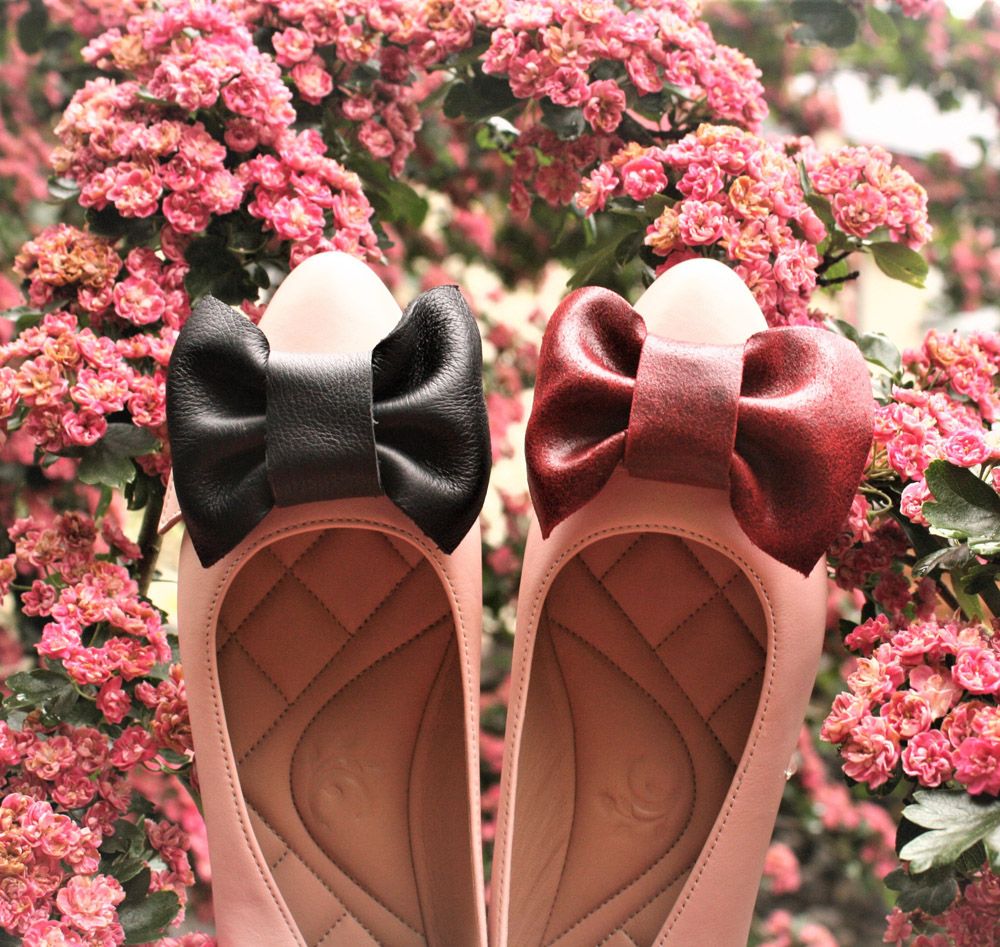 The 'chameleon shoes' (PA Real Life/Collect)
Then, one day, out browsing in shops with a friend, she had a lightbulb moment when she fell in love with some flat ballet pumps with bright orange accessories stuck on the toes.
"I loved them and thought they'd go great with a trench coat I had in a similar color, but then I realized if I got them, I'd be buying yet more cheap shoes that would fall apart a few months later," she said.
"The main thing I liked was the accessory they came with, so I said to my friend, 'Wouldn't it be great if you could get interchangeable accessories for your shoes?'"
"And with that, the cogs started turning."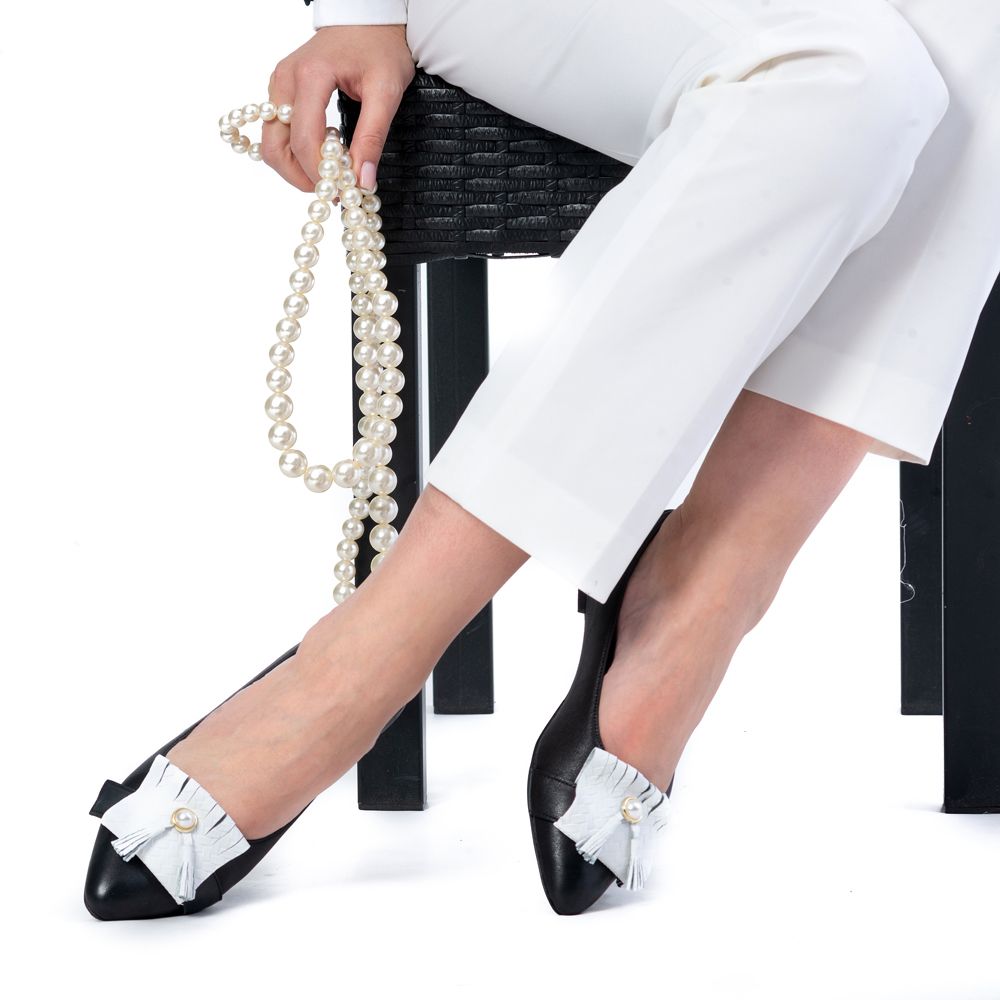 The pumps with a white fringed accessory (PA Real Life/Alexander Buslenko)
Tanya had a brainwave to produce a shoe that could be customized according to trends, occasions and personal style, with easily changeable accessories.
Looking online and seeing how little there was available along these lines, she soon realized she could be on to a winner.
So, interviewing 500 different women to gauge the appetite for her idea, she was delighted when they agreed, overwhelmingly, that they would be interested.
"There were women like me, who had too many shoes, and others who didn't feel they had enough, but didn't want to keep buying for the sake of it," she said.
"Nine out of 10 agreed that what I'd thought up was a good idea, and wanted to be contacted if I ever decided to launch something."
"From there, I started researching how I could combine my love of fashion and sustainability, to create a multi-use, stylish, comfortable flat shoe that was eco-friendly."
"I found a few places online selling shoe clips – accessories you could clip on and then take off when you wanted to change your look – but they were never great quality."
She added:
"I wanted something that really fit in with modern women, that helped a shoe be everything, switching between formal to casual, cool, funky and glam."
With that she left her job, and in March 2018, her sustainable footwear company Cleverstein was launched, producing her visionary 'chameleon shoe' – which can be customized with 12 different accessories, so wearers are always coordinated.
The shoe itself is an Audrey Hepburn-style ballet pump, which shoppers can buy in classic black or nude tones for £245 (~$300).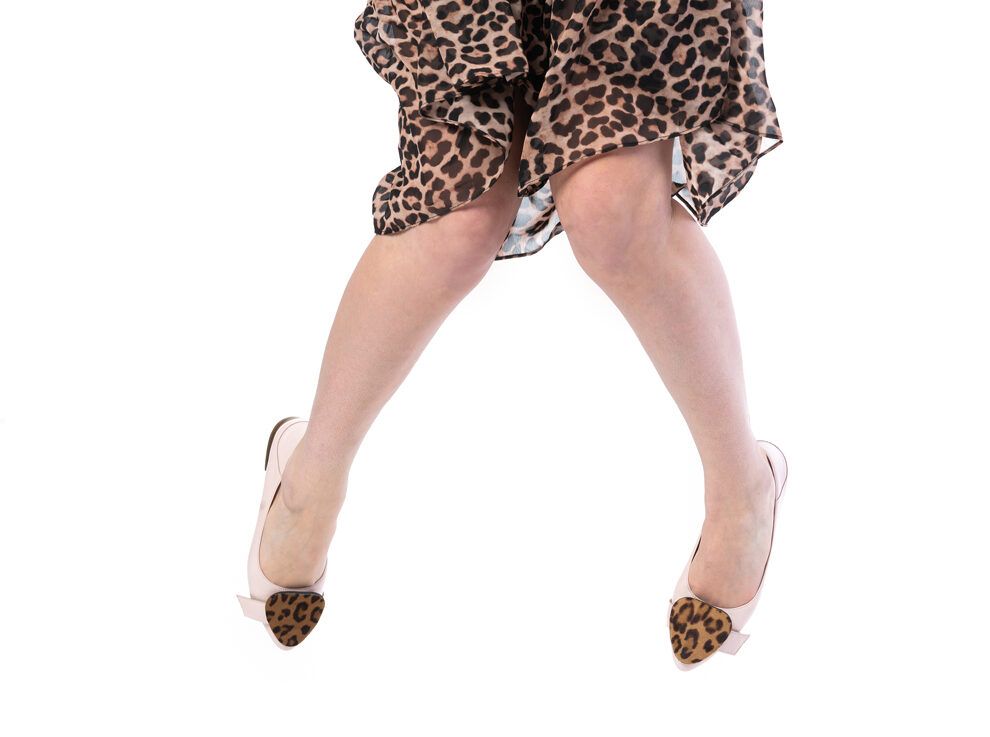 The pumps with a leopard print accessory (PA Real Life/Alexander Buslenko)
Made from good quality leather – sourced from farms within a 100-mile radius of the factory where they are produced – they are built to last.
Fashionistas can then choose from a range of 12 different accessories, each costing £29 (~$36), which are threaded onto a belt-style strap across the shoe's front to completely transform it.
"We have three categories of accessory – casual, evening and office," explained Tanya, who says in her old job, where she met clients anywhere from corporate boardrooms to high-end cocktail bars, the chameleon shoe would have matched all her outfits.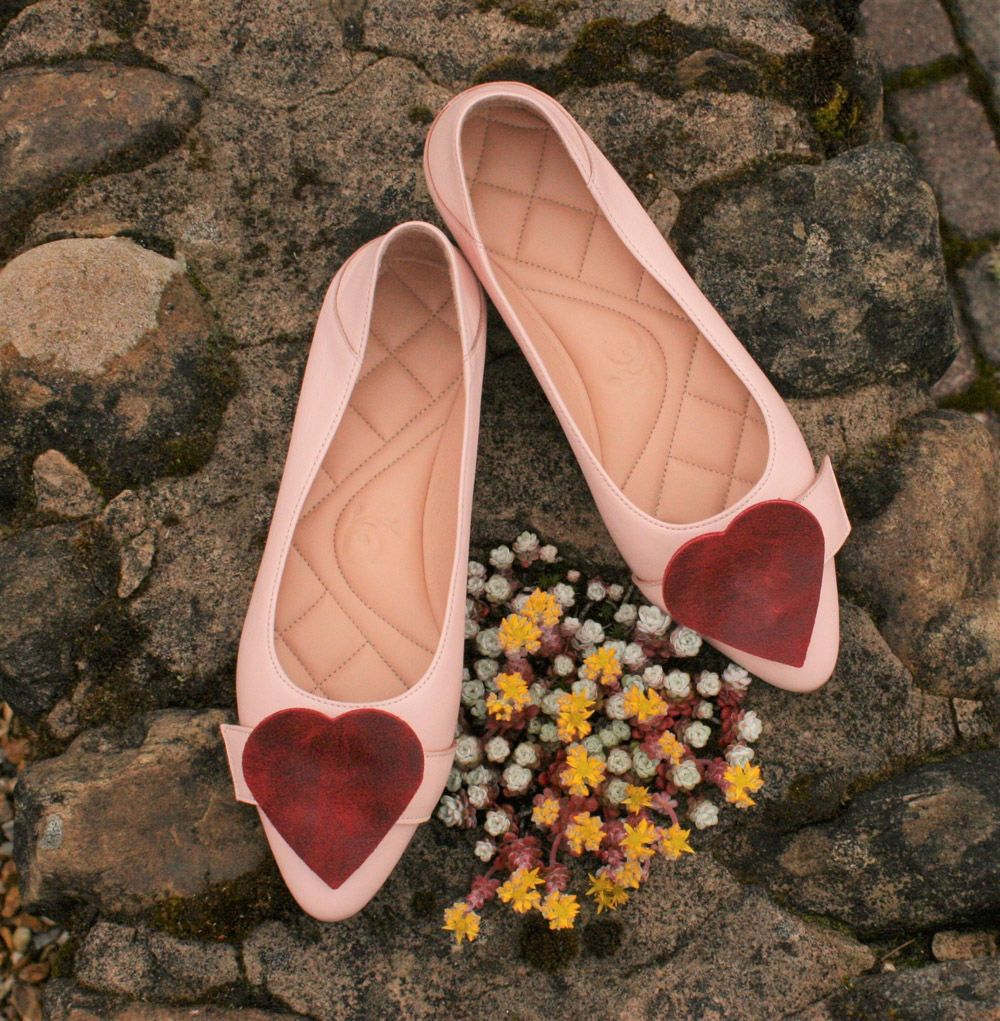 The 'chameleon shoes' (PA Real Life/Collect)
"The accessories we have for casual wear are more fun with lots of bright colors and kitschy shapes – things like tartan and leopard print," she continued.
"Office accessories are more neutral colors, and very subtle and sleek. In that collection, we have things like black bows, pops of dark green or blue, or snakeskin."
"Then finally, there is evening, which is for cocktail hour when the last thing you want is boring shoes. There's a bit more bling in this collection – lots of rhinestones and tassels."
Determined to make her brand as sustainable as possible, the accessories are even made from handbag scraps.
And, keen to encourage her customers to recycle, rather than throw away their shoes, she has introduced a scheme offering discounts off their next purchase if they donate an old pair.
"It doesn't even have to be old pair of Cleverstein shoes," she said. "We are hopefully launching a vintage range made from recycled material from all sorts of shoes."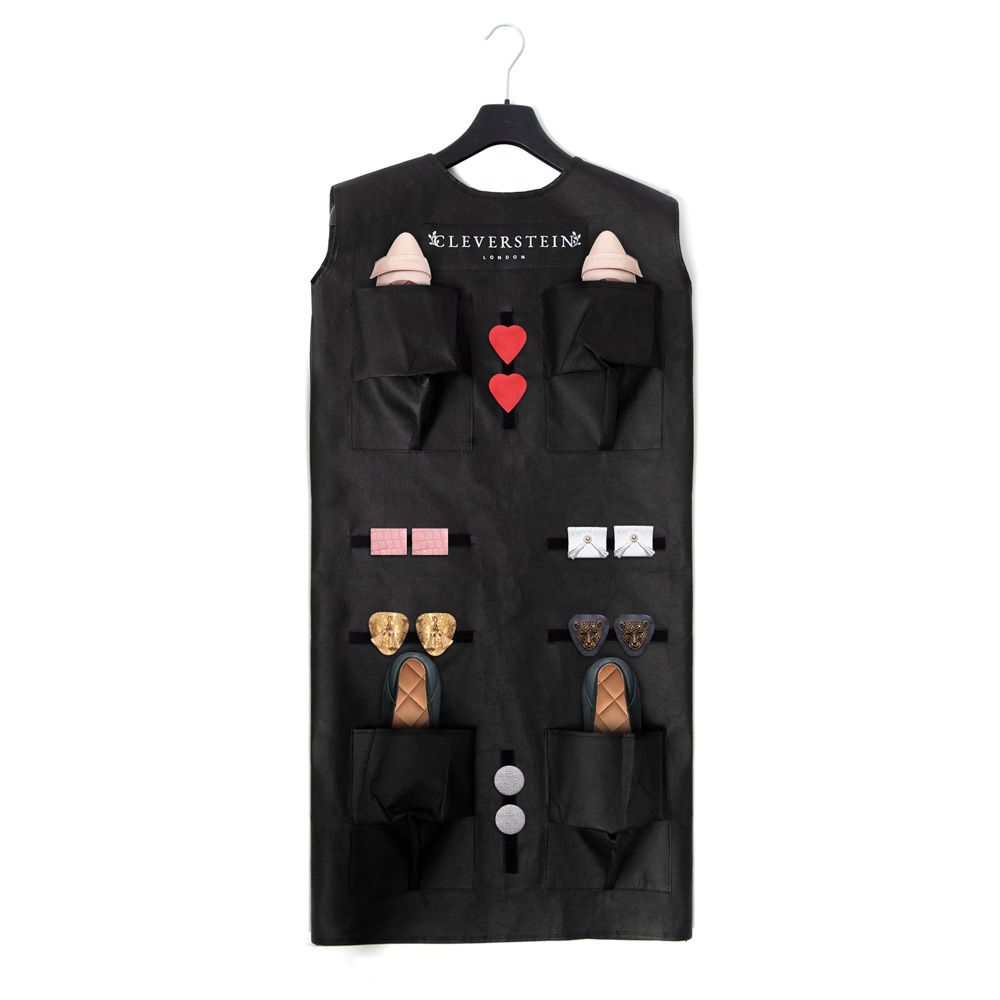 A closet organiser with the pumps and some accessories (PA Real Life/Alexander Buslenko)
"I've kept a lot of my old designer pairs to put towards it, once it is up and running," Tanya continued.
"We're also looking into a way of making trainers from recycled leather. The ultimate plan is to become like the sustainable Jimmy Choo."
Eco-minded Tanya also ensures that her company plants a tree for every pair of shoes made, partnering with a charity that empowers disadvantaged women in Zimbabwe.
Each year in our FASHION TRANSPARENCY INDEX, we explore a few issues in greater detail. This year we've focused on… https://t.co/RIIDu52yno

— FashionRevolution (@FashionRevolution) 1587471319.0
She continued:
"The four cornerstones of sustainability are reduce, regenerate, repair and recycle, and we try to live by every single one."
"The more I found out about fashion waste, the more horrified I was at the sheer amount of shoes being thrown out. I wanted to do something about it, and made it my personal mission to try and help women cut down on the amount they're buying without sacrificing be able to follow trends."
Now, Tanya wears just eight pairs of her previously expansive shoe collection, and hopes that other brands will follow suit in making the fashion industry as a whole more sustainable.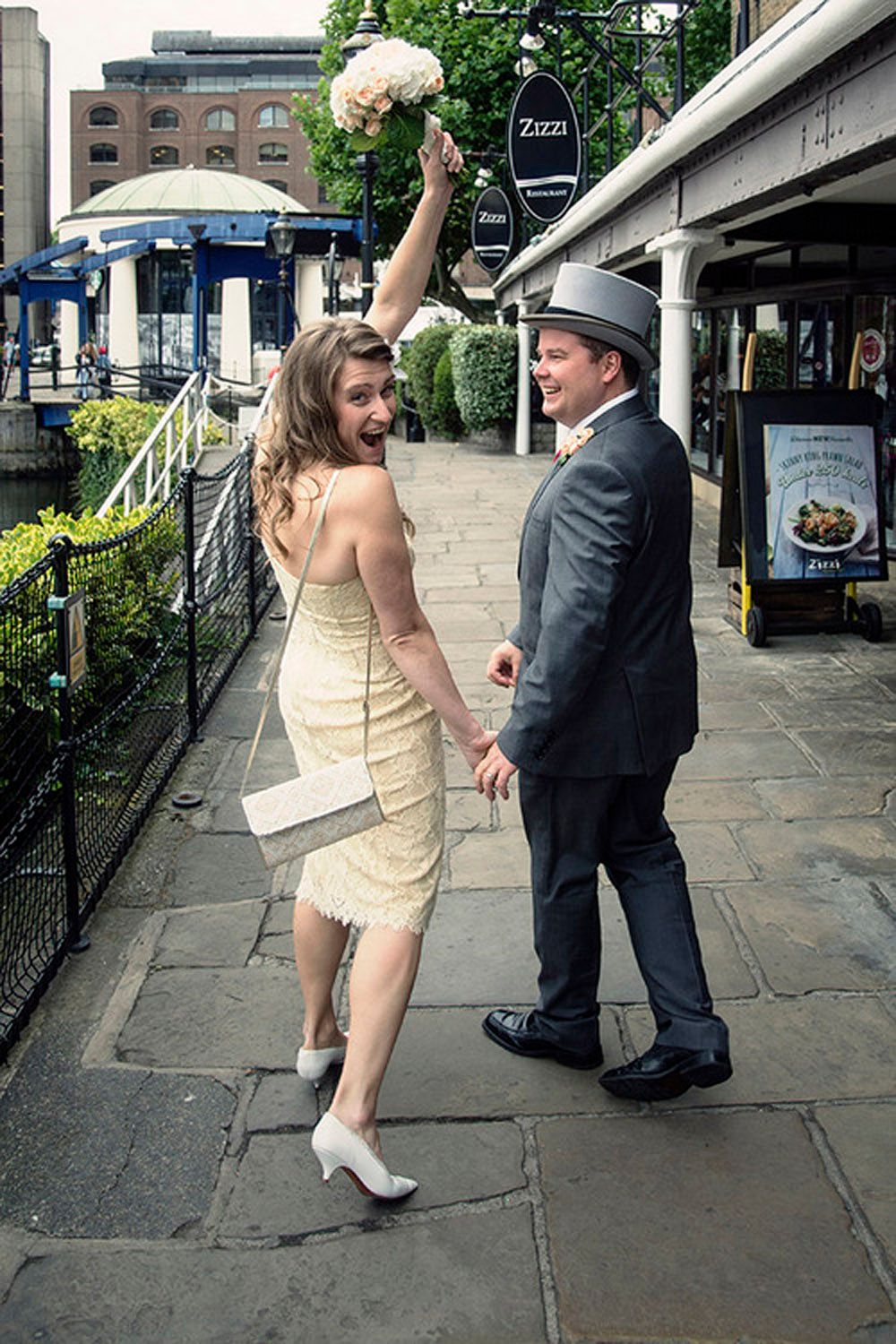 Tanya and Joseph on their wedding day (PA Real Life/Collect)
She concluded:
"Rather than decluttering, we're looking at going one step further and challenging women to never clutter."
"If you tend to buy multiple shoes in the same style, but just slightly different in terms of color or pattern, ask yourself if you could make use of accessories instead, to change up just one shoe?"
"Many of us are re-evaluating what matters right now, and carefully looking at what we need and what we don't. That can start in your wardrobe. It's just about an attitude change."