An extreme adventurer has completed the first ever marathon in a cryochamber at -30°C (-22°F), after his plan to run 10 races in sub-zero temperatures were thwarted by the current pandemic.
---
Former soldier and bestselling author Jordan Wylie, 36, who stars in the Channel 4 reality show Hunted in the UK, raised over a million pounds for children's causes before setting up his own charity, Frontline Children – which provides youngsters in some of the remotest areas of the world with an education – by taking on extreme challenges.
Starting the Running Dangerously project in 2018, he completed long distance endurance events in three of the most dangerous countries in the world – Iraq, Afghanistan, and Somalia – raising £100,000 (~$126,000) for his charity.
But his latest feat to run 10 marathons in the globe's coldest countries was hampered by the worldwide coronavirus lockdown, which stopped him from completing a marathon at the top of the world – at the North Pole.
Undeterred, the father-of-one, of Andover, Hampshire, England, contacted CryoLabs in Poole, Dorset, who recreated an Arctic environment for him in a cryochamber – an extremely cold chamber which can reach temperatures of -160°C (-256°F) and is often used by athletes for recovery – putting a treadmill inside, so he could run his subzero marathon.
Jordan, who completed his 26.2 mile 'Project Isolation' challenge at the firm's Poole HQ in five hours on Saturday, March 21 – with a 20 minute break at 10 miles – said:
"It was a massive disappointment not being able to complete my race at the North Pole, but like with everything else at the moment, it was safety first."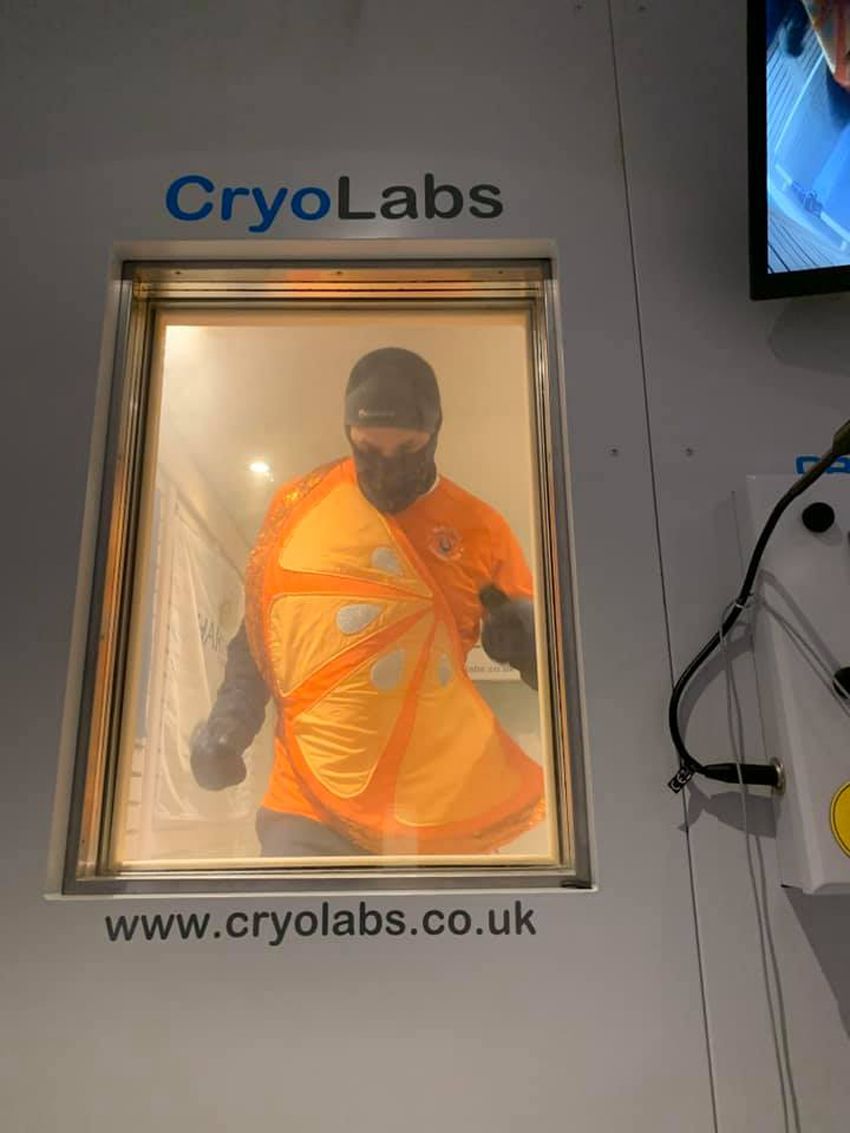 Jordan during his marathon (PA Real Life/CryoAction)
"Elite athletes use cryochambers for recovery purposes, because they help repair muscles, but they will go in there for five minutes. Nobody normally runs on a treadmill inside one for five hours," he continued.
"They set the temperature at -35°C (-31°F), but compared to the North Pole, it was actually easier running in the chamber, as there was no wind chill factor, snow, or rain, but psychologically it was much harder, because I was running in a box on a treadmill. It was literally a box with a window to see through."
"Outdoors you have lots of things to look at, but running in a box is quite soul-destroying."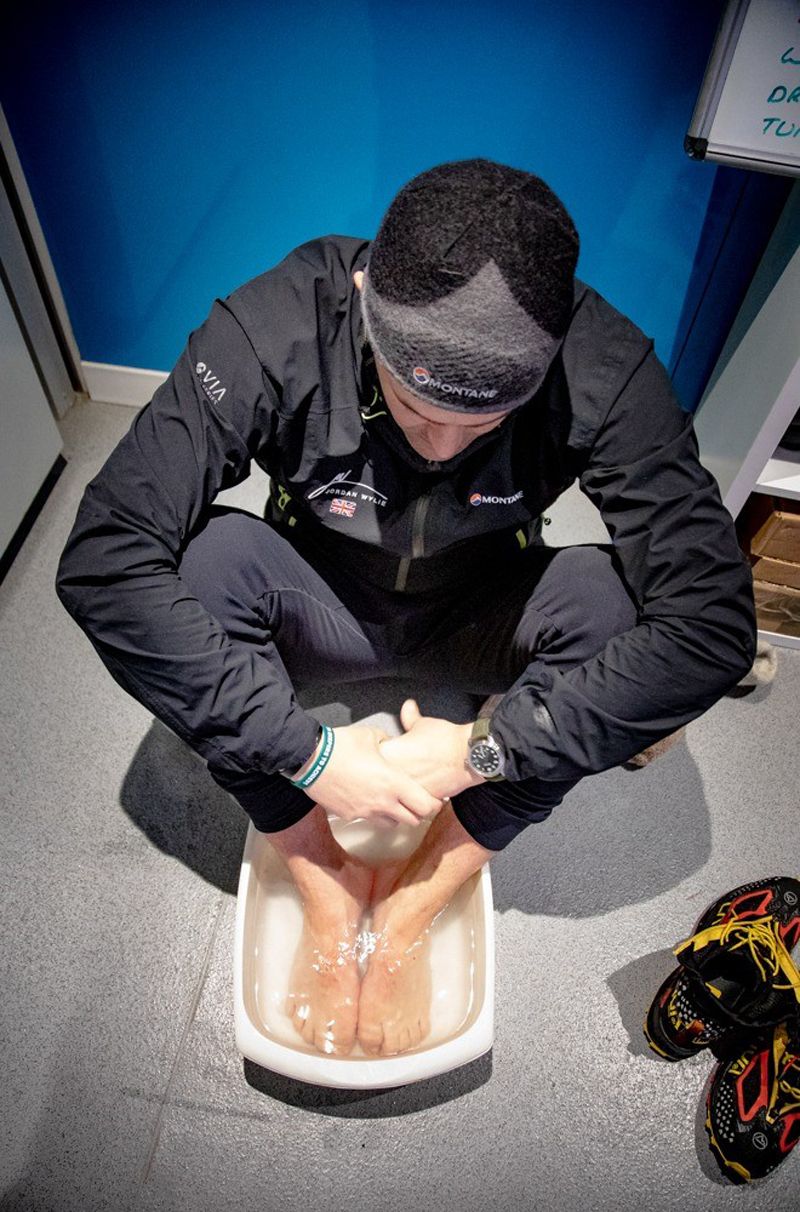 Jordan after his marathon (PA Real Life/Stephen McGrath)
Jordan, who is single and has a 10-year-old daughter from a previous relationship, recalled how 10 miles in he started to get frostnip – the stage before frostbite, where the skin goes cold, white, and tingly – in his toes.
"It was more of a bad choice of footwear because I would normally wear a trail running shoe with grips in the colder conditions, but I was running in a normal running shoe which was not insulated very well, so I changed to a trail running boot half way through and it was fine," he added.
For the last mile, the temperature was dropped to-100°C (-148°F).
Jordan, who wrote a bestselling book about his experience fighting piracy in Somalia, recalled:
"When we dropped it to minus 100, I had to put a face mask on. Under my eyes and on my cheeks, I could feel the burning."
"I could feel the massive drop, it was definitely the coldest I'd ever been in."
"But afterwards, I did not feel that bad. Normally, after running a marathon I would feel achy for days after, but I didn't. Maybe that's part of running in the cryochamber, because it's made for recovery."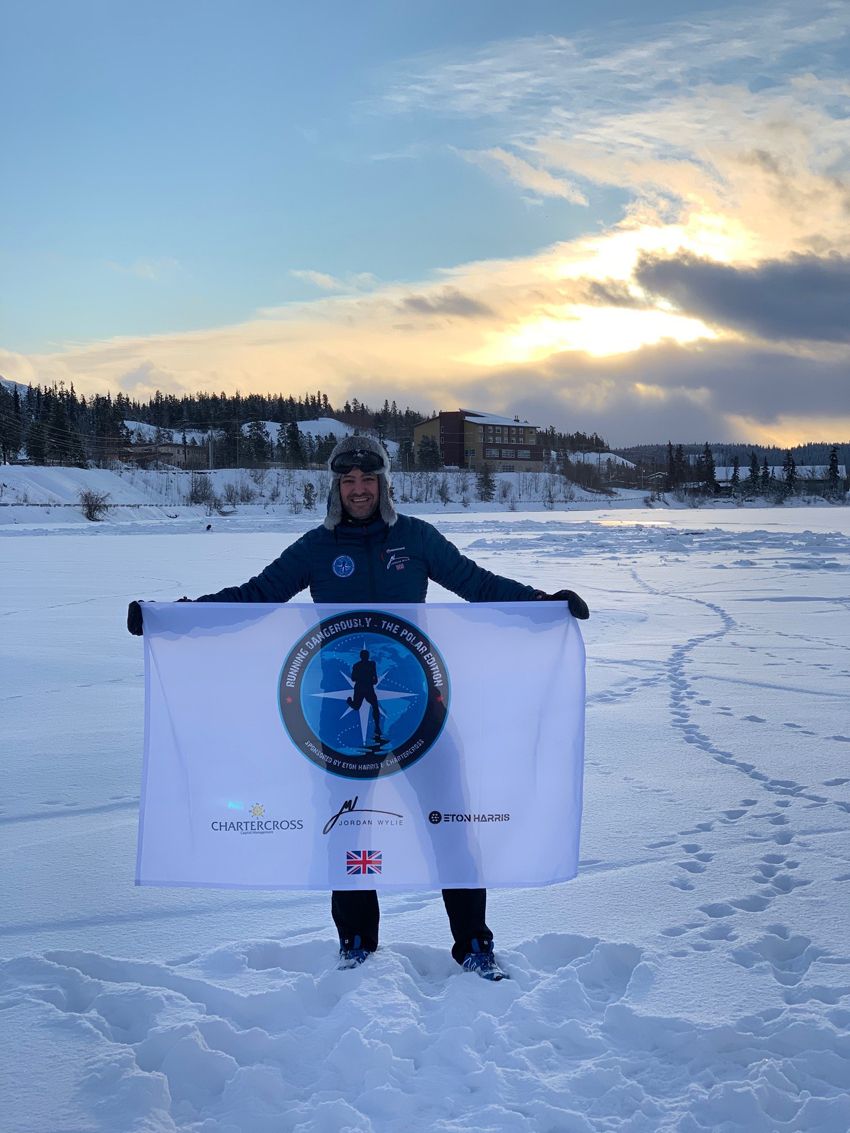 Jordan during his marathon mission (PA Real Life/Stephen McGrath)
Before his cryochamber challenge, Jordan had already run a marathon in four of the coldest places on earth earlier this year.
In January, he ran in Siberia, Russia, at -15°C (5°F), a couple of weeks later he headed to Yukon in Northern Canada where temperatures dropped to between -30C and -40C (-22 and -40°F).
"For five days that month Yukon was the coldest place on earth, hitting -67°C (-88.6°F) with wind chill. We got there the week after and at -40°C it was brutal," he said.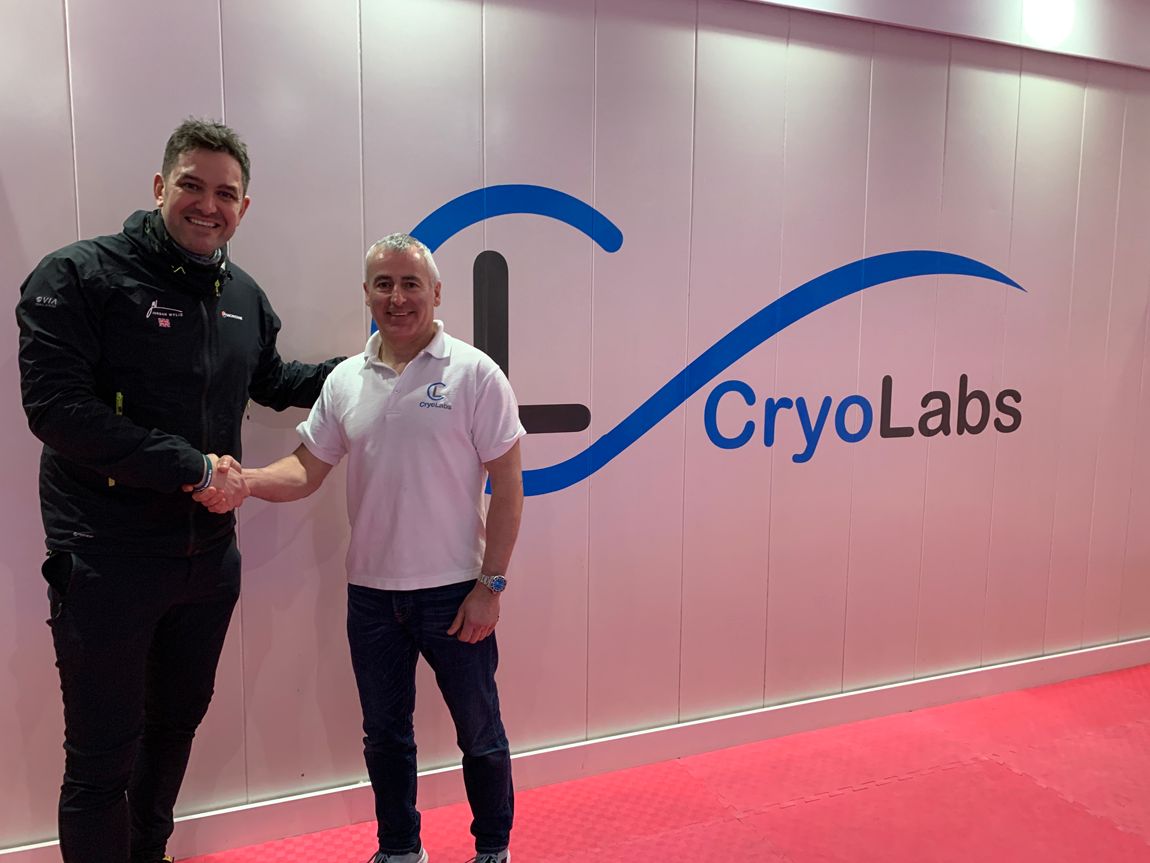 Jordan with Ian Saunders of CryoAction (PA Real Life/CryoAction)
Jordan's next race was in Alaska in February, where temperatures dropped to -23°C (-9.4°F) and which had to be stopped because of an avalanche, and in March he completed another marathon in Diamond Beach, Breiðamerkursandur, Iceland, running in -12°C (10.4°F).
Although his dream to complete a marathon at the top of the world at the North Pole has been put on hold, he is hoping to do it in the future.
And further races in Greenland, Finland, Norway, the Falkland Islands, and finally at the end of the earth – in Antarctica – will take place at later dates.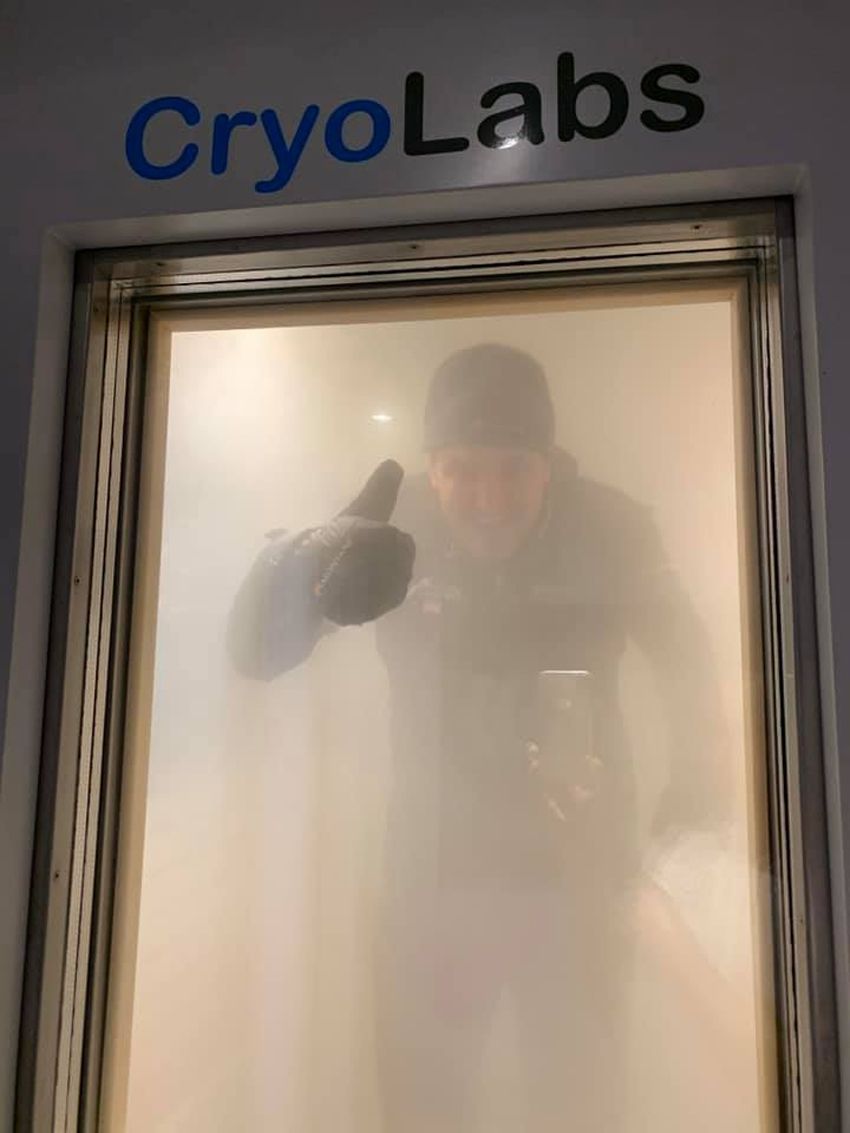 Jordan during his marathon (PA Real Life/CryoAction)
"About three years ago, I completed a project called Running Dangerously, in which I ran long distance in three of the most dangerous countries in the world – Iraq, Afghanistan and Somalia – raising more than £100,000 for Frontline Children project charities," he said.
"I'm a charity fundraiser, but I use adventure for a purpose and, for me, it's about making a difference to people's lives using the spirit of adventure."
Jordan returned to running after completing a Rowing Dangerously challenge in October 2019, where he set a world record rowing unarmed across one of the most dangerous water passages in the world – the Bab-el-Mandeb Strait from Djibouti in the Horn of Africa to Yemen – known as the Gate of Tears.
"I thought about how I could push the boundaries when it comes to running," he said.
"I had not trained in cold conditions before, but I have my own challenges with mental health and read a lot about how cold is a great therapy, so I was having a lot of ice baths, going ice swimming, and taking cold showers to test how good it is for the body," he said.
"I found it really positive. The cold refreshes my brain, and exposing yourself to the extreme elements is really good for testing your mind and body."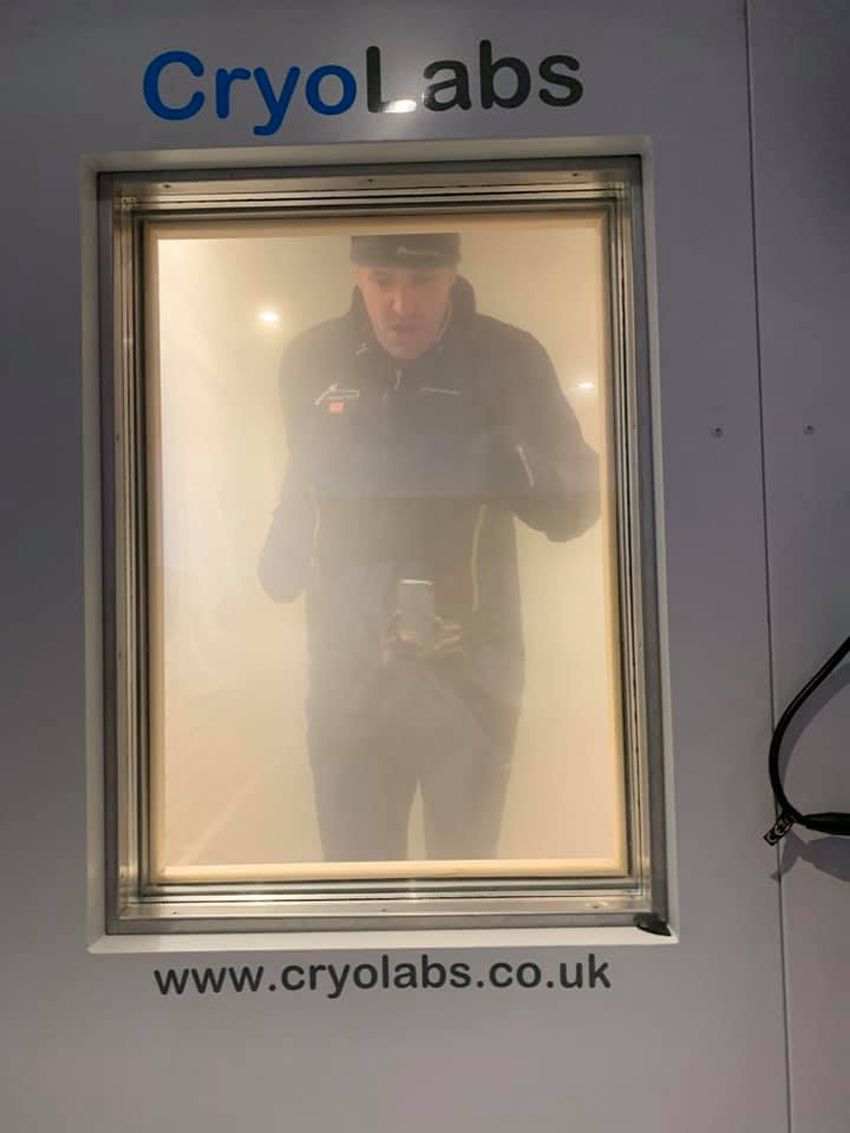 Jordan during his marathon (PA Real Life/CryoAction)
"I'd ran in really hot countries previously, so to run in these conditions was the extreme opposite," Jordan said.
To train, Jordan ran on the beach, because the soft ground is similar to running in the snow.
"It is really taxing on the legs and means your times are longer than they usually would be," he said.
Congratulations to all the @ArmyCadetsUK who today finish their 2019 STEM Camp. You have amazing futures ahead, be… https://t.co/5Imodgk1Ld

— Jordan Wylie (@Jordan Wylie) 1572589040.0
"Then, because it's so cold, you're trying not sweat so you don't want to run too fast because perspiration can freeze and you can get frostbite, so it can be really dangerous," he explained.
"You have to regulate your body temperate by taking layers off and putting them back on again."
"I heard of people running in Yukon and losing fingers and toes to frostbite, so that was a big fear. You just have to try and prepare as best as possible."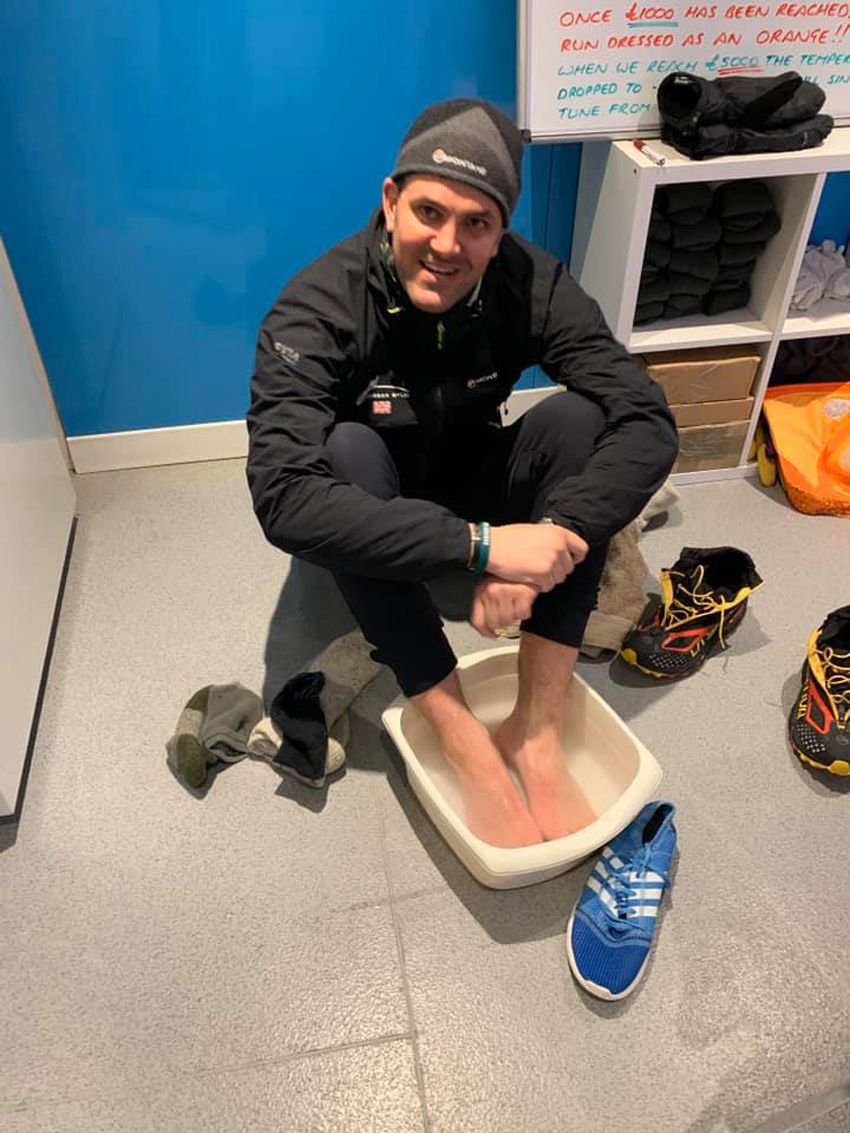 Jordan after his marathon (PA Real Life/Stephen McGrath/CryoAction)
Wildlife in remote regions of the world can pose an additional risk.
Jordan continued:
"There are other hazards such as polar bears. At the North Pole they have a team of Russian armed guards whose job it is to watch and warn them off."
"There can also be white outs, where you have to navigate in complete whiteness and snow."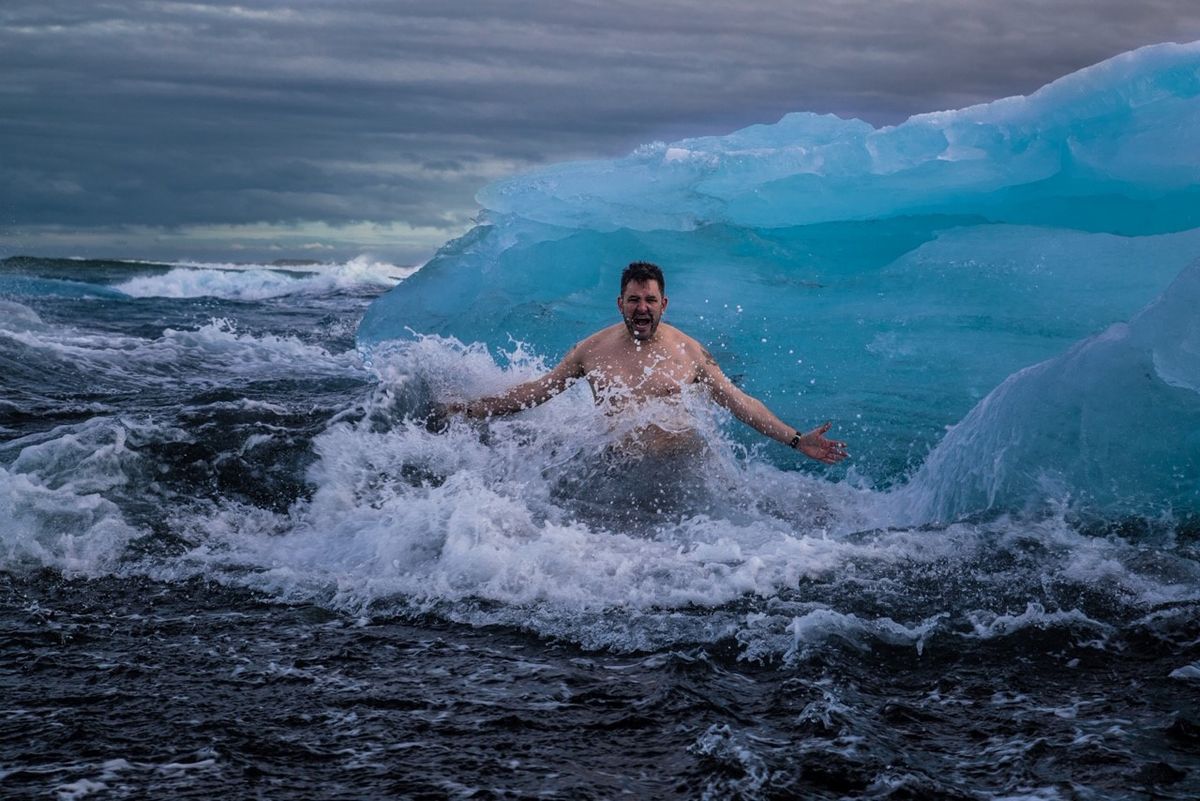 Jordan during his marathon mission (PA Real Life/Stephen McGrath)
He continued:
"Then in Alaska I couldn't finish the race because there was an avalanche warning. Safety is always my number one priority, even though it's an endurance challenge."
"I'm the UK ambassador for the Army Cadets and give a lot of talks in schools, so it was a great lesson to share – that if the risk is too high you need to take a step back, reassess and maybe say no if it's too dangerous."
"Sometimes I have a safety team or medical team with me, but a lot of time I do it on my own."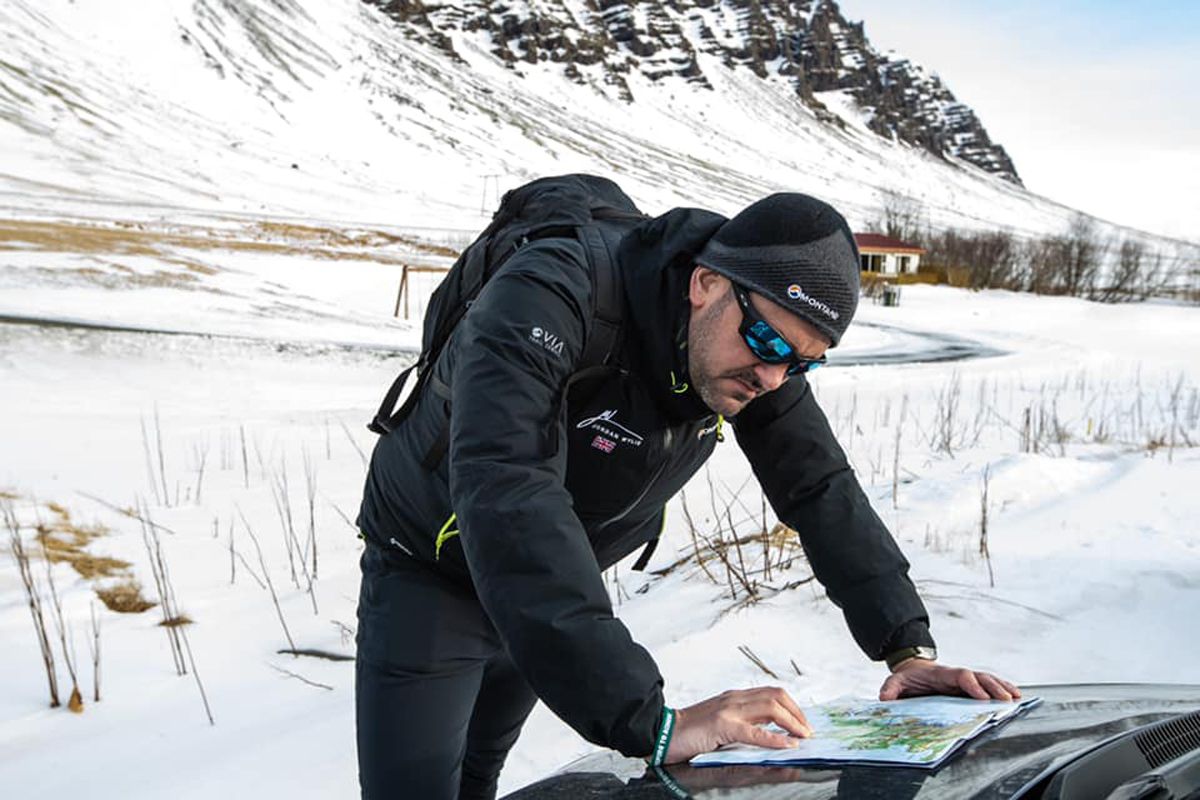 Jordan during his marathon mission (PA Real Life/Stephen McGrath)
After joining the Army at 16 and serving in the King's Royal Hussars until 2009, Jordan said he lost his sense of purpose after he left, until he channeled his energy into adventure and charitable causes.
His current challenge aims to raise £250,000 (~$315,000) to build a school in the Horn of Africa for child refugees from Somalia and Yemen – and he has already raised £120,000 (~$150,000).
He added:
"For me to try and do huge fundraising projects and push the boundaries gives me a purpose in life."
"I will get fulfillment when we build that school, but in the meantime I'm exploring the world and meeting new people," he said.
"We know we can't change the world, but can change it for a handful of kids out there."
"Now as soon as they lift the restrictions, I will be back on my mission again."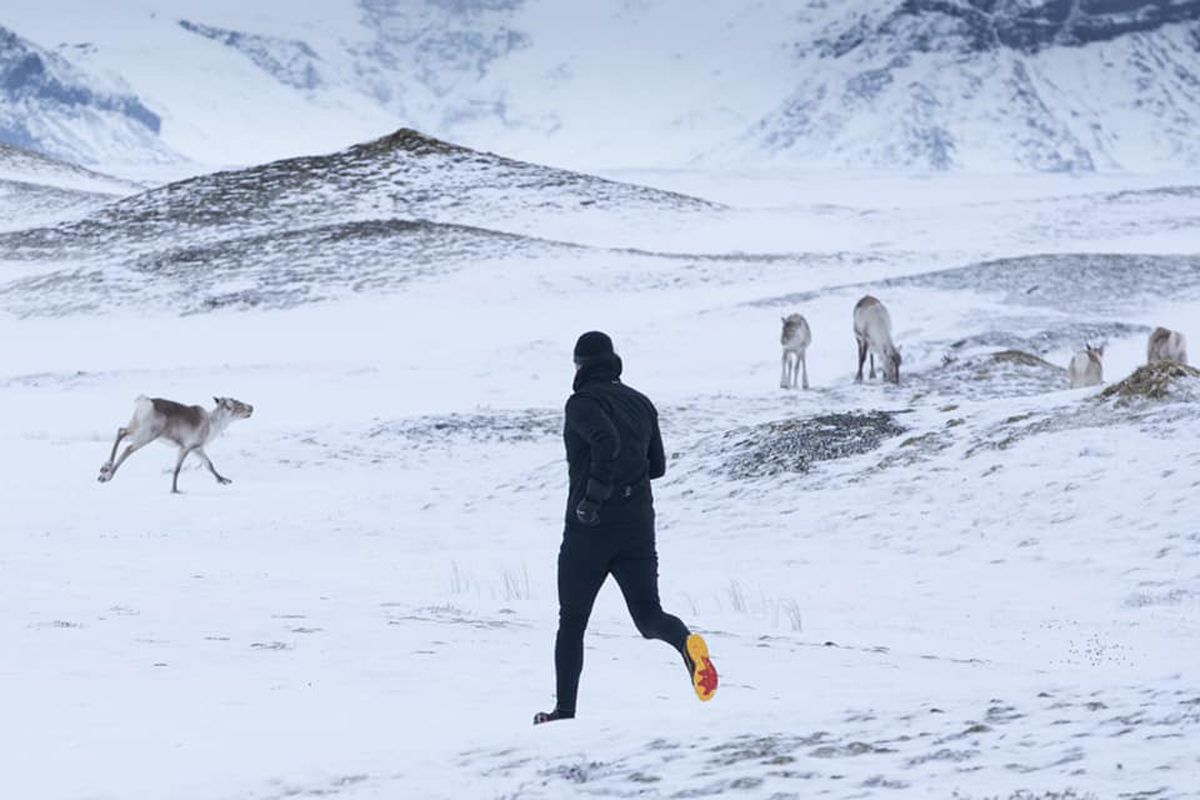 Jordan during his marathon mission (PA Real Life/Stephen McGrath)
Cryochambers are typically used by elite sports stars to help relieve and remedy the intense pain and detrimental effects of an injury, as well as the over exertion of muscles, tendons, and ligaments during training and competitive matches.
But according to Ian Saunders, co-founder and director of CryoAction, it is the first time one has been used for running a marathon.
Ian said:
"Getting involved in a world-first like this is very exciting. Although our chambers are usually used for recovery treatments and helping people perform more intensely and for longer periods of time, this sporting attempt was something we couldn't turn down."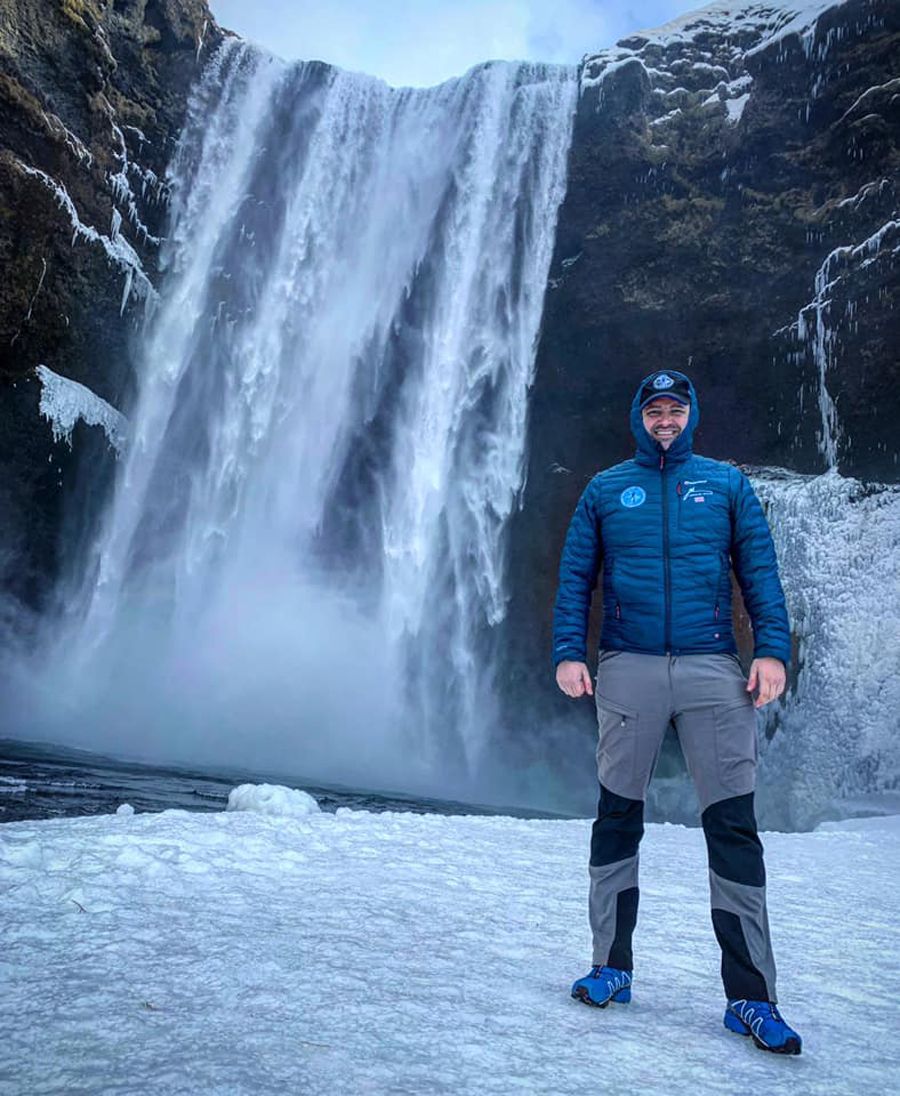 Jordan during his marathon mission (PA Real Life/Stephen McGrath)
Ian added:
"Jordan is an experienced Arctic marathon runner so we had complete faith in him completing this unique feat. And who knows, we may have just started a new fitness trend."
To find out more visit www.cryolabs.co.uk or visit Jordan's website here www.jordanwylie.org