Donald Trump just named the fourth (official) Press Secretary of his presidency.
She's a name people may have come across but do not know well.
---
But Twitter sleuths, with all this bonus pandemic time at home, took less than a day to find some racism in her old tweets.
Kayleigh McEnany has been named Donald Trump's newest Press Secretary, CNN reports. She will replace Stephanie Grisham, who replaced Sarah Huckabee Sanders, who replaced Sean Spicer.
There were a few other players in there, but none were officially named Press Secretary.
Grisham was ousted by Mark Meadows, Trump's Chief of Staff, who then hired McEnany. Meadows has held that position for about a week, the CNN report went on to mention.
So, pro tip: if you ever get a job in the West Wing, have your head on a swivel. That place is like whack-a-mole.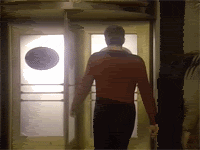 star trek door GIF by CheezburgerGiphy
McEnany served as a spokesperson for the Republican National Convention, and appeared on Fox News and CNN, constantly defending Trump's image and decision-making, New York Times reports.

She also became national press secretary of the Trump Campaign in 2019.
Almost immediately, the new secretary was getting her feet wet, shouldering public criticisms and managing the anger of thousands with some on the job training in the form of Twitter slams.
In this case she was on the defensive, rather than the President himself.
Just an hour after CNN's announcement of her new position, someone found an old tweet of hers and it is NOT a good look.

She was responding to a Twitter trend at the time where people offered their ideas for an Obama family sitcom. Her entry aligned with Trump's racist birther theory, that Obama was actually born in Kenya.
Obama's father was born in Kenya. Obama was born in Hawaii.
Hawaii is a U.S. state.
Twitter was relentless in its criticisms of the new secretary's past.
Many identified McEnany as nothing new whatsoever in this White House.
A good amount of people replied directly to McEnany's old tweet, offering criticisms for her to read.
McEnany's predecessor, Stephanie Grisham, was known for never holding a press-briefing. Typically, daily briefings with the press are the primary role of the Press Secretary (we all remember Sean Spicer's struggles day in and day out.)
Grisham, catering to Trump's desire to stop the conventional transparency, simply did not have briefings. She would, however, lambaste Trump's critics via Twitter.
Very likely, McEnany will grow very accustomed to spats like this on Twitter. After all, it will likely act as her primary place of work.
The book Front Row at the Trump Show is available here.