Donald Trump's Presidential Election defeat at the hands of challenger Joe Biden was the result of a constellation of problems. Several factors came together to hand the 45th President a loss in the historic election and ensure that he will not serving a second term.
And a recent article published by Politico, with reporting that drew on 75 sources close to Trump, outlined a whole lot of those culminating factors.

Of course, communication breakdowns in the campaign, overspending, and a lackluster pandemic response played an outsize role in swaying voters to the Biden camp. But some other less-known elements of the reelection effort played a role in the defeat as well.
For example, the bizarre and uncomfortable conduct of Kimberly Guilfoyle, former Fox News host and current girlfriend of Don Jr.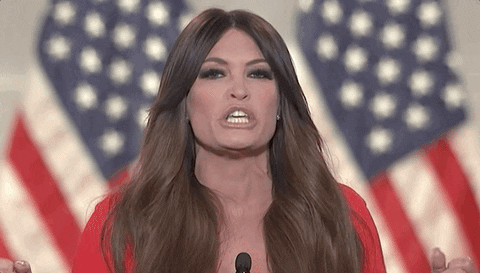 Republican National Convention Rnc GIF by Election 2020Giphy
Guilfoyle, who headed Trump's fundraising effort, reportedly cultivated an environment Politico dubbed an "HR nightmare." And beyond that, Guilfoyle was said to regularly make jokes about her sex life and exhibit other sexually aggressive behavior that totally freaked out high profile donors.

Politico reported:

"During a December donor event at Trump Hotel in Washington, Guilfoyle offered to give a lap dance to whoever raised the most money, according to two people who were present and another person who was familiar with the episode."
And the discomfort didn't end in Washington.
"And at an event in Jackson Hole, Wyo., earlier this year, Guilfoyle and the younger Trump joked about how she raised money while in hot tubs. Another attendee presented a slightly different version, saying that whoever in the audience raised the most money would be offered a hot tub party with Guilfoyle."
At one event, an unsolicited image was offered by the finance chair.
"And at a fall 2018 fundraiser headlined by country star Toby Keith, Guilfoyle cracked that her boyfriend liked it when she dressed up as a Dallas Cowboys cheerleader, according to an attendee."
As for a defense, Guilfoyle's fundraising team has denounced the assertions and assured that things always remained professional on the campaign trail.
Trump Campaign Spokesman Tim Murtaugh even stepped in to try and clear the air:
"Kimberly Guilfoyle is an excellent fundraiser and was a highly valued asset to the President's team. There was nothing offensive about her presentations in context."
Twitter was hardly surprised by the reports.
It would be impossible and unproductive to try to blame Trump's election loss on a single slip-up. Instead, we'll feast our eyes on a whole laundry list of problems as the reports continue to flow in.