President Trump angered fans of music icons Beyoncé, Jay-Z, and Bruce Springsteen (AKA The Boss) on Thursday after he threw shade at them during a campaign rally in Minneapolis.
---
Bragging about the size of his 2016 campaign rallies to the crowd gathered at the Target Center in downtown Minneapolis, Trump attempted to belittle Hillary Clinton, a constant focus of his wrath since the election, by dragging the high-profile musical acts that performed at her campaign events.
Trump told the cheering crowd:
"I didn't need Beyoncé and Jay-Z. And I didn't need little Bruce Springsteen and all of these people."
Little Bruce Springsteen?
Check out his Greatest Hits, available here, to see how big The Boss is.
Seriously.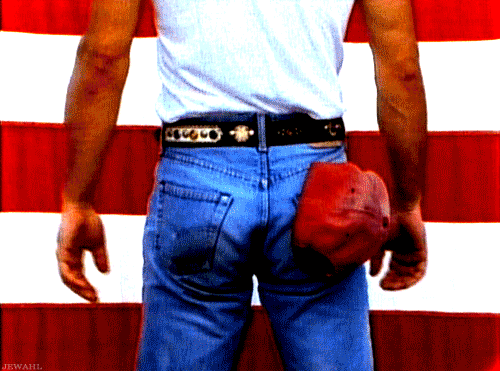 Giphy
Trump then went on to claim that the musicians would "come in because she couldn't get a crowd."

He added:
"[Springsteen] would do about two songs and leave. What happens is they leave and then everyone leaves with them, and she's still speaking in front of the same lousy crowd. Craziest thing I've ever seen!"
Trump then proceeded to throw Jay-Z under the bus while complaining about being criticized for using bad language, saying:

"The other day I used the word 'hell'–I got hell–they said 'he used terrible language!' I used the word 'hell', it was so bad. But you gotta hear Jay-Z, the words he was using. He was using the f-word all over the place, and then the next day they said I used bad language. The word 'hell' is a terrible word. These people are sick."
But "hell" isn't the only bad word Trump has been chastised for using recently. He used an all-caps "BULLS–T" in a tweet slamming Democrats for "wasting everyone's time" by pursuing impeachment, which is arguably a much worse word than "hell."
Needless to say, people were upset by Trump's dig at the musicians.
Poor @realDonaldTrump, you're President of the United States but you'll NEVER be The Boss. Don't mess with Jersey! https://t.co/6bj4H0yeyH

— Bob Karp (@Bob Karp)1570776578.0
He can't have her. https://t.co/EAutvZTRrR

— Alex (@Alex)1570758365.0
That's where you're wrong, bucko. https://t.co/BHQgpo6QeP

— Drag Me to Hevans (@Drag Me to Hevans)1570758549.0
Beyoncé when she hears trump still big mad and big jealous about her concert for Hillary. #TrumpMinneapolis https://t.co/UX12Oy4QK0

— Teetads With Luv 🤟🏽💜 (@Teetads With Luv 🤟🏽💜)1570758437.0
Trump for some reason going after Jay Z, Beyoncé and Bruce Springsteen now..... https://t.co/6Lft22HDaA

— RickSanchez119 (@RickSanchez119)1570758378.0
#BeyHive activate. It's time to get in impeachment formation. https://t.co/Y5N0Xxk6sa

— GuavaLaHaHa (@GuavaLaHaHa)1570766455.0
.@realDonaldTrump, you don't deserve Bruce Springsteen. You know why? Because he sings songs of working class heroe… https://t.co/Quvf7HsmdN

— Miranda Yaver (@Miranda Yaver)1570768767.0
Trump mocks Hillary Clinton's campaign saying, "I didn't need Beyonce, Jay-Z, or little Bruce Springsteen to win th… https://t.co/Bt8S50e7st

— Mike Sington (@Mike Sington)1570796763.0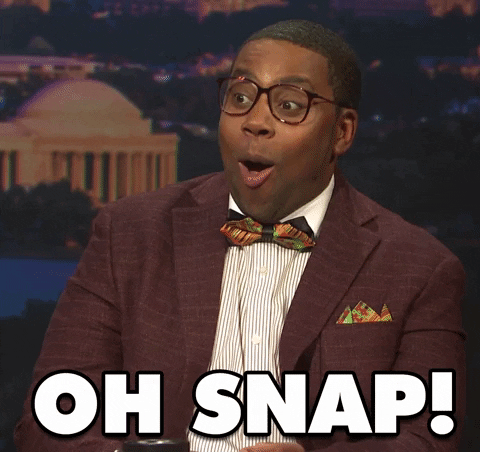 Giphy
Even presidential hopeful Cory Booker got in on the action.

Little Bruce Springsteen? I think you mean Bruce Springsteen and the heart-stopping, hard-rocking, earth-quaking, j… https://t.co/7fRsRezhiE

— Cory Booker (@Cory Booker)1570763319.0
Trump might be in for a world of hurt.
Trump named dropped Beyonce and Jay-Z at his rally. Yikes. Don't get the hive started. The next few hours will be i… https://t.co/QxmdAiorni

— Brandon the Bot Slayer (@Brandon the Bot Slayer)1570758600.0
The Carters collaboration Everything Is Love is available here.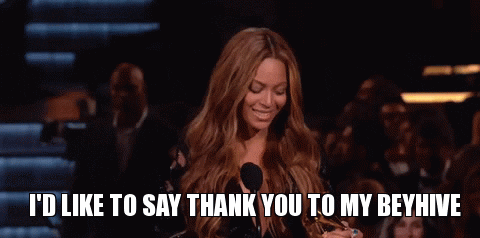 Giphy
******
Have you listened to the first season of George Takei's podcast, 'Oh Myyy Pod!'?
In season one we explored the racially charged videos that have taken the internet by storm.
We're hard at work on season two so be sure to subscribe here so you don't miss it when it goes live.
Here's one of our favorite episodes from season one. Enjoy!