Social media prankster Josh Popkin thought it would be funny if he "accidentally" dumped a whole multi gallon tub full of Fruity Pebbles cereal and milk all over the floor of a New York subway car for a TikTok video.

---
At a time when grocery stores are facing shortages of precious commodities like paper products, eggs and baking supplies (pure vanilla extract, anyone?), no one with clout should be wasting food like this for the sake of comedy. Stunts like the one these essential workers witnessed while commuting on the MTA system only makes digital content creators like Popkin—whose fckjoshy TikTok account has over 3.3 million followers—a look entitled and selfish.
His video was shared and called out for its display of privilege in front of people commuting to work during a global pandemic.
does he think this shit is funny.... https://t.co/tXTRJXUGjr

— s (@s) 1589312245.0
In the first of two TikTok videos posted on Tuesday, the 23-year-old spilled the contents of his container in a car full of passengers wearing masks as they scrambled to get away to prevent their shoes being soaked with milk.

He said in a voice over:
"I accidentally dropped a whole tub of cereal on the subway today."
"I was like, oh my god, this is the worst day of my life! Not my Fruity Pebbles! Everyone started moving away and filming me."
At the end of the clip, he complained:
"Surprisingly nobody offered, so I had to put all the soggy cereal back in myself."
"Someone was like, 'I cannot believe this is happening. I was like, I can't believe this is happening again'."
He was last seen exiting the car and leaving behind a milky mess for yet another essential worker to clean up.
While the TikTok video blew up online, Twitter wasn't laughing.


@3rdSquadCaptain/Twitter
In fact, people were infuriated.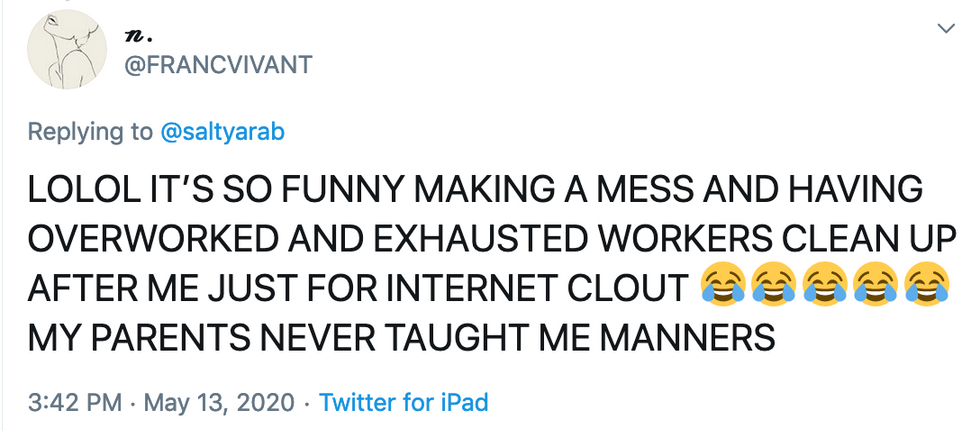 @FRANCVIVANT/Twitter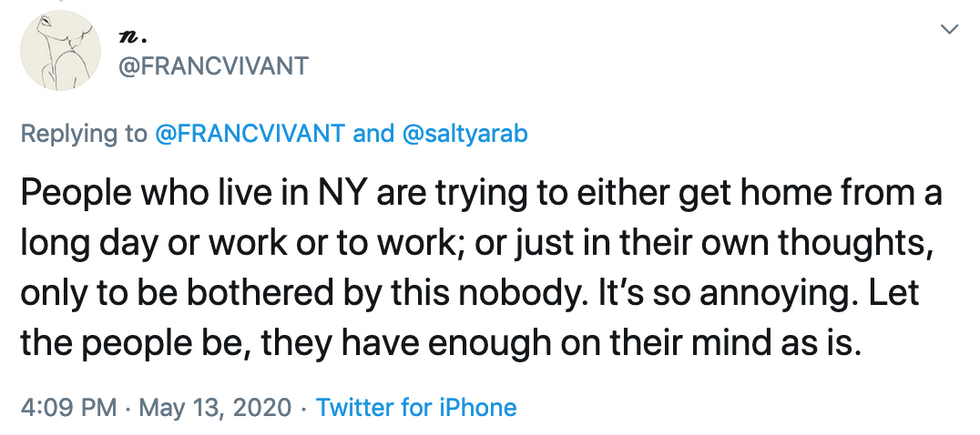 @FRANCVIVANT/Twitter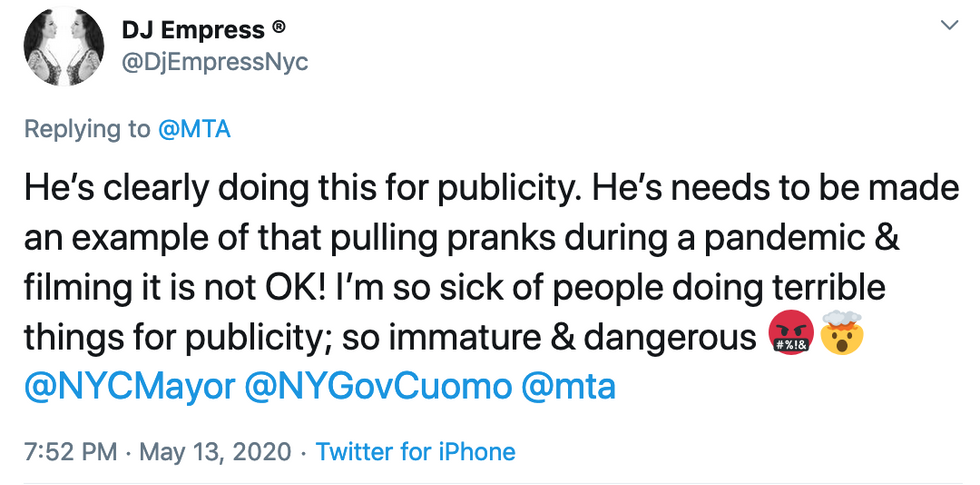 @DjEmpressNyc/Twitter
Not only did he make a mess, he increased the risk of spreading the virus.

@gigglecheck/Twitter

@LMplusG/Twitterhttps://twitter.com/LMplusG/status/1260941822831910912?s=20
The MTA—which operates the New York transit system—slammed Popkin on Twitter, calling his stunt "a new low."

@MTA/Twitter

@gonzo5595/Twitter
People want justice.


@TheRealAppleby/Twitter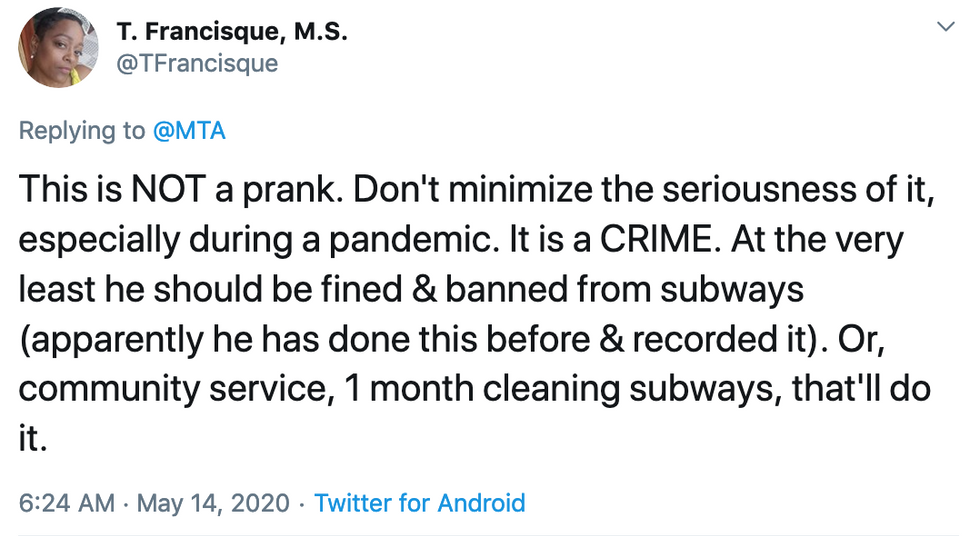 @TFrancisque/Twitter
In an unprecedented move, the 115-year-old transit system discontinued 24-hour train service during the national health crisis so that skeletal cleaning crews could routinely clean and sanitize all the subway cars thoroughly.

Up until April, Dulcedo Management represented Popkin and described him on their website as "an up and coming stand-up comedian and content creator" who makes short clips "that are typically outrageous, edgy & self-deprecating." But the talent representative has since changed their tune regarding the 23-year-old and parted ways with him last month.
Dulcedo director Benjamin Carter told Buzzfeed News:
"We also are not fans of the content that was posted in the subway nor do we think it is the positivity needed during these times."
On Friday, Popkin posted another video, saying he's "hit a new low"—echoing the criticism he received from the MTA's tweet.

He publicly apologized to the MTA, and read excerpts from some of the comments he received online.

fckjoshy on TikTokwww.tiktok.com
The "subway prank" video is no longer available on TikTok.