steve doocy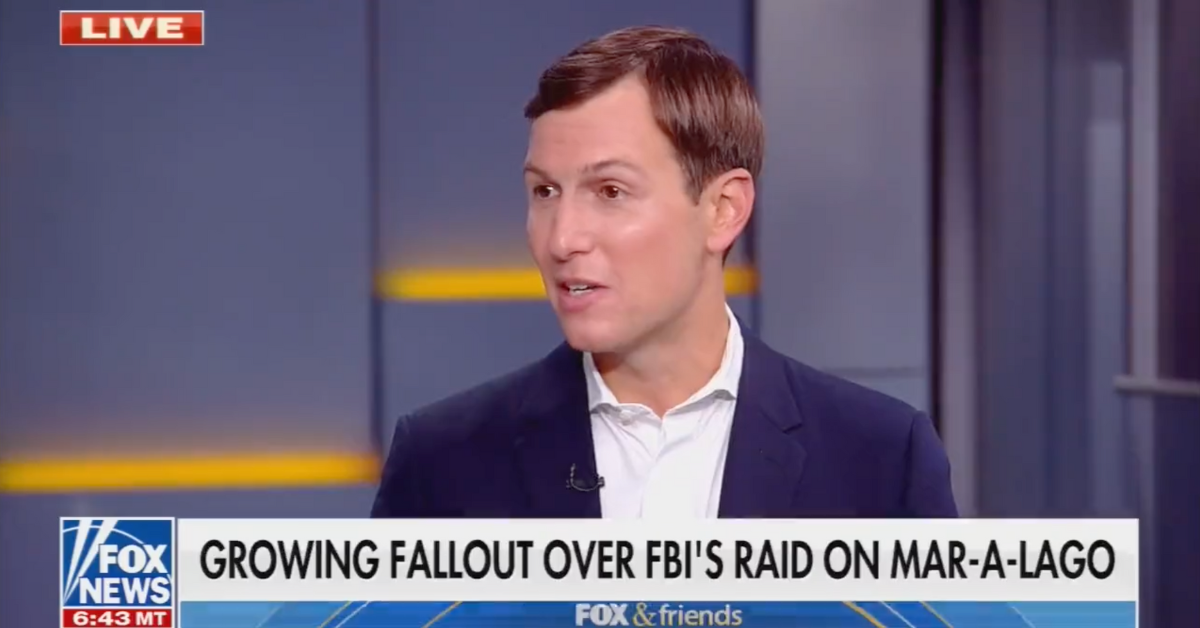 Fox News
Trump's son-in-law and former presidential advisor Jared Kushner was criticized after he dodged questions about the Federal Bureau of Investigation's (FBI) recent search of former Republican President Donald Trump's Mar-a-Lago resort.
Agents earlier this month combed through Trump's home turned paid membership resort on a hunt for documents Trump took from the White House in violation of federal laws and presidential protocol.
When asked by Fox News personality Steve Doocy about a recent New York Times piece that reported there were "more than 300 classified documents at Mar-a-Lago over the last year or so" Kushner could not provide a coherent answer.
You can watch the exchange in the video below.
When Doocy asked him why would Trump "have that many classified things at Mar-a-Lago," Kushner said:
"So I'm not familiar about what the contents were but I'll say from my personal experience, again, in the campaign and in the transition we had a very innocent meeting with the Russian ambassador and then, you know, four months later you're reading that the intel agencies are leaking to The Washington Post that we requested this secret back channel."
"And then the New York Times and CNN go crazy for a weekend accusing us of treason and then it turns out such a thing never really happened and so I think you have to be really careful about what you read and obviously just wait for the facts to develop but I mean there's so many things that have been hyperventilated about over the last years that turned out to be nothing."
Kushner was referring to a 2017 report he attempted to establish a "back-channel" line of communication between Russia and his father-in-law's presidential transition team.
A few months after the report was published, he said in a statement to the Senate and House Intelligence Committees he had only "limited contacts" with Russian representatives and denied colluding with the Russian government to influence the 2016 general election result.
Those reports were never disproven, contrary to Kushner's claim.
Kushner continued to deflect during his Fox News interview, going on to talk about his book Breaking History, a memoir about his time in the White House.
Earlier this week his book was the subject of a scathing review in The New York Times for its revisionist history of the Trump administration.
Of his book, Kushner said he "really wanted people to understand what it was like living through that when you know you've done nothing wrong."

He added:

"You're there trying to get good things done and people are out there, you know, accusing you of all these crazy things and you have to prove that they didn't happen."
But nothing in Kushner's response addressed Doocy's question.
Kushner was almost immediately skewered for it.
The National Archives and Records Administration (NARA) first alerted the Department of Justice (DoJ) to the missing White House documents.
The final outcome of the DoJ investigation of the NARA complaint and the FBI search is still unclear.
Whether that uncertainty played into Kushner's evasive answer or if he really doesn't know what his father-in-law was doing with all the documents at Mar-a-Lago, only Kushner knows.
Keep reading...Show less