Tag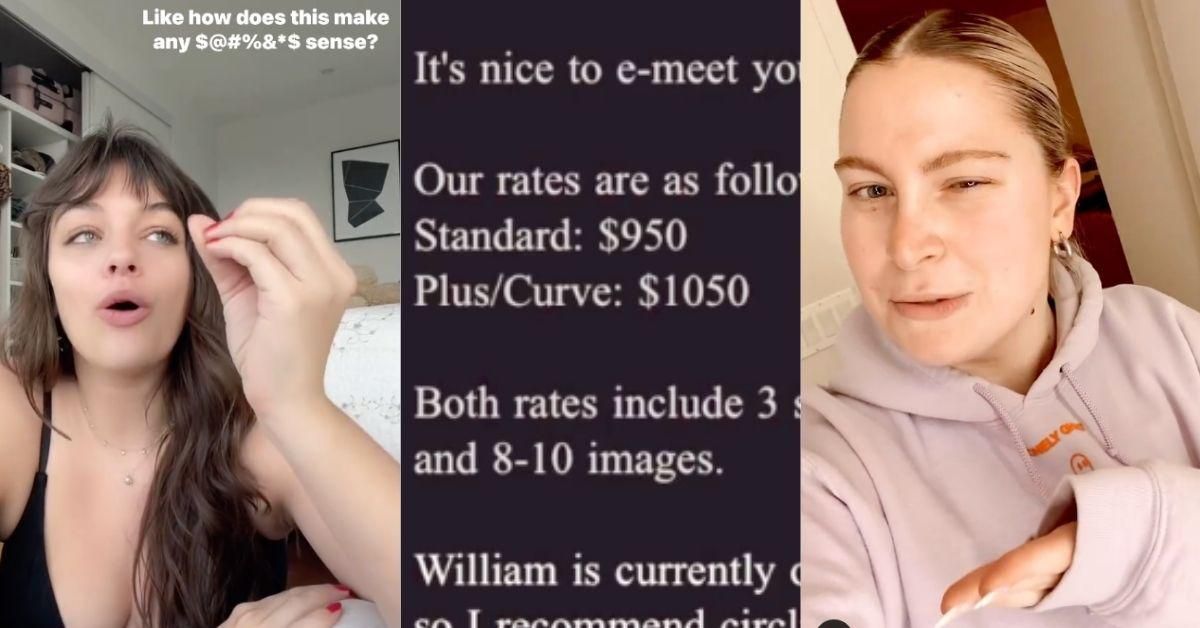 @sixtinerouyre/Instagram; @modelnexus/Instagram
People on social media are calling out a photographer after it was revealed he charges an extra $100 for photography sessions with plus-size models.
The uproar began after model and agency owner Megan Mesveskas, who represents plus-size models, reached out to the New York-based photographer to inquire about booking him for a shoot.
The email she received in return left her shocked. See her video about the exchange below.
Plus-size and "curve" models have gained more and more acceptance in the fashion industry in recent years, with models like Ashley Graham and Tess Holliday even becoming household names like many of their traditionally waif-ish colleagues.
But Mesveskas' video shows that old habits die incredibly hard. As she revealed in her video, designers routinely ask for more money to design and create plus-size clothes, supposedly owing to the extra fabric required for the process.
However Mesveskas, a veteran of the industry who represents scores of models, said that this is the first time she's ever encountered a photographer adding an additional charge for plus-size models--$950 for "standard" model versus $1050 for "plus size/curve" models. She chalked the extra money up to the photographer, William Lords, charging for "his dissatisfaction of having to look at them on set."
One of the model's Mesveskas represents, Sixtine Rouyre, was equally disgusted with Lords' move.
She forcefully criticized Lords for his pricing, saying in her video:
"This is just one more example of how awful the modeling industry is to literally anyone over a size zero..."
"...Your fatphobia is showing, and you should be ashamed of yourself."
But when confronted directly about the pricing, Lords defended the practice. Asked about the uproar by Newsweek, Lords said the extra $100 charge is to cover the difficulty in sourcing the kind of clothes that plus-size models usually want to wear.
"Most of them say what they want, and you know what it is? The high-end stuff. They want the stuff that the straight-sized models have..."
"$100 is absolutely nothing compared to what I do for these girls."
As you might guess, none of this has gone over very well with people on social media, who shared Rouyre and Mesveskas' outrage.


@adrianaephoto/Instagram

@the_shire_critters/Instagram

@abiibabyy/Instagram

@remibader/Instagram

@therosereflective/Instagram

@meghantonjes/Instagram

@sofia.gabay/Instagram

@marycfehr/Instagram

@nicolelebriscreative/Instagram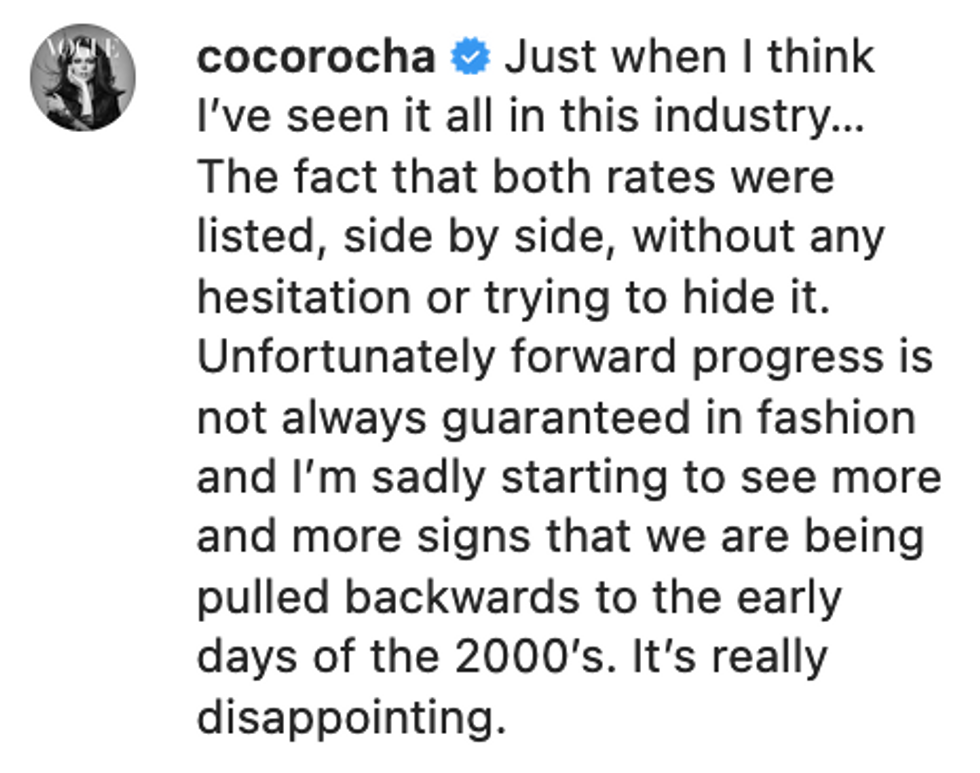 @cocorocha/Instagram
Canadian supermodel Coco Rocha spoke out about the controversy as well, likening Lords' pricing to "being pulled backwards to the early days of the 2000's" when plus-size models were barely even heard of, let alone accepted. Here's hoping moves like Lords' don't become a trend.