meghan markle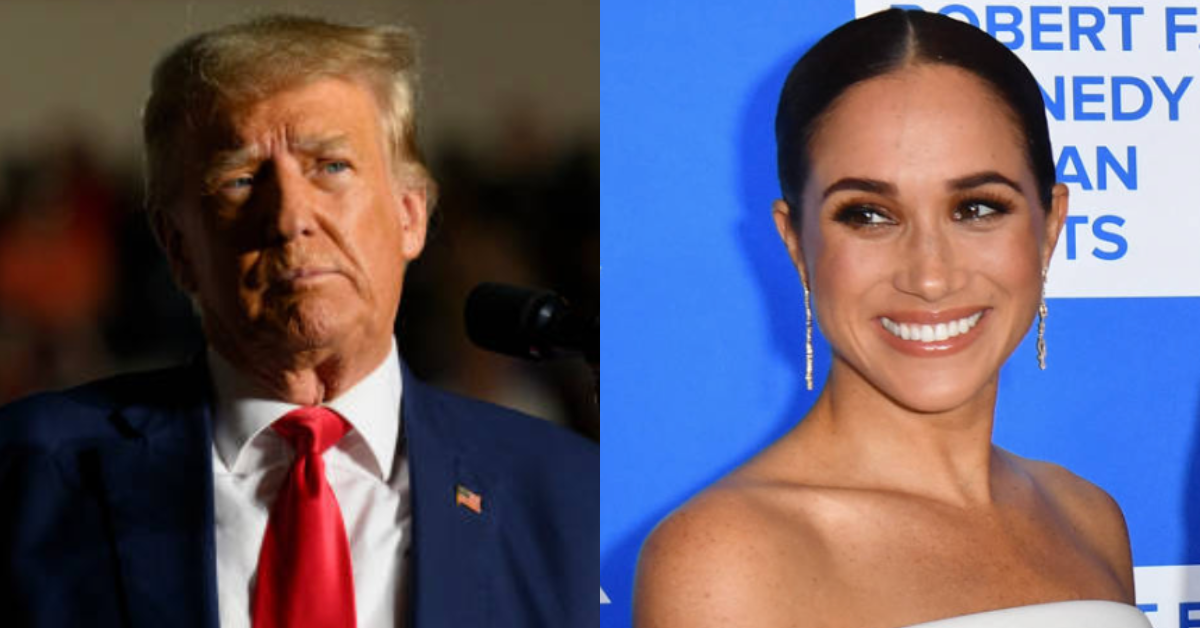 Jeff Swensen/Getty Images; Angela Weiss/AFP via Getty Images
Former President Donald Trump had social media users raising their eyebrows expressed his desire to engage in a debate with Meghan Markle, the Duchess of Sussex.
Trump made the oddball offer during an interview with conservative talk show host Hugh Hewitt, who speculated that a conversation between Trump and Markle, along with Prince Harry, the Duke of Sussex, could potentially garner attention not dissimilar the famous "Battle Of The Sexes" tennis match between Billie Jean King and Bobby Riggs.
Although Trump initially questioned Hewitt's assertion that the royal couple dislikes him, he appeared open to the idea of a debate after expressing his dissatisfaction with how Markle handled matters related to the late Queen Elizabeth II, whom he described as an "incredible woman" who was treated disrespectfully by the Duke and Duchess when it came to their U.S. security arrangements.
You can hear what Trump said in the audio below.

After Hewitt noted that "90 million people" watched the "Battle of the Sexes" and questioned whether Trump would debate Markle for the ratings, Trump said:

"Well, I don't know that they don't like me. I said that I don't think they are very appropriate, what they're saying, what they're doing, and I didn't like the way [Markle] dealt with the Queen."
Trump said the royal couple treated the late Queen "with great disrespect," adding:
"And I didn't like it. And I didn't like the idea that they were getting U.S. security when they came over here."
On whether the Duke and Duchess dislike him, Trump said multiple people have told him it "might be possible," though that didn't stop him from affirming he would debate the Duchess for the sake of ratings:
"Oh, if you want to set it up, let's set it up. I'd love to debate her. I would love it. I disagree so much with what they're doing."

However, some users on social media questioned the potential purpose and impact of such a debate, considering that Markle is not a political candidate and Trump has avoided debates with his fellow Republican presidential challengers.
The criticism rained down immediately.
Indeed, Trump skipped the first Republican presidential debate, opting instead for a pre-taped interview with former Fox News host Tucker Carlson.

The interview was strategically released on X, the social media platform formerly known as Twitter, just five minutes before the start of the debate. While the interview with Carlson did not yield major news, it provided insights into Trump's decision not to participate in the debate.
During the roughly 45-minute interview, Trump justified his absence from the debate by referring to his substantial lead in polls. He explained that with polling numbers showing him ahead by significant margins, he questioned whether it was necessary for him to endure the potential harassment from fellow candidates he believes should not even be in the presidential race.
Keep reading...Show less