Tag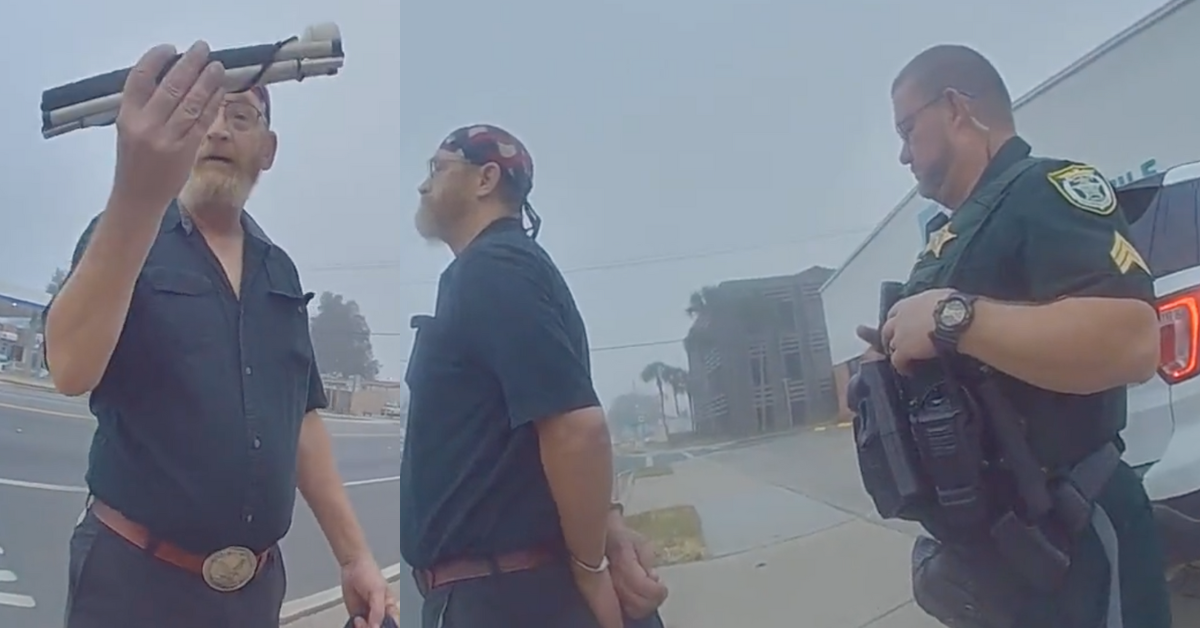 Jim Hodges/YouTube
Jim Hodges—a 61-year-old resident of Lake City, Florida—was taken into custody by Columbia County Sheriff's Office (CCSO) deputies for carrying a cane they mistook for a firearm.
Hodges is legally blind and like many people with low vision or vision loss, he uses his cane to navigate and avoid obstacles in his path as he walks.
Video of the incident from CCSO deputies' bodycams quickly went viral on Twitter.
It showed Hodges had "a tense interaction with local authorities" according to Orlando Weekly which broke the story.
You can watch what happened in the bodycam footage below.
Hodges informed the accusational deputies his cane is not a weapon but "a navigational aid" and adked one of the deputies if she was "a tyrant," to which the deputy responded "Yeah, I am, actually."

The female deputy then asked Hodges for his name and date of birth. Hodges refused saying she didn't have the proper grounds to make such a request.

The deputy then threatened:
"Do you want me to put you in handcuffs right now?"
Hodges responded:
"What is your suspicion?"
The deputy claimed:
"It looked like you were carrying a gun in your back pocket."
"I'm stopping to make sure you're carrying it properly."
Hodges took his mobility aid out of his back pocket, showing it to the deputies.
The female deputy then pointed to a fellow deputy when Hodges asked for a supervisor.
The supervising deputy reaffirmed the other deputy's suspicions and again asked Hodges for his identification.
Hodges responded:
"But now she's verified that I am not armed."
Hodges refused to provide ID, saying he had not been officially detained and had not been accused of or suspected of committing a crime.
Hodges was then handcuffed.
While handcuffed, Hodges repeatedly asked the deputies for their names and badge numbers. He also explained he walked in the dark that morning to get to jury duty on time, hence why he was carrying his cane but did not need to use it in the daylight.
His words fell on deaf ears and the supervisor issued the following instructions to his fellow deputies:
"You know what?"
"Put him in jail for resisting."
Hodges was booked into the Columbia County Jail on the morning of October 31 but was not released until 10:30 a.m. the following day.
He was charged with resisting law enforcement. His arrest affidavit carried a $1,000 bail.

Hodges later posted about the experience on his Facebook, saying he'd had "a few Civil Rights violated" and he is seeking a "good" civil litigator who can take on "some very easy work."
The video quickly went viral, sparking considerable anger online.
CCSO released an official statement about the arrest, saying:
"Sheriff [Mark] Hunter is troubled by what he has seen in the video and the matter is being addressed."
"An administrative investigation was initiated on November 3, 2022 when the incident was brought to our attention. If policy violations are sustained at the conclusion of that investigation, appropriate action will be taken."
"While we understand the frustration and concern associated with this event, please know we are working to resolve this matter as quickly as possible."
As of this writing the charges against Hodges have not been dropped.