jenna ellis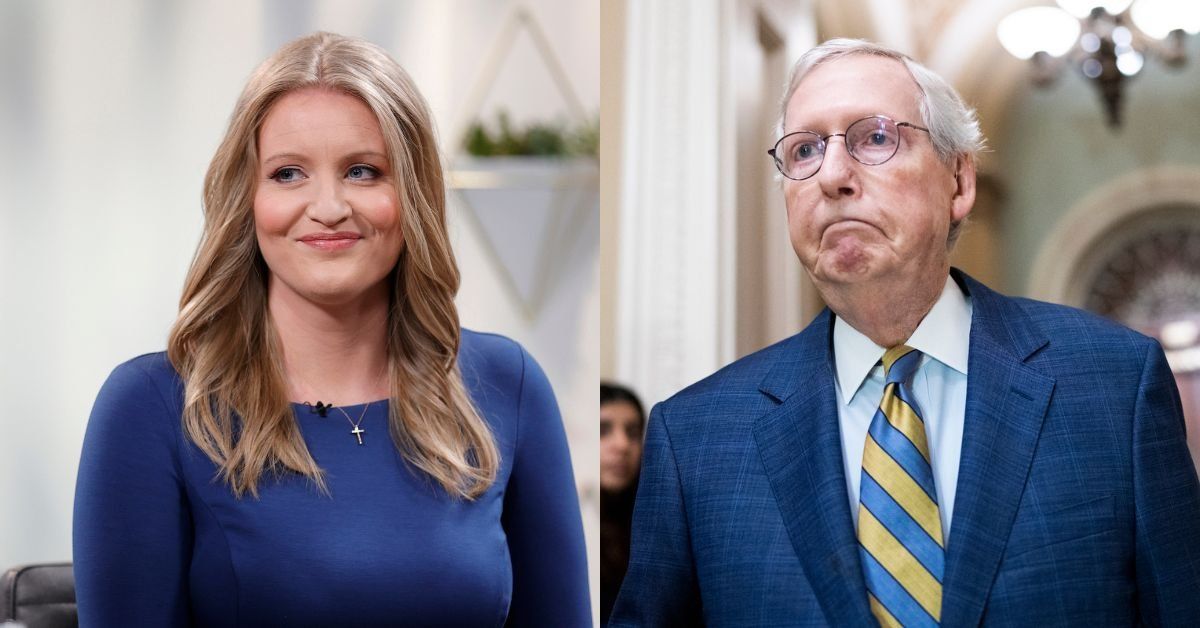 Jason Kempin/Getty Images, Tom Williams/CQ-Roll Call, Inc via Getty Images
An ex-lawyer of former Republican President Donald Trump mocked Republican Senate Minority Leader Mitch McConnell by comparing him to a video of a tortoise falling down a flight of stairs.
McConnell, who served as Majority Leader from 2015 to 2021, was hospitalized after he tripped and fell at a private dinner event that took place at a hotel in Washington D.C. on Wednesday.
As the 81-year-old Kentucky senior Senator was being treated for a concussion in the hospital, newly-censured Republican lawyer Jenna Ellis made fun of McConnell with a video of a tumbling tortoise.
She captioned the tweet with:

"BREAKING: Camera footage from last night's McConnell dinner obtained."
Many people didn't see the humor in her tweet.
She was also called out for her lack of compassion and yet claiming to be a woman of faith.

The longtime Kentucky lawmaker has frequently been ridiculed by critics, many of whom–including fellow Republicans–have compared his looks to that of a turtle.
CNN's Jake Tapper commented on Republicans hitting another low by going after members of their own party.
He tweeted:

"The basic lack of humanity constantly displayed by these people is truly remarkable."
Twitter users felt the same.
This was not the first time Ellis brutally mocked public figures online for their misfortune.
When a bodycam video of the hammer attack on Nancy Pelosi's 82-year-old husband Paul Pelosi was released, an unsympathetic Ellis tweeted about his appearance, saying:

"Why was he in his UNDERWEAR?!"

Ellis was publicly censured by a Colorado judge on Wednesday as part of an effort to hold attorneys accountable for amplifying Trump's lies about a stolen 2020 Presidential election.
According to the Wall Street Journal, Judge Bryon M. Large, the Colorado Supreme Court's presiding disciplinary judge, said Ellis:
"repeatedly made misrepresentations on national television and on Twitter, undermining the American public's confidence in the 2020 presidential election."
The conservative lawyer was previously a vocal critic of Trump until 2016 when he became the Republican presidential nominee.

Trump hired Ellis as his senior legal adviser in November 2019.

A year later, Ellis was part of a team that made efforts to help overturn Biden's victory in the 2020 presidential election after which she perpetually made false claims that Trump "won in a landslide" and that "the election was stolen from President Trump."

McConnell's spokesperson said the senior Senator will remain in the hospital for a few days for observation, adding:
"The leader is grateful to the medical professionals for their care and to his colleagues for their warm wishes."
Democratic President Joe Biden, who has had a decades-long friendship with McConnell, said he has spoken to McConnell's family and assessed that "he's going to be all right."
Biden tweeted:
"Jill and I are wishing Senator McConnell a speedy recovery."
"We look forward to seeing him back on the Senate floor."
Keep reading...Show less