Kim Kardashian West is ruffling feathers in the fashion industry with the debut of her new collection of underwear called, "Kimono."
Oh no, she didn't.
The 38-year-old socialite married to Kanye West touted her new line of shapewear 15 years in the making on Instagram.
"Finally I can share with you guys this project that I have been developing for the last year," she enthused.

"I've been passionate about this for 15 years. Kimono is my take on shapewear and solutions for women that actually work."
The public is not that thrilled about her interpretation of East meets West.
Along with three images of the shapewear, including one of herself posing in the not-a-kimono, Kardashian-West talked about the genesis for her sartorial faux pas.

"I would always cut up my shapewear to make my own styles, and there have also been so many times I couldn't find a shapeware color that blended with my skin tone so we needed a solution for all of this."
She added:
"I developed this style for all of those times I wanted to wear a dress or skirt with a slit and still needed the support."
"Introducing Kimono Solutionwear™ for every body. Coming Soon in sizes XXS - 4XL in 9 shades. I can't wait for you to feel this fabric!"
She later shared a "Fun Kimono Fact" that had nothing to do with the traditional garment.
Fun Kimono Fact- Kanye drew the Kimono logo

— Kim Kardashian West (@Kim Kardashian West)1561469211.0
The businesswoman was given a different kind of fun fact.
@KimKardashian Fun Fact: Kimono were traditionally made to hide curves, not accentuate them.

— るな☆ (@るな☆)1561499037.0
People were unforgiving of her co-opting the name of an ancient traditional Japanese garment for her line of underwear.
However, the biggest offense took place on June 19 when Kardashian-West's representative reportedly filed an application request for a trademark for the word, "kimono."
According to Kotaku, the trademark licensing will extend to "clothing, underwear, headwear, luggage, dog harnesses and...whips among other items, including, wait for it, kimono."

Japanese companies would have to use a different name to import the traditional Japanese garment to the US.
Kim Kardashian filed for a bunch of trademarks on the word "kimono" (even for actual kimono), which, if granted, wo… https://t.co/IyWXHNzhew

— Tokyo Fashion (@Tokyo Fashion)1561495834.0
Kim Kardashian West's Kimono underwear meets Japanese backlash https://t.co/SpYihLAVka

— BBC News (World) (@BBC News (World))1561526206.0
Despite rumors that Kardashian-West trademarked "kimono," Zack Guzman of Yahoo Finance said her request for the "Kimono Intimates" back in April 2018 was denied.
But the words "kimono" and "Kimono Body" that were reapplied in June are still pending.
Reports that @KimKardashian trademarked "Kimono" are incorrect. Her application for "Kimono Intimates" was rejecte… https://t.co/S0Mc3uvJDg

— Zack Guzman (@Zack Guzman)1561565514.0
Kimono is a gender-neutral verb kiru (着る) which translates to a "thing to wear on the shoulders," and mono (物) means "thing."

The history of kimono has its origins influenced by Chinese fashion dating back to Japan's Heian period (794–1192 AD).
Families pass down kimonos, many of which are hand-painted and embroidered, from generation to generation and are traditionally worn at weddings, graduations, and funerals.
Now, the English word "kimono" has become a trending keyword on Twitter in Japan, and the Japanese are concerned that Kardashian-West's brand of underwear will create confusion and demean the integrity of kimono's cultural significance.
Twitter protested Kardashina-West's controversial line with the trending hashtag #KimOhNo.

KIMONO is Japanese traditional clothes.Does this look like underwear? #kimono #KimOhNo https://t.co/36IVDjVixs

— ゆき(低浮上) (@ゆき(低浮上))1561537244.0
We welcome foreigners who respect, try, arrange and enjoy our culture. However, the name for our traditional clothe… https://t.co/q4KM08J21L

— ヘイヘイ(自宅) (@ヘイヘイ(自宅))1561542088.0
as a japanese illustrator with an immense love for kimono, this absolutely breaks my heart. your tasteless brand is… https://t.co/2FwiTbYiz6

— 空雨🌧 (@空雨🌧)1561540450.0
The Japanese shared examples of kimonos and how the garment should retain its image, not as underwear.
@KimKardashian "Kimono" is our important culture. Please don't use the name selfishly your underwear. 「着物」は私たちの大切な文… https://t.co/l6AlBIUN4U

— 小鉄@ぐるぐる族 (@小鉄@ぐるぐる族)1561537291.0
Me wearing A #KIMONO with hakama for my graduation👘🎓🌸 Very sad to hear @kimkardashian has trademarked "Kimono" for… https://t.co/OWd7r5LnC7

— Emi🛰草野絵美 (@Emi🛰草野絵美)1561521680.0
This is #kimono I wore to my wedding. I'd like Kim to imagine how she'd feel if someone treated her wedding, prom o… https://t.co/F0wBPxCOTE

— Misako Oi (@Misako Oi)1561522851.0
I think #kimono is one of the most famous folk clothes throughout the world, and I love wearing it......so I'm very… https://t.co/hadZBQfajs

— 蟹平 (@蟹平)1561530240.0
These are my grandmother's kimonos. Some of these are dyed and embroidered by herself. When I was child, I loved… https://t.co/02hVvXTE75

— Ginji_GoldFish (@Ginji_GoldFish)1561510022.0
Sadly, the possibility of the following scenario is inevitable if the trademark request is granted.
@zeevkesley @NSFGoose Imagine typing kimono into a Google search to look for a beautiful robe and seeing underwear...

— ×_× (@×_×)1561548519.0
According to Yahoo! News Japan, patent attorney Kiyoshi Kurihara explained that it is possible to trademark common nouns, but for specific products, like how "apple" is trademarked for Mac computers and iPhones.
Similarly, "kimono" could be trademarked for electronic devices as well, but Kurihara said Kardashian-West's lawyers could argue that her "kimono" brand is a riff on her name.
If a play on her name was what she was going for, these options would've suited her better.
@LastWeasleyRose @needybratz @KimKardashian Kimono? 🙅🏽‍♀️🙅🏽‍♀️🙅🏽‍♀️ Could've gone so many ways, e.g: KIMOTION (Kim… https://t.co/LCSMGTUfDS

— Esther Cook (@Esther Cook)1561496617.0
People are already confused over the name applied to a line of clothing that looks nothing like a kimono.
@KimKardashian why's it called kimono if that's a completely different style of clothing. I get that you're incorpo… https://t.co/AdnTVIeJKe

— gloria (@gloria)1561473484.0
@KimKardashian Absolutely tasteless and awful. You have ZERO respect to the Japanese culture, do you. What's wrong… https://t.co/k4nuw4UZYP

— TrinityNYC (@TrinityNYC)1561498108.0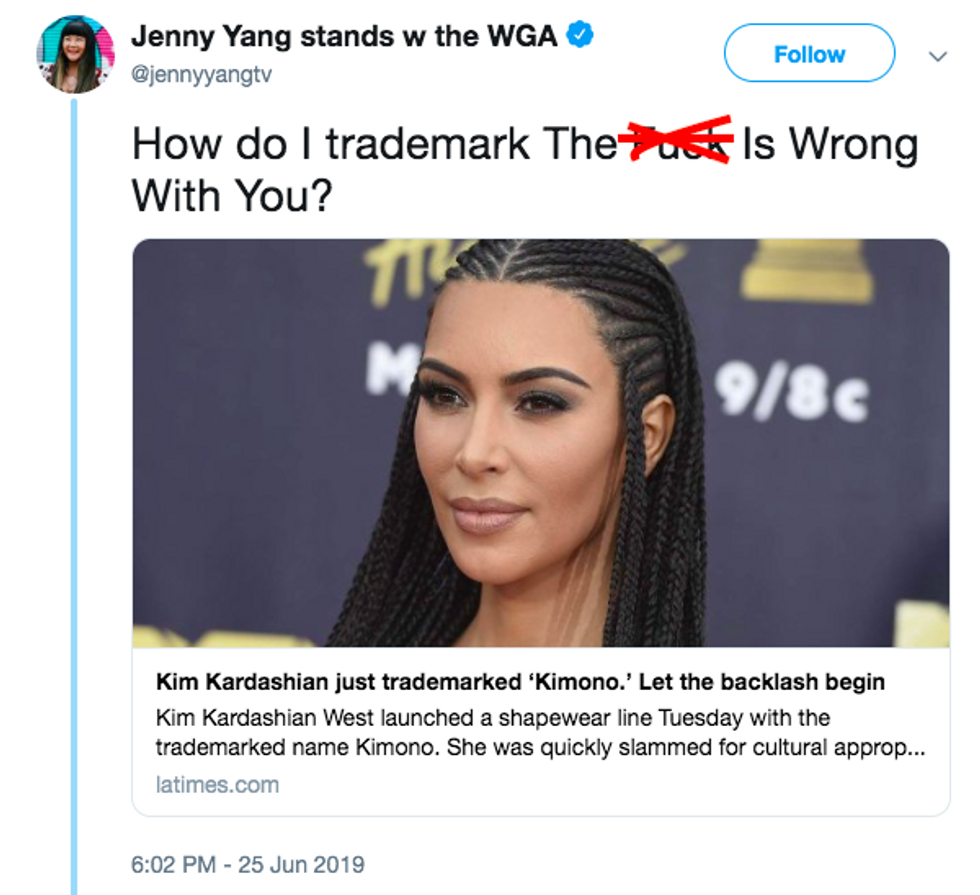 @jennyyangtv
there...there's a metaphor in here somewhere... https://t.co/wLZmo2cbmq

— Jenny Yang stands w the WGA (@Jenny Yang stands w the WGA)1561522374.0
Naming your product/startup with Japanese words might seem hip and all, but it really sucks for us when our culture… https://t.co/QJpTaZI7lx

— Yuka Ohishi (@Yuka Ohishi)1561497721.0
Neither Kardashian-West nor her reps have commented on the controversy.

For insight to how the family that spawned Kim came to be so famous, the expose The Kardashians: An American Drama is available here.
"Secrets and scandals of the Kardashians, so closely held that not even hard core fans have heard about them, are finally exposed in New York Times bestselling author Jerry Oppenheimer's forensic dissection of the infamous reality TV clan."
Or Killing Kardashian: A Hollywood Satire is available here.
"And even though the psychopath had planned well, he imagined that Killing the Kardashians with their complex schedules and airtight security would be an impossible feat at best. Still he had to try. Something had to be done."
Keep reading... Show less