christmas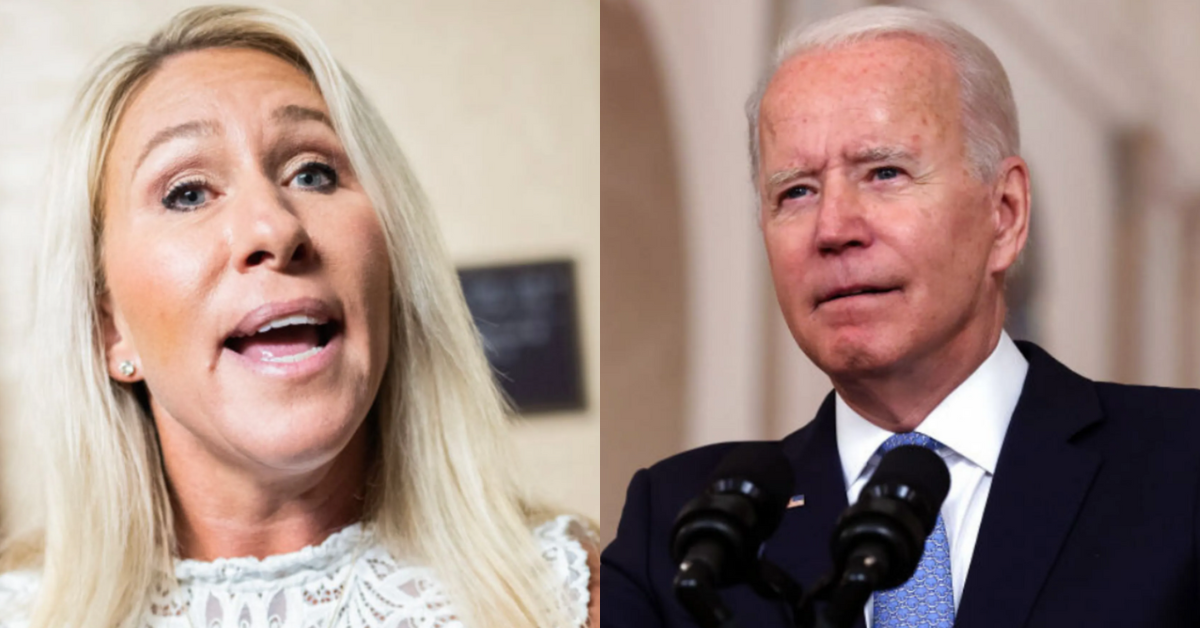 Tom Williams/CQ-Roll Call, Inc via Getty Images; Chip Somodevilla/Getty Images
Georgia Republican Representative Marjorie Taylor Greene was widely mocked after she hawked her latest tacky anti-Joe Biden-themed Christmas merchandise—which includes wrapping paper and a shirt featuring the President as the Dr. Suess character the Grinch.
Greene took to X, formerly Twitter, to promote her Christmas collection of items available for purchase through the Republican fundraising platform WinRed.
Among the items for sale is $25 Christmas wrapping paper featuring President Biden depicted as the Grinch, accompanied by the slogan "Impeach Biden." Additionally, a $60 sweatshirt displays the message "The Grinch Who Stole The Election" in green, with "Impeach Biden" in red. The collection also includes a T-shirt reading "Proud Christian Nationalist."
Greene wrote:

"GOING FAST: Impeach Biden Wrapping Paper...Order yours here! Once they're gone – they're gone for good!"
You can see her post below.

Critics swiftly mocked Greene's tasteless display, accusing her of using political polarization to capitalize on the holiday season.

Greene's merchandise is far from the only anti-Biden Christmas items on the market.

Numerous Republican campaigns, outlets, affiliates, and even e-commerce giants have sold anti-Biden mugs, pins, buttons, and clothing, infusing political messaging into holiday-themed products.
Interestingly, Amazon faced criticism in 2021 over the sale of Christmas-themed apparel depicting Biden as the Grinch, accusing him of "stealing" the 2020 presidential election using Dominion Voting Systems, which this year settled a major defamation lawsuit against Fox for promoting the same baseless lies about election fraud.
Amazon was found selling t-shirts and various other items with similar messaging. The merchandise showcased the phrase "How Biden Stole The Election," with one design portraying the green-hued president holding a sack marked with Dominion Voting Systems' logo, labeled "Property of Dominion Voting."
The items available on Amazon showcased multiple illustrations portraying Biden as the Grinch, some edited to merge a green version of the president's face onto a Dr. Seuss illustration. One variant displayed the character carrying sacks labeled "Foreign Interference China," "Mail-In Ballots," "Voter Fraud," and "Election Fraud."
Keep reading...Show less