Now that the excitement of the 2018 Winter Olympics in PyeongChang have kicked off, people are reminiscing about past victories in the winter sporting events.
In particular, fans are reliving Australian former short track speed skater, Steven Bradbury, for his epic gold-medal win from the 2002 Winter Olympics.
---
The four-time Olympian will always be remembered for winning the 1,000 meter short-track speed skating event in Salt Lake 2002 when his competitors collided into each other towards the finish line, creating a path for Bradbury to breeze from last place to finishing first.
I'd just like to take this opportunity to remind everyone of the greatest moment in Winter Olympic - nay, OLYMPIC -… https://t.co/hYByxAD0z7

— Mike Stuchbery 💀🍷 (@Mike Stuchbery 💀🍷) 1518177796.0
The Australian skater almost didn't compete in the semi-finals.

Bradbury thought that after finishing the quarter-finals, with a modest posting time of 1:30.956, he would be eliminated from the competition after placing third. But after Canadian competitor and Four-time World Cup champion Marc Gagnon was disqualified for obstructing another skater, Bradbury advanced as one of the top two finishers to compete in the semi-finals.
Bradbury and his coach Ann Zhang formulated a strategy to cruise behind the competitors in the hopes that at least two skaters would crash and he would be awarded with a bronze medal. It was a risk he was willing to take, given the awareness of his slower pace from the others.
Had he kept up with his faster competitors, he might have increased his chances of falling. Bradbury's calculations paid off, and then some.
Every other competitor took the tumble, leaving Bradbury as the sole survivor, and ultimately, the winner.
It's that time of year again where we pay tribute to Aussie legend Steven Bradbury who won gold in 2002 speed skati… https://t.co/qna4KkB1Mp

— Julia Ball (@Julia Ball) 1518235172.0
During the semi-finals, it appeared as if the Australian would finish last; however, competitors Kim Dong-sung of South Korea, Li Jiajun of China and Mathieu Turcotte of Canada formed a pile up as Bradbury whizzed past them for his epic win.

"I don't know what happened," Bradbury told the St. Petersburg Times. "It was like, 'Hang on, this can't be right.'"
His modesty added to his charm. He knew he was the second oldest person competing.
It's freakish. I was probably the weakest guy in the field. I'm obviously not the fastest skater. I'm not the most deserving guy. I had mixed emotions when I crossed the finish line, but I'll take it.
@MikeStuchbery_ And remind everyone 1/ he made the final 2/ this was his tactic all along. 3/ he'd been a favourite… https://t.co/aSc8DMF7sW

— Tom Reynolds (@Tom Reynolds) 1518177934.0
He told the Salt Lake Tribune that despite critics diminishing his win, he's still proud.
You always get the people who say I won because I was lucky, but that doesn't bother me in the slightest. I am a 100 percent satisfied and deserved Olympic gold medalist, and the people who want to take it down are the people who are not prepared to get off their [backside] and do something for themselves.
As far as fans are concerned, he's an Olympic legend.
to "pull a Bradbury" is now an actual phrase in Australia https://t.co/sSUiNzX1cL

— David Mack (@David Mack) 1518273557.0
I remember this so well, I was nearly 10 years old in 2002 & hearing @BasilZempilas call Australia's First Ever Win… https://t.co/eDWpslhn8V

— Robbie Thornton (@Robbie Thornton) 1518225641.0
@MikeStuchbery_ I use the phrase "watch me Bradbury this shit" at least once a year, every year.

— Patrick Stokes (@Patrick Stokes) 1518178075.0
There's an inspirational lesson here somewhere... https://t.co/apRY1cU7xV

— Darryl Mott (@Darryl Mott) 1518178218.0
@Abstruse It's about not giving up even when it looks like you don't have a chance in hell.

— Joanie 📷 (@Joanie 📷) 1518346202.0
@Abstruse Slow & steady wins the race...

— Attorney Ron Frey (@Attorney Ron Frey) 1518340623.0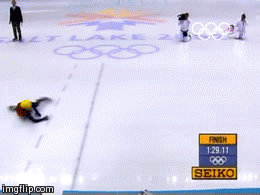 Sorry, not sorry.
H/T - Wikipedia, SaltLakeTribune, Twitter, StPetersburgTimes