Former Wisconsin Governor Scott Walker is up in arms after a science-themed "holiday" tree was unveiled at the Wisconsin state Capitol building last week.
---
Current Gov. Tony Evers, a Democrat and former science teacher, told WSAU radio that he wants students to "make holiday ornaments that celebrate what science means to them, their families and their communities" to hang on the tree.
Originally called a "Christmas tree" when the tradition started back in 1916, the name was changed to a "holiday" tree in 1985 so as not to exclude others and not endorse any one religion.
Walker famously reversed it back to "Christmas" during his first year in office in 2011.
So when Evers not only changed it back to a "holiday" tree, but also made it science-themed, that was too much for his GOP critics, who used it as another rallying cry for the supposed "War on Christmas."
Assembly Speaker Robin Vos tweeted: "We all know it's a Christmas tree no matter what @GovEvers calls it...."
And Senate Majority Leader Scott Fitzgerald slammed the move as "'PC' garbage."
This is "PC" garbage. It's a Christmas Tree 🎄 https://t.co/UnqMlW3Mcb

— Scott Fitzgerald (@Scott Fitzgerald)1573242002.0
Walker, however, was the most vocal about the move, firing off several tweets ranting about the "holiday tree."
This is a Christmas Tree that is used by people celebrating Christmas 🎄 This is not a holiday tree. https://t.co/KcF2ZJxtTJ

— Scott Walker (@Scott Walker)1573250875.0
This is a Menorah candle this is lit during the Festival of Lights as part of Hanukkah. This is not a holiday can… https://t.co/Ucy0c7acHv

— Scott Walker (@Scott Walker)1573250528.0
Type this word on your iPhone and look what emoji comes up: Christmas 🎄

— Scott Walker (@Scott Walker)1573253872.0
But his angry rant backfired as Twitter let him have it.
Col. Scott, I know well the horrors you must endure at the front lines of this dreadful war. Your early Christmas… https://t.co/G93Nj0Dq3U

— Asha Rangappa (@Asha Rangappa)1573334438.0
@ScottWalker I honestly think you've found your calling.

— Chris Hayes (@Chris Hayes)1573266743.0
@ScottWalker You do know that trees were stolen from a pagan holiday? And Christ wasn't actually born on Decembe… https://t.co/ZtT91fMvYb

— Matthew Dowd (@Matthew Dowd)1573253596.0
@matthewjdowd @ScottWalker ...and Puritans thought it was vulgar to take a day of leisure on Christmas... ...and C… https://t.co/alP3Qkl9WW

— The Hoarse Whisperer (@The Hoarse Whisperer)1573302588.0
@ScottWalker Who says "holiday tree"? People say "happy holidays" because there are jews, muslims, and other folk… https://t.co/KLjzeKOJOe

— Kurt Eichenwald (@Kurt Eichenwald)1573335120.0
Check out this guys awesome Holiday tree. It's the middle of November, but whatever. https://t.co/8yhujMRkIN

— Colin Hanks (@Colin Hanks)1573279471.0
@ScottWalker No, this is not a "Menorah Candle," and the "Festival of Lights" is just another name for "Hanukkah,"… https://t.co/I3QEz2q51r

— Bess Kalb (@Bess Kalb)1573278703.0
The outrage about the "War on Christmas" is basically expected every holiday season at this point.
And without his gig as governor, Walker has ample time to stoke the flames of that fire.
@ScottWalker Man, I remember when politicians had loftier goals than to defend against imaginary assaults. Please d… https://t.co/6HDVhn3r57

— Rob Anderson for Louisiana (@Rob Anderson for Louisiana)1573252782.0
@ScottWalker Oh, is it War on Christmas season again? Already? It seems to start earlier every year... 🙄

— Heather Hughson (@Heather Hughson)1573275738.0
@ScottWalker Lots of spare time these days, eh Scott?

— Rocky Mountain Views 🍑 (@Rocky Mountain Views 🍑)1573267842.0
Happy Holidays, everyone.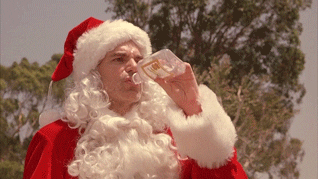 Giphy
The book The Supernatural World of the Anglo-Saxons: Gods, Folklore and the Pagan Roots of Christmas and Halloween is available here.